Santa & Cole / Spain
Light show
As committed to its Catalonian heritage as it is to classic design, Santa & Cole is a shining example of good collaboration.
When three young and wide-eyed friends approached one of their idols three decades ago, they felt both audacious and a little anxious. They had come to convince Miguel Milá – one of Spain's most revered industrial designers – to entrust their nascent studio with the task of reviving his classic tmm standing lamp. What they lacked in experience they made up for in verve and Milá instantly warmed to the proposal. Years later this tender, longstanding collaboration continues to brighten up Catalonia and beyond.
In the mid-1980s, Javier Nieto Santa, Gabriel Ordeig Cole and Nina Masó were growing their portfolio as designers and decorators in their fledgling firm Santa & Cole. Catalonia's cliquey design scene showed little sign of accommodating any newcomers but the trio's meeting with Miguel Milá – an idiosyncratic member of this circle – provided a circuit breaker.
"They were young but intelligent," recalls the astute-as-ever octogenarian Milá. "When people are intelligent they inspire confidence."
The young upstarts' goal was simple: to reintroduce iconic, albeit discontinued, designs to a new generation. After bonding over a distaste for the cold fluorescent light pervading Spanish interiors at the time, Milá signed up to Santa & Cole's Design Classics Collection.
The well-received re-release of his tmm lamp paved the way for similar high-profile partnerships with architects such as Antoni de Moragas and designer Carles Riart. It was a double triumph: illuminating the charms of warmer lighting design while celebrating Catalonia's heritage.
"This has always been a restless firm," says Nina Ordeig Cole as she guides monocle through the firm's headquarters in a former primary school. Part of the second generation at the helm (Nina is founder Gabriel's niece), she heads the marketing department, a key role for a firm striving to ensure age-old designs are embraced by newer audiences.
"We consider ourselves editors rather than just designers or manufacturers," she says as we drift down a ceramic-tiled corridor. "Collaboration is at the forefront of everything we do. Reproduction is not an end but a starting point; bringing the designer and our team together to adapt to contemporary demands."
As we pass a ground-level workshop, this process is on display as Miguel Milá meets with editor David Martí. The pair fuss over the newest Cestita Batería lamp prototype, a cordless, battery-powered version unveiled at Salone del Mobile in April. Milá still receives the star treatment; the design team rally around asking for advice or to simply tap into his energy.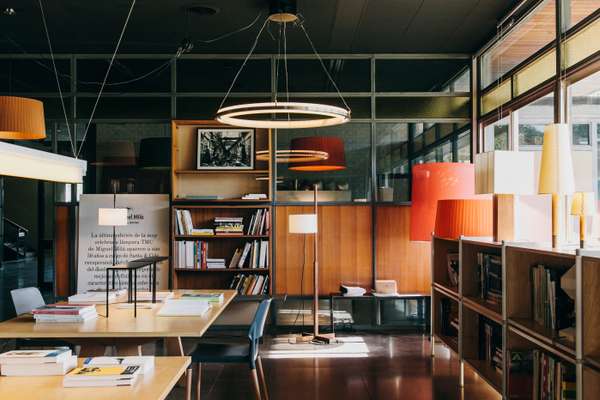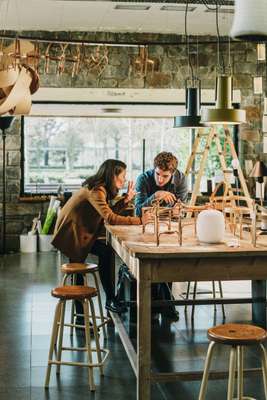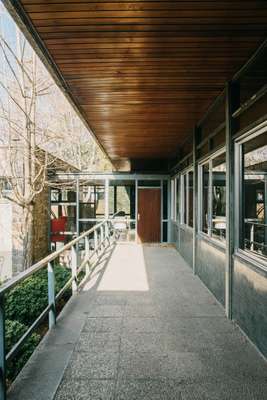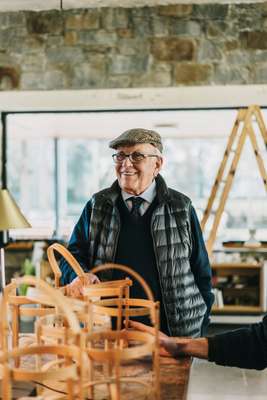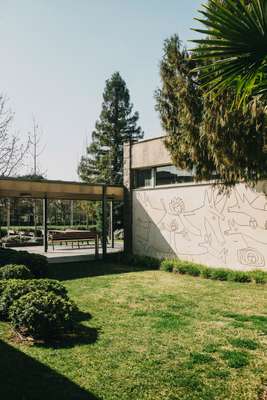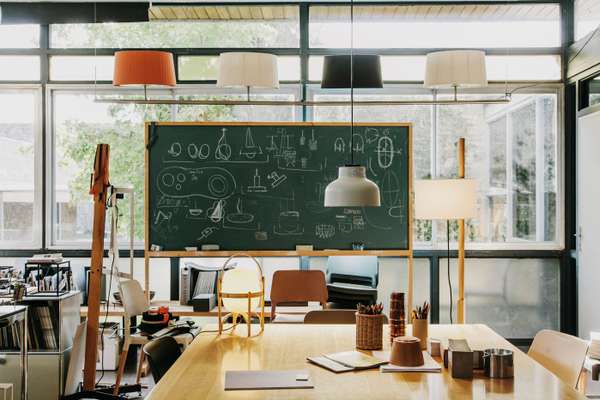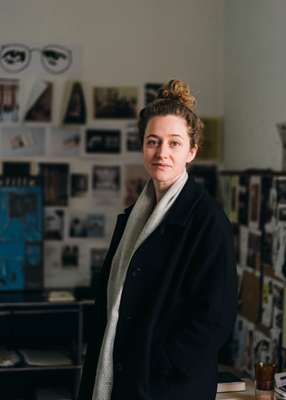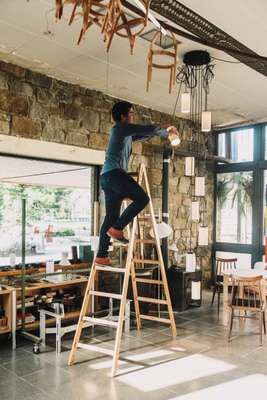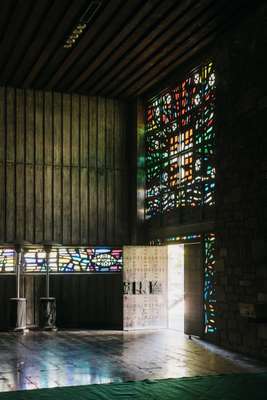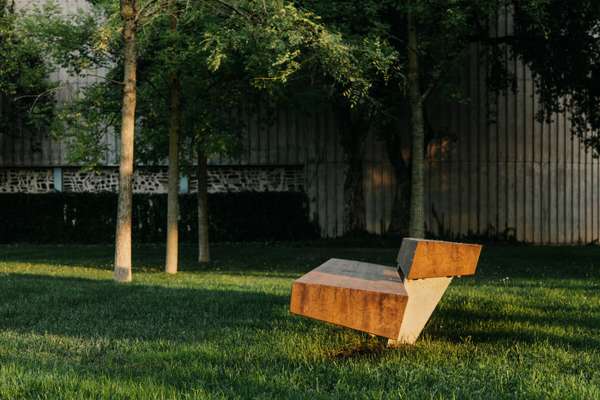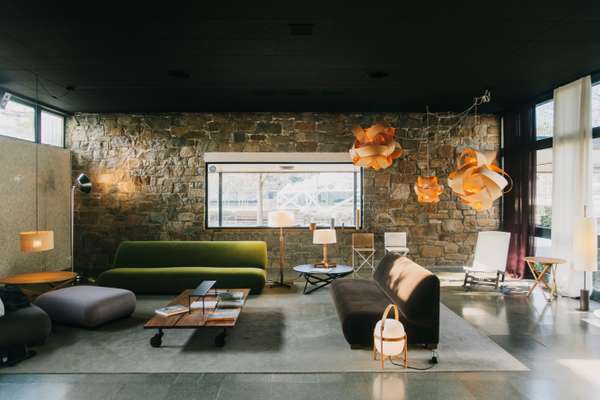 The original Cesta and Cestita lamps made from Manila cane were re-released in 1996 with sleeker cherry wood. Today owning a Cesta is akin to a declaration of local pride, almost a duty for any Catalan design aficionado. Adding a cordless version has proffered challenges, such as choosing a durable wood for outdoor conditions and simplifying the battery apparatus to avoid upsetting the exterior form.
"Miguel has a knack for spotting small design nuances that elude the technical team," says Martí. "His vernacular has always been based around the desire to address a particular need. Once you understand the way he thinks, you end up speaking the same pared-down language."
Working in the Catalonian countryside, far from the big-city fracas of Barcelona, has also shaped the firm's approach. Completed in 1968, the Parc de Belloch primary school once featured in Franco-era propaganda films. The modern, rationalist campus is a mélange of whimsical murals, exposed stone walls and multicoloured glass and ceramics. Closed in 1994, it was empty until it was acquired by Santa & Cole in 2004. Repurposed as a playground for learning and experimentation, the building's dark corners, such as the old theatre and chapel, are used to assess scale and adjust brightness. Hanging above the chapel's altar, Antoni Arola's Cirio Circular pendant lamp (inspired by Istanbul's Hagia Sophia mosque) radically recasts the space. It's an example of Santa & Cole's integration of old and new – in this case, the application of "non-aggressive" led technology to an almost medieval form.
"The isolation aids focus," says Nina. "We want to share this inspirational environment with like-minded designers."
Back in the workshop, decisions have been signed off and hands shaken, and members of the technical team are resuming their posts to apply the final tweaks to the new cordless Cestita Batería. "One must be careful not to completely surrender to new technologies," says Milá. "Progress is often shaped by an economic rationale. However, the most important motivation is to improve one's wellbeing."
Milá takes us outside to sit in the sun on one of his signature NeoRomántico park benches. "A good bench should make you want to say buenos días," he says. The patchwork of benches in front of the building points to Milá and Santa & Cole's other strong suit: the design of urban elements. After the 1992 Olympics flipped Barcelona's urban narrative, the benches became a feature of the streetscape.
An extended selection of Santa & Cole's public seating and outdoor lighting now accounts for about half of the firm's business, with a presence in 70 countries. "We still abide by our artisanal approach," says Nina, pointing out the proximity of most of their suppliers and manufacturing partners. "Large-scale production is fraught with potential failures; we prefer things closer to home."
Still perched on his bench, Milá is relishing his moment of rest. The recent release of an eponymous documentary has thrust him into new forums of dialogue between young and old on the frenetic film-premiere circuit.
"Antonio Coderch once offered me advice," he says, referencing the renowned modern architect – and his late friend. "He told me: 'You can learn from anyone.'" It's a simple message but one that has guided multiple trajectories to converge atop this quiet hill, where time and age seem to have been relegated into irrelevance.
Miguel Milá
Born into an aristocratic family in Barcelona in 1931, Milá abandoned his architecture degree in 1951 following a three-year struggle. He has since joked that failing subjects had one unintended advantage: allowing him to forge ties with some of Catalonia's best emerging architects, including Antonio Coderch. After opening his own design studio, Tramo, in the early 1960s, his rationalist fixtures prompted Spain to reassess its appreciation for industrial design. A litany of accolades and awards followed and even at the age of 86, Milá continues to design with his trademark sense of humility. It's an attitude that eschews the urge to constantly define design and is instead guided by one simple principle: doing design well.
The founders
The political buoyancy of 1980s Spain encouraged Javier Nieto Santa, Gabriel Ordeig Cole and Nina Masó to start Santa & Cole Ediciones de Diseño in 1985. Cole's premature death in 1994 (he was 34) compelled Santa and Masó to stay true to their founding vision. As chief interiors editor, Masó is continuing to inspire the firm's younger generation, while current CEO Javier Nieto Santa is preparing to oversee the expansion of Parc de Belloch as a multidisciplinary design precinct.
glowing tributes
Five Milá designs
Inspirational innovations
1.
TMM Lamp, 1962
One of Milá's most adored designs is also one of his most practical: an adjustable standing lamp turned on and off with a simple yank of the power cord. It's a clear derivation from his first design, the TN lamp (named after his aunt Nuria), the subsequent Previa lamp, and the tmc lamp. Santa & Cole began reproducing the tmm in 1988 and counts monocle's Midori House as one of its contented customers.
2.
Cesta Lamp, 1962
Milá designed his "basket" table lamp after chancing upon a large opal-glass light globe and devising a Manila cane support structure around it. The smaller Cestita was also produced and both quickly became ubiquitous ornaments in the homes of design-loving Catalans. Santa & Cole reworked the concept with Milá to produce a durable cherry wood version.
3.
A-14 Fireplace, 1977
This modern interpretation of the domestic fireplace was shaped by a desire to make contemplating the flames safer. The perforated protective grill was incorporated into the geometric structure, allowing it to be positioned against a wall, in a corner or even the centre of the room. Produced by Dae Chimeneas.
4.
Estadio Lamp, 1992
Commissioned for a government building, this ring-shaped chandelier was adapted in different sizes for the Olympic facilities and stadium at Barcelona's 1992 games. Santa & Cole produces a 2.5-metre-wide version that hangs in museums, houses and hotels such as Barcelona's Casa Bonay.
5.
NeoRomántico Bench, 1995
These sleek public benches have provided respite for weary pedestrians for more than two decades. Placed around plazas and streets all over Barcelona, the combination of both singular and communal renditions are symptomatic of a city that believes in friendly street furniture.