Observation 1 / Global
My Waterloo
With Ukraine's staging of Eurovision in trouble, a Swedish superstar was asked to step in. How could he ever refuse?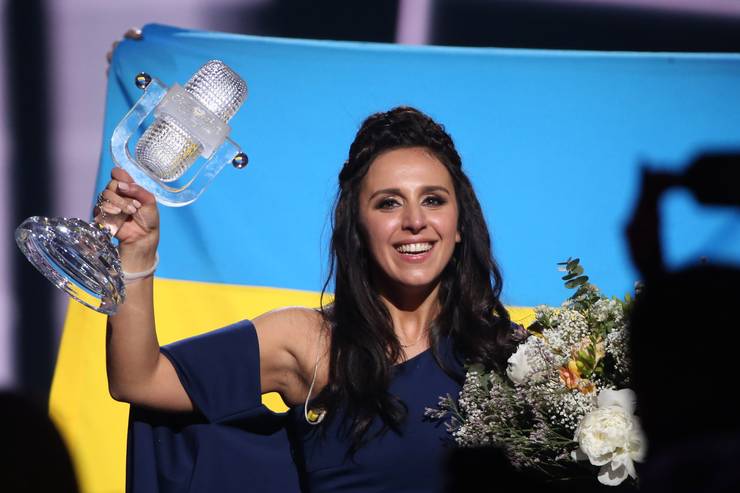 Swedish television executive Christer Björkman sits in his floating hotel on Kiev's Dnieper River, staring at a wall of Post-It notes. As the content producer for this year's Eurovision Song Contest in Ukraine, it's his job to interpret the look of all 43 acts, who will be watched by more than 200 million viewers.
"We have 16 ballads this year and have to find different ways of presenting them," he says, before interrupting his own shoptalk with a deep sigh and a rueful scratch of his encroaching grey stubble. Many think that Björkman is saving Eurovision. In recent months UA:PBC, the Ukrainian broadcaster hosting this year's event, has faced negative publicity. In December its director-general quit, saying that the €31m event had depleted his annual budget. In February, Ukraine's Antimonopoly Committee delayed the scheduled sale of 70,000 tickets owing to questionable procurement contracts. Shortly after that 21 members of Ukraine's organising committee quit, citing a "lack of transparency in decision-making".

The European Broadcasting Union (EBU), which oversees Eurovision, had to act fast; it announced that Björkman would be stepping in just days later.
A former hairdresser who became a popstar in the 1980s, Björkman sang for Sweden at Eurovision 1992, coming next to last. Despite the flop he toured Sweden for more than a decade, eventually becoming producer of Melodifestivalen, the country's Eurovision selection contest and the most-watched programme on Swedish TV. Under his command, each year its 28 competing songs take over the Swedish music charts. Record labels view him as a Godfather-like figure who can make a singer's career with an invitation to perform. But he's no gangster. In 2015 he performed at the final of Melodifestivalen dressed as the drag queen and Eurovision 2014 winner Conchita Wurst.
Björkman has steered Sweden to victory at Eurovision twice, earning the right for the country to host in 2013 and 2016. His triumphs have become models for subsequent editions of the contest and with that comes the confidence to look past the media's vision of the roof collapsing on this year's contest.
His presence in Ukraine has put everyone on their best behaviour. But stepping in at the last moment has been stressful: by the night of the final, Björkman will have spent months away from home. Thankfully there's a precedent for Ukraine pulling it together against all odds. When the country last hosted Eurovision in 2005, fallout from the ongoing Orange Revolution left the broadcaster so far behind schedule that the EBU threatened to take the event elsewhere. It eventually went off without a hitch.
"Every host broadcaster has pressure from their home country to deliver," says Björkman. With him on the ground, Ukrainians, not to mention Eurovision fans, can be confident that history will repeat itself.
As anyone who has ever attempted it will tell you, the drive between Perth and the city of Cairns in Queensland is one of the most beautiful and daunting in the southern hemisphere. The route includes a 2,800km stretch between the Western Australian goldfields and central Queensland, nicknamed the Outback Way; it cuts through the guts of Australia's red centre – and only a third of it is tarmacked.
For decades, travellers on the Outback Way accepted its quirks as an unavoidable reality. Not Helen Lewis. She's the general manager of the Outback Highway Development Council, a group that has for the past 20 years lobbied to have the road sealed and transformed into a legitimate transnational highway. "It's going to make it easier for everyone to enjoy the quintessential Australian outback experience," she says. "The drive would be cut down by about 10 hours."
The OHDC's campaign is making headway. In February a bipartisan group of MPs met in Canberra to express support for the Outback Way upgrade and deputy prime minister Barnaby Joyce announced last year that the government would be investing in the project. It's a wise move: sealing the Outback Way could boost Australia's trucking industry, aid mining exploration and improve accessibility to remote indigenous communities.
Yet the road to completion remains long. The government may have pledged support but ohdc has already been given au$205m (€147m) in public funds – it requires about au$400m (€285m) more to finish the job. There's also the issue of how long it will take: by Lewis's estimate the last piece of road won't be sealed until at least 2025. Yet as someone who has undertaken the long journey of the Outback Way many times, she knows the value of patience. "This project really promotes big-picture thinking and that's the magic of it."