Jackalope / Australia
No hoax
They say that true originality is a myth. But by bucking trends and being authentic, the Jackalope Hotel has a very real story to tell – and it looks good doing it.
Dressed in a tailored black blazer and fresh white trainers, Louis Li is in good spirits as he walks through the grounds of the Jackalope Hotel, his first hospitality venture. The three-year process of designing and building a 46-room getaway in the Mornington Peninsula, a popular wine region south of Melbourne, is nearly over; the hotel is due to open in days. But there are still a few kinks to iron out: in the newly planted garden near the entrance, for example, a large fire hydrant with bright red nozzles sticks out amid the native shrubs. "When did this go in?" says Li quietly to a nearby architect, who is also pacing the grounds. "Can we make it gold?"
Li is fastidious about the details. But his ambition is to pioneer a new chapter in hotel design, which he thinks is becoming increasingly generic. At the Jackalope, one-of-a-kind sculptures and daring light fixtures are prized over replica photo prints and mass-produced designer furniture. "Not a lot of high-end hotels have a strong site narrative these days," says Li.
The developer was raised in Kunming, the offspring of a family that built five hotels throughout China. He studied film-making in Melbourne before he began dreaming of his own hotel brand. In 2013 he came across the site where the Jackalope now stands: a 4.5-hectare winery called Willow Creek Vineyard. Realising that the place was on the market, Li put in an offer. "The first thing I thought about was how to tell a story here," he says.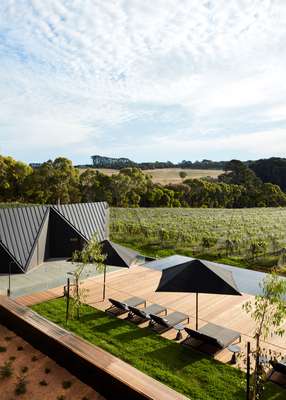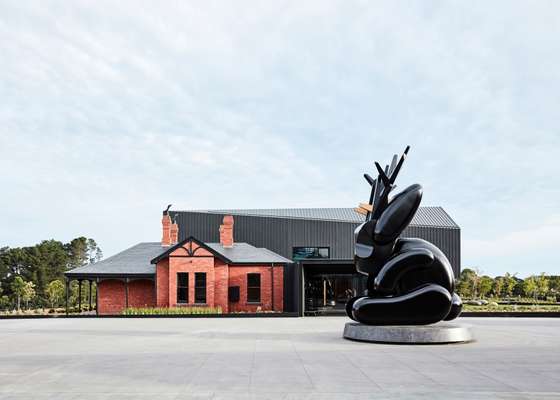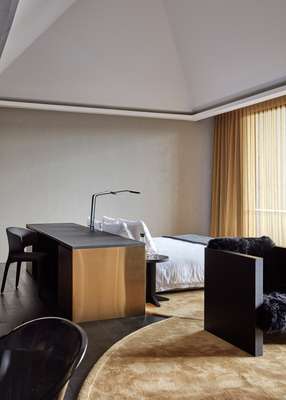 A handful of the brightest design minds in Australia were enlisted to realise the project; celebrated branding expert Fabio Ongarato's studio was brought in to create the Jackalope's visual identity, while the team behind Canberra's National Arboretum, Taylor Cullity Lethlean, did the landscaping. For the architecture and interior Li worked with Melbourne-based practice Carr Design Group. The brief was deliberately abstract: determined to develop something original, Li didn't mention any buildings that he admired but instead explained that he wanted to reference the ancient practice of alchemy.
It worked: alchemical inspirations can be felt in the large lab-like glass vessels that line the bar, and the smattering of gold, silver and bronze found throughout the hotel. "Alchemy is about experimentation but also wellbeing, because the end goal is to create an elixir of life," says Li. "I identify with that combination. I want people to feel curious but comfortable."
The two-storey building that Carr realised, however, is arrestingly simple. Situated on a clearing that overlooks the vineyards, it is primarily made of black aluminium. On one end of the building an 18th-century federation cottage acts as an anchor to the design, with its restored brick exterior forming part of the lobby. Alongside that is a low-rise building with a rectangular façade and two rows of balconies.
Much effort has been made to ensure that the structure does not feel completely at odds with its surroundings. In one part of the hotel the pitch of the roof takes structural cues from the winemaking facility on the property, while the orientation and low profile of the building also helps it harmonise with the landscape. "Viewed from the back of the vineyard it really gets lost in the trees," says Chris McCue, Carr Design Group's director of architecture.
Dan Cox, Carr Design Group's director of interiors, synthesised Li's ambitious tastes and vision into spaces that are dramatic and well appointed. The suites feature king-size beds by AH Beard (Australia's oldest mattress-maker) and have charred-timber-accented walls that evoke the texture of wine barrels. There are no prints or paintings on the walls. Instead attention is focused on the floor-to-ceiling windows that, on the west side, overlook a 30-metre infinity pool.
"It wasn't as if we were working with an established brand that has its own rules," says Cox. "It was all new. And considering that there is a vision for this building to be the first of many Jackalope hotels, there was a lot of pressure to get it right." Planning has already begun on a new Jackalope hotel in central Melbourne. "The process can be difficult but I'm only 29 years old so I still have a lot of time to learn," says Li. "The more personal a hotel is, the more authentic it is."
Melbourne makers:
From a pool table by Melbourne's Harry Evans & Sons to handmade charcoal-coloured plates courtesy of the city's ceramics company Cone 11, Jackalope showcases regional talent across the board. Bathrooms are stocked with Hunter Lab hand wash, produced just an hour away, and much of the furniture is bespoke-made by Zuster, a family owned firm in Melbourne.