Living / Global
Small story
As demand grows, city living spaces are getting more compact. But there are opportunities to be had by embracing micro homes.
Is it a return to the tenement buildings of the 19th century or a sneak peek at the future of urban housing? Carmel Place is New York's first apartment building made up exclusively of micro-units (measuring between 24 and 33 sq m) and as such it breaks most of the city's planning laws. Yet the development, designed by N Architects and headed by Monadnock Development, was commissioned by the mayor's office.
The development in Kips Bay is aimed at demonstrating that small living can be "not only acceptable but desirable", says Monadnock's Frank Dubinsky. When the 55 units were rented out for the first time last summer, tenants discovered smart space-saving tricks (a bed that flips down over a built-in sofa, for instance) and attractive furnishings, homeware and amenities courtesy of Ollie, a specialist in designs for small spaces.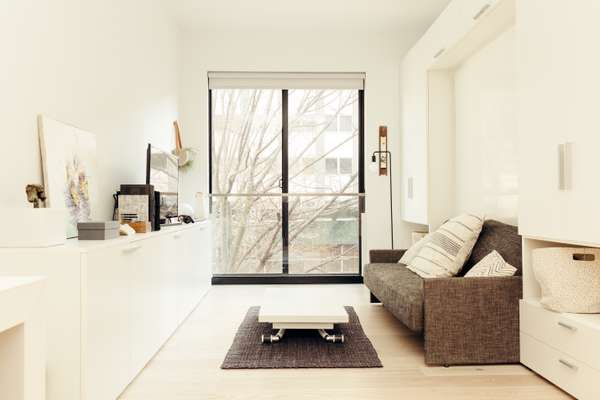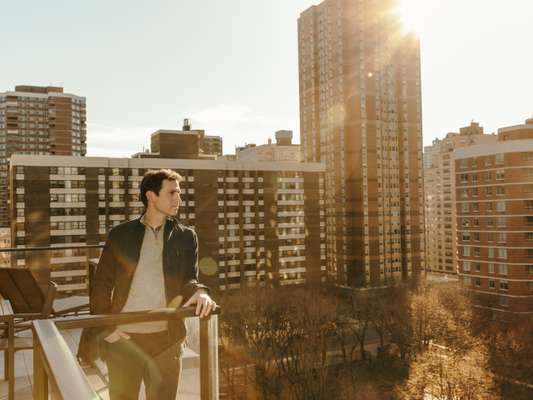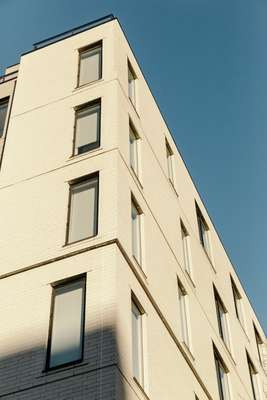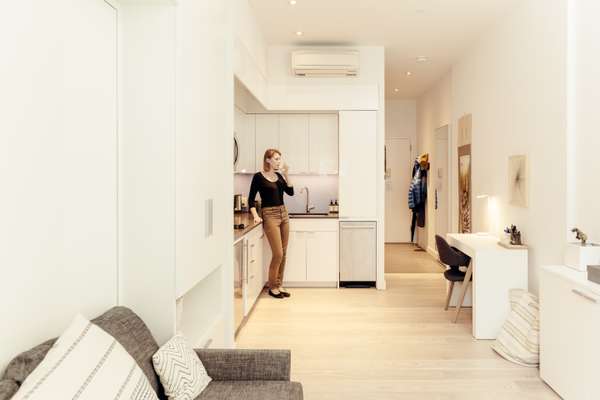 Space is at a premium in the world's major metropolises and living areas have been getting smaller for a while. According to the property consultant Jonathan Miller, the average apartment on sale in Manhattan shrank from 132 sq m in 1991 to 110 sq m in 2016. Yet there are a number of reasons why a development such as Carmel Place represents something genuinely new; chief among them is the impact the global financial crisis had on people's perceptions of quality of life.
"The recession of 2008 had an obvious effect on people's incomes and a smaller home is cheaper," says Witold Rybczynski, emeritus professor of urbanism at the University of Pennsylvania. "But it also affected attitudes to housing. Before then new houses in the US had been getting bigger because people had this optimism that they'd live somewhere bigger than their parents had. The recession broke that cycle and now living in a small place doesn't feel like failure."
At the same time the young people who continue to flock to cities are "very post-consumer", according to Lucian Smithers, director of sales and marketing at Pocket Living, a London developer specialising in compact homes. "They want a home to be an efficient item that doesn't financially drain their ability to enjoy the city." The proliferation of "co-living" spaces – where small rooms for rent are supplemented by communal social spaces and amenities – is the extreme version of this desire for simplicity. The Collective in London opened last year and provides more than 500 rooms with this set-up.
This all offers a unique opportunity for smart entrepreneurs. The shrinkage of the domestic sphere will mean activities that used to take place in the home will be transferred to other spaces in the city. It also means that household items will need to be redesigned to make them more compact. Here we take a look at five innovative businesses that are turning the shrinking home to their advantage.
Problem 1:
Storing winter clothing
Blue Crates
Chicago
Like many start-up entrepreneurs, the Walker brothers were motivated by a real-life problem. Both were living in one-bed apartments in Chicago and moving winter clothes into storage to make more room was "a pain in the ass", co-founder Michael Walker says. "There had to be a better way of doing this."
That better way meant creating Blue Crates, up and running in the city since last year. It's pitched as a "limitless closet" and for a fixed fee the company provides sturdy crates for packing goods and then picks them up and stores them in nearby warehouses (you can recall your crates once a month for free). The brothers are also looking to tap into the B2B side of the market by working with property owners who may want to offer Blue Crates membership as a sweetener to prospective tenants of small pads.
bluecrates.com
Problem 2:
Fitting in domestic appliances
Wasbar
Antwerp
Companies are already benefiting from the outsourcing of everyday tasks. Laundrapp, which launched a little over two years ago, collects, completes and returns laundry in the UK, and has just launched in New Zealand and Australia. Founder and CEO Edward Relf acknowledges that most newbuilds in these cities still make space for a washing machine but thinks that could change soon. "In Hong Kong, where I used to live, people tend not to have them," he says. "When people need to save space the washing machine is the first of the white goods to get dropped. Pretty much every corner convenience will take in laundry in Hong Kong. I can see that spreading."
Hopefully this won't mean a return of the drab, utilitarian launderettes of yesteryear. Instead we'll need more spots like Wasbar in Antwerp, a smart reinvention of the traditional washing business that attracts young city-dwellers who don't own a washing machine. Next to several whirring appliances, the space is dominated by a well-appointed café where patrons can grab a coffee and a sandwich while waiting for their washing.
Wasbar was founded in Ghent by Dries Henau and Yuri Vandenbogaerde in 2012. "We spent most weekends driving back and forth to our parents' houses in the countryside to wash our clothes," says Vandenbogaerde. "It wasn't the most efficient use of our time." Offering utility and comfort alongside refreshments and a full food menu, the Wasbar concept was quick to take off and soon expanded to a second space in Ghent and further outposts in neighbouring Antwerp. In 2015 Wasbar was acquired by Top Brands – an independent Belgian restaurant group – and now has its sights set on Amsterdam and London.
As apartments get smaller we might well see more co-living buildings where residents share utilities. But Wasbar offers another opportunity: to remove this service from the building entirely and turn it into a standalone business.
wasbar.be
Problem 3:
Too little greenery
Woha Architects
Singapore
Few cities understand the challenges brought about by a scarcity of space more than Singapore. Yet this island nation is surprisingly verdant, with greenery crammed into parks and rooftop gardens.
Architects Woha built the sky gardens of hotel Parkroyal on Pickering and residential tower Newton Suites, which features one of the world's tallest green walls. In 2016 it launched Oasia Hotel Downtown, a building with prominent red cladding designed to support green creepers. There are also four pocket parks built into the hotel for guests, office workers and the public. "We're losing nature at an incredibly fast rate as cities expand so we need to protect and enhance it," says founder Richard Hassell.
Augustine Tan, executive director of Far East Organization, the developers behind Oasia, is proud of the "living" facade. "It not only provides a soothing ambience but restores the diverse ecology, mitigates heat and reduces noise pollution," he says. Hassell adds: "Now there is measurable data to justify this investment. The health and wellness benefits of urban trees is equivalent to earning sg$10,000 [€6,700] more a year."
stayfareast.com
Problem 4:
Parking your bike
Vello Bike
Vienna
The city bike is the urbanite's top status symbol but storing one can be impossible in a tiny apartment – and foldable bikes are just a bit too functional to be cool. This was the problem that Bulgarian-born designer Valentin Vodov set out to fix when he founded his own foldable-bike brand Vello Bike in 2014 with partner Valerie Wolff.
The following year Vello offered three models, one of which earned Vodov the prestigious Red Dot award. There is a self-charging electric model in the pipeline too. High-quality materials (including leather saddles) give the bikes a less functional feel but practicality is still a key promise.
"We needed to think of a product with full flexibility," says Vodov. "One that is fast on the road and can be used with different transport but which can be stored in the living space, in the wardrobe or under the work desk."
vello.bike
Problem 5:
Hosting a dinner party
The Water House Project
London
As apartments get smaller one of the first casualties is normally space for hosting, whether that be the guest bedroom for putting up visiting friends and family or a proper dining room for throwing a dinner party. The latter has provided an incentive and opportunity for professional chefs to offer their skills.
Gabriel Waterhouse, who has previously worked at the Galvin La Chapelle in London, now cooks for groups of up to 14 people, three or four nights a week, in his own home. The Water House Project, as he has named the business, offers significantly better food than you'd be likely to cook yourself and also spares you the washing up – all for £50 (€58) a head.
"Smaller living spaces have made it increasingly difficult for people to entertain in the more traditional sense," says Waterhouse. "Also, for younger people, especially when they've just moved out of home, they often don't have the nicest places to entertain even if they do have the space." Having said that, he adds, "I like to think people are also coming for the food."
thewaterhouseproject.com
Comment
The view from Japan
By Kenji Hall
A few years ago the Japanese government drew up minimum living-space guidelines for its housing industry; the hope was that having a standard would make it easy to gauge whether a house or apartment was a good fit. The guidelines were also supposed to send a message to builders: we need more spacious living quarters.
So much for that idea. In Japan's densely populated cities the average home or apartment being built is now smaller than at any time in the past two decades; renters are downsizing too. "In Tokyo a growing number of dual-income couples are moving to smaller apartments to be closer to the city centre where they work," says Yoichi Ikemoto, editor in chief of Suumo Journal, a website specialising in lifestyle and housing trends. "And seniors in their sixties and seventies are giving up big homes in the suburbs for more convenient city living."
It's one of the ironies of Japan's economic superpower status that the average Japanese family's home is a fraction of the size of homes in less wealthy nations. More than six decades ago, just as Japan's economy was starting to take off, architect Makoto Masuzawa's "9 tsubo house" – 30 sq m – was an elegant example of compact living. The government now says that a 75 sq m city flat should be comfortable for a family of four with two preschool-age children and all of their worldly belongings.
That might seem unbearably cramped if it weren't for Japanese space-saving know-how. At appliance shops around the country you'll find cutting-edge toasters and coffee pots that don't take up much counter space, plus washing machines that can also dry your laundry and run so quietly that you won't hear them even if you're sleeping in the next room. diy shop Tokyu Hands has every organising product imaginable and lifestyle retailer Muji can dispatch experts to your home to sort and neatly stash away everything you own in a few hours.
Monocle comment
Is it a small world after all?
By Matt Alagiah
Few would dispute that shrinking apartments have arrived in major cities as a necessity rather than as a choice. But smaller living is prompting some remarkably big thinking about what we really need and what we can do away with (plus if you still have stuff you cannot bear to part with but don't have room for, companies like Blue Crates are on hand).
Perhaps one of the better consequences of people feeling compelled to live small is the fact that "sharing" is no longer a word associated with being down-at-heel. When everyone had their own big living room, office, utility room and garden to boot, it was easy to stay holed up in one's own home. More and more of these perks and amenities are now being taken out of the domestic sphere, meaning they're used by more than one person or family. That makes for both sociable and efficient city living. Bring on micro-living. Well, most of the time.