Television / New York
Backstage pass
We go behind the scenes at a stadium-sized operation where creating sets for some of the most famous live TV shows in the US – and the world – has become a family affair.
A chorus of sawing, drilling and hollering create the soundtrack to production day at Stiegelbauer Associates. Inside the scenic shop's hangar, which hugs the docks of the Brooklyn Navy Yard, are dozens of people covered in sawdust and flecked with paint constructing what will, in two days' time, serve as the sets for this week's episode of Saturday Night Live. The show's brutal critiques of the Trump administration have made it perhaps the most talked-about TV show in the world.
To walk through these halls is to be immersed in America's contemporary political and cultural landscape. On the left, three walls resemble the set of Fox News's The O'Reilly Factor whose host, Bill O'Reilly, was accused of sexual misconduct the week we visited – and within a short time would be forced to step down. (On show night O'Reilly, played by Alec Baldwin, talks with Donald Trump, also Baldwin, about Sexual Harassment Awareness Month; a subject the president finds "near and dear to my hand".) A few steps away, a team of men move with the deftness of Olympic figure-skaters to put up a frame that will soon look like a room in the Lower East Side's Tenement Museum, an institution that pays homage to the US's urban immigrant story – another divisive issue for the 45th president.
As many as 15 sets may be built today. Orchestrating their arrival at the Saturday Night Live studio at Rockefeller Plaza (also home to Radio City Music Hall and nbc's Today, and immortalised by the TV show 30 Rock) is like a puzzle game of set design. That's because Studio 8H, where the show is filmed, was originally built in the 1930s as the world's largest radio studio and home to the nbc Symphony Orchestra. In 1950 the orchestra moved its recordings to Carnegie Hall and the old space was transformed into a television studio. Retrofitting the building's almost 90-year-old lift to one that could transport sets for live TV proved to be cost-prohibitive, which means everything made at Stiegelbauer's needs to be broken down before being put back together again on the show's eighth-floor home. On the rare occasion a constructed piece can't be dismantled, the roof hatch of the lift can be opened so the set can ride all the way up intact.
"You just can't compare anything to Stiegelbauer," says N Joseph DeTullio, who is Saturday Night Live's production designer and on hand to oversee the construction every week. "No one in their right mind could produce this many sets in two days. It doesn't make sense. This place has it down to a science."
Indeed, the nature of the construction means anything less than Stiegelbauer's scientific approach would fail. A Saturday Night Live production day here begins at 00.30: that's when the sketches for the show turn up along with Steve Paone, head of production services. At 03.00 the 79-year-old foreman with his thick tuft of white hair, Stephen "Demo" De Maria (who has only ever missed a half-day of work, and that was when his mother passed away), arrives and begins assembling the teams of five and six people who will appear in a few hours' time and begin churning out the machinations of the show's writers and producers.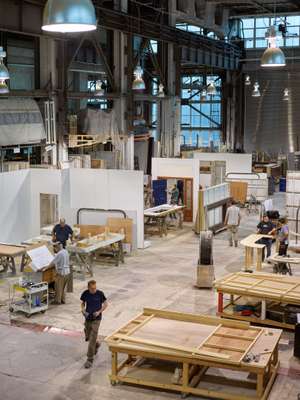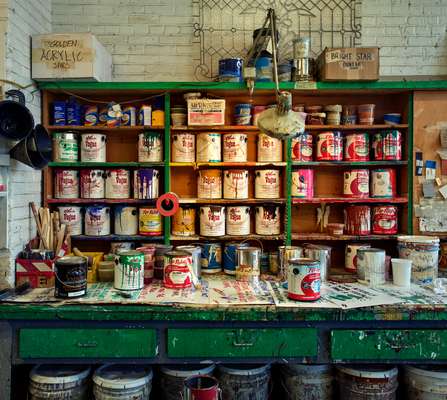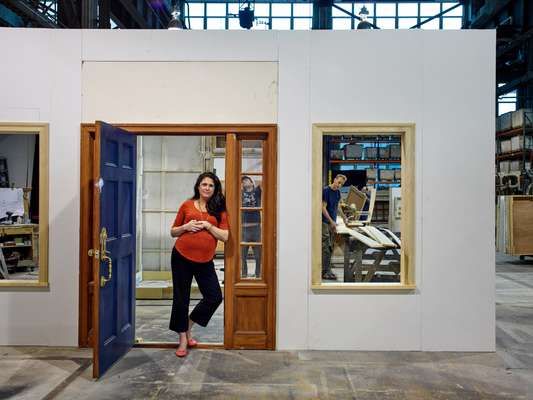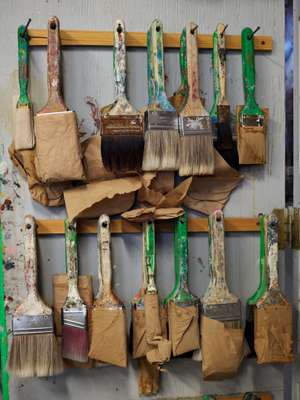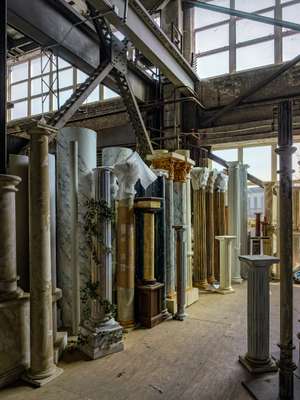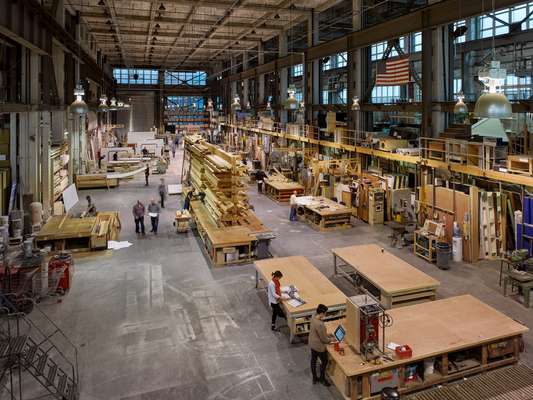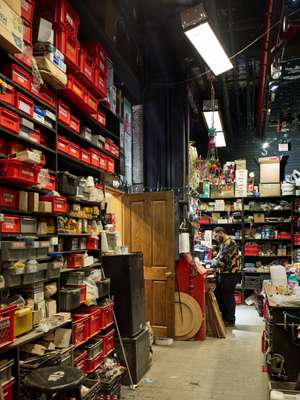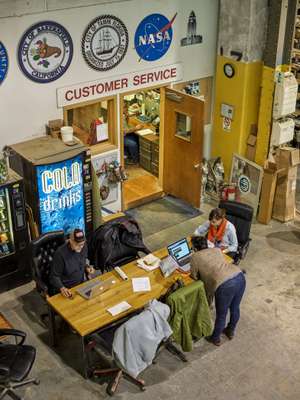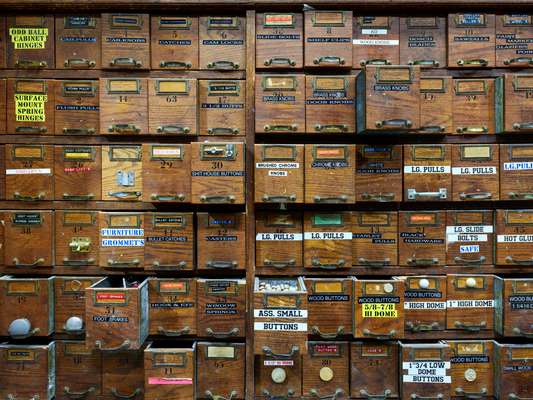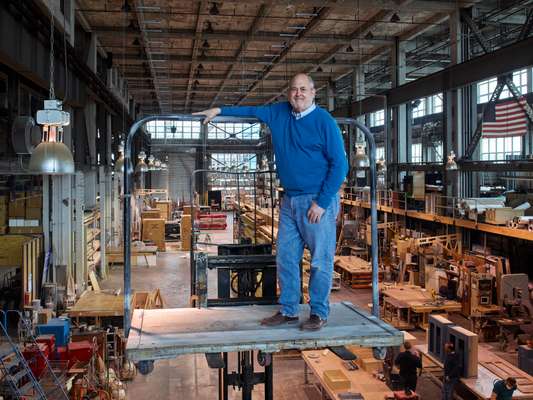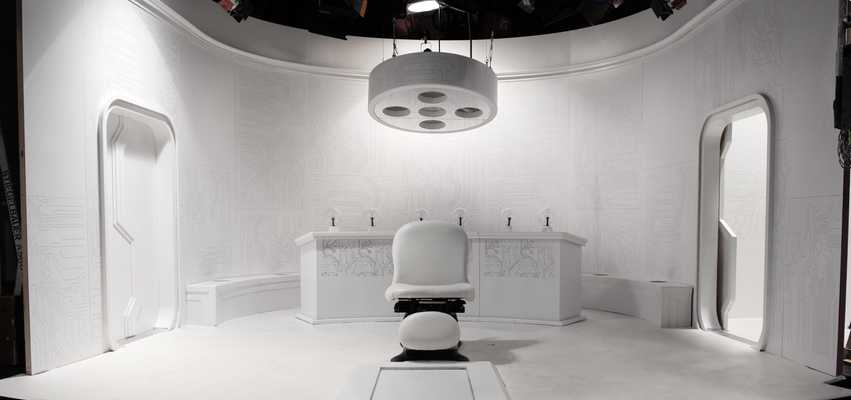 It's a seamless operation that comes from having almost a century of intergenerational experience. Owner Michael Stiegelbauer worked at nbc's scenic shop for almost 20 years; his father, Clifton, for 45. Clifton began painting sets at NBC after serving as a photographer for the US army during the Second World War. Tenacity pushed him up the ranks to become the head of scenic services before retiring almost half a century later.
Michael followed suit, first helping out during college breaks by sweeping floors and picking up nails and then, in 1967, dropping out and joining his father full-time. "In the beginning," he says, "I was in charge of whatever no one wanted to touch: foam, fibreglass and welding." He consistently asked those around him to teach what they knew "so that when they left, I took over".
Sharing his father's work ethic, Michael became head of metal and special projects by 1975 – the year that Saturday Night Live started. It was also a golden era for soap operas such as Another World and Texas, many of which had sets produced by Michael and his father.
A personnel shift around the time Clifton retired prompted Michael to test the waters and start his own operation. What ensued was straight out of the American dream. His first infusion of cash came after his wife, also a partner, agreed to refinance their home. When he found out that Saturday Night Live was taking bids to work with outside scenic companies, he threw his hat into the ring.
Given his previous experience with the show, no one could even come close to his Stiegelbauer offering. He nabbed the job and has been constructing for it ever since. "You have to be willing to jump off a bridge," he says matter-of-factly about his decision to risk everything and step out on his own. Ensuring that the business remained family-owned, his daughter Nicole joined the team to oversee administrative operations.
In 1987, Stiegelbauer Associates moved to the Brooklyn Navy Yard, which has a 160-year legacy of churning out warships; during the Second World War as many as 70,000 people were employed here. It was decommissioned in 1966 and so began a decades-long struggle to find a use for the 120-hectare site. In the 1990s an aggressive strategy enacted by New York (through a not-for-profit group called The Brooklyn Navy Yard Development Corporation) meant that these large-scale manufacturing spaces were carved up to allow smaller businesses, many of them in the cultural sector, to settle here.
Today 330 businesses and 7,000 people work in the old yard. And the hope is that, over the next two to three years, that number will balloon to as many as 16,000 as new workshops are introduced. Since his start in the early 1980s, Michael's arsenal has spread like wildfire. Sets from Stiegelbauer now adorn The Tonight Show starring Jimmy Fallon and Late Night with Seth Meyers, and he was also tapped to build the commentator boxes for several Super Bowls. Stiegelbauer has one of the only Vacuform machines in town, which means that when shows such as Gotham and The Blacklist demand a character punches through a car door, Stiegelbauer can create a softer plastic version, ensuring actors maintain the appearance of Herculean strength without breaking their hands.
Still, it's Saturday Night Live that forms the backbone of this place and a ladder up to the second floor reveals just how intertwined they are. Here is where rows of props – the silver car wrecked in a skit involving Steve Martin or the wood-panelled basement backdrop to Wayne's World, for example – are stored. While some are cloaked in plastic others, such as the podium made to resemble the one used by White House press secretary Sean Spicer, are open to the elements.
Even as on-demand TV continues to grow, Michael doesn't see the needs of the live version abating. And with Saturday Night Live's re-emergence as the beacon for political satire in the country (the show has some of its highest ratings in more than 20 years), his prediction is likely to be dead on. "We know how to build in the morning for something that's cancelled in the afternoon," he says.
Nicole, sitting next to Michael, is nine months pregnant at the time of this interview. "Our name is on every piece of scenery here and nothing is sent out that we aren't proud of," she says, taking in their stadium-sized operation. "This is not the normal family business and not everyone loves it the same way. This work is, without a doubt, genetic."
Years running: Since 1984
Staff: Can fluctuate from anywhere between 15 to 60
Most popular things it is asked to do: Use its Vacuform machine to build custom scenery
Who it has made the moulds for: Superheroes who need to look like they are punching doors and stopping cars
Some of the shows that have asked for Stiegelbauer's Vacuform technology: Marvel's Jessica Jones and Mr Robot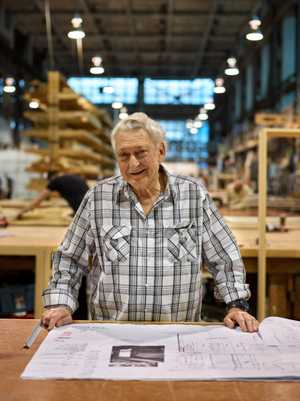 Stephen "Demo" De Maria
Foreman
Age: 79
Years working with the Stiegelbauers: Started working with Clifton in 1974
Most historic project: Helped to build the 1964 World's Fair
How he assembles his team: No computers, just a giant Rolodex
Hours on 'Saturday Night Live' production days: He arrives at 03.00 and leaves around 22.30
Number of years he's worked on 'Saturday Night Live': 42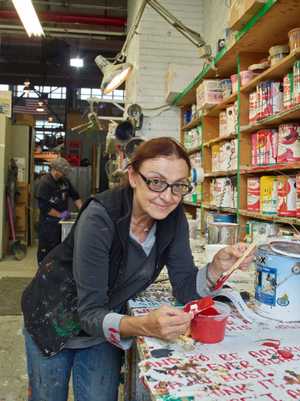 Halina Marki
Head of scenic
Number of years working at Stiegelbauer: 20
Her job when she's not here: Artist
What she loves most about the role: "Seeing a project through from start to finish"
Weirdest item she's worked on: A gorilla's hand big enough for someone to sit in
On her future: If she can, she'll stay here another 20 years