Design / Hamburg
Blue-sky thinking
From novel hot-dog buns and particularly accomodating pillows to three-dimensional cabin design, Monocle jets off to Hamburg's annual Aircraft Interiors Expo to see the innovations that are flying in the face of convention. Read on to find out which products are likely to remain grounded and which are taking off - no passport required.
It's 22.00 on a Monday evening. Passengers are boarding through the aft left door of a jet as its cabin crew watch on like hawks. "Miss… Miss…" an awkward male flight attendant says in a barely understandable English accent, gesturing towards a passenger clearly trying to hide an extra carry-on item under her coat. "You're going to need to check that bag. You're only allowed one carry-on item." At first the passenger pretends not to hear. Then she relents; her bag is soon tagged and sent down below.
As much as she probably hates to be called out for breaking the rules, there is likely some part of her that understands why those rules exist. And, in fairness, her cheap ticket (on this well-known UK-based low-cost carrier), with all that fine print, means that she gave up her right to put up a fight the second she clicked "Buy now". In spite of all that she still seems flustered – but on this flight she won't get a lot of sympathy.
As the boarding cattle-call subsides, conversations in the cabin increase in volume and it becomes clear that almost everyone on this packed Airbus a320 service from London's Gatwick Airport to Hamburg is headed to the German port city for one reason: the Aircraft Interiors Expo (AIX).
If only there were a way to make that sound as enticing as most of these passengers likely think it is. And if only the rule-breaker understood that her fellow passengers were the very people likely responsible for ensuring that every square centimetre of the aircraft cabin that she's now crammed into is strictly planned for. They're also – quite literally – the reason her seat doesn't recline (more on that a little later).
Those on the flight are among the more than 18,000 suppliers, designers, airline employees and aviation geeks headed to the Hamburg Messe for this annual event. They are here to see more than 550 vendors peddling their goods. From in-flight entertainment (IFE) and shower systems to fire-retardant shoes for flight attendants and sous-vide steak tartare (yes, it's a thing in the airline world), everything "above the wing" is part of the conversation at the AIX and the adjoining World Travel Catering & Onboard Services Expo (WTCE). Throughout these halls vendors stand, perhaps a tad too eager, ready to answer questions about their products, which are neatly laid out under the glaring tradeshow lights.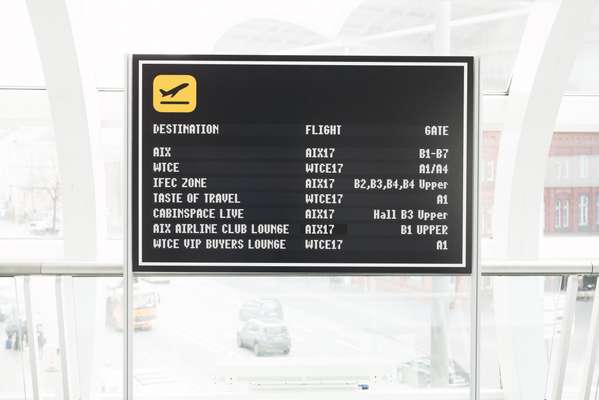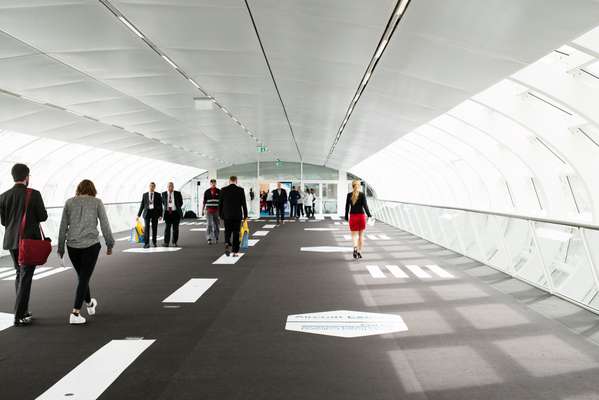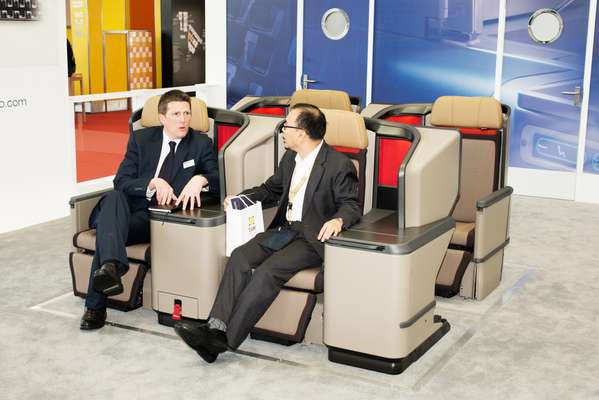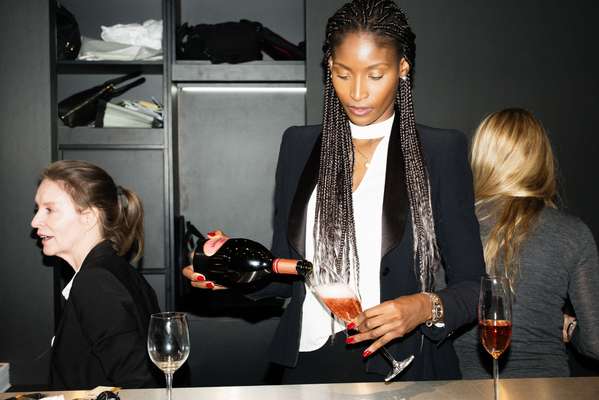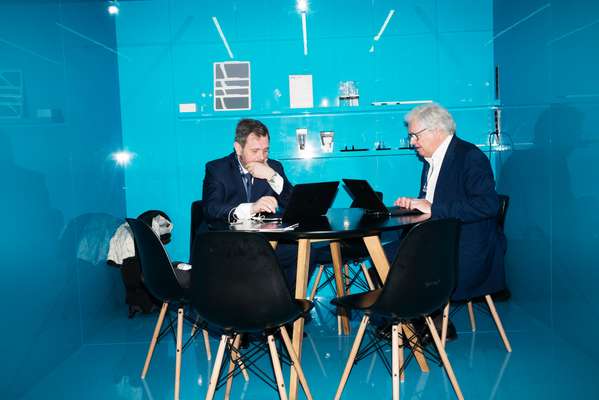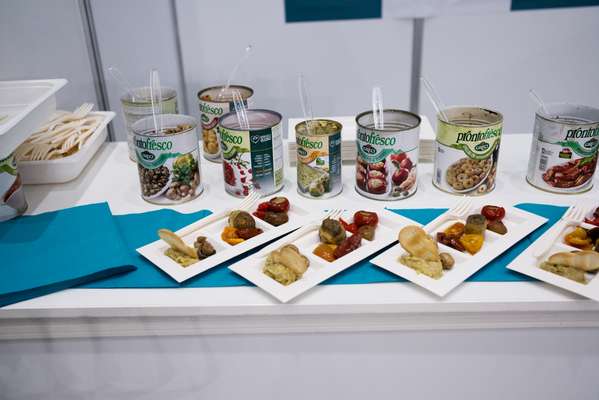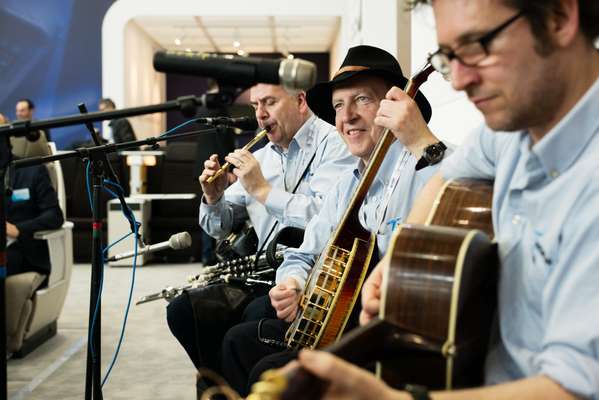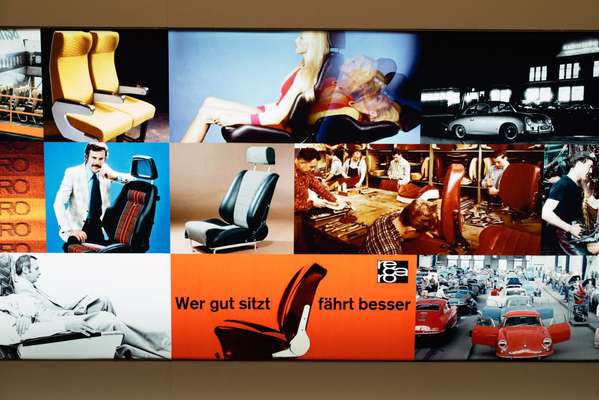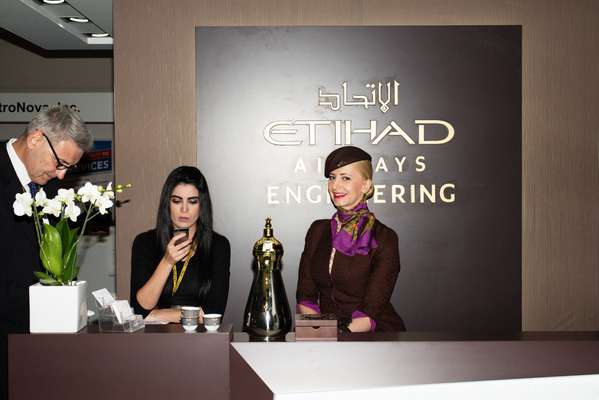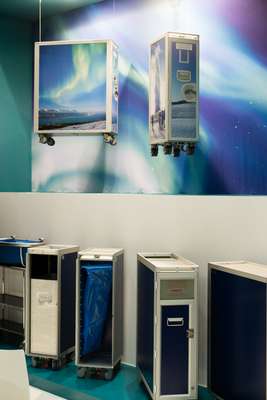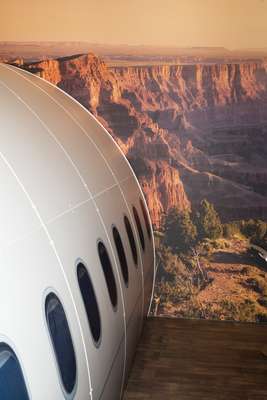 While attendees are wined and dined, the truth is never far from the table – businesses are here to make a sale in this €15bn industry. "I know a sliver of what it's like to be a woman," says a male attendee from one of the big North American airlines to a group of colleagues as he sits with them for coffee. "They look at your eyes for a second and then they look down." He is, of course, referring to the ubiquitous lanyard around everyone's neck, with a name tag dangling from the end. Identifying an airline executive or brand manager that might take interest in your product is the ultimate goal.
For three days attendees and vendors mingle, aided by an ever-present sales tool. "The only thing you don't get here is water or coffee: you only get champagne," says Juergen Schwald, CEO of BMS Papier Concept, in one of the massive exposition halls. "If you try to get water it can be very difficult. But the champagne is free."
Schwald's sun-kissed face seems a bit out of place in this often overcast city. He's here to host meetings with clients, who buy his meal-packaging solutions. His manner is easy; less stilted than many of the other Germans who make up the majority of attendees. The entrepreneur, who just arrived from his winter home in Mallorca, was born in the US, which explains his command of English – and his sense of humour. "I try to catch the head and the tummy," he says with a wry smile, holding out an empty yet colourful sandwich wrapper. "If there is a wonderful sandwich that is only in plastic you have the feeling that it is too industrial." His well-designed food-packaging products are used by airlines around the globe, keeping crusts fluffy and passengers intrigued by what's in the bag.
Schwald has been coming to Hamburg to sell his packaging products for years but at the 2017 edition he and his associates are showcasing an encasing that's actually edible. The U Bun is essentially a hot-dog bun but closed on one end to ensure that any filling won't squeeze out when you tuck in. It's a mess-averting feature that Schwald hopes will see many airlines biting.
Boozy discussions about buns and food wrappers are but a small part of what goes on in these halls. At a product display for Spiriant, a company that provides in-flight products, equipment and logistics for airlines, potential customers touch and observe pillows, duvets, pyjamas and glassware. Product designers stand close by, watching how people react to prototypes of what could, in a year or two, be standard in-cabin ephemera.
One such piece is a plush pillow with variable firmness. "On board an aircraft you do not have space for a 'pillow menu'," says Grit Peschke, Spiriant's product manager for on-board comfort. "So we created this pillow where one side is softer than the other." With a single product, Peschke's design team hopes to have solved two of the most frequent issues in the airline world: giving premium passengers more choice and doing so without taking up extra cabin space.
One of the challenges about these sorts of shows is envisioning the products on display as they would be seen at 30,000 feet. Space might not be an issue in the carpeted halls of the messe but it is does form one of the most important topics of conversation. Airlines are constantly pushing airplane-seat manufacturers to find new ways of using space in all classes of service.
The German seat-maker Recaro pitches up at AIX every year and has one of the biggest stands. From the outside it resembles a fortress, cordoned off for vips and potential customers only. On the inside the brand's current seat models, from Economy to First Class, are laid out for a yet-to-be-convinced airline executive to drop into.
Recaro's seats have a clear design language and an attention to detail for which it has become known. If the name sounds familiar it's probably because Recaro designed some of Volkswagen and Porsche's early models – and some of the first car-racing seats.
From low-cost to full-service, Recaro's seats are used by many renowned carriers in many different ways. Sometimes airlines request seats that don't recline, in order to make room for more seats. Other times the design team at Recaro is tasked with building seats that will be a benchmark for premium travel, allowing passengers to sleep comfortably in fully horizontal positions. "What is not utilised nowadays is the third dimension," says Recaro CEO Dr Mark Hiller. He believes it's about building up or creating new space on the vertical. "There is a lot of improvement on the floor but in the long run aircraft cabins will look different using the third dimension."
As for what that third dimension might look like, there are plenty of concepts but nothing yet in service. When lead times on the production of a new seat are anywhere from two to three years, it's easy to understand why Business Class bunk beds or two-storey seat arrangements in economy might be a distant goal.
Still, it's entertaining – and more than a little scary – to think about all the ways that an airline could cram more people into row 24 on the flight back to London. And after days of champagne happy hours and impromptu conversation at this year's expo, all the attendees heading home surely have a few more ideas as to how they could make that happen.