Residence / Zürich
Concrete jungle
Eduard Neuenschwander's modernist colony is designed to nurture nature.
The mountainside hamlet of Gockhausen, east of Zürich, is home to more than well-to-do retirees and young families. Enclosed by emerald-green fields and shaggy pine forests sits a planned community created by Swiss modernist architect Eduard Neuenschwander. Designed in the 1960s when the area was mostly fields and building restrictions were few, the colony of houses and workspaces with their verdant courtyards are testament to the late designer's naturalistic approach.
"My father always created the houses and the gardens at the same time," says Matti Neuenschwander, who is continuing the family legacy as an architect and lives in an apartment attached to the office he once shared with Eduard, who died in 2013. "Most architects just build the houses and the garden is an afterthought but not for him: the plants and the landscaping were just as important."
A fine draftsman with a love of biology, archaeology and the natural environment, it was through architecture and landscaping that Eduard found creative freedom. As a 25-year-old in 1949 he went to Finland to work with Alvar Aalto. His time in Helsinki left him with a keen respect not just for building on a human scale but also for nature in all its forms. No recluse though – "my father wanted to have interesting people around him," says Matti – the colony was a distillation of all of the architect's great passions into a free-flowing place for life and work.
In its heyday it was home to a dance studio, musicians, an architecture practice of 40 staff and a gallery. Today the two rows of 11 buildings have mostly been converted into private residences. Yet the staggered boxy units with their uniform proportions, glass façades and the intermingling of the indoor and out remain a prime expression of Eduard's modernist design ideals.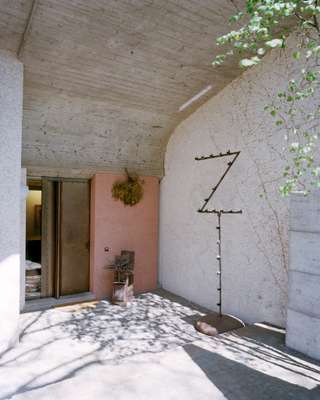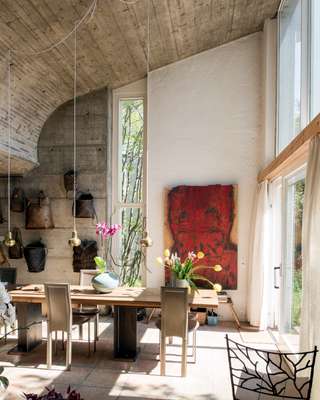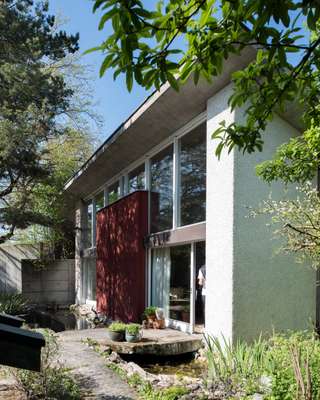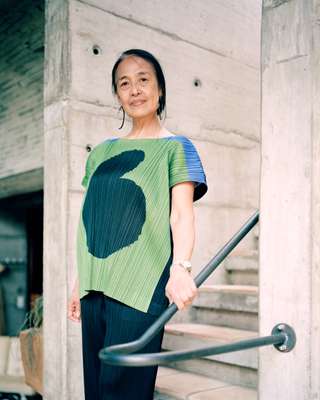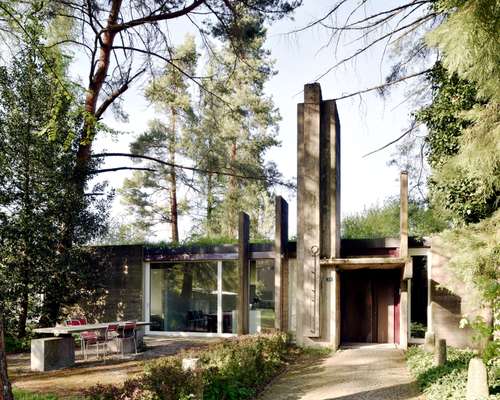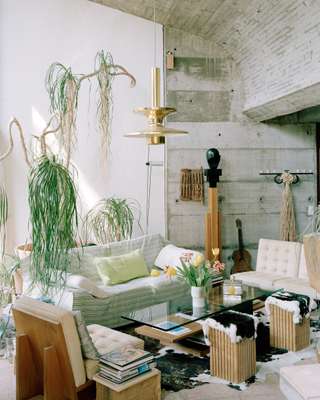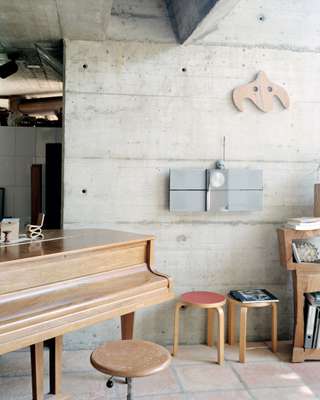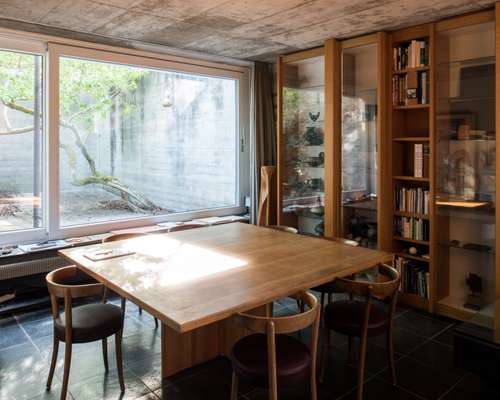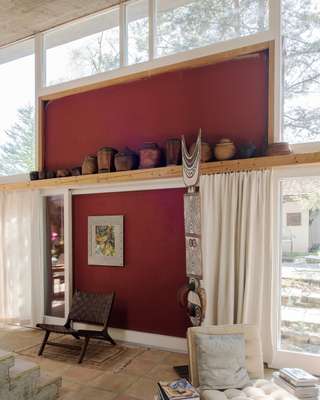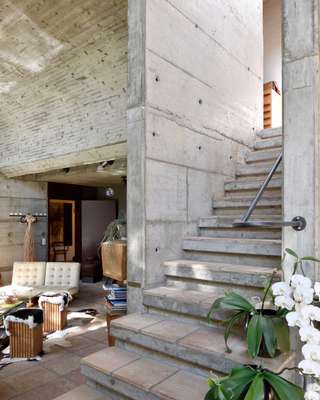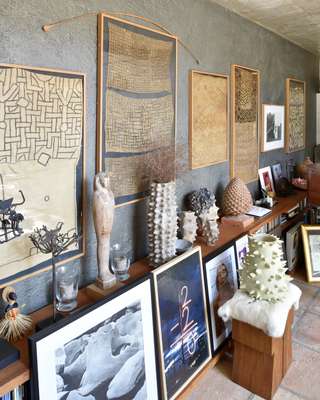 The estate at Gockhausen proved to be fertile ground for experimenting with the landscape. Roughly hewn sandstone slabs skirt manmade ponds or are used as walls and pavements. And here, too, the architect played with his chosen material, concrete, building a studio and a family home that, Matti says, was largely an experiment and "a real architect's house". It wasn't until 1980 that Eduard built the community's finest residence: a family home in which he lived with his second wife Menchu and son Christian.
Though Menchu says her husband built the house in a hurry (it was autumn and there are traces of leaves in the walls' concrete), it is a spectacular manifestation of the architect's influences and his learning from other buildings on the site. The curved ceiling, exposed concrete walls and sliding glass doors are indebted to the influence of Le Corbusier (a friend of Eduard). The concrete also shows off the architect's admiration for the material's versatility and resilience.
Although most surfaces are left exposed, some are rendered smooth with plasterwork; others are puckered and painted white or ochre, the paint always mixed by Eduard himself. "He was concerned with showing the material, the power of concrete," says Matti. "He liked it and knew how to use it well."
A concrete wall outside the metal front door coils out in a curlicue. It had been overgrown with ivy until recently, when Menchu decided she would like to see its form again. "It's a sculpture and it's too beautiful not to show it. But that was my husband's speciality: this wilderness."
The architect was also a prolific furniture designer and here leather sofas, low-hung brass lamps and a wooden table with industrial metal legs sit easily next to a Le Corbusier chaise longue. A round slab of granite makes a formidable table in the kitchen: artists and friends would often gather during Eduard's lifetime, drawn in by an open fire that could be lit in the centre. While the architect was busy in his studio, Menchu ran a gallery in the basement of her husband's practice. She often followed her passions, such as exhibiting delicate and rare African textiles, a number of which are still hanging on the walls of her home. The house is testament to a creative life well lived: among Egyptian sculptures and African busts are Eduard's botanical sketches, while a Joan Miró hangs in the hallway next to two colourful renderings gifted to him by Le Corbusier.
Across the grass, shaded by birch and pine trees planted as a carefully planned wilderness, is Eduard's former architecture studio. Built around a courtyard it shows, as with the main residence, an organic approach to modernism; gently curved walls catch and absorb the sun. After Eduard's death it was downsized by Matti, with some of the space turned into a sizeable apartment that the family have been renting out for the past couple of years. But the architect's spirit is never far away: to get to the apartment, residents must walk down a long hallway that is lit in the day by large windows and which still houses Eduard's art collection, including works by one of his favourite artists: Spanish abstract painter Eduardo Chillida.
Matti has also worked on carefully refurbishing one of the on-site residences that served as a dance studio for many years. He was keen to be faithful to his father's love for the purity of the material he worked with and retained many of the exposed concrete walls. "We feel very cosy and cocooned in these houses," says the home's new occupant, Henriette Rosa, who has lived in the Neuenschwander colony for more than a decade. "The fact that it's so close to nature means that my children practically live outside and the alleyway between the houses is a really friendly space."
Today Eduard's legacy is being re-evaluated in Switzerland and growing numbers of architecture students are making the pilgrimage to Gockhausen to admire his mix of organic modernism and untamed landscaping. His work was always a balancing act: shaping and remoulding to create new habitats that would suit not only people but the flora and fauna around them. "Most modern architects have a narrow outlook," says Matti. "But his was always 360 degrees."
Brief history
Born in 1924 in Zürich, it wasn't until the 1970s that Eduard Neuenschwander started getting major commissions in his home country. He designed a university building in the capital with concrete curving wings that proved divisive when it opened in 1970 but Irchel Park, a major landscaping project that he worked on with Atelier Stern in the 1980s, was widely acclaimed. In 1991 he formed the Foundation for Building Culture, which still works to preserve vernacular buildings.