My last meal / Albania
Edi Rama
The prime minister of Albania sits down in his office dining room to talk politics, relationships and his dream dinner.
"I never go out for lunch. In three-and-a-half years as prime minister I've had fewer than 10 meals outside – and those were with my family. I always felt bad about prime ministers passing their time in restaurants. To me it's very unethical. This is not a big country, not a big city, so people know each other and when you go for lunch with someone, others get jealous; there's gossip. I made a rule that ministers cannot go to restaurants during work days except for family occasions. Our life here and in the Mediterranean region is very much about gatherings, lunches, dinners, drinks, but when you are in this high an office you should be as austere as possible. People want us to work, not spend hours in restaurants.
So when people come and have lunch, it's here. Tony Blair, Sigmar Gabriel, the prime minister of Poland, the prime minister of Croatia. We talk about common challenges, about the region. Different things. We are normal people at the end of the day. I'm very proud to have the friendship of former Swedish prime minister Goran Persson – who was also here in this room – an incredibly cultivated and fine person. Gerhard Schröder was also here. Great man. These people are very special. Blair, Persson, Schröder, Massimo D'Alema: these are people with a sense of the world, with mountains of experience. With Blair you feel like you can google world politics in real time, same with Persson and Schröder. Big guys.
Personal relationships are very important, such as with Aleksandar Vucic, Serbia's leader. If we didn't have a personal relationship we may have had terrible fights thanks to our countries' disagreements. But the personal relationship helps us agree to disagree in a civil way.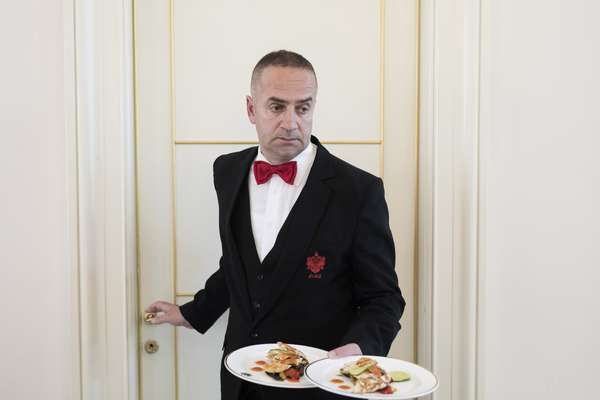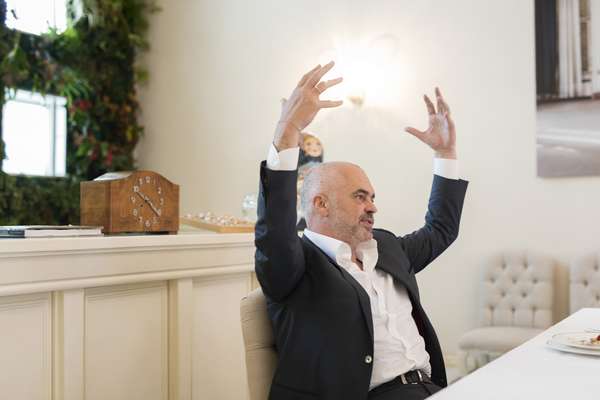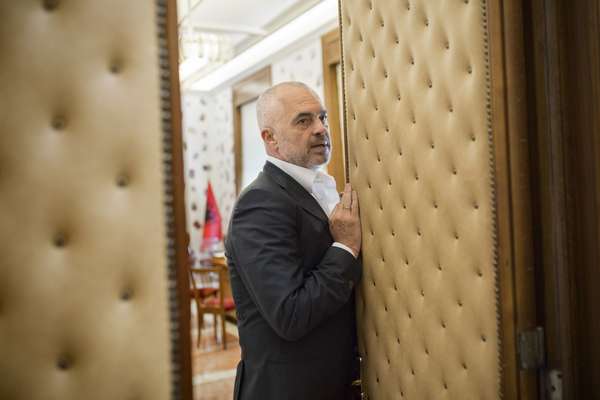 Albanian dishes are a mix of Italian, Greek and Turkish cuisine, which is why they are sometimes better than all three of them. What I particularly enjoy are stuffed aubergines – though that's not an Albanian dish, it's more from the east. But the king's plate in Albania is fish. We have fantastic fish dishes – and the second-best espresso after Rome.
I didn't drink any alcohol for many years because if I would drink a drop I would feel tension – not an allergy, just my body refusing the alcohol. Then a friend, who is a great wine collector, introduced me to some good wine. I didn't want to drink; I was terrified. But he said, 'No, if you get sick, you get sick'. Typical Albanian hospitality: a violent generosity. I had two glasses and it was perfect. So since then I sometimes like to drink – but not much and always in measures that will help my blood pressure and my health. There are some fantastic Albanian wines now but we don't have a tradition in wine – we have a tradition in raki, which is much stronger.
I have dinner at home. Very simple, based on olives, onions, salads, all from the garden or the village where I live. We get fantastic eggs from our chickens. The only dinners I dream of are the dinners that my wife prepares for special friends in our home. These are the events for me. Not working lunches or working dinners, just dinners with friends. It doesn't happen often but when it does it's fantastic. This is the only part of gastronomic life I dream of."
---
Edi Rama is the prime minister of Albania. Born in Tirana in 1964, he arrived in politics after careers as an artist, academic, author and professional basketball player.He was appointed Albania's minister of culture in 1998 and elected mayor of Tirana in 2000, serving three terms and being named the winner of World Mayor in 2004. As leader of Albania's Socialist party he was elected prime minister in 2013 – and he will be running for re-election on 18 June.
---
The private dining room in the prime minister's building in Tirana, which was designed by Italian architect Gherardo Bosio in 1939, during Italy's wartime occupation of Albania. It was originally known as Il Palazzo della Luogotenenza and was the office of Italy's military envoy to Albania. It has been the office of the Albanian prime minister since 1945 and under Edi Rama has also housed Albania's Centre for Openness and Dialogue, a publicly accessible archive, library and gallery.
Appetisers:
Mixed seasonal salad with avocado, cherry tomatoes, cucumber and onions.
Main course: 
Tagliatelle with truffle and flakes of grana cheese.
Chicken-breast fillet on bed of oven-baked vegetables, with tomato sauce.
Dessert:
Fruit plate (mango, strawberry, kiwifruit, apple, orange).
To drink:
2013 Arbëri Kallmet Rezervë.