Food & drink / Global
Food
&

drink
Briefing
The best places to eat in Santa Monica, new openings in Amsterdam, London and Los Angeles and artisanal cheese from Singapore.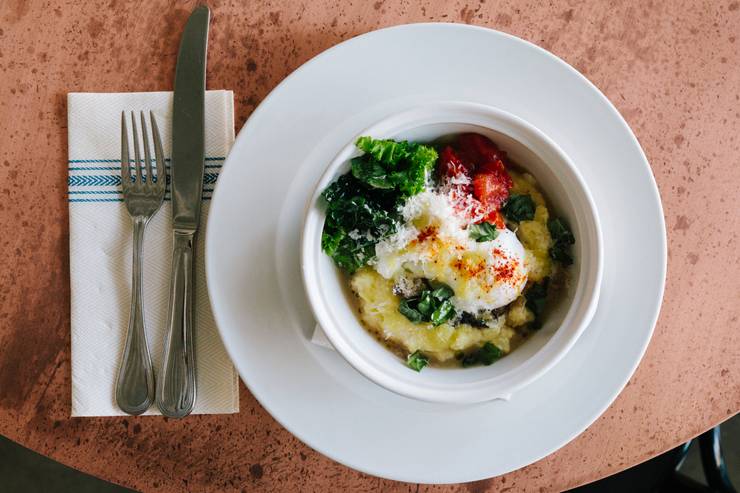 The best places to eat in Santa Monica are away from the famous pier that pulls in tourists wielding candyfloss. Instead start on a sleepy stretch of Pico Boulevard where the flower-trimmed Lunetta All Day riffs on the notion of the American diner. But instead of sad coffee and greasy sausages you'll find cold brews, fresh courgette loaves and wood-fired Jidori chicken (as the name of the establishment suggests, the menu runs all day so staff won't bat an eyelid at your hankering for lemon-and-ricotta pancakes at 22.00 on a Friday).
Closer to the beach Ashland Hill has a gem of a beer garden where almost everyone from the neighbourhood (plus their pooches) congregates. Order one of eight California craft beers alongside a pretzel roll smeared with mustard butter and you'll blend right in.
In the heart of downtown, at 7th and Arizona, is Cassia, which samples Southeast Asian flavours in a gorgeous French brasserie-style setting. The buttery escargot, scooped up with clay oven-baked naan, is a favourite but the Vietnamese pot-au-feu, succulent grilled pig's tail, and braised, then grilled lamb breast with fiery sambal and sesame sauce are close competitors.
lunettasm.com; ashlandhill.com; cassiala.com
Singapore's climate means making and storing cheese can be tricky but Charles Goh saw the dearth of decent dairy as an opportunity. He went overseas for his favourite French and Spanish cheese before becoming an importer in 2012. Now he is expanding with a new bistro kitted out with Singapore's first maturing rooms. Inside are French Comte, Delice de Bourgogne, Bavarian Krista and 80 more varieties, including chief cheesemaker Oliver Sutton's experimental smoked Irish Blue rinds packed in Chinese black tea. They can be tried in-house or taken away along with wine, Tartuflanghe truffles and cold cuts.
cheeseartisans.com.sg
"I'm not sure outsiders realise how young our cuisine is," says Gudbjorg Gissurardottir, editor and publisher of Iceland's handsome new bilingual magazine Faeda/Food. "We went from very basic food and people rarely eating out to having a Michelin-star restaurant in Reykjavík." The journal is a strong editorial voice in a fast-changing culinary landscape, serving portions of sumptuous photography with new products and openings, and a peppering of food folklore.
Sara Kramer and Sarah Hymanson cooked at Brooklyn's Glasserie before relocating to LA and opening Kismet. The focus here is on zesty, vegetable-centred Middle Eastern food with a US twist that "fits the time and place", as Kramer says. The salads are excellent (try roasted radicchio with beetroot and sunflower seed tahini) and the few meat cuts are top quality.
kismetlosangeles.com
"There's an enormous rediscovery of Italy's classic wines," says Giovanni Mantovani, president of the trade fair held in April. Barolo, Barbaresco and Tuscan reds are on the up, while buyers are also looking to Sicily.
Amsterdam-based design studio Staat has brought drama to this 1970s theatre, updating it into a spot for "everything we love", according to creative director Merel Korteweg. Alongside a photo studio and co-working space you'll find a restaurant offering hearty breakfasts with a local touch, including Klaver goat's cheese on sourdough. Pop in for adventurous lunchtime plates such as deer croquettes but dinner will have to be a sausage at Worst Wijncafé, as the restaurant here shuts at 19.00.
newwerktheater.com
Q&A
John Voultsis
Founder & CEO, Monthly Flavors
Athens
Voultsis left his job at a food exporter to scour Greece for products for his subscription service. Now his firm supports more than 100 producers of olive oil, jam, pasta, honey and herbs.
Tell us about your producers.
They are reversing the trend of flocking to cities and trying their luck in the countryside, where they are experimenting. Think trahanas [a cous cous-like affair] with goji berries, snails marinated in olive oil or dry feta that doesn't need refrigerating.
What's in the box?
You never know what you're going to get and you'll never find the same selection twice. Our producers have their own brands and we have a soft spot for unique branding and packaging.
Any favourite products?
In our latest box I love Oilove organic olive oil, lemon-and-lime jam from Larissa and Agrozimi pilaf with mushrooms and vegetables from Giannitsa.
monthlyflavors.com
Tomonari Chiba's decision to leave the Nobu stable to start his own understated Japanese restaurant in Marylebone back in 2006 proved a masterstroke (we are devotees of the resulting 28-cover gem). This spring, Dinings adds an outpost in London's Knightsbridge, offering additions such as a robata-style grill, mezzanine-level private dining room and outdoor terrace.
dinings.co.uk
The UAE has a sweet tooth but chocolate bars here are often costly imports or mass-produced mush. "We've been inundated with interest," says Kathy Johnston, who co-founded Mirzam in 2016 to make small-batch dark chocolate in Dubai's artsy Alserkal Avenue district. Its cocoa comes direct from farmers in lesser-known producing nations such as Papua New Guinea and Vietnam. Flavour pairings reference the trade-route history of the Gulf region, such as coffee with cardamom or dates with fennel.
mirzam.com