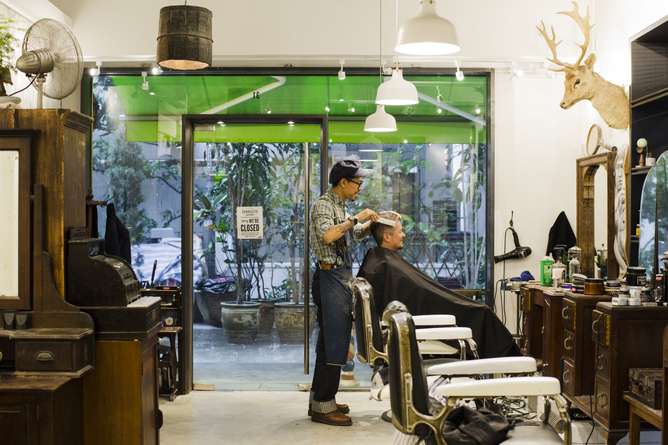 Retail
1.
Hair House Barbershop
Hong Kong
Having gone to Shanghainese barber shops as a child, Adam Chan (pictured) started his own men-only hair salon in 2013 – and that goes for both those cutting the hair and those in the chair. Hair House Barbershop was one of the city's first such salons and now a second outlet is opening near our HK bureau. All eight staff members were once Chan's clients and he also happens to be a part-time funk-rock musician, which might help to explain the harmonious surroundings.
GF, 31 Sau Wa Fong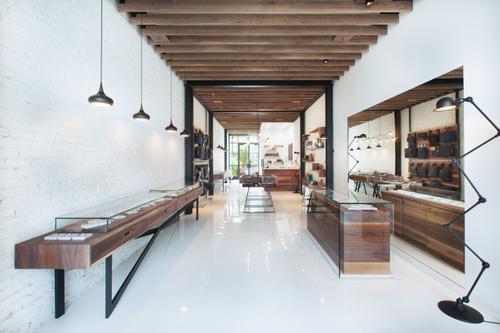 California-based Miansai made a name for itself peddling masculine jewellery that riffs on nautical themes: think gleaming hooks and anchors, and bracelets made with colourful boat lines. More recently it has charted a new course with matt-black finishes, signet rings and leather bags. It's also opened a second showroom in California's Venice Beach. Founder Michael Saiger designed the room with Brooklyn-based furniture-maker Analog Modern. The hand-finished black-walnut cases provide a fitting backdrop for Miansai's range.
miansai.com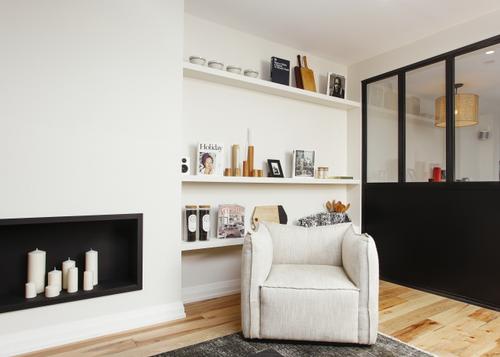 Three childhood friends launched Canadian clothing brand kotn online in 2015 to sell wardrobe staples made from Egyptian cotton at accessible prices. In March co-founders Rami Helali, Mackenzie Yeates and Ben Sehl opened their first shop on Toronto's Queen Street West. "The cotton we use is our main selling point so you really need to touch and feel it and try it on," says Yeates. The line of everyday items includes sweatshirts, jogging bottoms and men's underwear. A women's collection is in development, with plans for more retail spaces underway. "A click online is just a click," says Sehl. "It works so much better when you can engage all the senses."
kotn.com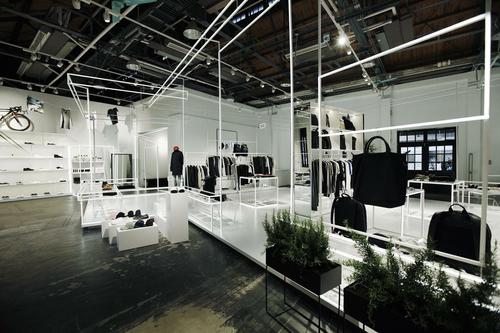 "E-commerce is not a bad idea but without a real retail experience it loses the romance of telling a brand's story," says Wil Fang, who opened this bright multibrand shop in Taipei's Huashan Creative Park with two partners. Their idea can be traced to a shared high-school interest: trainers. Now in their mid-thirties, with business know-how from careers in finance and merchandising, the team are confident in their cadre of brands. Based between Hong Kong and Singapore, they commute to Taipei weekly for their venture. Their ambition extends beyond the current retail-cum-café set-up; food and music options are slated to be added in the future.
+886 02 2341 5660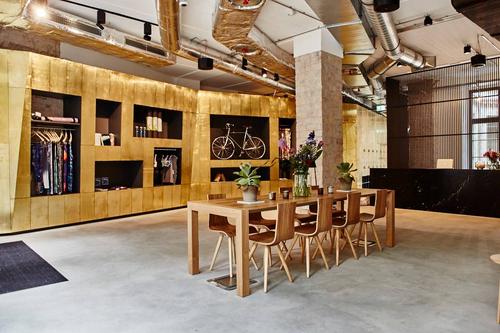 Becycle, in Berlin Mitte, is a smart fitness studio with an upbeat feel. It was designed by Götz + Bilchev Architekten in collaboration with Lien Tran Interior Design and draa, and is a handsome spot for a spinning session with its black marble counter and brass-clad shelves bearing fitness accessories. It's also a great place to unwind and network. Once you've finished one of Becycle's many timetabled cycle classes, co-founders Gundula Cöllen and Viola Hütten's studio boasts a co-working space and a health-conscious restaurant called My Goodness Kitchen. The latter serves a range of fruit smoothies so you can kick back after a workout.
becycle.de
Stocking everything from Belgian bed linen to Indian rugs and American-made furniture, Portland brand Rejuvenation has recently opened its first east-coast outpost. Many of the products hail from the company's own factory; others are collaborations with designers such as Nick Tretiak and Rhode Island's o&g Studio. We're fans of the bathroom taps from Brooklyn's Watermark, the customisable lighting – including smart ceramic pendants – and the light-bulb workstation that allows you to press a silver button next to each bulb to test it.
rejuvenation.com
Books
7.
Type Tells Tales
Steven Heller and Gail Anderson
Typography has long been seen as a way of rendering a message with utmost clarity but this handsome new title examines how lettering and fonts can also bolster the character and tone of what's being said. From the loquacious paintings of Laura Fosberg to the playful mid-century imaginings of Bruno Munari, the 223 pages are a paean to the world's top typographers (and an antidote to its obsession with Helvetica to boot).
thamesandhudson.com
8.
Chaos and Culture
Victoria Newhouse
A document of the decade-long building of the Stavros Niarchos Foundation Cultural Center (snfcc) in Athens, designed by Renzo Piano and commissioned in the midst of Greece's financial crisis. Completed last year, the new home for the Greek National Library and Opera is for some a symbol of economic reform. For others, the €600m price tag remains a contentious issue.
monacellipress.com
9.
East London 
Charles Saumarez Smith
Saumarez Smith has lived in east London since the early 1980s. His book, unlike most about the capital's creative hub, excoriates the hip veneer of the area to expose its history (razed during the Second World War and painstakingly rebuilt) through pumping stations, walkways and the stories behind faded shop signs.
thamesandhudson.com
10.
Architecture Matters
Aaron Betsky
If this book were a building it would be an understated but important one – more Mies van der Rohe's Barcelona Pavilion than the Burj Khalifa. The observations consider the social and political role of architecture. Moving between critique and wide-eyed admiration for his subject, Betsky reminds us about the built environment's responsibility to make things better as well as to dazzle.
thamesandhudson.com
11.
Mobitechture: Architecture on the Move
Rebecca Roke
Dealing with structures that are moveable is not architecture's forte (heavy bricks and ever-taller buildings see to that) but this smart title catalogues the discipline's (often playful) attempts at it. The 250 mobile architecture projects range from wearable tents to a ski-mounted cabin in the Dolomites.
phaidon.com
12.
Co-Art: Artists on Creative Collaboration
Ellen Mara de Wachter
London-based curator and writer Ellen Mara de Wachter celebrates how artists join forces – and in a manner that quickly dispels the "lone genius" theory. From couples to lifelong friends and expedient business hook-ups, the 25 groups featured here span artistic fields and nations but all speak about hierarchy and anonymity, and how dissonance has helped or hindered their work.
phaidon.com
13.
Marvin E Newman
Edited by Reuel Golden
Artist, photographer and New Yorker Marvin E Newman is celebrating his 90th birthday in December yet his images of his hometown are as vibrant as ever. From the bright lights of Broadway reflected in a rain-lashed street to the shuttered shopfronts of 1950s Coney Island, this monograph is a thoughtful portrait of his captivating canon.
taschen.com
14.
Vinyl. Album. Cover. Art: The Complete Hipgnosis Catalogue
Aubrey Powell
With work for Pink Floyd, Led Zeppelin and Peter Gabriel, design collective Hipgnosis found the sort of pastoral surrealism that suited a very English sort of psychedelia. LPs became artworks before you'd even dropped the needle. Sleeve-lover's heaven.
thamesandhudson.com
Shopping list
Having worked in foreign policy and counterterrorism at the US State Department, Joanna Peet's career took a softer turn when she launched this smartly packaged moisturiser, cleanser and face oil for sensitive skin. Each is made in the US from plant-based ingredients.
peetrivko.com
This retro-style number uses a mirrorless system so it's smaller than a dslr but it still has the option of interchangeable lenses. The 24-megapixel sensor delivers vivid results thanks to a combination of solid auto functions alongside manual overrides.
fujifilm.eu
Launched in January, Los Angeles-based design firm Inventery's mechanical pens are weighty tools. "We obsess in quiet madness over the small details and seek taste and sophistication," says co-founder Jeff Cheng of the pieces, which are machined from a solid brass rod and fitted with a German-made Schmidt mechanism. Each pen has a serial number and is covered by a lifetime warranty.
inventery.co
Co-founders Anja Bauer and Jacob Brinck wanted their stark vases to contrast their organic leafy cargo. Each of this sturdy trio is inspired by the brutalist architecture beloved by the designers and made in India from a sheet of powdered aluminium that's spun at speed into the desired shape.
llotllov.de
A perch for books in a bedroom or blooms almost anywhere (or a mobile drinks trolley), this Valet by Les Basic was released early this year. Argentinean-born Alexander Lotersztain is the clever soul behind this wheely wonder.
lesbasic.com
20.
Bike helmet 
Closca Fuga
Three concentric plastic-and-foam rings collapse to the size of a hardback book to make this helmet easy to cart about. It can also be kitted out with a trim reflective visor or wool cover for frosty commutes.
closca.co
These pots and pans have the look of cast iron but are actually made from light aluminium. The pots in the Nordic Kitchen range are available in sizes as capacious as six litres and the honey-hued oak handles are a tactile delight.
evasolo.com
22.
Wooden birds
Architectmade
Such was Danish architect Hans Bølling's fascination with parrots that they often made it onto his buildings' blueprints. Dreamt up in 1961, this playful tribute to his feathered friends is made from hand-painted pine and joins Architectmade's roster of Danish adornments.
architectmade.com
23.
Perfume
Grenson + Haeckles
Northamptonshire shoemaker Grenson moved into a swish new premises in 2013 but this collaboration with Margate-based skincare brand Haeckles is inspired by the cobbler's old factory in Rushden: expect floral notes of cyclamen, zesty orange and woody undertones.
grenson.com; haeckels.co.uk
Ones for the road
If you're setting out on a drive, flight or by rail, some ideas to keep you on track.
30-minute journey.
Podcast: Song Exploder
(25 minutes) Relive the magic of music-making with great tracks, new and old, unpacked by the artists behind them.
songexploder.net
40-minute journey.
ALBUM: Feel Infinite by Jacques Greene (36 minutes)
The Montréal music maestro's first LP sees his revisionist house music come of age.
60-minute journey.
PODCAST: S-Town
(first episode, 52 minutes) The fêted and long-awaited follow-up to the wildly successful Serial podcast.
stownpodcast.org
Analogue approach
As ink-on-page evangelists, we think it's heartening to see technology companies turning to the tactility and authority of the printed page. File-transfer firm WeTransfer has printed a pretty triptych of books that explore creativity via the notions of Doubt, Magic and Time through the work and insight of 28 writers, photographers and illustrators.
visual-editions.com
Film
The Odyssey
Director: Jérôme Salle
This biopic of Jacques Cousteau, the man who showed the world that the ocean was a place of beauty, danger and wonder, is suitably sumptuous. Lambert Wilson and Pierre Niney have the Gallic good looks while Audrey Tautou dazzles from the deck. But it's the deep blue that really beguiles. Nostalgic, beautiful and a future warning too.
The Other Side of Hope
Director: Aki Kaurismäki
The venerable Finnish director turns his lens on immigration and second chances in a charming comedy that's often so deadpan it's surreal. The tales of Khaled, a Syrian asylum seeker, and Wikström, a retired shirt salesman, are tied together when the latter gives the former a job at his comically mismanaged restaurant. Funny and heartfelt, it's classic Kaurismäki.
Music
Home Counties
Saint Etienne
A love letter to the privet hedges, commuters and rail replacement services of suburbia – and a cut-glass pop masterclass too.
All the vim and energy of Tel Aviv's music scene is squeezed into this exciting young Israeli's debut LP. Go loud.
Mike Hadreas offers an album of big choruses and shady corners, intensity and subtlety. Smart pop with operatic ambition.
Mali's irresistible band of heroes mixes jazz, blues, Afro-Cubism and brilliant mischief to nail their technicolour return.