Retail / Global
Shelf life
Ditch self-checkouts, find ever better products and be nice – here's how two players are rethinking the supermarket.
Fukushimaya
Tokyo
Using small producers to win big sales
You can learn a lot about grocery-shop operator Fukushimaya's chairman, Toru Fukushima, from his employees. They'll tell you the story about a tonne of organic ginger that he bought to help a farmer who had no idea how to sell so much raw produce. Or the one about the unpasteurised soy sauce that nobody had heard of but that Fukushima insisted on selling even though it was triple the price of mass-market brands. Or the rice crackers made without monosodium glutamate that he asked a small factory to produce because he couldn't find delicious ones that weren't loaded with MSG.
Fukushima inherited his father's shop in Hamura, on Tokyo's western fringe, more than four decades ago. Since then he has built Fukushimaya into a ¥5.3bn-a-year (€45m) mini empire of six grocery shops, two restaurants, a bakery and a budding floristry business.
At his shops, customers can load up on packaged food with no additives or preservatives and farm produce harvested with few or no pesticides. But Fukushima doesn't think of himself as a purveyor of natural food or preach publicly about social and environmental ethics. "We evolved into this only because we were looking for better-tasting food," says Fukushima, when Monocle meets him at Fukushimaya Tasting Market, one of his three new shops in Tokyo.
The space, designed by Tokyo firm Landscape Products, has wooden floors and shelves and signs with short profiles of growers and producers; the newest shop by Jo Nagasaka of Schemata Architects opened in the east of the city last December.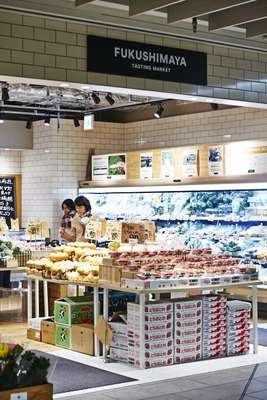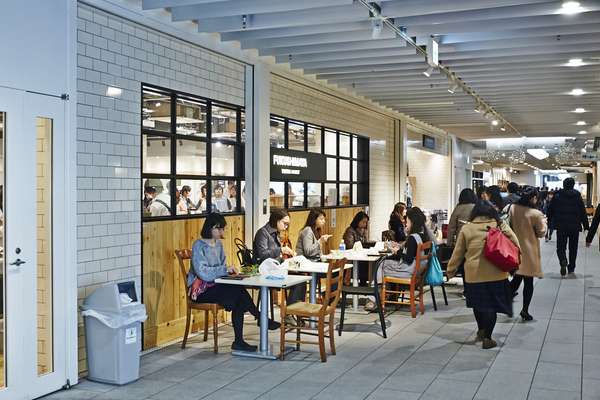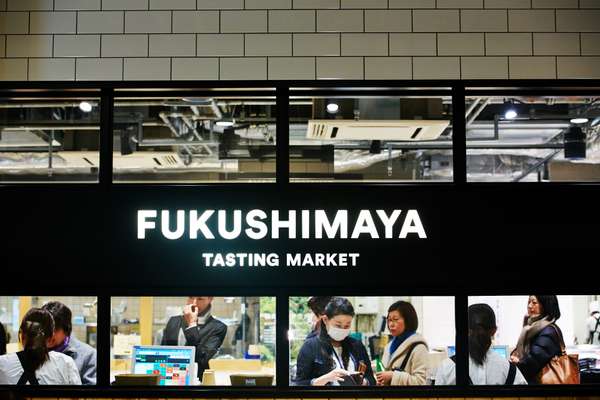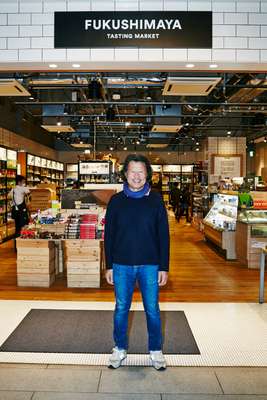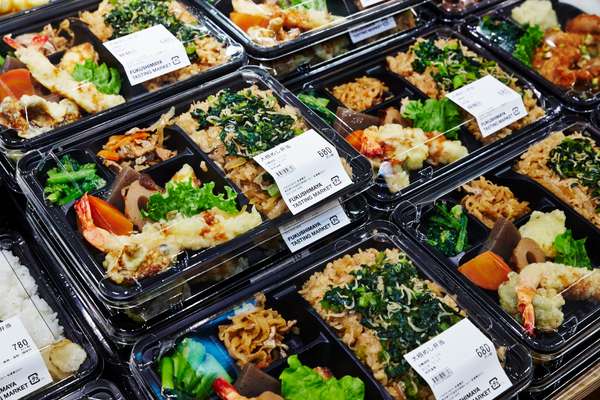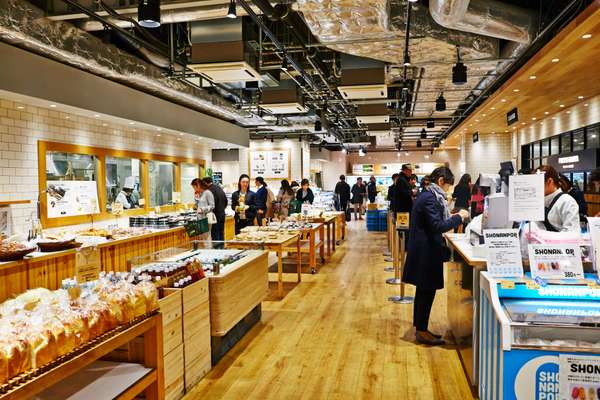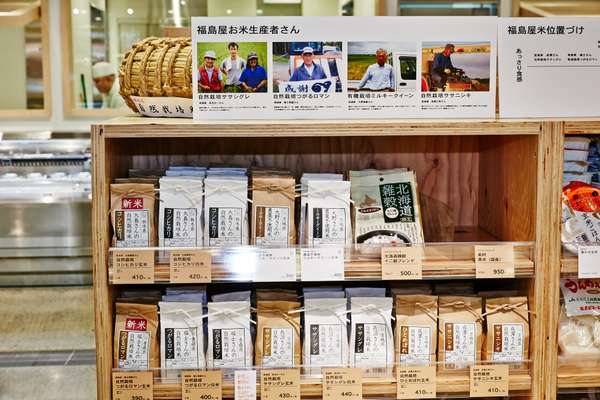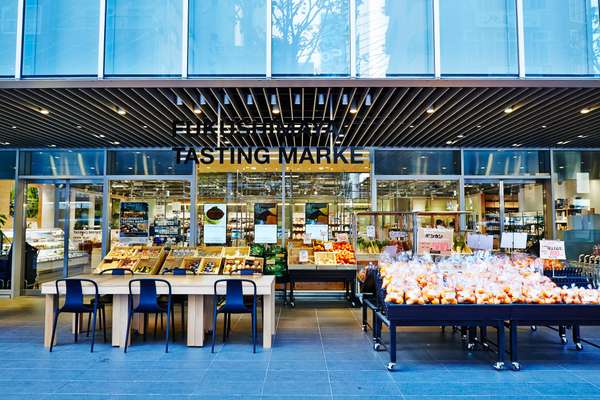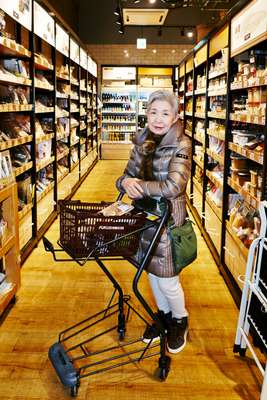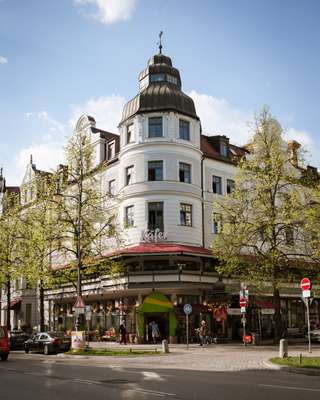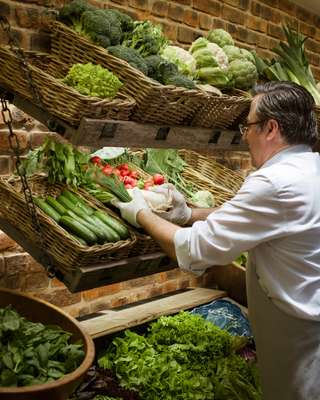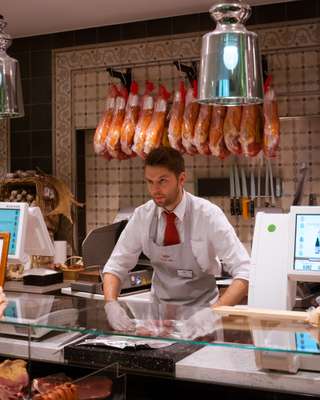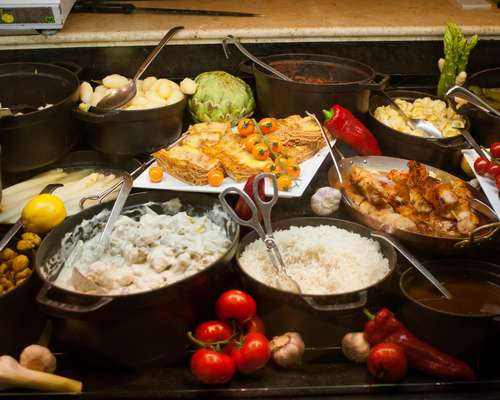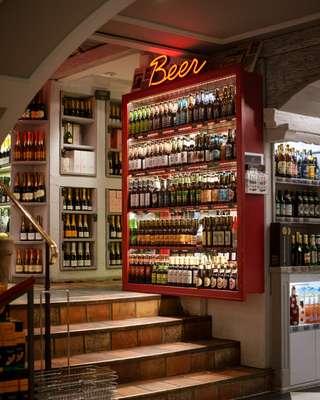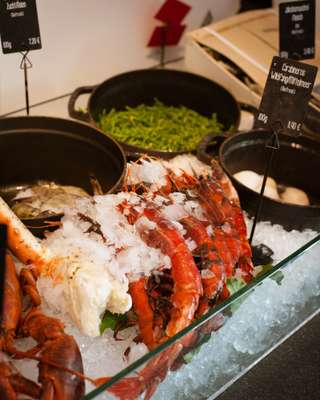 Running a supermarket in Japan's ¥810bn (€6.3bn) market is very much a low-margin slog. The biggest operators all mass-produce high-volume products in-house, such as milk, tofu, vegetable oil and soy sauce. Fukushima doesn't. He prefers to help the country's small speciality farmers and producers of unpasteurised soy sauce, free-range milk and rice vinegar fermented in traditional wooden barrels. "We have so many great products but they are in danger of disappearing," he says. As he talks he flicks through photos on his phone of a lettuce farm he visited in Miyazaki prefecture, northeast of Tokyo, a week earlier. "These will go into our deli salads," he says.
Consumers almost never try a new product right away so each shop's kitchen staff has to think of creative ways to avoid throwing anything away. Soy sauce goes into deep-fried kara-age chicken at lunchtime and milk is made into a flan or ice cream. Later those recipes are shared with customers who attend the shops' cooking classes. "If we think a product is good but it doesn't sell we don't give up on it. We stock it in small amounts because it will sell eventually," says Fukushima. But how long is he willing to wait? "It might take two years," he says. "We can do that because we're small. If we were much larger we would have to worry more about shifting stock."
Fukushima is still responsible for sourcing new products but six years ago he appointed his 40-year-old son, Yuichi, to run Fukushimaya's day-to-day operations. Big companies have approached him about partnerships and other ideas and he is open to talks – but cautious. "If they have an economics-first policy it's not for us."
---
Käfer
Munich
Bringing back the expert and the informed shop assistant
"Thirty years ago things were easy," says Marc Eckes, CEO of Munich's delicatessen supermarket Käfer. "You had a tree-ripened mango flown in from Thailand and you were the only one." Competition has stiffened and Käfer has a new approach. "We stock maybe 10,000 products by 3,000 providers. Generally no purveyor has more than 10 items on our shelves. Our approach is a little arrogant. We'll make it easy for you and you'll have to trust us."
Käfer, a supermarket and chain of delis that has grown out of a small grocery shop founded in Munich in 1930, works to maintain its position in the changing landscape of food retail through dedication to its products. A few months ago, Eckes jumped into his car and drove around the alpine uplands until he finally found what he was looking for: Pilch, an organic dairy farm that can supply Käfer with the high-quality produce that the company demands.
Käfer's offering attracts a diverse crowd. Eckes likes to compare the shop to Harrods in London (it's much better) or Le Bon Marché in Paris and the clientele in the Käfer bistro adjoining the shop – a dapper gentleman speaking Latin American Spanish in one corner, a group of young women wearing head scarves and abayas in another – is much more multicultural than Käfer's location (well away from the tourist hotspots) might suggest.
When the shop was renovated in 2014, Käfer enlarged both service areas and kitchens. Plenty of the food is available to sample while half of all products are processed on site, either into ready meals such as Käfer's delicious salads or prepped ingredients to make home cooking easier. "We represent the countertrend to automation," says Eckes. "Trying to reduce costs and compete through price would be the wrong path for us."
How to build the supermarket of the future
Tell tales
Stock smaller brands with better stories. Customers will both pay more and feel more invested in them.
Build well
Characterful old buildings and natural textures are better for the soul than tinny elevator music and strip-lit aisles.
Choose well
Only stock the best and don't be scared to limit buyers' options. Pick wisely and customers will come to trust your tastes.
Tempt the taste buds
Have a decent café that showcases your ingredients. A good stack of ready meals for on-the-go punters will do wonders for sales.
Employ wisely
Recruit food-lovers who get the brand story and are invested in the idea of supporting small producers.