Resort retail / St Tropez
Shifting sands
Sleepy Mediterranean towns become high-fashion havens each summer. But with the Russians gone, can you still make big money from small bikinis?
At this time of year, as days grow longer and thermometers climb higher, the retailers of Europe's summer resorts are getting ready to pounce. The pressure's on: these boutiques have a short window in which to woo holidaymakers with racks of floaty dresses and pastel polo shirts (the sorts of things that look just right when you're on a sun-kissed promenade, a few rosés down). Running a shop in any resort town is a tough gig but running one in St Tropez, the most elite resort of all, is perhaps the toughest. Deep pockets aren't so deep in a post-financial-crisis world, lavish spending isn't so lavish, yet retail rents are rising at an alarming rate. Here, on the French Riviera, only the most headstrong traders can survive.
Corinne de Colmont, a tanned slip of a thing, is more hard-nosed than most and she is leading us to her famous boutique attached to Club 55, St Tropez's most exclusive beach club. Down a bamboo-flanked path we go, past the club, where couples share plates of steak tartare and men in unbuttoned shirts recline on chaises longues. Moments later La Pampelonne Beach opens up before us, the Mediterranean glistening mere metres from De Colmont's thatched-roof shop.
De Colmont is chic in that thrown-together way – wearing an oversized cardigan over a white T-shirt and jeans – and her shop is too. It is referred to by many as a "bazaar" due to its jumble of colour and haphazard elegance. Striped dresses, straw boaters, patterned bikinis and Club 55 totes tumble onto the white sand. As a man sporting a turquoise polo and an overcooked scalp purchases swimming trunks, De Colmont reflects on how retail has shifted here. "Fifteen years ago women would come to the shop, pick up a whole rail of clothes and buy them all without trying anything on," she says. "It was completely crazy but they had so much money it didn't matter." Those days are now a distant memory. "After the financial crisis, customers are very careful indeed: they try things on."
The Club 55 boutique, a 15-minute drive from town past vineyards and high-walled sandstone chateaux, is one of the last vestiges of St Tropez style. It's the hippie chic aesthetic that Brigitte Bardot brought to the fisherman's village in the 1950s when, after filming And God Created Woman on its sandy shores, the actress decided to stay for good. Perched on the edge of a bay halfway down the Riviera and without a direct train line, St Tropez became a twinkling island of artists and actors. They were soon joined by cashed-up American and European jet-setters.
One of the things that most defined the town was its bohemian boutiques. Some were tacked on to beach clubs such as the wonderfully eccentric shop at Tahiti, where today Vanessa Seward totes hang alongside leopard statues wearing bejewelled straw hats. Others, such as the womenswear cave Blabla, lined the town's marbled streets. Decades on, however, few of these indie retailers remain.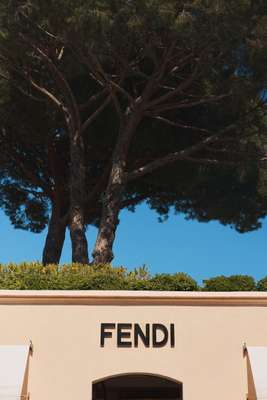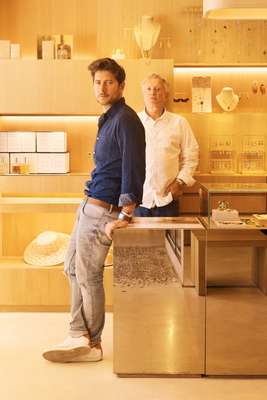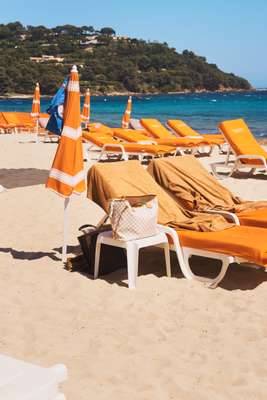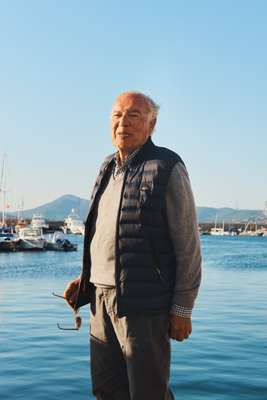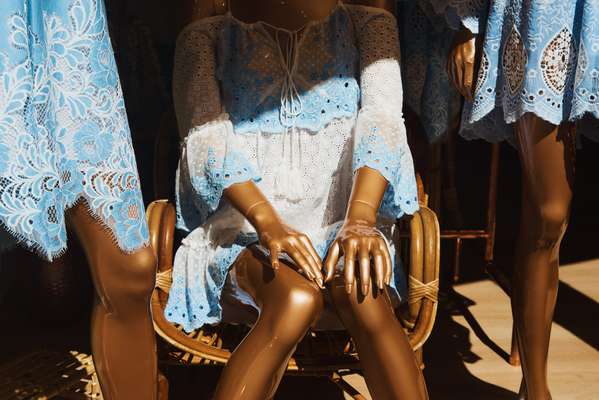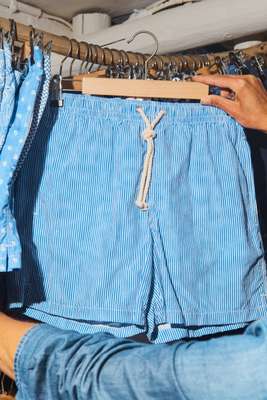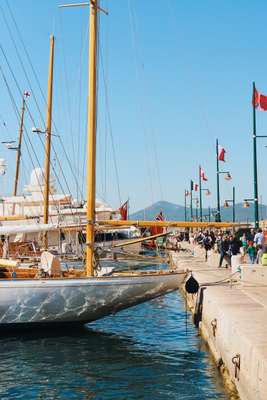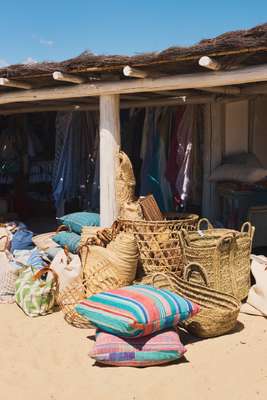 Running a boutique in St Tropez has always had its perks. The long French Riviera summer has gifted the resort a lengthier season than many other European destinations: every year shops open in April and close in October (when patrons and shop assistants head to the slopes of Courchevel, St Tropez's snowcapped equal, for the winter).
Over the course of the season visitors come in national waves, their timings corresponding with holiday dates in their homelands. These days the start of summer is dominated by western Europeans (French, Belgian and Italian), while June is for Americans (mostly New Yorkers) and Scandinavians (mostly Danes). Come peak season in July and August, Saudi Arabians jet in from Riyadh, as do a few media moguls from Moscow.
The glittering clientele means that stories of excess abound (most, of course, come from the pre-financial-crisis era). Every shop owner has a tale worthy of a dinner party. At sandals brand K-Jacques, Véronique Keklikian recalls the time a Saudi royal and his wife stayed until 23.00 and "basically emptied the shop". At the shiny store attached to the five-star Château de la Messardière hotel, Stephanie Beviere speaks of women coming in "every day for 10 days, each time buying a dress and bathing suit: they want a different outfit for every beach". Dressed in a white top with a plunging silver-fringed neckline and stacked black heels, Beviere talks a big game and makes a mean saleswoman. "Women come in and say, 'What should I buy to wear to lunch on the yacht?' When people are on holiday they take their time and when they take their time they spend."
As the summer playground for the rich and famous, it was only a matter of time before international fashion houses came to St Tropez. We are taken on a walking tour of the shopping district – a three-street, 20-minute trip – by Fred Prysquel, a sprightly octogenarian who, in 1971, founded the local swimwear label Vilebrequin. We linger on Rue François Sibilli: in the past decade this street has been claimed by luxury groups LVMH and Kering, who have bought the Provençal-style mansions and turned them into retail palaces for the likes of Louis Vuitton, Dior, Giorgio Armani and Gucci. The stretch would rival the swishest boulevard in Paris or Milan; "Ooh la la" crows Prysquel as we pass the opulent flagships. "St Tropez is advertising for the whole world," he says, stopping before one international label. He gestures towards the azure sky: "Under the sun there is room for everyone."
Yet the sun's rays have not extended to the charming multibrand boutiques that once made the town so distinctive. The fierce competition for retail spaces, sparked by the influx of luxury labels, has seen rent soar in recent years and independent shop owners have battled to keep up (on Rue François Sibilli, a small space costs up to about €200,000 for the season). Their struggle has been compounded by a peculiar rental system in which each space is owned by different (usually local) landlords, and potential tenants must arrive at the start of winter and engage in (often fiery) bidding contests in order to secure their spot for the forthcoming season. "Now the young creative people cannot rent shops because they are too expensive," says De Colmont. "Landlords want money, money, money."
Certain independents have been immune to the hiking rents, namely the shops that have been around for years and own rather than lease their spaces. On Rue François Sibilli the Gas family runs two interlinked shops: jewellery label Gas Bijoux and By Marie, a multibrand womenswear enclave. "We want to show pieces that you can only find in St Tropez," says Olivier Gas, who co-owns both shops. At Gas Bijoux – which was founded by Olivier's father in 1971 and manufactures in Marseilles – that means daring gold earrings adorned with Carnival-like stones and feathers; at By Marie it means flowing dresses with embroidered details and colourful tassels by designers such as Israel's Dodo Bar Or.
This gameplan works. Both shops continue to make a sunny profit, with a fan base among the town's growing Argentinian and Lebanese cohorts, but the family has worked hard to make them stand out. "You have to be creative: we totally renovated the shops four years ago because we saw all the big brands coming here," says Olivier, cutting a dash in ripped jeans and trainers as he walks monocle through the light-flooded spaces, with their sandy walls and pebble-studded floors. "It's very St Tropez style; we call it 'chic solaire'," he adds. "Retail in St Tropez is still very good but you have to be even better than the others; you have to show something that you cannot find somewhere else."
One thing all retailers must react to (whether luxury flagship or family-owned boutique) are the mercurial travel movements of the mega-rich, shaped as they are by political and economic rifts. As one of the world's most expensive destinations, St Tropez was badly burnt by the 2008 financial crisis. "Before, people used to come here with their families and spend maybe two months here; now they come for a few days and then go to [the more affordable] Ibiza or Greece," says De Colmont.
Regional economic woes have also stung the town: five years ago Russians comprised one of the biggest contingents but, due to a slumping ruble and EU-imposed sanctions, their numbers have plummeted. Some shops estimate Russian purchases have fallen from 60 per cent of total sales to just 10. More crushing still has been the impact of terrorism. Following the truck-driving attack in Nice last July, St Tropez was empty for the rest of the season, tourists wary of holidaying anywhere on the French Riviera.
Selling fashion here is a tricky business but the canniest retailers of St Tropez are keeping pace. Back at Gas Bijoux we are joined by Olivier's father, André, who laments how much the shops have changed over the past 15 years. Yet Olivier remains cautiously optimistic. "My father started in St Tropez so he has this nostalgia for what the village once was. It has lost some of its spirit but you still have businesses that are very St Tropez," he says, before reeling off institutions such as Sénéquier (waterfront café with vermillion tables) and sandals-maker Rondini. "Sénéquier is always packed, you have to queue at Rondini and Gas Bijoux is always busy. But there is no space for those in the middle."
The sun, it seems, is for luxury houses and only the most resilient and distinctive local merchants. Everyone else has been washed away.
Coast Society
St Tropez retail got a welcome hit of menswear this season with Davide Jais' first shop for Coast Society. The Milanese resort-wear label opened near the town centre. Retro-style swimming trunks and lightweight polo shirts (all made in Italy) line the rails; there is also a mini-barbershop. Jais scouted for spaces last November. "It's more difficult to get a spot than in a normal city. Often it's a matter of whether the landlord likes your project."
coastsociety.com