Art / Berlin
Show and tell
Esther Schipper's career path from Köln to Berlin reflects the fluidity of Germany's art scene. Here's how the gallerist has stayed ahead of the curve.
Overlooking the courtyard at Potsdamer Strasse No 77, the hottest spot on Berlin's art scene, gallerist Esther Schipper's vast new location feels like a museum. Yet it resolutely remains a gallery: a space transcending the commercial and allowing for artistic experimentation.
For nearly three decades Galerie Esther Schipper has shaped the careers of some of contemporary art's biggest names. Not only that but hers is also the story of the rise of Berlin's famous (and occasionally infamous) art scene. It's a scene she was integral in transforming from wild and woolly to one known for top-notch artistic production and international cachet. On a broader scale she's also part of a cadre of international gallerists who have redefined how art is both viewed and sold.
Schipper now has 35 employees and an artist roster of about 40, including heavy hitters such as Philippe Parreno, Liam Gillick and Dominique Gonzalez-Foerster. But her approach has always brilliantly combined commercial success with challenging exhibitions – even in her very first gallery, a one-woman operation in Köln that opened in 1989.
"Back then the separation between commercial and non-commercial art was much more defined than it is today," says Schipper, speaking in measured sentences in a spacious office that is dotted with mid-century furnishings. The office, not connected to the exhibition space but accessible through another building, is also new and vast. Teams work in hushed tones and artist archives line shelves; a whiteboard on the wall maps out the schedule of art fairs worldwide, as well as which artist is showing where and when. In another room are scale models of upcoming art-fair booths.
In the late 1980s, Köln was Germany's premier art city. Schipper arrived "by circumstance" after attending a curatorial programme in Grenoble and growing up in Paris. But the idea of how to sell immaterial art had not solidified in Köln or anywhere else, even if conceptual art – art as idea – had been around since the 1960s. Schipper was part of the vanguard of young dealers, along with White Cube's Jay Jopling, working through this conundrum. "How can you own ideas?" she says, looking back. "We felt like we were in a whole new field."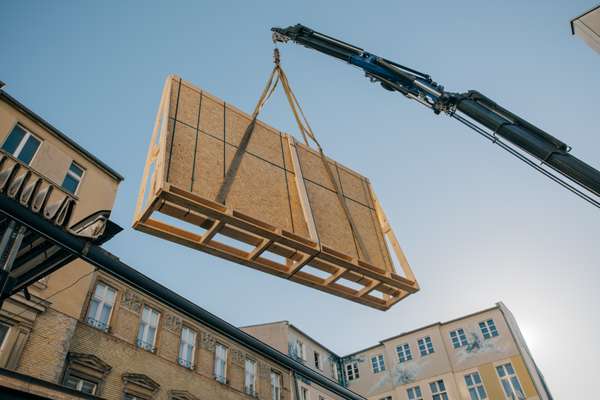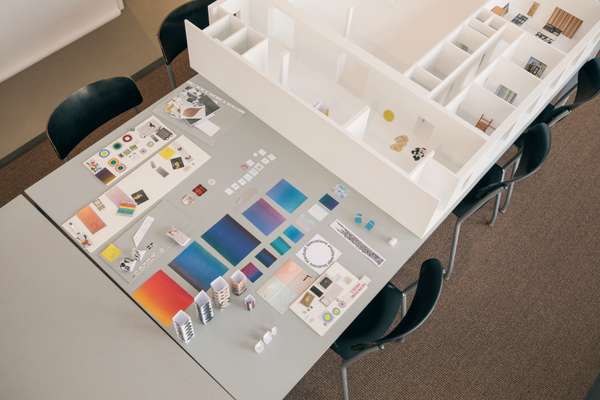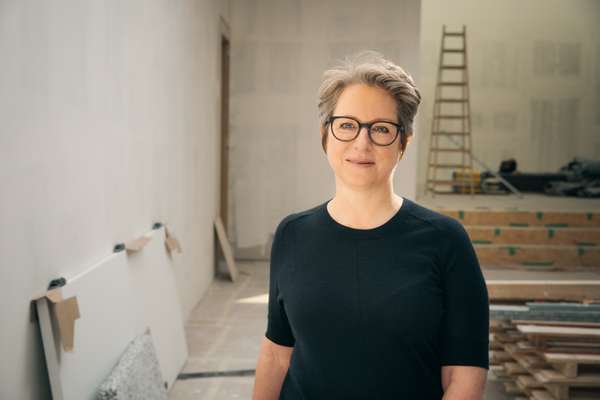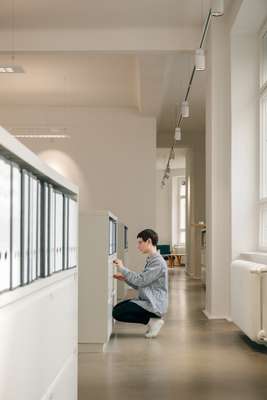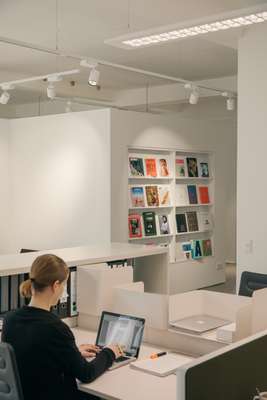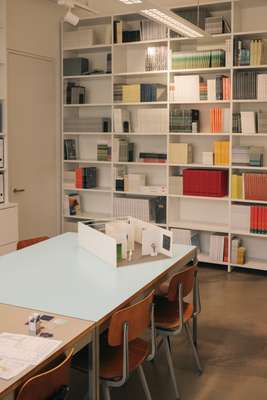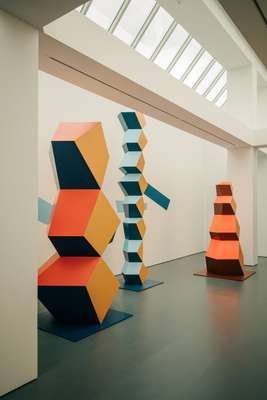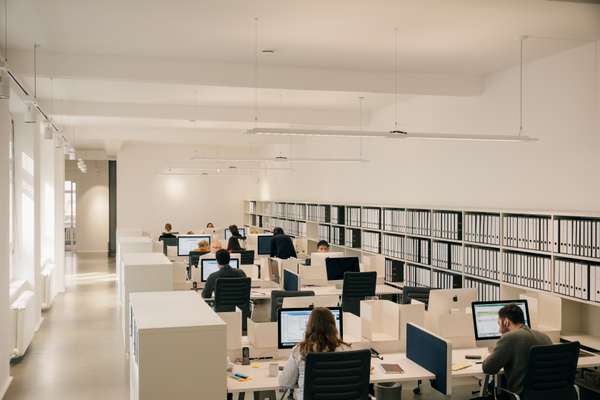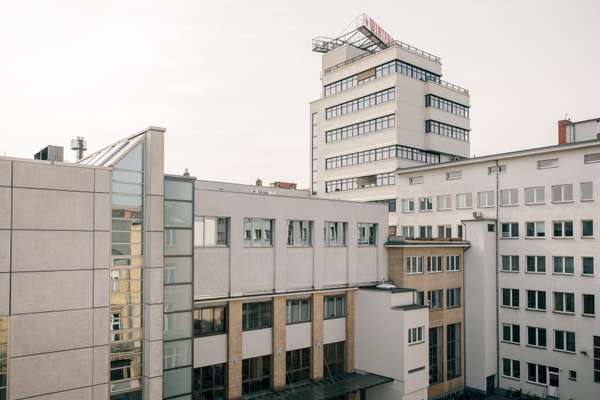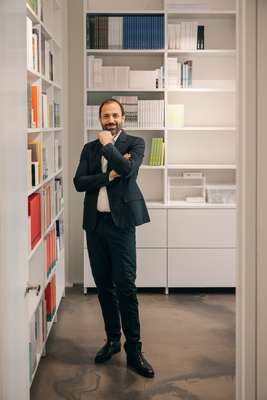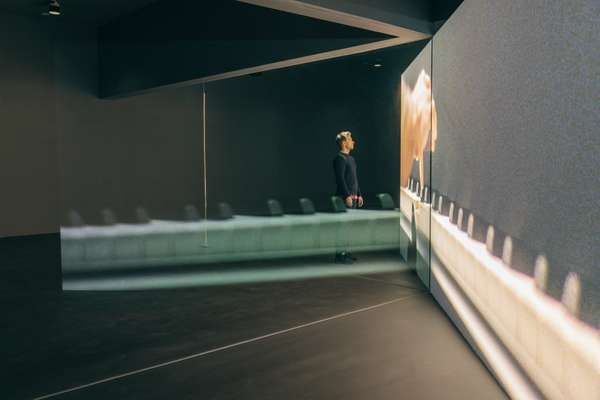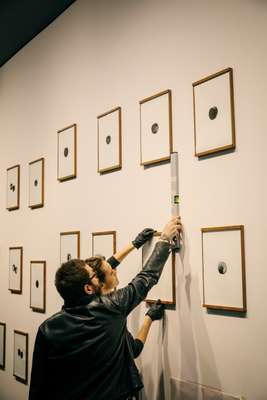 They were. Geopolitics were also changing fast in 1989, in ways that would affect German art production. The Berlin Wall fell, globalisation began, technological changes accelerated – and Berlin beckoned. In 1995, Schipper moved to Auguststrasse – post-Wall Berlin's original and, at the time, ultra-bohemian art strip in Mitte – and into a gallery space that star Moma curator Klaus Biesenbach helped her to procure.
Köln's strict art-world hierarchies didn't exist in Berlin; the community of artists, gallerists, curators and artsy hangers-on was fluid and free. Schipper opened the gallery without intending to open a gallery, as "stupid as that might sound". she says, laughing. "It was more a platform than a commercial gallery." Projects included talks, exhibitions and even "happenings": for one example, visitors dressed in Pinocchio costumes for a show with US performance artist Paul McCarthy. But even then, collectors carefully watched what the young Schipper was doing. In immediate post-Wall Berlin, rents were so low that "we could get by selling a piece every couple of months", she says.
Those days are long gone. More than 20 years later the Auguststrasse era seems almost innocent; Schipper, friendly yet reserved, is now a youthful fifty-something. Her new gallery's main area takes up 540 sq m, with a separate space for concurrent exhibitions of about 80 sq m. It's the third Berlin location for Schipper since that first rogue space and its interior represents how far she and her artists have come.
This hall has the capacity for epic installations, heavy sculptures, technical complexities (one look at French artist Philippe Parreno's shows – lights, videos, sounds seemingly coming from nowhere – and the need for the latter becomes clear). The inaugural show, which opened in April for the 13th edition of Gallery Weekend Berlin, featured Albanian video artist Anri Sala and a smaller exhibition by Angela Bulloch, a young British artist who first hit in early-1990s London.
Schipper grew up attending exhibitions with her art-historian mother but that didn't mean that professional growth didn't come automatically. In the early 2000s, once Schipper had five employees and a larger space on Linienstrasse, she hired a business coach. The rest of Berlin's art scene was also professionalising and it was out of necessity: the initial post-Wall hype had dissipated, the home-grown art fair Art Forum Berlin (now defunct) wasn't attracting as many exhibitors and it was suddenly no longer cool to have gallery assistants showing up at 14.00.
The need for a tighter take on selling art lead to the beginning of Gallery Weekend Berlin, a format that she, and a small group of other gallerists in the city, invented in the early 2000s. The idea: bring outside collectors to the city for one weekend of A-game exhibitions, on view not in booths but in the galleries' home spaces – in Berlin, often spectacular real estate. Essentially, throw a huge gala to bring artists, curators and collectors together in a relaxed non-fair setting.
The first Gallery Weekend, in 2004, was a smashing success. "People love the format," says Schipper; so much so that it's been widely imitated. But other cities can't seem to replicate Berlin's energy. "In the end, no matter how digitalised we're getting, the time we spend in one to one conversation is still the core of our business," says the gallerist. "Being at an art fair is not the same."
With museums under new pressures, the gallery might be the one place left in which established artists can test new works and continue to develop in dialogue with audiences. Yet many mid-size galleries struggle and others are far too corporate (think of Larry Gagosian's empire, for example). "We don't want to compete with this," says Florian Wojnar, Schipper's partner in life as well as, since 2010, business partner. "We want to stay very special."
Schipper recently took on the roster of retiring Berlin dealer Jörg Johnen but even with this expanded artist list (including acclaimed "immaterial" artist Tino Sehgal) and increased activity in Asia, she's retained her unique balance geographically, programmatically and commercially. Under current world conditions it's difficult to predict art's future but Schipper expresses a need to just slow down a bit. "Not everything needs to happen all the time all over the world," she says. "Maybe we need more time, more space, to calm down and concentrate on real things."
With the new venue Schipper is creating this environment for both herself and her artists, old and new. There's an ease that comes after so long in a business and here it's palpable. Ease – and a certain gratitude. "It's a huge privilege to do what I'm doing," she says. It's one that artists and her audience don't take for granted, either.
Schipper's selling points:
Loyalty
She's the primary gallerist for many artists associated with the relational-aesthetics micromovement (artwork that encourages visitor interaction), among them Philippe Parreno, Liam Gillick, Pierre Huyghe, and Dominique Gonzalez-Foerster.
Service
Schipper's gallery doesn't just sell a piece: it also provides long-term technical support and service.
Archiving
"A gallery is a place of memory," says Schipper, whose staff meticulously document work and create catalogues raisonnés.
Fortitude
Schipper has forged ahead in a country in which most blue-chip gallerists are men.
---
Top exhibitions and events
2013
Tomás Saraceno, Social .. Quasi Social .. Solitary .. Spiders .. on Hybrid Cosmic Webs
2014-2015
Philippe Parreno, Quasi-Objects
2016
Dominique Gonzalez-Foerster, QM15 (featuring holographic films of the artist)
2017
Liam Gillick and New Order (in Manchester, late June to early July); meanwhile, Anri Sala and Angela Bulloch are inaugurating a new space