Staircases / Global
Social climbers
Staircases can trigger conversations, provide a sense of arrival and dazzle with ingenuity. So why are they neglected in the design of so many new projects?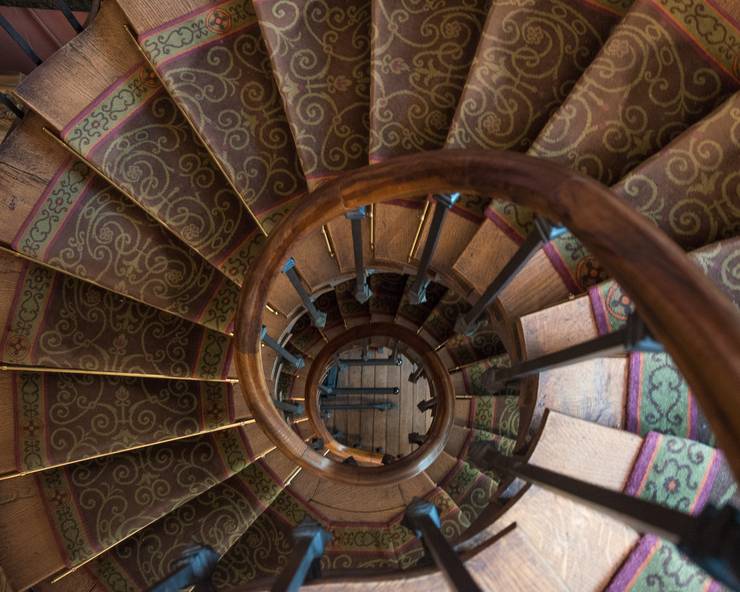 Why is it that we talk on the stairs but stand silently in lifts? What is it about that breezy chat on the landing that has energy and spontaneity that's never quite replicated in the boardroom? Whether they are spiral, sweeping or simple, stairs are places of incidental conversation, pulse-quickening dynamism and even drama. They are the spinal cord of the architectural skeleton.
And yet lately the stairs often play second fiddle to lifts, consigned to the back of buildings and reserved for emergency exit plans. But there are many reasons that the stairs shouldn't remain behind fire doors. As well as serving a social function they are an opportunity to create perspective, movement and beauty. From the tight spiral twist inside Tragan's Column in ancient Rome to Bramante's double helix staircase in the Vatican museums (designed in 1505 to allow everyone from Popes to pack animals to ascend and descend up a clever herringbone ramp without ever meeting), staircases have been a technical and artistic challenge.
What's more, we live life's important moments on the stairs: where would the film industry be without Rhett Butler's imposing Atlanta bifurcated landing in Gone With the Wind or Rocky's dash up the stone steps of the Philadelphia Museum of Art? And now, in the spirit of the outdoor gym, contemporary architects are working with urban-planners to make streets, parks and buildings more active by tempting people up staircases. Attitudes to our ascent and descent are changing.
Just as there is something bold about a person who climbs the escalator, or routinely bounds up staircases two steps at a time, there's something gutsy about an architect who makes stairs the centrepiece of a new scheme or a city-planner who ushers pedestrians up a steep incline on foot. And so, for our health, happiness and design potential, we'd like to see more of them in cityscapes and new buildings soon. Here are five prime examples.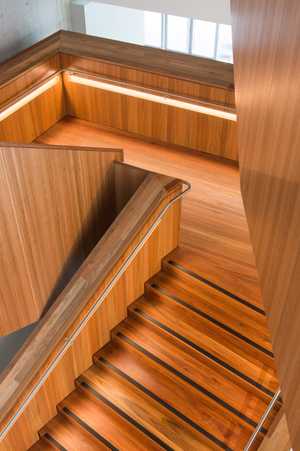 1.
Public service
International Convention Centre
Sydney
The new convention centre on Darling Harbour's Cockle Bay features vast plenary halls, an ultramodern theatre, a ballroom and some hi-tech gadgetry. But in among all this chrome and concrete, it's the solid staircase made from Australian hardwood that acts as the backbone to the complex. It is here that visiting delegates linger to chat, to make contacts and strike up those all-important creative alliances.

The timber and handsome joinery give the centre tactility and a sense of place. Co-architects Glenn Scott (of international firm Hassell) and Richard Breslin (of US-owned global outfit Populous) say the spotted-gum balustrades and ironbark stair treads were chosen to bring a distinctly Australian identity to the scheme. "You will not likely find the colours and grain of these species in other countries," says Scott. "Along with the bold stair forms they provide a uniquely memorable experience of icc Sydney."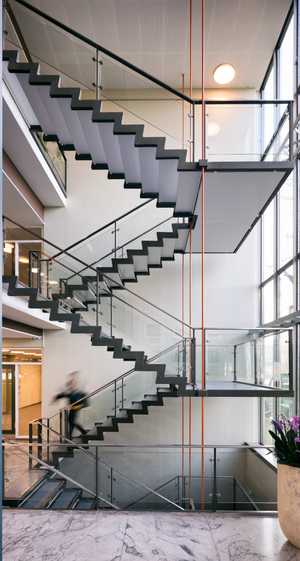 2.
Social architecture
Rødovre town hall staircase
Rødovre, Denmark
From the sweeping curves at the AS Royal Hotel Copenhagen to the lofty flight in the cathedral-like lobby of Denmark's national bank, Arne Jacobsen often used stairs as statements – and as instruments for pushing his technical prowess. The suspended stairs at Rødovre town hall (just west of Copenhagen) were an innovation when they were installed in the mid-1950s. Suspended from the roof using orange-red steel rods, the wafer-thin stainless steel steps, glass balustrades and metal handrails scale the building's functionalist façade providing light-filled landings. Though stark, it's beautiful; the crisscross construction appears to float in space.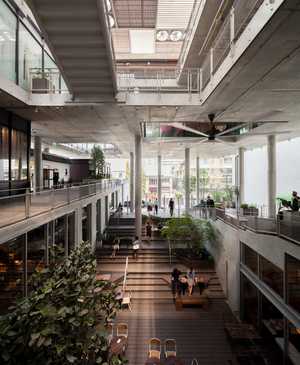 3.
Upwardly mobile
The Commons
Bangkok
The gentle incline of the wide, sloping wooden staircases at Bangkok's "community mall", The Commons, are not just ways of moving people from one retail offering to another: they are cool, shaded places for shoppers to relax, chat and recharge at one of the project's many cafés. These steps have a subtle perspective that draws visitors upwards at a leisurely stroll whilst creating a sense of space, movement and momentum. They're designed to entice rather than exhaust shoppers and huge fans on the roof ensure that there is always air filtering around the complex. It's telling that the complex's most successful café, Roast, is located on the top floor. Architect Amata Luphaiboon has ensured that these stairs are a social and spatial event – and as such, we hope they will inspire more staircases in a sector that needs to evolve beyond the elevator.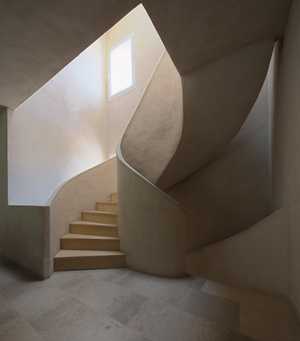 4.
Flights of fancy 
Studio of landscape architect Fernando Caruncho
Madrid
This sinuous, sweeping staircase is found in the technical studio of the Spanish architect Fernando Caruncho, where it connects the ground, first and second floors. Built around a concrete structure, its railings are made of bricks covered with lime mortar. Stair treads are crafted from Valsain pine, a wood from the forests north of Madrid. Its geometric scheme is bathed in light from an upper window. "It changes through the day," says Caruncho. "It's like a living organism in all its splendour. Its organic shape responds to its creation: it was made in a sculptural way, piece by piece."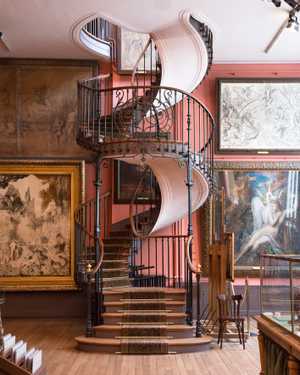 5.
Work of art
Musée Gustave Moreau
Paris
In 1895, French painter Gustave Moreau decided to convert his family home in Paris into studios – and a museum to display his art. He instructed young architect Albert Lafon, who installed a beautiful spiral staircase between the second and third floors. Today its polished wooden handrail, filigree ironwork, elegantly twisting stucco and neat carpet treads are an elegant lesson in 19th-century ornament. "The floral motifs and iron architecture are characteristic of this period," says the museum's director, Marie-Cécile Forest. "It seems that the idea was to leave as much room as possible to hang as many works as possible."