The Ned / London
Vaulting ambition
We give some well-deserved credit to the team invested in London's finest and most ambitious new hospitality spot: The Ned.
"Being nervous is a good thing," says Nick Jones, the garrulous but grounded Soho House & Co founder, from a perch at the marble counter of a restaurant within his largest and latest venture. "It challenges you," he adds with a flash of a smile and a glance from his pale blue eyes.
With 37 restaurants already in his portfolio, plus members' clubs, cinemas and spas across three continents, it's hard to imagine a hospitality hurdle Jones couldn't clear. Yet, as we sit in the late-spring light cast by a double-height window he admits that he's been wary of this mammoth undertaking since he started work here five years ago.
The project in question is The Ned: then the gargantuan Midland Bank HQ, now a sumptuously appointed new restaurant complex, club and hotel. A penny's toss from the Bank of England and Royal Exchange in the City of London, the imposing pile was erected by Edwin "Ned" Lutyens starting in the roaring twenties.
Although former tenant hsbc abandoned the building in 2007, the confidence of the construction has endured pleasingly. It's the sort of largesse that banks might balk at today: Doric columns, an arcaded first floor and stately dome on the uppermost of the eight floors. All come in the same white-grey Portland stone from which nearby St Paul's Cathedral was hewn.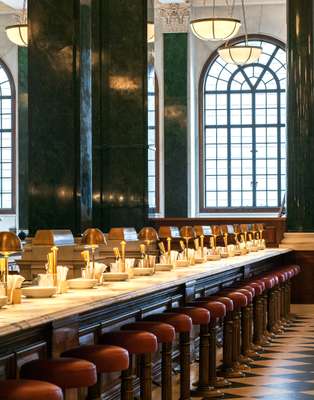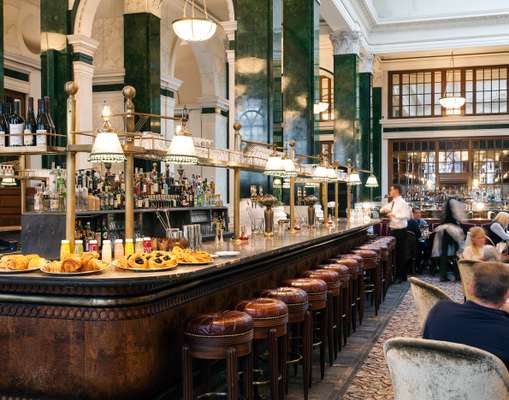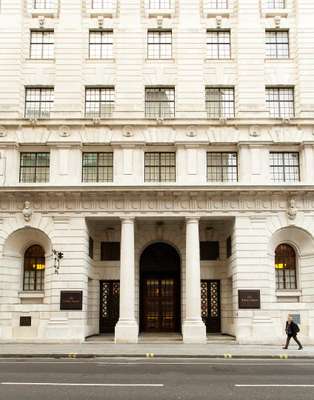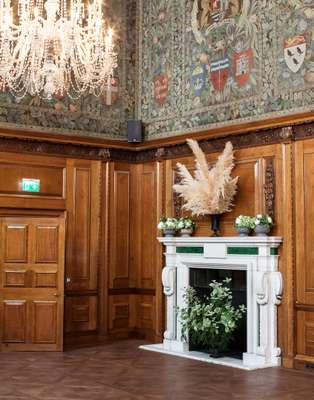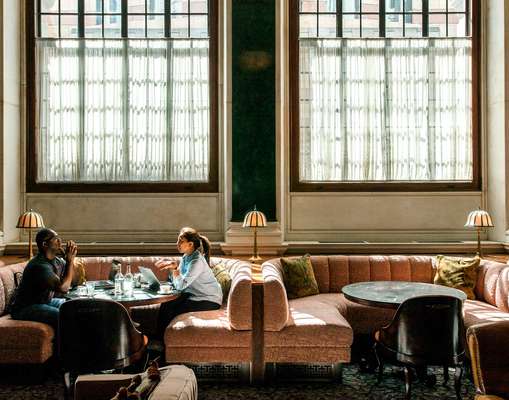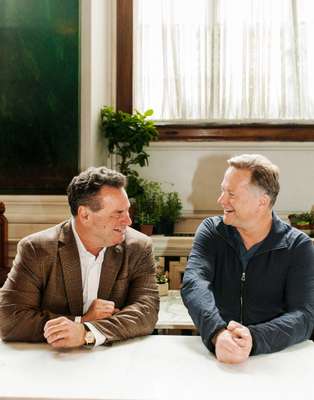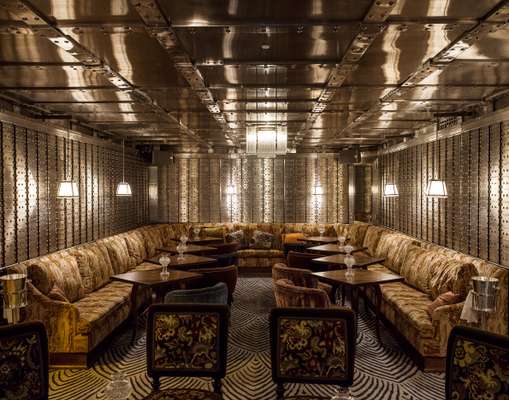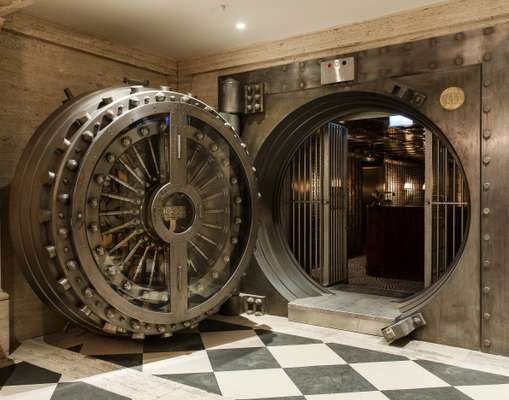 From our berth inside Café Sou, one of the eight ground-floor restaurants in the one-time banking hall, the scale of the project (a collaboration between Soho House & Co and US hotelier Sydell Group) is unmistakable. The remodelled behemoth now boasts a 252-room hotel and is complemented by a labyrinthine sequence of plush event spaces, terraces, a peerless rooftop bar, comfy corners for members and no fewer than seven restaurants downstairs that are open to walk-ins (The Lutyens Grill is for members only).
The pan-shaped atrium has entrances on both Poultry and Princes Street and is decked out with 92 soaring Verdite marble columns in parakeet green. The restaurants – variously a New York-style Jewish deli, old-school Italian and 24/7 British brasserie, among others – all orbit around a central plinth on which a brass band is tuning up for an evening performance. The happy chatter of diners, clinking of plates and pop of corks ricochets off the booths and comfy banquettes that have been slipped in judiciously between the listed oak, teak and cherrywood (former) banking counters.
Andrew Zobler is the man behind Sydell Group. He nods in acknowledgement of Jones's words of wariness about undertaking the project. "The first thing I said, what everyone says, was, 'Wow, this is amazing,'" says Zobler. "The second was, 'If you're not careful this could take someone down financially.'"
But with stakes this high the possible payoff is priceless. Exploring the vast and varied building reveals an embarrassment of architectural riches: from a bar in a vault made up of stainless-steel safety deposit boxes (behind a 20-tonne safe door), to a bullion-vault turned swimming pool. There's even a rooftop infinity pool overlooking London's most famous dome and spire. Not to mention a private dining room kitted out with an elegant room-ensconcing tapestry, plus a rangy ground-floor arcade bedecked with bar seating and chain-held pendants over a black-and-white checkerboard floor. Even the fire escapes – variously in tightly coiled spirals or grand marble flights – show the permanence, pride (and, yes, braggadocio) with which old Ned himself knocked up the structure.
The building is Grade I listed, which presented its own challenges and undoubtedly added to the hefty £200m (€235m) price tag. "The architecture dictated the spaces; if you come into an old building and fight it, the building's going to win," says Zobler. The job fell to a small team of talented souls – interior designers Adam Greco, Alice Lund and Rebecca King – to turn an imposing old building into somewhere worth lingering within. Although most of the furniture was commissioned, a bounty of vintage bric-a-brac from the 1930s was also sourced from markets in the UK, US and Belgium. As the brief evolved, Jones purportedly sat on each and every chair, stool and ottoman before they were signed off. It's an attention to detail that speaks to the success of the final result.
With the hardware accounted for, monocle's attention turns to the polished crowd of revellers populating the place. "We never banned people in suits, that was a misconception," says Jones playfully when asked about his decision to open The Ned – which is also a members club – in the straight-laced City. The conception seems contrary to the members clubs under the Soho House standard that court a more creative crowd. "We just don't like people in an ill-fitted suit," he adds. To his credit, we didn't spot a single baggy Boglioli or naff tie.
But there's still the question of location. Why London's preppy, pinstriped briefcase-wielding financial heartland? Well, this frenetic square mile of the capital has been loosening up as some financial institutions that have long defined it have slipped away further east to areas such as Canary Wharf. In their wake, it appears, is an opportunity for those brave enough to embrace the change with an open-to-all hospitality venture.
"The City has the nicest buildings," says Jones. "It used to be to the east of London but because the east has kept growing it's becoming the centre." Before visiting The Ned we may have scoffed but after seeing the ambition, vision and charm of the place, we're banking on it too.
The Ned in numbers
A quick scan of the numbers below reveal the size and ambition of this Byzantine beast of a new opening. The Sydell Group (behind the Line, NoMad, Freehand and Saguaro hotels) has dealt in projects of this scale before and Soho House & Co does smart but affordable restaurants like nobody's business. The Ned is a testament to the strengths of both.
---
Year the space was secured by Soho House & Co and the Sydell Group: 2012 
Hotel rooms: 252
Restaurants: 9
Covers: 1,000+
Amount spent on renovations: £200m (€235m)
Verdite marble pillars on the ground floor: 92
Weight of the safe door that used to guard the vault: 20 tonnes 
Staff: 800
Pools (one on the eighth floor, another on level minus two): 2
Underground levels: 3
Year the building was started: 1924 
Year former tenant HSBC vacated the building: 2007