Affairs / Americas
Americas
Briefing
Wasted water in Buenos Aires, green space in Medellín and pretty flood prevention in New Orleans.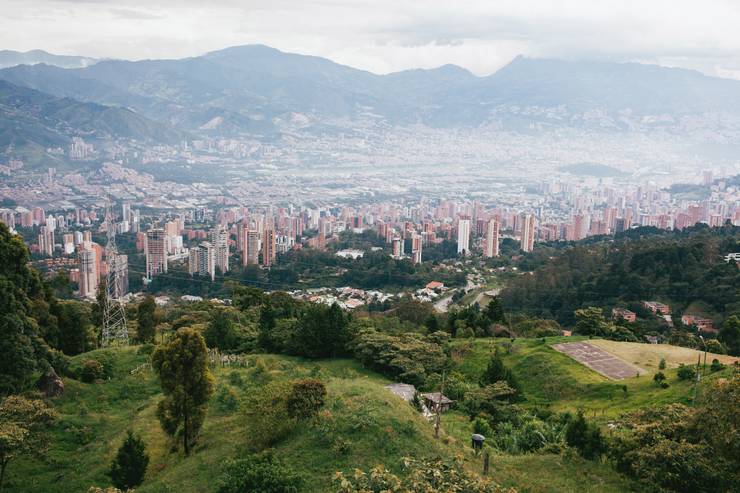 Reclaimed land
Medellín —
Green belt
On any given weekend, residents of Colombia's second city Medellín can be seen along a 74km-long green belt wrapped around the city's hilltops. Complete with parks, allotments, open-air gyms and cycle routes through pine and eucalyptus woods, the belt acts as a buffer to contain urban sprawl.
About 6,000 residents have been involved in the project's construction since it began in 2013; it's expected to be completed by 2019. The space is part of Medellín's push for urban renewal and reclaiming once no-go areas as it cuts through and sits above gang-controlled slums. But the green belt will have to draw in more affluent residents too if it is to be a success.
---
Waste water
Buenos Aires —
Transport
Buenos Aires is a river city that makes little use of its waterways. Surrounded by canals and smaller rivers that flow into the River Plate, it rarely taps these routes for public transport. Boat services are reserved for tourists who are able to leisurely reach the Tigre Delta's thousands of islands in the north, or to those who live in the Nordelta gated community where a private service offers daily rides downtown for ars100 (€6).
There is an obvious need for new modes of transport. The Argentine capital is a megalopolis with 15 million inhabitants but with little public transport that reaches its peripheries. As gated communities grow in the suburbs, highways into the city are becoming gridlocked. The rivers offer a solution: the city's authorities should consider ferries, which would encourage drivers off the streets.
---
Singing in the rain
New orleans —
Community
It's hard to forget the images of New Orleans after Hurricane Katrina in 2005 – or even the widespread flooding in Louisiana last summer. Which is why the Crescent City is planning to improve its resilience while beautifying the metropolis. Using federal funds, the Gentilly Resilience District is a series of projects that looks to mitigate flood risks with urban planning. From rain gardens to streets that can absorb water, the ambitious plan is set to break ground soon. If successful it could serve as a model for other New Orleans neighbourhoods.
Q&A
Svante Myrick
Mayor
Ithaca
A Democrat, Myrick was elected mayor of Ithaca, New York (population: 30,000), in 2011 at the age of 24. In his time in office he's reversed the deficit and rebuilt downtown, and is attempting to open the nation's first supervised heroin-injection clinic. He won re-election last year with 89 per cent of the vote in a virtually uncontested race.
You inherited a deficit; how did you turn Ithaca around?
Refinancing our debt and restructuring our departments allowed us to operate more efficiently. It was also a fair amount of brute-force work – hours and hours of going through line budgets one by one and cutting absolutely everything that we could live without.
What are you most proud of?
Balancing the budget and reforming the police department. And the change in the civic tone here; we have a lot more people involved than we ever did.
What's your advice to other mayors about how to viably improve people's lives?
If you have a happy city council you have a happy life, so work very closely with the council and listen to them. They are closer to the street than you are and they know the neighbourhoods even better than you do. You have to have great staff as well. In a broader sense, you have to start small and build credibility with the public.
What's next? Would you run for congress?
Never. If you ever hear that I'm running for congress it's because something has gone terribly wrong. I'd like to stay here in Ithaca and New York State. I've only just turned 30 so I'm old enough to run for governor. That's a big job.