Affairs / Asia Pacific
Asia Pacific
Briefing
Shibuya's new nursery, Shanghai's flight delays and recreational activities in Jakarta.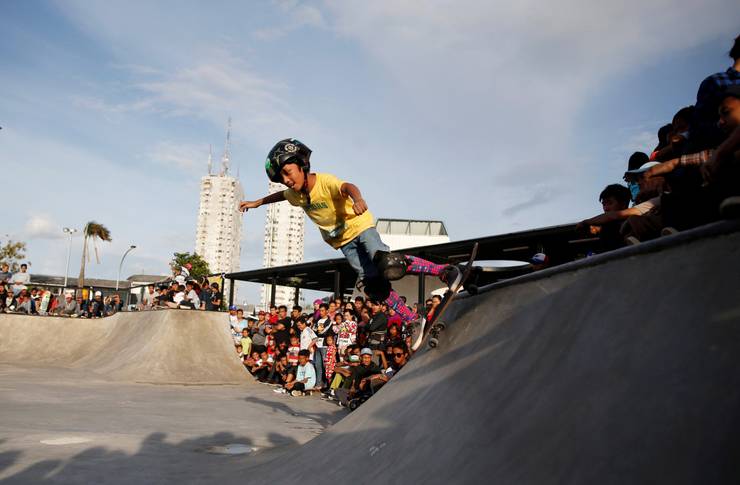 Happy ending
Jakarta —
Community
Basuki "Ahok" Tjahaja Purnama's two-year prison term on trumped-up blasphemy charges will give the suspended Jakarta governor plenty of time to consider his legacy. One recently completed civic improvement under his tenure saw the brothels in Kalijodo, a major red-light district, bulldozed and replaced with a riverside park and recreational centre.
It's a boon for the law-abiding residents who have been allowed to stay in the neighbourhood. But for the rest of the city, this urban regeneration presupposes that a nationwide clampdown on the world's oldest profession will work – and Kalijodo's former tenants won't simply set up shop elsewhere.
---
Fight for the sky
Shanghai —
Transport
Shanghai is China's gateway to the world but the city's international airport can't seem to fix its biggest shortcoming: flight delays. Shanghai Pudong International Airport isn't to blame though: China's military is. It uses the skies above the airport for training, particularly during the summer months, and this can ground flights and prevent landings for an entire day. As Chinese president Xi Jinping streamlines his country's military and pushes for economic liberalisation everywhere else he would be wise to consider giving the commercial aviation industry more control over Shanghai's airspace.
---
Green shoots
Tokyo —
Community
When he was elected mayor of Shibuya Ward in 2015, Ken Hasebe said that he'd make childcare a priority. With more than 300 children waiting for a nursery place in Shibuya (and more than 8,000 across Tokyo), the need was clear, particularly given the government's desire to get more women back into work.
Hasebe has made good on his promise: this October a new nursery will open in Yoyogi Park, one of Tokyo's biggest green spaces. Thanks to a special rule that makes it possible to open a nursery in a city park, Hasebe's team was granted permission to open the first park nursery in Shibuya. It's heartening to know that campaign pledges can lead to real change.
Q&A
Martin Haese
Lord mayor
Adelaide
Since being elected in 2014, Martin Haese has brought quick decision-making and accountability to Adelaide's town hall. He's no bean counter though: a guitarist who has performed at Adelaide's New Year's Eve concert, he is eager to turn this city of 1.3 million into a more culturally vibrant place.
What makes a great city?
Walkability, which is certainly one of our strengths. We've also recently set goals to increase our green canopy cover across the city.
How will you improve things?
We're expanding our light-rail network to extend tram service along a beautiful boulevard, North Terrace, which has two universities, an art gallery, a large public library, botanical garden and hotels. It has some of the grandest colonial buildings and contemporary architecture. Electric trams sit well with our carbon-reduction aspirations. We're also laying out au$12m [€8m] of city bikeways.
You proposed the post of night-time mayor. Why?
In the CBD events at night contribute more than au$1bn [€669m] to the economy. Last year I was advocating for a night-time mayor who is independent of the city council and has a solid understanding of the night economy. I got a mixed reaction but I will try again.
You've spent a lot of time trying to lower carbon emissions. Why?
To make the city a considerably more pleasant place to be. We are setting up electric vehicle-charging points this year. More than 13 per cent of the rooftops in the cbd have solar panels. We provide financial incentives to those who change to l eds and put EV-charging points on their premises.