Residence / Athens
At the feet of gods
Relaxed yet smart, Philopappou is a counterbalance to busy Athens life and attracts those seeking inspiration from its ethereal architecture.
Despite sitting just in front of the ancient rock of the Acropolis, Philopappou goes mostly unnoticed by the crowds of visitors who flock to see the Parthenon each day. Yet this pine-covered hill with its winding marble footpaths connects a cluster of neighbourhoods that epitomise modern Athenian life.
Philopappou is actually made up of a trio of neighbourhoods, one of which was known as the Little Paris of Athens, and today is home to a growing community of architects and designers who live and work alongside the area's born-and-bred residents. Its narrow streets and the ever-evolving mix of architectural styles tell the story of a neighbourhood unafraid to experiment: traditional neoclassical townhouses stand next to modernist, minimalist and even surrealist structures.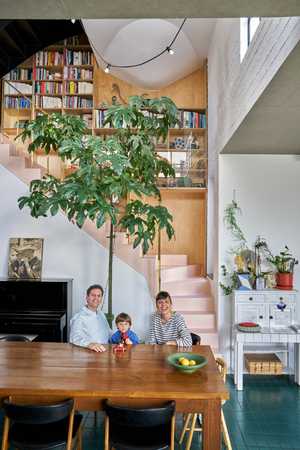 1.
Petralona House, Petralona
Architect couple Konstantinos Pantazis and Marianna Rentzou chose a collision of different colours and forms in their renovation of Petralona House. The couple's update of their early 20th-century home blends surrealist ideals with a strong dose of Greek aesthetics. "Contemporary architecture in Greece tends to be modernist, without much 'Greekness' to it; we wanted to bring back a Greek sensibility," says Pantazis, who set up the architecture practice Point Supreme with his wife in 2008; before that they both worked for Rem Koolhaas's oma.
They've kept the façade's French shutters, patterned balcony railings and old-fashioned awnings but have added dark-blue pool tiles on the exterior, white-and-blue chequered floor tiles, green bathroom walls, mustard window frames, blood-orange gates and a pink staircase with brass railings. It sounds like a bombardment of the senses but, bathing calmly in the Mediterranean sun, the interiors feel dream-like. "People often ask us, 'Why so many colours?' It's risky but colour is an easy way to add feeling if you manage to find a harmony," says Rentzou.
Many elements inside the home are reclaimed: the large dining table was retrieved from outside a museum where it had been abandoned and the multicoloured listelo tiles were salvaged from a now-defunct tile factory.
In their design, the architects have placed emphasis on what they call the "public spaces" of the house. Extending the original ground-storey building to three levels, a void has been left above the open-plan kitchen and living area, looking up to the rest of the floors. "The core of the house acts as an indoor courtyard where we gather and enjoy simple, everyday moments with friends and family," says Rentzou.
2.
Krokos family townhouse, Koukaki
Promoting hospitality and a connection with the outside are the foundations of Leti Arvaniti-Krokou's Acropolis-view family townhouse – the epitome of what Greek architecture does best. Built in 1890 and once home to Greek-French architect Georges Candilis, it was bought 30 years ago by Arvaniti-Krokou and her late husband Kyriakos Krokos, the architect behind the Byzantine museum in Thessaloniki.
The townhouse is traditional and, during summer, chilled lemonade made with fruit from the courtyard tree is always on offer. "This is our favourite part," says Arvaniti-Krokou, gesturing to the courtyard with its chequered tiles and green spiral staircase. "It's usually bathed in sunlight so we sit there. We call it the 'fourth room' of the ground floor." It's also where her husband tested many of the techniques found in his later projects. "The garden wall looks quite experimental," she adds with a smile. She is an architect herself and curator of the Benaki Museum's architecture archive.
The three-storey house has undergone two renovations, each retaining something of its former state: an exposed patch of red wallpaper on a cream dining-room wall is evidence of what existed before and an architect's filing cabinet has been repurposed as a chest of drawers in a bedroom. Paintings by Krokos cover the walls. "He's the artist behind most of our frames; he wanted to be a painter at first," says his daughter Anita, herself an architect in the making.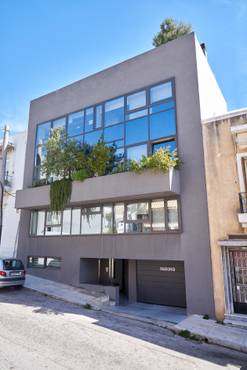 3.
Family house, Petralona
Fashion designer Orsalia Parthenis's cube-shaped glass-and-concrete home is positioned at the foot of Philoppapou Hill, next to a playground. "It's become a meeting point for us grown-ups too. I take the kids – and my frappé – and I'll always bump into a friend," says Parthenis, who has transformed a 1970s office building into a minimalist, modern abode that she shares with her husband and two sons. "We've been inspired by the work of John Lautner, as well as iconic 1930s buildings such as the Maison de Verre in Paris," she adds.
Just like the minimal vibe of her fashion label, the house is simple and almost industrial, with white and grey dominating the interior. Spread over five floors, the traditional home structure is turned on its head, with bedrooms downstairs allowing upstairs living areas to capture the best light.
The rooftop is triumphant, with Philopappou Hill to the North and sweeping views of the sea southwards; Aegean islands glisten on the horizon. "People move at a slower pace here," says Parthenis. "My work life can get quite hectic so it's great to live somewhere that counterbalances that."
4.
Zannas residence, Philopappou 
Long-time habitué Alekos Zannas prepares to usher a group of design students from Zürich's eth University into his home, built on a stepped side street that can't be traversed by car. "They're fascinated by the place," he says. He's clearly proud of the house he's lived in for more than 32 years, which was originally built for his late parents. Evidence of the family's past are scattered throughout, including a carved oak desk that belonged to family friend and prominent 20th-century politician Eleftherios Venizelos, and a painting of Thessaloniki, a remnant from Zannas's father's days as a prisoner during Greece's military dictatorship.
"This house was custom-built in the 1970s for my parents, an author and a piano soloist," says Zannas, who worked at the Benaki Museum's archives. He says there's too much history in the home for him to ever want to alter it. Thankfully the architecture has stood the test of time. Concrete, wood and plaster all work together in the living area with a strict, linear composition highlighting a grand fireplace, staircase and bookshelves.
"We knew their way of life and interests so during the design stage our friendship and mutual appreciation was decisive," says Suzana Antonakakis, a close friend of the Zannas couple who co-designed the residence with her husband Dimitris. "Music, writing and books all had to take centre stage." Zannas has vowed to remain in the neighbourhood even if he decides to give up the family home.
Comment
Where to invest
By Daphne Karnezis
Greece is perceived by foreigners as the place to invest in a second home, which is tempting in Philopappou where prices are reasonable. The neighbourhood is also one of the few in Athens where property values haven't dropped in the past few years.
Architect Elena Zervoudakis recently took on renovations for Dutch and French families in the area. "People love the romantic idea of 'easy living' that they find here. And, of course, waking up to views of the Parthenon."
A British artist recently relocated to the neighbourhood, an encouraging sign according to Konstantinos Pantazis. But despite government programmes such as the Golden Visa making it easier for foreigners to gain residency, the country still has a long way to go to simplify the process.
Oikonomou: Serving Greek classics for 90 years.
+30 21 0346 7555
Fabrica tou Efrosinou: Gourmet mezes.
+30 21 0924 6354
Bel Ray: Cocktails at a former car-repair shop.
belraybar.gr
Food markets: Stock up at the weekly laiki food market, one of 44 in central Athens.
Zefyros: Catch a flick under the stars at this outdoor cinema, from May to September.
+30 21 0346 2677