Berlin books / Berlin
Berliner style
Plot a bookish weekend in the German 'Hauptstadt' with a tour of the best places to build your library, improve your stack and read poolside.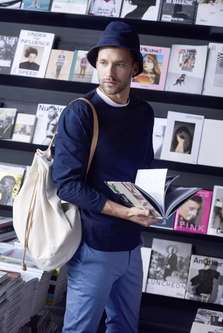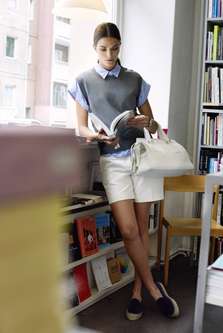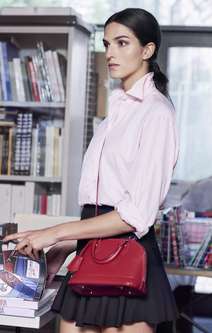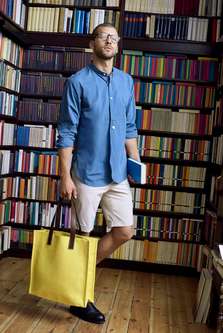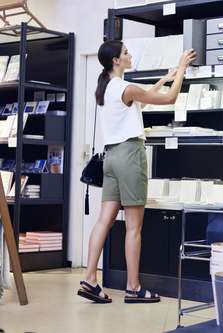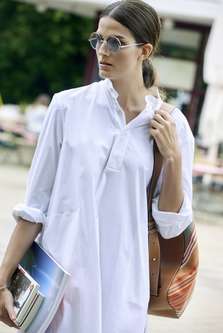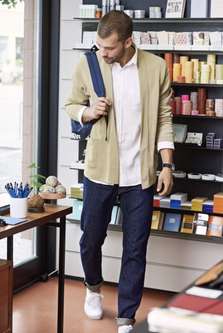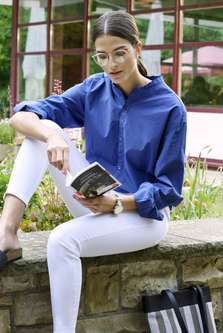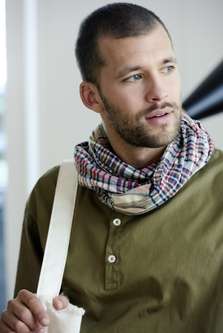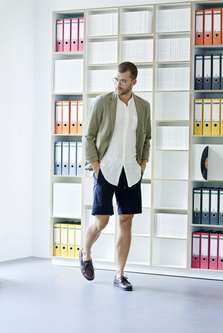 Styling: (women) Kyoko Tamoto, (men) Shun Katakai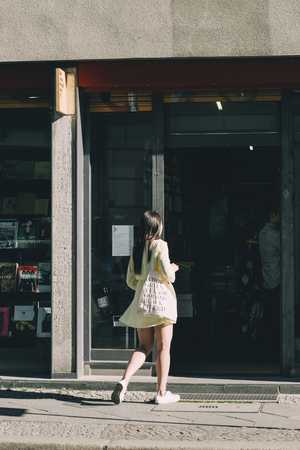 This is Berlin's ultimate magazine destination. Established by graphic designer Mark Kiessling and bookseller Jessica Reitz in 2008, it serves anyone seeking rare periodicals from around the world (or a copy of monocle) and often appears as a pop-up shop at international fairs such as Design Miami. "They always say that print is about to die," says Kiessling. "But our shop is proof that that's not true at all."
28 Auguststrasse, 10117
+49 (0)30 6954 9695
doyoureadme.de
No ordinary bookshop, this gallery-like space is organised thematically and specialises in books on Berlin and its politics, art, urban planning, design and pop culture. Founded by three architect-cum-artists – Katja Reichard, Jesko Fezer and Axel J Wieder – in 1999, the shop in Mitte attracts architects, social scientists and creatives, not only for its singular selection of books but also for its lively programme of launches and talks.
48-50 Almstadtstrasse, 10119
+49 (0)30 2472 8520
pro-qm.de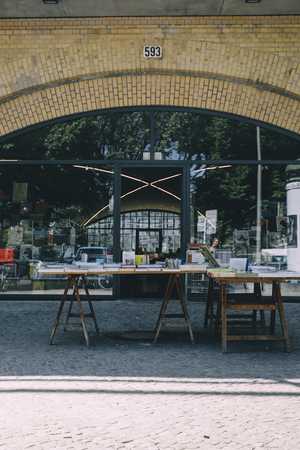 Bücherbogen can be found in Savignyplatz, one of the city's most picturesque squares. The bookshop is on the site of a former motor workshop that altered cars to help people escape East Germany, and takes its name from the arched bridge under which it's housed. In 1980, Bücherbogen expanded from one to five arches and in doing so became one of the city's largest bookshops dedicated to architecture and design.
593 Stadtbahnbogen, 10623
+49 (0)30 3186 9511
buecherbogen-shop.de
Antiquariat Andreas Weigelt 
Andreas Weigelt's antiquarian bookshop in Friedrichshain is a lovely spot for a rummage. The ceiling-high shelves are weighed down by some 20,000 books on philosophy, antiquity, art history and literature, with the oldest dating back to the 16th century. "It's the most beautiful job in the world," says Weigelt, who formerly taught at the Freie Universität Berlin. "These books aren't commodities like modern books; the old books were made with love."
4 Proskauer Strasse, 10247
+49 (0)170 271 6190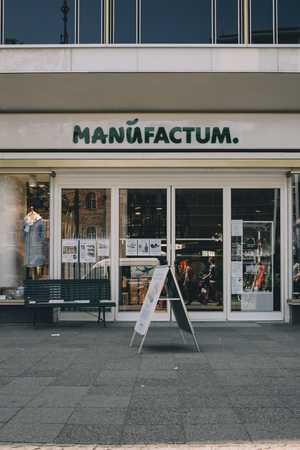 This German retailer was founded in 1987 in response to the rise of cheap mass production and offers the complete opposite: high-quality, sustainable products and produce. The Berlin branch opened 13 years ago in Paul Schwebes' postwar modernist Haus Hardenberg at Ernst-Reuter-Platz and offers everything from notebooks to Ercol chairs and goat-hair record-cleaning brushes. It also has its own Brot & Butter café; just the place to pick up a book and cup of coffee.
4-5 Hardenbergstrasse, 10623
+49 (0)30 2403 3844
manufactum.de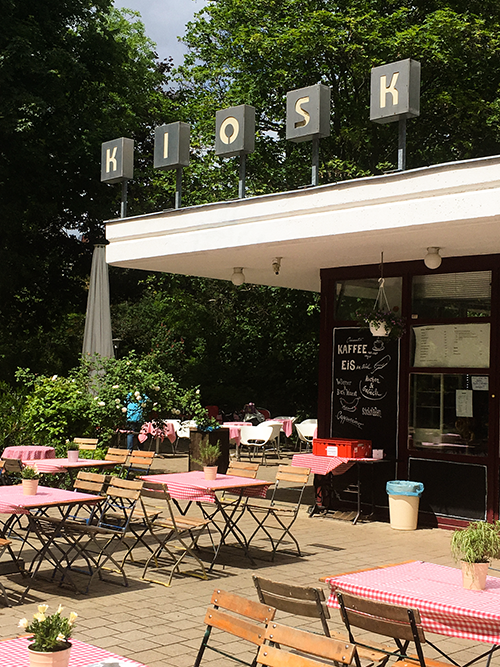 Built in 1972 as a leisure centre and library in what was then East Germany's Volkspark Friedrichshain, the red-and-white pavilions housing Schoenbrunn have since been turned into a kiosk, restaurant and beer garden. Yet they remain an excellent spot to read a few chapters over lunch. At the kiosk you can grab a chilled drink and sweet treat before climbing Mont Klamott (formed from Second World War rubble) for a panoramic view of the city.
Volkspark Friedrichshain, Am Schwanenteich, 10249
+49 (0)30 453 056 525
schoenbrunn.net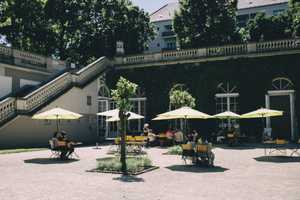 Zitronencafé im Körnerpark 
Part of Birgitt Claus's Esskultur restaurant group, Zitronencafé is housed in an old orangery that overlooks the neo-baroque-style park dating from 1912. The menu of homemade dishes changes daily – we recommend stopping in for Sunday brunch. To mark the park's summer concert season the café has begun hosting regular grill evenings and will be serving Berlin beer fresh from the barrel at every concert.
8 Schierker Strasse, 12051
+49 (0)30 5682 9999
esskultur-berlin.de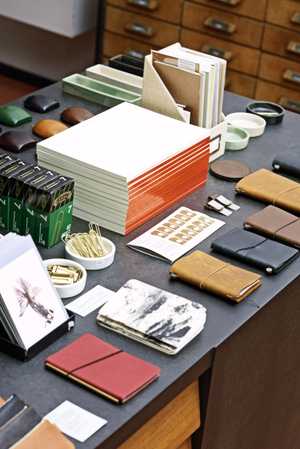 A good notebook deserves a fitting ex libris and you won't struggle for something that hits the mark at Luiban. The stationery shop's co-founder Michael Ruben Bandt knows his stuff: the longtime pen-and-pencil aficionado started work in a paper shop at 16. In 2009 he decided to launch his own online stationery venture with partner Kai-Stefan Luithardt. Four years later it's become a bricks-and-mortar destination dedicated to the pleasure and art of writing by hand.
Luiban's focus is on Japanese stationery classics such as Ohto pencils, Futagami paperweights and Midori Traveler's Notebooks. But German goods are well stocked too: there are Kaweco pens (and refills) as well as labels by Berlin-based Kami, "Made in Munich" paper by Carta Pura and small leather goods by Papoutsi, not to mention cardboard boxes made by blind artisans in a workshop in Kreuzberg.
28 Rosa-Luxemburg-Strasse, 10178
+49 (0)30 8894 1192
luiban.com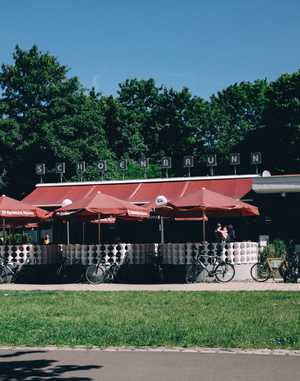 This restaurant, housed in Dietmar Kuntzsch's award-winning pavilions, is located in the capital's oldest municipal park. It serves delectable classics: the Wiener Schnitzel and Kaiserschmarrn are worth a special mention as is the Juten Morgen Berlin breakfast of sauerkraut and currywurst. On the terrace you'll be served more casual fare, from wood-fired pizza to a satisfying Bratwurst, all with a view of the park's picturesque swan pond.
Volkspark Friedrichshain, Am Schwanenteich, 10249
+49 (0)30 453 056 525
schoenbrunn.net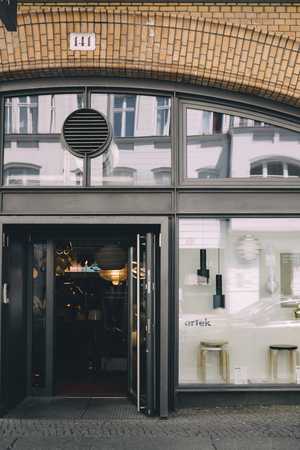 For the right bedside lamp to accompany a late night with a particularly compelling page-turner, look no further than Mittelicht. The pendants, floor and table lamps are sourced from across Europe and include design pieces by Artemide, Artek and Flos. The shop-floor team understand the difference that good lighting makes to a living space and that's why they'll advise customers expertly from start to finish.
140 Dircksenstrasse, 10178
+49 (0)30 284 724 641
mittelicht.de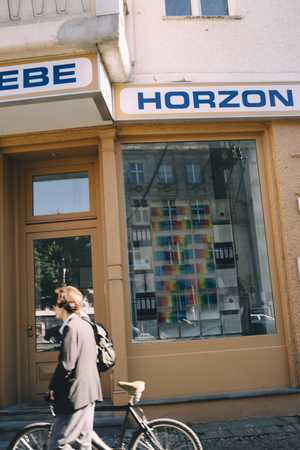 This minimalist-furniture company launched on Torstrasse in 1999 with just one product: a white birch plywood bookshelf. A line of closets has been added to the collection since but the bookshelf's streamlined design, baptised as "Modern", remains Moebel Horzon's hallmark. Its vertical modules come in three different sizes and columns can be aligned with just a few screws. diy-averse Berliners need not fret: residents can have shelves installed by the shop's staff.
106 Torstrasse, 10119
+49 (0)176 6273 0874
modocom.de
Stepping inside this spacious furniture showroom feels like entering a fin-de-siècle reading room. Here, in the biggest of the shop's three locations, you'll find dark wood bookshelves filled with storied volumes. Across its branches (two more are located a stone's throw away on Kaiser-Friedrich Strasse) you'll find customised shelving, 1930s stools, vintage coffee tables and carpets from the art nouveau and Bauhaus eras to complete the old-world set-up.
62 Bismarckstrasse, 10585
+49 (0)30 341 3388
bookcases.de