Sunglasses / Los Angeles
Dark stars
Perma-sunny Los Angeles is the perfect city to launch a sunglasses brand. We find six designers putting others in the shade.
Outdoor living and a celebrity swagger have helped give LA a lead in the fashion stakes but there is one sector that the City of Angels excels in: sunglasses design. Oliver Peoples and LA Eyeworks were among the first pioneers, followed by Salt and Garrett Leight (whose father co-founded Oliver Peoples). Now the next generation of designers have arrived for their day in the sun; here we shoot them wearing their own designs.
Why is LA so infatuated with sunnies? Shane Baum has a theory. "It's the epicentre of the movie industry and rock'n'roll so there are decades of film documenting the evolution of eyewear." When constant sunshine calls for what Baum calls "an arsenal of sunglasses", shoppers look to celluloid for inspiration.
Baum hails from the Midwest but has long called the neighbourhoods south of LA home. After university, he managed eyewear for Mossimo and went on to work for Optical Shop of Aspen. Later he designed for lvmh and in 2011 formed Leisure Society. The brand, based in Costa Mesa, is a tongue-in-cheek take on preppiness, while the branding and style names (the latest collection is called The Tides of Akoya) point to escapism. Most of the frames are made from hollowed-out titanium, to ensure lightness, and plated with gold. Only between four and 16 pairs of glasses are produced a day – entirely in Japan. Etchings on the temples point to mid-century buildings in Palm Springs but the key is creating pieces that will last. Baum's take on it? "Redefining the classics using space-age materials."
leisure-society.com
---
Ahlem Manai-Platt believes in the power of "Made in France" when it comes to eyewear production. The Parisian relocated to LA with her Californian husband, having spent a decade in the fashion industry working for Acne and Miu Miu. But she'd always harboured a fascination for eyewear, recalling a pair of shades her parents brought back from Roland-Garros when she was a child: a collaboration between the French Open and Ray-Ban. "I can still see myself touching those glasses," she says.
She launched her brand in April 2014, broke even the following month and had sold out her stock by June. She uses adjectives such as "timeless" and "subtle" to describe her eyewear and it's easy to see why when picking up super-lightweight, gold-dipped palladium frames with tinted blue lenses (Madeleine) or a bulkier acetate pair in tortoise shell (Abbesses), all fixed with French Cridal lenses.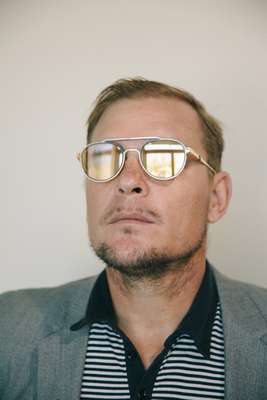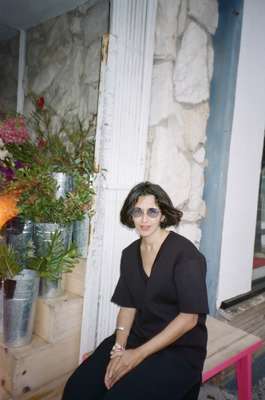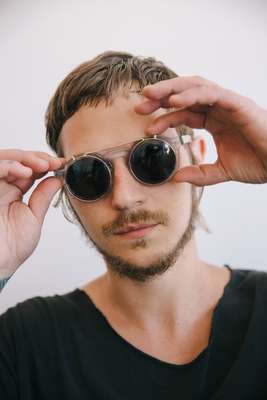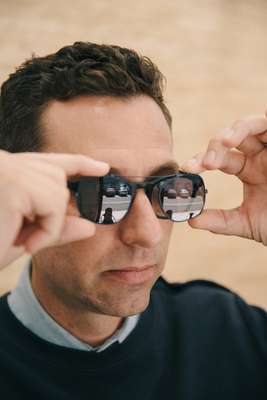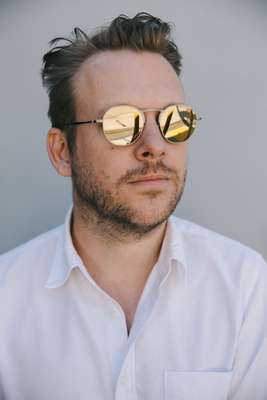 The model names and production base (in Oyonnax, near the Swiss border) may be French but Manai-Platt says that the glasses couldn't be designed anywhere other than LA. "Paris and New York are too hectic," she says. "But when I come to LA it's like going to meditate. As long as I stay in Venice!" It's here that you can find her shop; she opened on retail boulevard Abbot Kinney last year. Come September, shop number two is slated for Downtown.
ahlemeyewear.com
---
Neil Bardon points to a tattoo of a hand on his heavily inked left arm. The image is based on the hand of his grandmother, after whom his brand is named. "Before she passed away I told her I was going to name a brand after her," he says. "And she said, 'You're silly.'"
Rita may have chuckled at her grandson's endeavour but the former drummer and graphic designer has built quite a following since his debut in late 2013. His output includes spectacles as well as shades and they are assembled by hand in LA using parts from Italy, the UK, Germany and Japan. Aesthetically they follow the trajectory of his grandmother's life. While his first collection had a 1940s feel – think light acetate frames – the new, chunkier collection, Florissant, is rooted in the 1950s. "They're very mid-century," says Bardon. "Think of an engineer coming home from the office, pouring a whiskey and reading the paper." And why LA? "This is what it's like everyday," he says, pointing to the sunny sky.
saintritaparlor.com
---
Dave Barton fell in love with eyewear's "mixture of fashion and function" while working for Spy Optic in San Diego. A subsequent job at Oliver Peoples back in LA led to the conviction that he should go it alone.

That belief culminated in the creation of David Kind in late 2013. Operating out of an office-cum-showroom one road back from Abbot Kinney in Venice Beach, the brand is largely web-based and sends out frames in the post for customers to try at home.
Barton says the business is personal as opticians (not algorithms) match glasses to your face shape. The frames are described as "classic, vintage Americana" and are handmade in Japan and Italy. "We don't do crazy styles because we want everything to blend in with that understated look in southern California," he says of the 30-odd styles in 100 colourways. One of the finest touches? The increasingly popular clip-on solar lenses for optical frames. "LA has brought back clips," says Barton.
davidkind.com
---
Japanese designer Mitsuhiro Matsuda is a legend in the fashion industry. But when he died in 2008, so did his brand – until engineering graduate and Georgia native James Kisgen decided to resurrect it. Living in LA and working for Cartier, Kisgen had long appreciated Matsuda's intricate frames. "They appealed to my engineering mind," he says from his Santa Monica office. Leaving his job at Cartier he went to Japan and negotiated a deal with the Matsuda family to license the heritage glasses. Since then he's added his own designs to the line.
"I think LA brings the world to the brand," says Kisgen, who has 36 sun styles and 38 optical ones. "The city is so multicultural that we don't need to travel to find inspiration." That said, the brand opened an office in Japan 18 months ago, and is now divided into new designs, the precious collection (using sterling silver and gold) and the heritage collection. Look out for filigree work on bridges, art nouveau influences and the Matsuda badge (based on gothic windows) in the temple tip. Perfect for design-savvy Angelenos.
matsudaeyewear.com
---
A graduate of design school in Paris, Jerome Mage moved to California in the 1990s and founded a design company before launching Jacques Marie Mage in 2014. With his creative background and a love of the architectural aspect of eyewear, starting the brand seemed a "natural fit".
In his Granada Buildings office in Koreatown, Mage has a cabinet filled with soldier figurines; it's an indication of his fascination with heritage. His shades are crafted in Italy and Japan, and are inspired by vintage eyewear worn by the likes of Dennis Hopper and Pier Paolo Pasolini. He's happy to go against the grain, away from what he calls "beautiful but boring" frames. So while the trend has been towards thin, light frames, jmm is unashamedly bulky, using 10mm-thick acetate. With five collections in under three years, the brand is growing fast. "People dress casual here so where do they spend money? Eyewear," says Mage.
jacquesmariemage.com
Q&A
Giampiero Tagliaferri
Creative director Oliver Peoples
LA
Oliver Peoples was founded in West Hollywood in 1987 and opened its first shop on Sunset Boulevard. Established by friends Ken Schwartz and Larry Leight, it has become synonymous with a chic, understated west coast look. Tagliaferri – previously at Luxottica and Adidas – joined the brand in 2016.
Why is LA such a sunglasses hub?
Because of the sun – if you live here you can't live without sunglasses. Another important aspect is the link between LA and Hollywood – that started the whole business here.
How significant is LA to Oliver Peoples?
It started here and the creative team is based in the city – so we breathe LA every day. It's about an attitude: casual but classic.
Is the sunglasses market saturated?
In the past five years a huge number of small brands came to the market; there is far more competition now. But in LA Oliver Peoples is still recognised as the first brand that really built a name around eyewear.
How important is the notion of quality?
We are obsessed with it. We own a factory in Italy and control the whole process. About 20 per cent is produced in a Japanese factory that we have been working with for 30 years.
What do Angelenos look for in eyewear?
Oliver Peoples represents the quintessential Angeleno look. So many people say that when they moved here they wanted to buy our frames because they were so LA.
oliverpeoples.com