At the front / Global
Editor's letter
Our editor in chief on the name of our London HQ, the appeal of its neighbouring park and the enduring power of quality of life.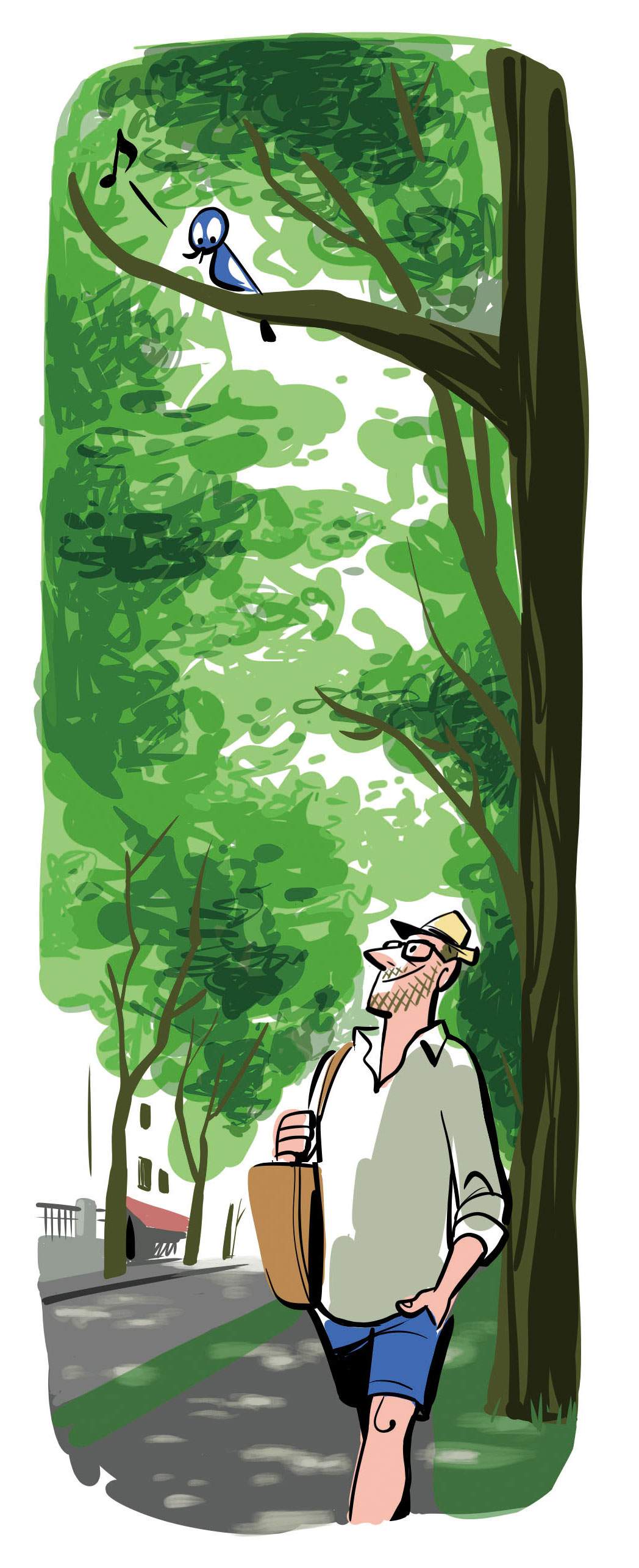 "Why is your building called Midori House?" It's a question that comes up frequently when clients, readers and contributors visit our HQ in the heart of London. While some visitors suppose that our 1960s structure might have once been the European base for Japanese liquor group Suntory and its syrupy melon-flavoured Midori liqueur, others wonder whether it was a primary school for the children of Nomura bankers living in St John's Wood. "The story behind the name isn't quite so exciting," I say. "Our COO felt that the building had a connection with too many other companies over the decades and needed a bit of a rebadging so we ran an internal competition and a Japanese colleague thought 'midori' was an appropriate word. It means 'green' in Japanese."
As this story is usually being told, while we walk visitors up the stairs from reception to our editorial floor, you can see them looking up at our towering single-glazed windows and thinking that this building doesn't feel particularly energy-efficient, let alone green. When we get to the first floor and they make a left and wander into the area where our pages get commissioned, designed, fact-checked and pinned to a large cork wall, there's usually a moment of revelation that is punctuated by a look of surprise or a small gasp. No doubt that this is sometimes a response to how many people we've been able to squeeze into 200 sq m of prime W1 real estate but most are startled by the leafy view beyond our hard-working editors and producers – so much so that they usually drift off from the tour and walk toward the terrace and the view of the park below.
The next question is, "How did you find such a building?" and bolder guests will ask whether we own it and how much we paid. To the first question I explain that I used to live on the eastern edge of Marylebone and would often admire the modernist glass-and-brick structure on the far side of Paddington Street Gardens, thinking about how lovely it would be to transform it into a buzzy, breezy editorial hub for a media project that I had in mind. I tend to go on to explain how we were thwarted on many occasions but eventually managed to secure a lease in 2010 (sadly we weren't able to buy it) and move in about nine months later.
On its own Midori House would be a respectable piece of mid-century British architecture but it's something entirely different thanks to Paddington Street Gardens – a small city park with plenty of grass, an enormous canopy of trees, a large playground and well-maintained flowerbeds.
In the mornings the park is a shortcut for people arriving at Baker Street Tube station and heading to medical practices on Harley Street. It's also loved by dogs and their owners, the odd pensioner who likes to get an early spot of sun on their cheeks and a few harmless drunks with cans of Stella Artois. At lunch (and weather permitting) there's barely an available blade of grass as workers and residents occupy patches of lawn for impromptu picnics and leisurely coffees. On particularly warm days tops come off, bathing suits are pulled on and blankets are spread out as groups of varying ages ignore sun cream, insert headphones and crack the spine on a new title from nearby Daunt Books. With the sun still high in the summer months, bread, cheese and bottles of wine from La Fromagerie (a lovely purveyor around just the corner) are enjoyed well into the evening while dogs return for their walks and children to take to the swing-set.
Then there's the abundance of wildlife that provides a day-long soundtrack of clucking, tweeting, whistling and whooping. In my office on the third floor, when the doors and windows are open, it feels almost like a treehouse as the branches lean over the balcony and birds occasionally venture across the threshold to find out how a magazine is made.
But on this particular Sunday, as we wrap up production, it is unusually quiet. There's a bit of chirping and I spot a squirrel and a few people crisscrossing the park but for a sunny day in June the gardens are not their usual self. Passersby often look up from the park and wonder what happens in Midori House. They hear laughter and see heads bobbing past as people stride from printer to desk and sofas to bookshelves. They see digital clocks telling the time in Hong Kong and Tokyo and perhaps some layouts and the glow of screens. On Sunday 4 June they would have seen the TVs around the office filled with images from the terror attack that happened just hours earlier at London Bridge and Borough Market.
As we worked to complete this issue I got sidetracked staring at the empty park. Isn't this what Islamist terrorists want? Empty parks: no sunbathers, no mingling, no music, no joy – no quality of life? When we launched our ranking of the best places to call home 10 years ago security was a small component of our metrics, mostly measured by break-ins and homicides. Today personal security has become a defining topic for where people want to live, work and raise families.
There are many components that make cities great and many more elements that can be implemented to improve quality of life. But without a forceful, confident liberal streak that allows for challenging thought, flashes of decadence, freedom among sexes, enjoyment of our bodies and the fruits on the vine, there is not much point in erecting new museums, restoring churches, planning gleaming technology clusters or engineering new viaducts. In short, erosion of quality of life will always be a step backwards for civil society.