Affairs / Europe
Europe
Briefing
Finland's public saunas, peace on the streets of Paris and a long-overdue opening in Rome.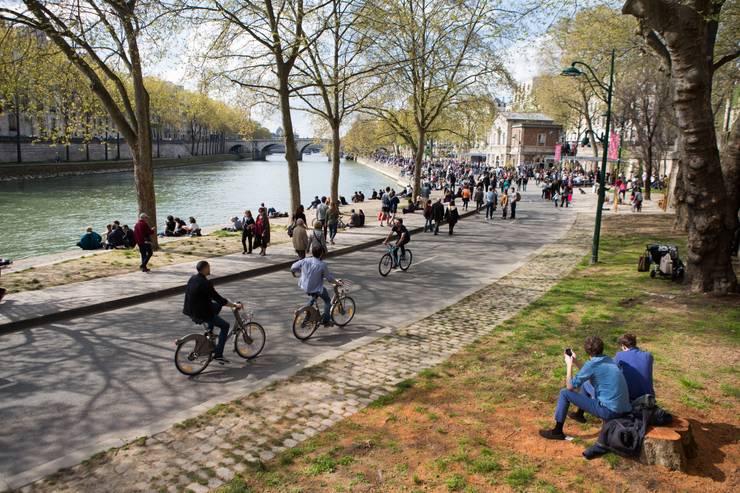 The river wild
Paris —
Green space
When Paris's mayor announced the closure of 3.3km of road along the Seine's Rive Droite she was not short of critics. The French drivers' organisation, 40 Million d'Automobilistes, launched a petition and 168 mayors from the Greater Paris region objected to the scheme, which they said would exacerbate congestion. Undeterred, Anne Hidalgo drove the measure through and now Parisians can cycle, run and flâner from the Port de l'Arsenal to the Eiffel Tower in what's been officially branded the Parc Rives de Seine.
So far the 10-hectare space features pétanque courts, climbing walls and play areas. Yet greening swathes of tarmac is not easy and, despite mature planting schemes, the space is yet to feel truly bosky. Nevertheless, while the vines grow, Parisians are enjoying the odd sensation of inhabiting a place where cat's-eyes and thermoplastic paint are the only reminders of the now-banished cars.
---
Fine line
Rome —
Transport
Almost two decades after plans were announced for a third line of Rome's metro, this October Line C will finally connect to the network. This might not sound like a big event but the line has been beset with problems and an eye-watering price tag of €3bn.
The presence of archaeological remains is the main excuse cited by officials but the patience of Romans is wearing thin. Line C will meet Line A at San Giovanni: a gleaming station that has been ready for more than a year. Maybe now is the time to restructure Line C's management; foreign expertise wouldn't go amiss.
---
Hot list
Helsinki —
Leisure
In Finland the public sauna culture that once existed has all but vanished as most homes now have their own. But in Helsinki there are signs of a revival. "Younger generations want community-oriented wellness," says Raoul Grünstein, founder of Allas Sea Pool, an urban spa in the city. Other recent saunas include a traditional timber sauna on Lonna island and the design sauna Löyly.
Q&A
Nebojsa zelenovic
Mayor
Sabac, Serbia
Sabac had a thriving industrial economy before the Yugoslav conflicts of the 1990s but, since then, times have been tough. Mayor Nebojsa Zelenovic is aiming to change the profile of this city on the River Sava. In office since 2014, Serbia's only independent city mayor has prioritised culture, education and devolved decision-making, and overseen the transformation of the city's main square into an attractive public space.
How do you keep talented young people in Sabac?
People will not stay in the city if they don't see a future, which is why we're doing so much to create new possibilities.
Why prioritise culture?
We invest 7 per cent of the budget in culture because jobs won't come if the community is miserable. We host the biggest theatre festival in Serbia and a music festival. We've invested in a new library and we're making connections with other cities along the Sava. We're trying to create a community that is healthy and well connected. That will attract investment.
Does being an independent mayor complicate matters?
The government doesn't send us enough money but we're raising money ourselves through property taxes. All the revenue collected from a city unit stays in that unit so people can spend it how they want. That's changed the citizens' perspective of their involvement: we're collecting three times more now.