Fashion / Global
Fashion
Briefing
From Frescobol Carioca to Reinhard Plank.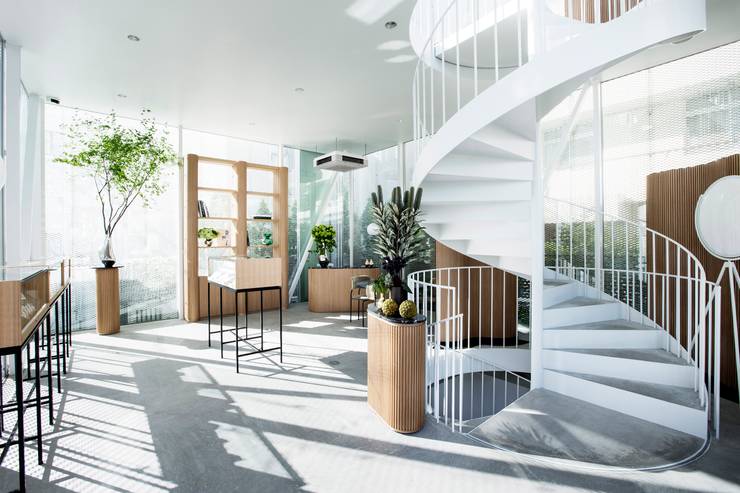 Q&A
Nicolai Bergmann
Founder, Nicolai Bergmann Flowers & Design
Tokyo
Danish floral designer Nicolai Bergmann has made his mark since moving to Tokyo in 1998. In addition to 12 flower shops, three cafés and a floristry school, he recently opened his flower-inspired jewellery shop in Minami-Aoyama in Tokyo. Natur is housed in a distinctive building designed by Tokyo architecture firm Sanaa.
Why did you decide to do a jewellery line?
I'd been thinking for many years about how I could somehow preserve the beauty of my flower creations. Jewellery is the perfect way for me to translate my passion for the botanical universe.
What materials are you using?
The casual collection is all silver, some with black onyx. The finer pieces are 18-carat gold, some with pearls and diamonds; the wedding collection is white gold with diamonds.
Tell us about the design of the shop.
It's designed by Danish firm oeo, who custom-made the jewellery cabinets. It is sophisticated Nordic with a touch of Japan.
nicolaibergmann.com
One of three gmt models out in May.
farer.com
2.
Heritage Black Bay 41
Tudor
Comes with a fabric or steel strap.
tudorwatch.com
3.
Mille Miglia Classic Chronograph
Chopard
The latest in the brand's range of watches, all inspired by classic cars.
chopard.com
4.
Overseas Chronograph
Vacheron Constantin
The perfect travelling watch, with a chronograph function.
vacheron-constantin.com
5.
Elite Classic Chronograph
Zenith
Classic design with a movement of more than 250 components.
zenith-watches.com
Born out of Marcus Gårdö's search for a well-made white shirt that wasn't expensive, the Stockholm brand makes its knitwear in Lithuania, shirts in Portugal and ties in Italy.
adaysmarch.com
Veja teamed up with not-for-profit group Surfrider to fashion these trainers that highlight ocean pollution. Produced in Brazil, their uppers are made from recycled plastic bottles.
veja-store.com
Plank, a South Tyrolean, moved to Florence for its hat-making skills. He says his pieces, made by third-generation Florentine artisans, are "modern cuts based on classic designs".
reinhardplank.it
"After our magazine and café, my aim was to complete the Holiday style," says Franck Durand, art director of Paris's Holiday magazine. He teamed up with some of France and Italy's brightest designers to launch a men's and womenswear line that includes a striped, "Made in Italy" sweater, made in collaboration with Éditions MR, and a navy cap designed by Larose Paris.
holiday-magazine.com
Louis Réard changed fashion forever in 1946 when, in a postwar bid to liberate women's bodies, he unveiled the first bikini. The Parisian label became defunct when he died in the 1980s but it has been relaunched by new owner Richard Emanuel. He hired Céline Adler to oversee designs based on archive patterns. The bikinis and maillots will be made in Paris and Tunisia.
reard.com
When Baruc Corazón created his Caribbean-influenced Guayabera shirt in 2015 he never intended it to be a fashion statement. "I wanted it to reflect my personal experiences rather than fast-changing trends," says the designer, who founded his brand in Madrid in 2004. Nevertheless, his take on the Guayabera – white, long-sleeved, with front pleats and four pockets – has quickly attracted an international following.
Last year Colombian president and Nobel Peace Laureate Juan Manuel Santos donned one of Baruc's Guayaberas before signing the Colombian peace agreement. Produced in a family-owned Portuguese workshop using densely threaded Egyptian cotton and linen, Corazón's Guayaberas come with a choice of pearl, wood or bone buttons. "People have embraced the shirts' timeless spirit," he says.
Inspired by Colombia's Wayuu tribe, Madrid label Guanábana's bags bring modern flair to traditional designs. "They're not just beach bags; we have vivid colours but we're introducing neutral shades for winter," says founder Almudena Espinosa. Besides the bags, knitted by Colombian artisans, you'll find the striped, zig-zag and wavy patterns on the brand's clutches, espadrilles and hats.
guanabana.es
"The nice thing about working with natural ingredients is that they are alive; they work with your body chemistry," says Amsterdam-based Frances Shoemack, founder of organic-perfume brand Abel. She teamed up with New Zealand's only nose, São Paulo-based Isaac Sinclair, for a scent collection that features neroli from Italy, balsam from Peru and Australian sandalwood.
abelodor.com
"The roots, philosophy and dna of the brand stem from Biarritz," says Marie Guyot, co-founder of swim-shorts label Atalaye. Each pair of trunks is named after a street or landmark in the city and is inspired by its art-deco-style architecture and Basque influences. The trunks come with a chic-but-casual cut and are made in Porto.
atalaye.com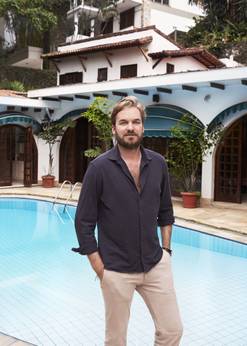 Q&A
Harry Brantly
Co-founder, Frescobol Carioca
UK
Brantly grew up in Rio and founded Frescobol Carioca in 2009 with Max Leese. In May the menswear-and-beach bat brand opened a shop in Notting Hill, their third in London.
Why have you opened another shop in London?
We don't want to be a high-street brand. We prefer someone to find us on a side street in Marylebone or off the main pitch in Notting Hill. Plus, London has pockets with localised customer bases.
Tell us about Frescobol Carioca's branding strategy.
From a business point of view we want to own Brand Brazil – so that when you think of Brazil, you think of Frescobol Carioca.
What does that entail?
We have bossa nova playing and all the staff are Brazilian. In our new shop we're hosting a pop-up of brands from Mexico and Brazil. It's about offering another Brazil-themed experience.
frescobolcarioca.com