Cosy corner / Italy
Hot platters
The celebrated chef finds inspiration in the company of his 12,000-strong vinyl collection.
"You have to taste this!" says Massimo Bottura, arguably Italy's most gifted chef. He utters the words in a way that makes them feel less like a command and more like an irresistible invitation. The salt-and-pepper-bearded Bottura is in the kitchen of his Modena home as his American wife, Lara, makes freshly squeezed juice from oranges grown in the soil around Mount Etna. "Have you ever had juice like this? The flavour!" he says. He quaffs the refreshing drink then makes a beeline for his favourite spot in the house: his music den.
A visit to Bottura's home is a sensory overload. The interior is a riot of marble flooring, contemporary art and iconic 20th-century Italian furniture pieces arrayed in a manner that is in sync with his eye-catching creations for the dinner table (his dessert "Oops! I dropped the lemon tart" springs to mind). If you want to understand the culinary genius of Bottura, who became famous in his homeland and abroad for cleverly deconstructing Italian classics such as lasagne, it helps to observe him here while he is listening to, and talking about, music.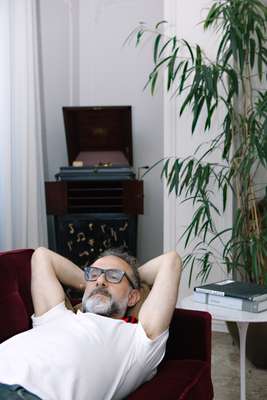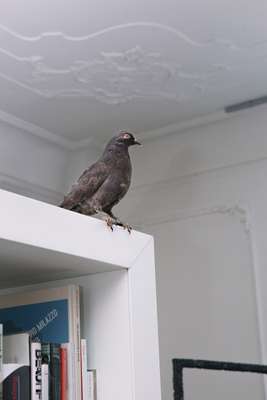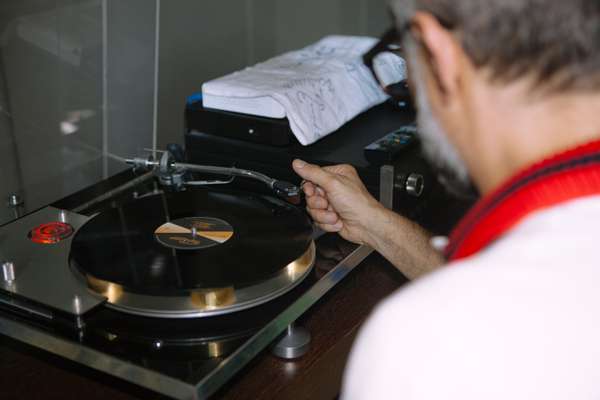 "When I come back at night from the restaurant the adrenaline is so high that I need to decompress," says Bottura, perching himself on the edge of a dark-grey sofa as he peers out into the afternoon sun. "So I come into my music room, put on a few records and relax."

The three-starred Michelin chef finds both inspiration and enjoyment in his hi-fi equipment, which includes a mint condi-tion Transcriptors hydraulic turntable from the 1970s with a specially carved stone needle. "One night I had Thelonious Monk on and he was coming at the piece with this crazy rhythm. I wanted to create something that went just as deep. So I did this black cod with an ash of burned herbs that sits in a blackened broth. It looked like the keys on a piano."
Bottura delights in his ever-growing vinyl collection, which numbers 12,000 records and began when he picked up a seven-inch of the Rolling Stones' "Angie" at the age of 14. His favourite genre is jazz and as he talks his brain moves like a bebop tune between subjects and singers. "You have to listen to this! It's a recording of Billie Holiday for Verve in Japan, very hard to find," he says as the piano accompaniment starts for "Come Rain or Come Shine".
The virtuoso chef channelled the singer for his "Autumn in New York" dish: a vegetable medley that he recently served to Barack Obama in Tuscany. Over dinner Bottura talked to the former US president about his Food for Soul project, a non-profit that runs community kitchens using leftover produce; the most recent, Refettorio Felix, opens this summer in London.

It's a project close to Bottura's heart. "For me it's about numbers. One third of food produced today is thrown away. That's 1.3 billion tonnes. It's unacceptable in 2017. We want to fight food waste through the knowledge and creativity of chefs, who can be agents of change. Even disadvantaged people have a right to a nutritious meal."
The principle behind Refettorio Felix goes beyond nutrients: Bottura has invited a host of celebrated chefs, including Alain Ducasse and Angela Hartnett, to cook the kitchen's meals, which will be served to people in need in a space designed by Ilse Crawford's Studioilse. As Bottura says, "We want to rebuild the dignity of food."
The CV:
1962 Born in Modena
1995 Opens Osteria Francescana in Modena
2012 Receives a three-star Michelin rating for Osteria Francescana
2014 Releases his book Never Trust a Skinny Italian Chef
2016 Receives the number one ranking on The World's 50 Best Restaurants list