HQ audit / Lisbon
Light fantastic
The architecture of EDP's new building has been guided by the management's principles of openness and collaboration.
Great architecture and interior design are an essential element of brand promise for some companies; an industrial designer with tasteful chairs, for example, immediately strikes the right note with clients. There is no business case, however, for a utility company to invest in such fripperies. Or so you might think.
The new offices of EDP, Portugal's energy supplier, prove that even a brand in a somewhat dour industry can make a statement with design. Entering the reception is more like walking into a design hotel than stepping into a corporate HQ. It is "a Disneyland for architects", as Rita Martins, EDP's in-house architect, puts it.
The ceilings here are six metres high and supported by white concrete walls. A lounge space features Sergio Rodrigues and Hans J Wegner chairs, Serge Mouille lamps and Tom Dixon lights; artwork by Lawrence Weiner and Portuguese street artist Vhils adorns the walls. Thanks to the extensive use of glass and reflective white marble, the space feels bright and open; there's no sense of being below ground.
Located on Lisbon's riverfront just below the historic centre of the city, the headquarters were created by architects Aires Mateus. The building comprises two office towers, both long and narrow, situated perpendicular to the river, with seven floors above ground, a further six underground (primarily dedicated to car parking) and a public square at ground level between the two.
A hi-tech lift, which has a touch-screen television providing navigation advice, takes guests directly from reception to the seventh and top floor. This houses the executive suites and the office of chief executive António Mexia.
Much like the presidential suite of a hotel, Mexia's office is an envy-inducing space. Occupying the entire southern end of one of the buildings, it is 13 metres wide and almost as deep, surrounded on four sides by glass walls, three of which overlook the River Tagus and the famous 25 de Abril Bridge. Wide Nordic-pine Dinesen floorboards stretch towards a private terrace. A four-metre-long Konstantin Grcic table acts as a desk, while dozens of books are artfully piled along one wall. "Quality and beauty have an impact on how you see the world," says Mexia. "Your thinking alters in this kind of environment."
---
Brand building
The company's public face
EDP has spent €57m on the build and an undisclosed further amount on fitting out the interior (though there is little sign of penny-pinching here either). Staff began moving into the new headquarters in 2015 but finishing touches will still be added up until the end of this summer.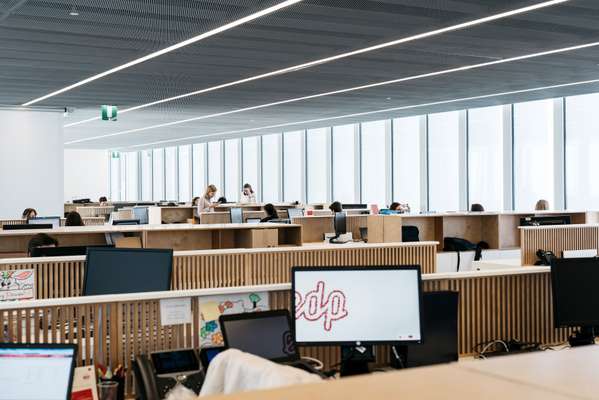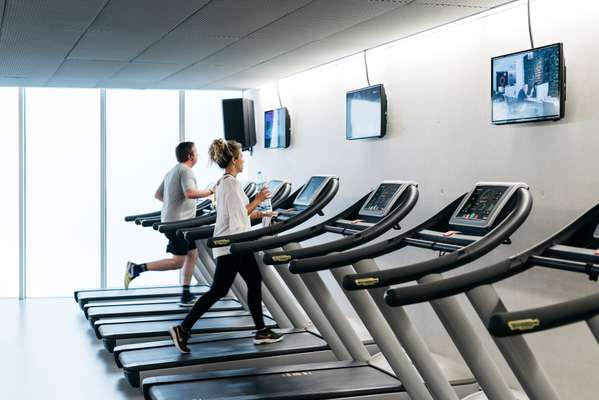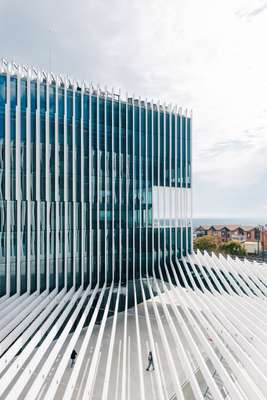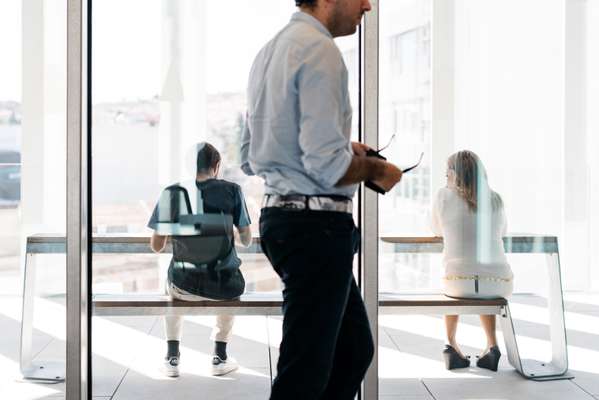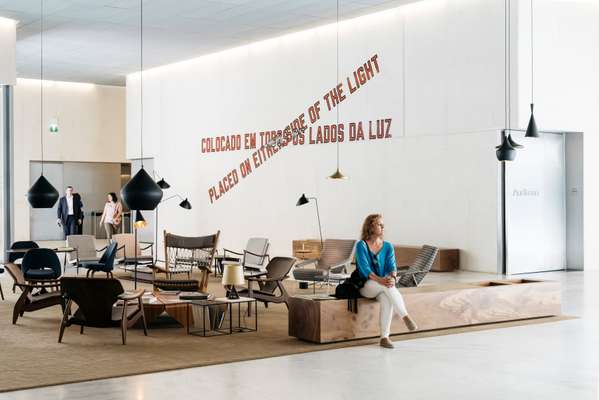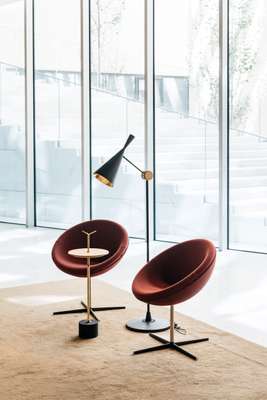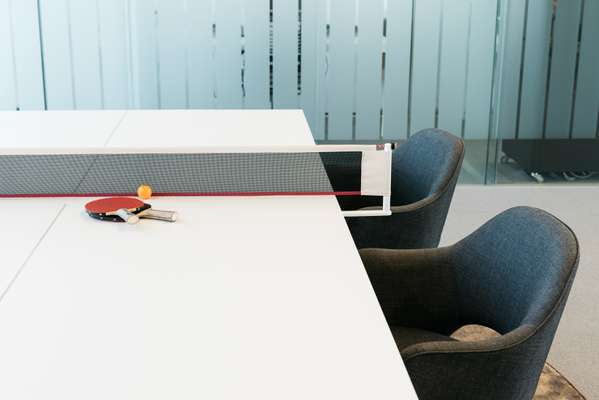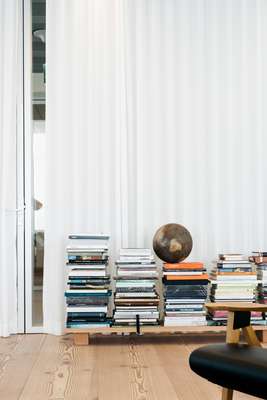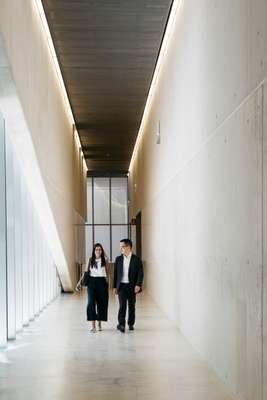 The company's former home was a far more traditional corporate building in a more traditional part of town, Marquês de Pombal, and Mexia believes the move has been an important brand-building exercise. "This isn't just a corporate office," he says. "It's a space that is open to the public." He was delighted to see a wedding party pull up and use the ground-floor plaza for photos. "That's when I knew there had been a change, that this place is not seen as a traditional closed office."
Achieving this integration with the rest of the city was a central aim for the architects too. As Manuel Aires Mateus, co-founder of Aires Mateus, says: "A company like EDP has to offer something to the city." His final plan has created what he terms "a new kind of public square".
EDP is also aligning its interests with those of the city more directly. Set to open this summer is a ground-floor shared space for small enterprises operating in sustainable energy. "We'll enable start-ups to work here rent-free and encourage our staff to work in that space too," says Mexia. "It's critical for companies to understand what is happening in the outside world. We need to see, talk and engage if we want to adapt, and anticipate the future."
---
Openness and transparency
Come together
The new headquarters are home to 850 staff and almost all of them work in open-plan office spaces on levels one to six. Each of these floors has two areas of bright, airy workspace with banks of six desks separated by wooden lattices rather than solid partitions, ensuring a feeling of openness. In the centre of every other floor is a small kitchen area that leads onto a large outdoor terrace and a "silent room" designed for discreet one-on-one meetings.
The move to the new headquarters saw the number of private offices cut by almost 70 per cent; today most managers simply have a desk beside their team in this open space. "Personal offices are no longer status symbols," says Mexia. "Sharing is more important than privacy and secrecy is no longer a sign of good business. We need to talk."
José Pedro Borges is an HR specialist at the company. "When I heard about the new design I thought it was interesting but I wasn't sure if it would work. We were very office-based before and even the open spaces weren't that open," he says. "But here the concept works. Everyone uses the common areas and I think we collaborate more across departments."
Sara Esteves, deputy director for customer care and loyalty, agrees: "It's easier for people to tell me their ideas and to solve problems. Even my personal relationships with colleagues have improved."
There are also clear benefits to health and wellbeing. Because the buildings are relatively narrow, each workspace is flooded with natural light from at least two sides. At the same time, the workspaces are protected from summer sun by concrete vertical elements added by Aires Mateus to act like louvers. "The light is amazing," says Borges. "When you spend time in another building and come back here you realise how much lighter it is."
Again, the architects deemed this vital for the city as a whole. "One of the key starting points for us was not blocking the relationship between the city and the river," says Mateus. "A heavy building in this position would have been a disaster for the city. So we put the bigger spaces underground: the auditorium, large meeting rooms, the reception. Only the spaces where people work are above ground."
---
Meeting places
Incentivised to interact
There is a focus on getting staff out from behind their desks and at reception level there are two meeting areas. One, designed by Neri & Hu, features amphitheatre-style benches that can seat 60 and a lounge with brass-and-leather Neri & Hu pieces. The other space has a larger lounge area with a configuration of Barber & Osgerby-designed seating, ranging from sofas and leather-clad benches to armchairs, along with a 70-person seminar space.
At each end of the floors there are meeting rooms furnished with chairs by the Bouroullec Brothers. These rooms open onto terraces equipped for meetings or outdoor working. "It was critical that we used exciting parts of the building for areas in which staff meet," says Mexia. "We want to incentivise them to interact."
---
Sustainability
Practise what you preach
Sustainability is a key EDP objective: after all, it is the world's third-largest supplier of renewable energy. The building reflects this, with Gold leed certification thanks to schemes such as solar panels on the roof and a rainwater-recycling system. Energy-saving initiatives like movement-sensitive lighting are also in place. The quality and origin of all the materials used in the building are certified, though facilities manager Nuno Gomes concedes that the company lost points for importing so much wood from Danish supplier Dinesen.
There are steps in place to sway employees too. "We have a car-sharing pool and ask staff to share transport when driving to meetings," says Gomes. The office is close to public transport and also has a bike-parking space. Esteves is one of the employees who cycles to work. "Because we are near the river, I can ride all the way along the bike path."
"Writer Peter Drucker says that 'management is doing things right but leadership is doing the right things'," says Mexia. "I hope this building will inspire our people to do the right things."
The verdict
Much of EDP's headquarters reflects the top-down vision of chief executive António Mexia. His influence, and the work of architecture firm Aires Mateus, lifts this building well above the average office environment. A generous budget clearly helps but it's hard to fault the spending. High-quality materials and furniture that is beautiful and functional have taken precedence over design for design's sake, while management priorities of openness, collaboration and innovation have guided the process.

While some residents, particularly those living on the hillside behind the building, have commented on its dominance, there has been little blow-back from Portuguese consumers about the investment here – investment that could theoretically have gone towards lower energy bills. It has won people round internally too, with staff proud to work here.
The building is also a demonstration that investing in great architecture can have an impact on a city as a whole. And with Portugal currently riding a wave of optimism, economic growth and (thanks to Eurovision) a soft-power coup, that ambition finds a wider national resonance today.