Q&A / Marseille
Man about town
We visit the home of writer, broadcaster and raconteur Jonathan Meades to discuss his new cookbook, career as a critic and why food culture today makes him wince.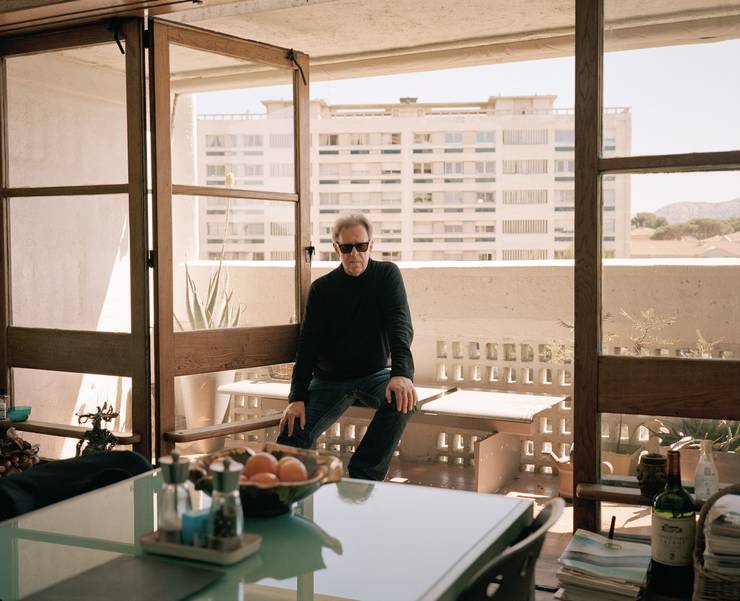 MONOCLE: You've described your latest book as anti-cookbook. How so?
Jonathan Meades: There is no such thing as an original recipe. The wheel has been invented. When people say, "It's classic with a twist," I wince. Basically [the book] is a lot of wincing at the whole foodie thing that is so pretentious, boring and orthodox now.
M: Is cooking a craft or an art?
JM: One of the things that's gone wrong is that chefs think it's an art and try to invent. A chef should be for passing on the baton; doing bread-and-butter pudding better, doing pot-au-feu better. There's a reason you don't put lobster with marmalade: it's disgusting.
M: There's also a recipe for ham baguette to be found in there.
JM: Yes. Butter, good bread, mustard. I mention [Belgian singer] Jacques Brel in the book. He said his favourite meal in his life was a ham sandwich on a train. He had just got a record contract and he was going back to Brussels from Paris and it tasted better than any other food he'd ever tasted.
M: What is your idea of a good meal?
JM: It just has to be good.
M: Where did you learn to cook?
JM: I taught myself to cook using Julia Child's "Mastering the Art of French Cooking". I did it with actual literality. I wouldn't leave out a single step. My motivation was to get decent food in London. French restaurants were too expensive and, furthermore, they were not very good.
M: Did you host dinner parties?
JM: We had lots of people around. I don't think I'm a great fan of [formal] dinner parties. I'm not so into this conviviality thing. I'm quite happy to cook for one.
M: Did you move to France for the food?
JM: I'd never move anywhere for the food.
M: You studied at drama school but went on to be The Times' restaurant critic for 15 years. How did you get the job?
JM: When I left Rada they said, "You're going to be a very successful character actor – when you're 40." So I thought, "Great, I'll have to think of something to do while I'm resting for the next 20 years." So I started writing for literary magazines; I got a job on "The Observer". And then "The Times" wanted someone who could write a funny column and it was only then that they realised I actually had quite an interest in the subject.
M: Did it become a burden?
JM: A terrible burden. I put on a huge amount of weight, I didn't enjoy it but every time I said I was going to leave they gave me more money. So I got very well paid for a job I despised.
M: You're clearly a Francophile. When did you first come to France?
JM: My grandfather was an accountant for the Southern Railways, which owned the ferries from Southampton to Saint-Malo and Le Havre. So we used to go quite frequently because we'd get knock-down fares. I've actually never been on holiday to an English resort; the kiss-me-quick sort of thing leaves me absolutely cold. I don't like fish and chips and I don't like jellied eels. The food in France when I was about six was an absolute revelation. I used to always eat with the staff at the hotel. Many years later I was talking to my mother about horse as a comestible and I said, "I don't think I've ever had it." She said, "Of course you have: it's what you used to eat with the staff in those hotels every night."
M: You live in the Cité Radieuse by Le Corbusier. Why here?
JM: It's one of the reasons I moved. I've had an obsession with it since I first saw it, which was 30 years ago. There was a really lovely flat for sale, save for the fact that it was in a terrible state.
M: Does Marseille deserve its hotheaded reputation?
JM: It plays up to that; it likes the idea. For the most part I find it very easygoing. It's not like Bordeaux, which is incredibly snobbish. Basically, don't go into the northern quarters. There are one or two rough areas in the east. But in most cases the south of Marseille is like St John's Wood [in London] or something.
M: Your documentaries are the subject of a retrospective at London's Whitechapel Gallery. What is unique about your approach to documentary-making?
JM: I don't really know. I write the script very precisely, which I then give to the director, and from that point on I am an actor. The character on the TV doesn't have that much in common with me.
M: Your loquacious scripts often challenge the audience.
JM: Let them buy dictionaries. Have you come across the [Marseille-born] writer Régis Jauffret? He wrote a book called "Microfictions": it's 500 one-and-a-half page stories. He said, "I'm disgusted by artists who think about their audience. You should write for yourself." This is why I think so much of what's on television is very bad; it's all a product of focus groups and trying to work out what people like. It's kneecapping people who have creative ideas.
M: What's wrong with modern documentaries?
JM: They do seriously say, "We are going on a journey." And then they tell you what they're going to tell you. They are so eager to please. And I don't try and please anyone. If I do have an overall theme it is to show how extraordinary the mundane really is and how exciting banality is. You know, there is richness in drabness.
M: Is Marseille a city you love?
JM: I don't know if I've ever loved a city. I like it. It's nice being by the sea. I like the labyrinthine quality to it. It's very dense and it's not tidy. Tidiness really is the bane of urban life. Lots of places are getting tidied up in the way you're getting these class clearances you have had in London for some time now. That's the death of them. I think London is killing itself by being a place for hedgefund-swine and oligarchs. You see hundreds of young people around the streets – how the fuck are they paying for themselves? Marseille isn't like that. It isn't cripplingly expensive and as a result there's a decent quality of life.
Jonathan Meades is a writer, film-maker, journalist, essayist and visual artist. A true modern polymath, his documentary work dissects subjects from utopian communities and brutalist architecture to caravans and the life of pigs. Born in Salisbury in 1947, he attended public school and then Rada before becoming an acclaimed restaurant critic for The Times. His latest book, The Plagiarist in the Kitchen, is a frank, funny and unswervingly honest critique of modern food culture. It's also a useful cookbook, listing four recipes for tomato sauce, hare (served "The Only Way") and "Blatherer" (a hastily improvised salad with a great story). His next project is a film about jargon.
jonathanmeades.co.uk
---
Address book
Jonathan Meades' favourite Marseille meals
François Coquillage
For sublime seafood
Chez Etienne
Peerless pizza joint
Otto
Michelin-rated Mediterranean
Restaurant Fémina
Algerian fodder
Restaurant Chez Madie
Les Galinettes
French fare in the old port