Retail / Global
Shop, read, watch
Briefing
Pleasing ceramics, lovely lights, drinks with a kick and desirable gadgets.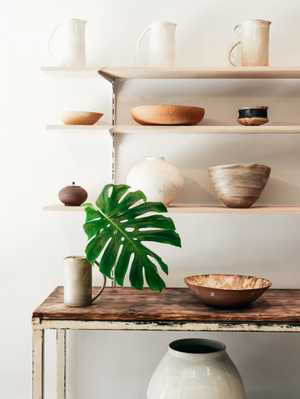 South Korean émigré Joo Hyun Baek's pottery wheel rarely stops spinning inside her studio in the Spanish capital. Her talent with clay and colour is evident in how she embosses landscapes into her tableware and vases; clients include Loewe's in-house florist.
Guided by experience at an age-old ceramics school in her home region of Gangjin, Joohyon admits that sequestering herself in Spain has loosened the shackles of tradition. "You can only truly experiment when you have your own workshop," she says. "Korean heritage is my foundation but creativity needs to be spontaneous."
laonpottery.com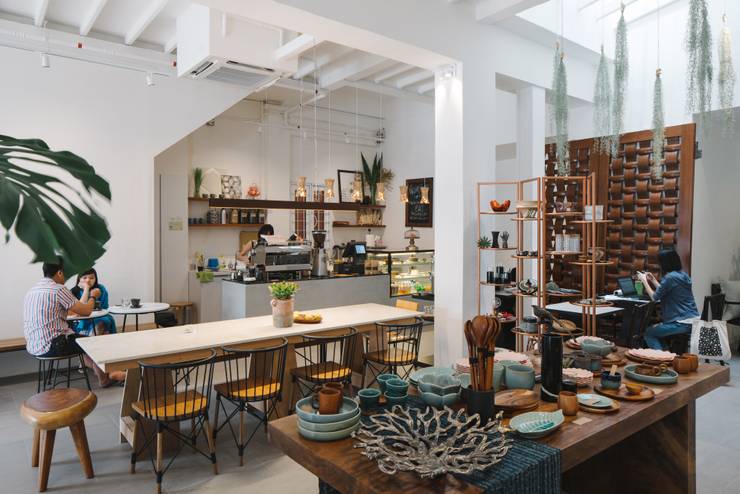 A group of Singaporean designers and architects have recently turned the ground floor of a 19th-century shophouse into a café and gallery to share the treasures they've found on their travels around Asia. Visitors can browse intricate wooden and ceramic tableware and vases, as well as textiles and pillows, while sipping a coffee blend made with Common Man Coffee Roasters' finest Ethiopian beans.
756 North Bridge Road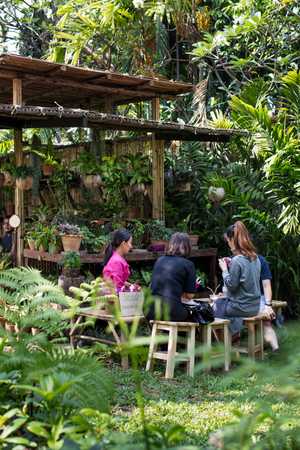 Brothers Anak and Arrut Navaraj head up a foundation that champions a farmers' collective in the western province of Nakorn Patom, 60km from the capital. At their wood-framed Bangkok showroom you will find fresh fruit and veg, as well as bodycare products made from rosewater distilled from the farms' blooms, healthy Thai dishes and cold-pressed juices.
patom.com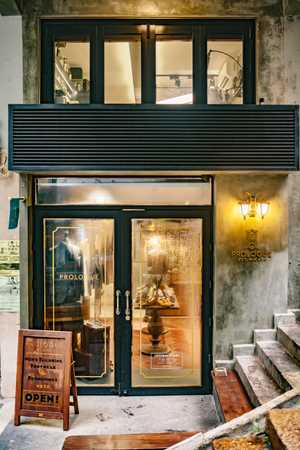 "We've seen a resurgence of classic apparel and we wanted a business where masters are able to pass on their knowledge and tailoring techniques," says Christopher Tang, one of Prologue's young co-founders. Apart from sampling the alluring inventory such as pieces from South Korean tie brand Memento Mori and Barcelona-based lawyer-turned-shoemaker Norman Vilalta, regulars also flock here for the soft Italian tailoring.
prologuehk.com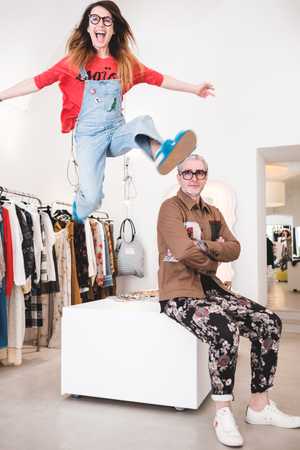 Sabina Perfetti and Emil Donkov's Urban Speed shop is one of Vienna's best-kept retail secrets. The purveyors (pictured) of men's and womenswear have recently moved to the revamped and pedestrianised Herrengasse and the new large shop sits in a renovated palace; its vaulted ceilings and concrete floors by architecture firm Delugan Meissl frame a street-wise but upmarket space. On offer is a mix of luxury and the avant garde, and service is always personal: proof that even the classic Viennese shopping gassen can be tastefully updated.
urbanspeed.at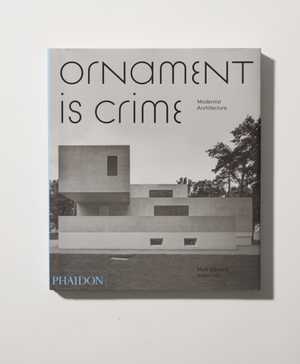 6.
Ornament is Crime: Modernist Architect
Matt Gibberd & Albert Hill
There's a library's worth of modish reappraisals of concrete buildings on the market so trust the smart souls behind UK estate agent The Modern House to pen a thoughtful footnote to the publishing glut. This title touches on, but goes beyond, the usual canon (of buildings by Le Corbusier, Van der Rohe and Gropius) to the contemporary practitioners of modernism's ambitious principles.
uk.phaidon.com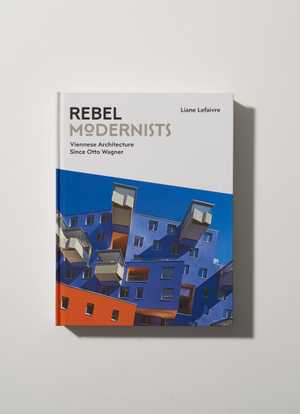 7.
Rebel Modernists: Viennese Architecture Since Otto Wagner
Liane Lefaivre
Otto Wagner's ornate Jugendstil buildings signalled a break with Vienna's stuffy past and propelled him (and contemporaries Adolf Loos and Josef Hoffman) into the architectural limelight. This is a vibrant retelling of the tale; from fin-de-siècle awakening, past housing blocks for the masses to the city's present-day dalliances with glass-and-steel buildings.
lundhumphries.com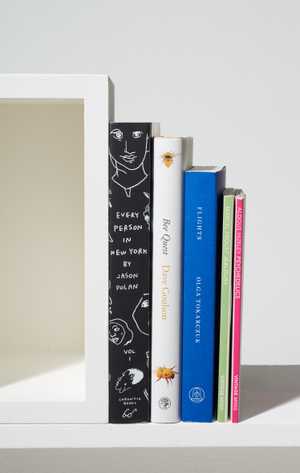 8.
Every Person in New York
Jason Polan
This digest of sketches brings to life the everyday moments of New Yorkers and finds a spark of excitement in the sometimes-banal shuffle of city living. There's a woman thumbing a newspaper on the B train, a chap tying his shoelace curbside and a little girl trying to use a fork at Taco Bell. With some 30,000 doodles so far, Polan has taken but a small bite out of his mission to illustrate every soul in the Big Apple.
chroniclebooks.com
UK biologist Dave Goulson's fifth book on the subject is a rather sweet take on the intricate lives of the furry pollinators, from the hedgerows of Sussex to Poland and Patagonia. More than just a study on the issue of conservation (the importance of which is the sting in the tale), this buzzy travel companion has a light touch and inquisitive tone.
penguin.co.uk
Polish author Olga Tokarczuk published her novel a decade ago but this new translation does much to render the tale relevant today. Told through four journeys, including one through the Netherlands in the 17th century and Chopin's travel from Paris to Warsaw in the 20th century, the voyages explore humanity in motion as well as the ever-timely issue of migration.
fitzcarraldoeditions.com
Penguin Random House's newly launched collection offers ad-hoc reading on humanity's greatest head-scratchers. Learn about jealousy from an excerpt of Proust's In Search of Lost Time or join Aldous Huxley for a mind-melting retelling of trying mescalin in The Doors of Perception. At fewer than 100 pages each, these slim volumes are ideal for short journeys and longer reveries.
penguinrandomhouse.com
12.
Pleasure Garden
Edited by John Tebbs
Pleasure gardens – those bucolic inner-city spaces for contemplation (and at times a little furtive fruitiness) – were an 18th-century obsession. They are also the inspiration for a handsome new magazine, launched and edited by green-fingered genius John Tebbs. Leafing through the inaugural spring/summer issue reveals a tasteful arrangement of images, illustrations and musings: a profile of late photographer and gardener Valerie Finnis, a dash across Switzerland and a word with New York florist Brittany Asch.
pleasuregardenmagazine.com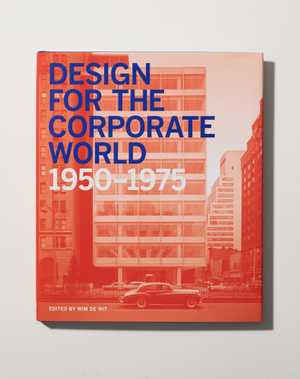 13.
Design for the Corporate World 195-1975
Edited by Wim de Wit
Whoever told you that the corporate world stifles creativity clearly hasn't handled this handsome volume. It charts what happens when big firms recruit designers to brand and build for them. From the Eames' stacking chairs for US company Herman Miller to Ettore Sottsass and Marcello Nizzoli's work for typewriter maestro Olivetti, it's an uplifting jaunt through the history of business-minded design.
lundhumphries.com
14.
Entryways of Milan
Karl Kolbitz
Some cities tempt tourists with galleries or cathedrals but the best surprises, it seems, lurk behind closed doors. This collection of 144 residential ingresses in Milan – some grand, others garish – is a portrait of an often unseen element of city life (to those not fortunate enough to have been invited home by a Milanese, that is).
taschen.com
The red mavrodaphne grape is known for its use in dessert wines but Krasis shows that the Greek berry yields some equally intriguing dry wines. With a ruby hue, velvety taste and notes of strawberry, this tipple comes courtesy of the Sant'Or winery in southern Greece.
santorwines.gr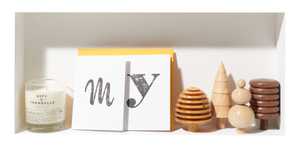 16.
Scented candle
Duft & Chandelle
"Scented candles are still a nascent market in Jakarta," says accountant-turned-candlemaker Wirawati Juventia. She's put an eastern twist on the Nordic-inspired notes of this candle by matching an earthy fragrance of European forests with amber, sandalwood and patchouli.
duftandchandelle.com
Lane's cards are handprinted on an antique letterpress. The designs come courtesy of Nottingham-based Joff & Ollie Studio and adorn thick paper from a mill in southern Germany. The textured envelopes are a nice touch too.
lanebypost.com
18.
Wooden trees
Forge Creative
No two pieces are the same in this polished forest of hand-turned ornamental trees. "I first started wood-turning in my parents' back garden," says designer-maker Josh Kennard. "The idea for the trees came when I made them as favours at my own wedding."
forgecreative.co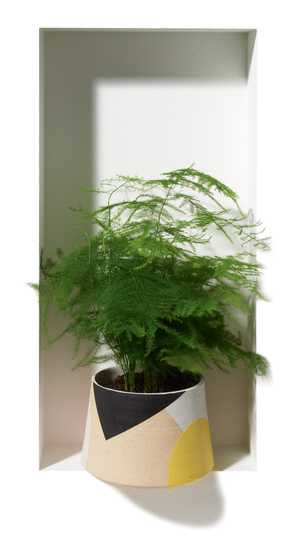 "I started playing with clay after travelling in eastern Europe," says Milo Li-ren Mckeand of the inspiration behind her creations. "I was drawn to the other-worldly Soviet-era monuments." The winsome range is handmade in Liren's east London studio.
milomade.net
20.
Whiskey
Method and Madness
This quirky trio of tipples from Midleton Distillery in Cork bends and blends Ireland's long-established traditions. The pleasing bottles play with tastes ranging from rose petals and grapefruit to liquorice and ice-cream cone.
methodandmadnesswhiskey.com
21.
Lanterns
Asano Shoten x Conran
This collection is the fruit of a collaboration between Sebastian Conran's London design studio and artisans from the Gifu prefecture. There are ceramics and stationery but it's the Kinka lantern clad with washi (paper made from mulberry wood) that caught our eye.
sebastianconran.com
The Nina table lamp is Paris studio Hartô's first foray into lighting. Known for its secretary desks, the firm teamed up with designer Tristan Lohner. A solid oak base and brass stem are topped with a lacquered matte shade that's also available in white and light pink. This fetching find also comes as a pendant.
hartodesign.fr
"It's inspired by the form of the familiar blown-glass globe," says Minimalux founder and Brit Mark Holmes. "Our challenge has been to mimic this with different materials." Concentric discs of white aluminium, frosted acrylic rings and brass rods give this lamp its form while the dimmable bulb casts a flatteringly soft light.
minimalux.com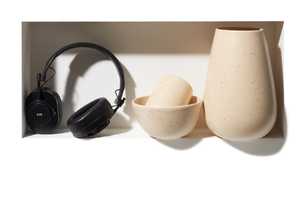 24.
Headphones
Master & Dynamic X Leica 0.95
The New York-based brand's latest cans are a team-up with German shutterbag specialist Leica. With cowhide leather and lambskin-covered memory-foam ear pads, these wireless wonders are a treat to touch and also work hard to shut out background hubbub.
masterdynamic.com
Each of these Danish-made delights have unique mottled eggshell-like patinas. Bornholm-based ceramicist Mette Duedahl trained as a photographer and her eye for clean lines and alluring forms translates masterfully to this more concrete medium.
metteduedahl.com
26.
Watches
Freedom to Exist
The idea for Paul Tanner and Kirsty Whyte's tasteful Swiss-made tickers came to them after stints working at Habitat and furniture firm Made. The resulting pared-down watches feature a tasteful Italian-stitched leather strap and boast a blissfully modest price point.
freedomtoexist.com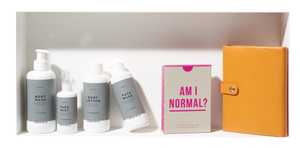 These understated and prettily branded Italian-made creams (in dove-white with a smoggy-grey trim) are excellent for keeping skin supple and your face smooth.
28.
Card game
The School of Life
"This is what games should constantly be doing: defining and evoking states of mind we thought we were alone in experiencing," says The School of Life founder and author Alain de Botton. Sifting through the deck of this cheeky and thoughtful game is a reassuring occupation indeed. Are you normal? Almost certainly not – but nor are you alone in your idiosyncrasies, aloofness or irregularity.
theschooloflife.com
29.
Notepad holder
Ettinger
These bridle-leather jotters from UK specialist Ettinger hark back to the designs of the 1950s says Robert Ettinger, whose father, Gerry, started the firm in 1934. Available in a choice of eight colours, the covetable covers conceal an easily replaced Rhodia notepad and represent a welcome reprieve from back-lit screens.
ettinger.co.uk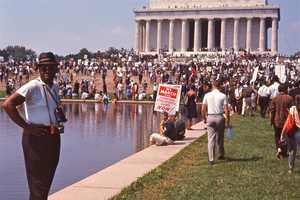 I Am Not Your Negro
Director: Raoul Peck
This Oscar-nominated documentary reveals novelist, playwright and legend of the civil-rights movement James Baldwin to be a reluctant genius. With a voiceover by Samuel L Jackson drawn entirely from Baldwin's words, woven between file footage of the man himself, the film carries an extraordinary sense of timeliness and relevance.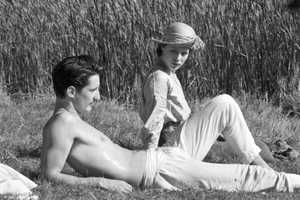 Franz
Director: François Ozon
Pierre Niney is superb as a Frenchman devastated by the death of a German officer during the First World War, who finds himself navigating a relationship with the man's mournful fiancé. Touching upon themes of nationalism, the film retains Ozon's stylistic audacity with its shift from black-and-white to colour, all captured on glorious 35mm film.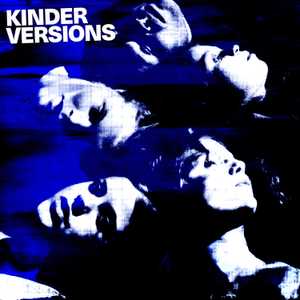 Anthemic Icelandic shoegaze from a five-piece that you'll want to hear at every festival on the calendar.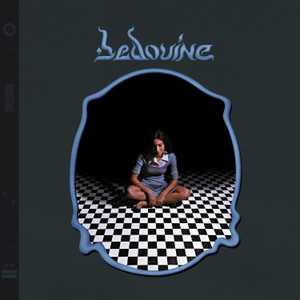 This charming debut from the Saudi singer is in the mode of Carole King and Karen Carpenter.
By turns impish and grandiose: yet another multi-layered masterpiece from Manchester's in-house indie heroes.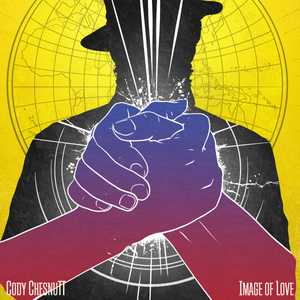 My Love Divine Degree
Cody Chesnutt
Some bona-fide classics and funk-and-soul workouts from Atlanta's coolest troubadour who must be seen live to be believed.