Observation 3 / Rottweil
Sky's the limit
Thyssenkrupp's soaring lift-test tower promises to push construction possibilities to new heights. But, more importantly, the townspeople love it too.
Rottweil is the kind of charming place one imagines elderly tourists look for when they visit Germany. Halfway between the Swabian Alb and the Black Forest, with a medieval centre, the oldest town in Baden-Württemberg is like a small Heidelberg, minus the university. What it lacks in higher education it makes up for with high buildings; thanks to churches and defensive bulwarks built in the 12th and 13th centuries, Rottweil rather aptly calls itself Die Stadt der Türme ("The city of Towers").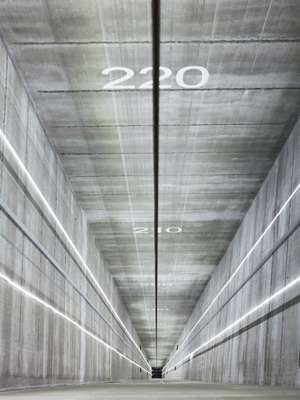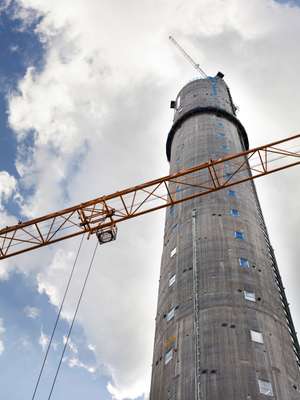 The latest addition to its collection is neither medieval nor picturesque but it is impossible to miss. The 246-metre-high lift-test tower by engineering firm Thyssenkrupp, designed by Helmut Jahn and Werner Sobek, and due to be finished in October, is visible from the road long before Rottweil's quaint rooftops come into view. As it happens, Rottweil was delighted to have it. "The tower is an attraction for the town," says Michael Klein, who manages the test tower. "We didn't even need a referendum."
As high-rise buildings grow taller, so too the demands on elevator technology. Fortunately, Thyssenkrupp can keep pace while showing its work to the public. Three of the tower's elevators are open to visitors and on clear days there are views all the way to the Jungfraujoch Saddle, 280km away in the Swiss Alps. One level below, at 220 metres, businesses can rent a conference room that is guaranteed to impress clients. For the more mechanically minded the tower's main draw is the new lift technologies that are to be tested here, some of which promise to revolutionise the building of high-rises.
Nine of the tower's 12 lift shafts will be used for testing, totalling 2.1km, but none of these are open to the public. Most will focus on traditional lift technology: double-decker cabins, mid-range lifts and high-speed elevators that will run at up to 18m/s, or 64.8km/h. One of Thyssenkrupp's priority inventions is the Twin, which will operate two independent cabins in one shaft. But its crown jewel is the Multi, the first lift that uses linear motor technology to do away with the rope, allowing for vertical and horizontal travel and eliminating the current height constraints for skyscrapers. "It's the second revolution in elevator technology," says Klein.

As high as the tower is, Thyssenkrupp can make the structure sway, simulating the environmental conditions facing even taller buildings. "We considered a power plant and a television tower for our tests but there's nothing that can replace the realistic conditions of the tower," says Klein. "It is constantly moving."
Provincial towns are rarely the centre of attention but when it comes to big industry events around food they can, and should, play host as much as their big city counterparts. Sure, Milan's Tuttofood may be housed in a vast exhibition centre and Hong Kong may pitch itself as a food capital but it's out in the sticks – where the crops are being grown and the fish are being caught – that these events seem most fitting.

Take the Sicilian island of Salina in the middle of the Mediterranean. When four-day ethical food event Care's decided to stage a selection of talks on sustainable growing and fishing there in May, journalists and experts arrived from all over Italy and beyond – some from as far away as Tokyo and New York.

The seaside setting may well be a decent incentive to make the 12-hour journey from Milan (which includes bus transfers, ferries and taxi rides) but this transport odyssey, rather than a hindrance, is the very reason why such events should be held in out-of-the-way places. A trip like this mirrors the same journey that food producers must make to get their goods to market and can be illuminating when it comes to the complex logistics that they grapple with. It can also help to explain why many smaller scale farmers or fishermen can often fall victim to the larger industrial producers.

Big cities can claim to have "food scenes" – a café culture and swanky new restaurant openings – but they are still beginners when it comes to planting and harvesting. It's difficult to drive home the realities of good and sustainable agriculture when the challenges are thousands of kilometres away.

Countless provincial towns such as Salina have conference centres that are ready and able to host sensible debates on this topic: let's put them to use beyond the Sunday-afternoon parish cinema club.