Observation 1 / London
Spit and polish
They've flexed their finger muscles and got their cloths ready: the best shoe-shiners in the business prepare to go toe to toe.
The three competitors couldn't be more different. All eyes are on the dashing 30-something from Tokyo at the front of the room, who has paired a navy suit with a Colgate-white smile. Beside him, a gentleman from Falun, Sweden, wears an unbuttoned shirt and a quiet confidence. Then there's the dark horse: a portly dad from Kettering, outside London, who moonlights as a rock singer and is dressed in black.
The contest is about to begin but first it's time for showboating. "Have you been training?" the Japanese finalist, Yuya Hasegawa, asks the others, flexing his bicep. The Englishman, Pete Bultitude, counters that finger muscles are the only ones that matter today. Suddenly the voice of compère Jesper Ingevaldsson interrupts: "The first World Championships in Shoe Shining starts noooooow!"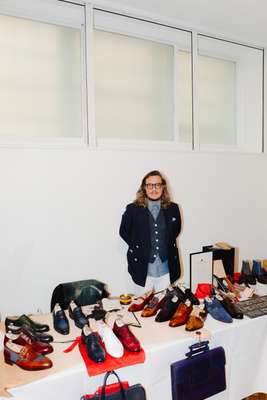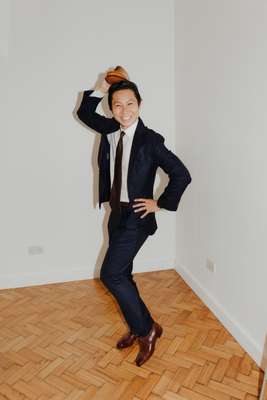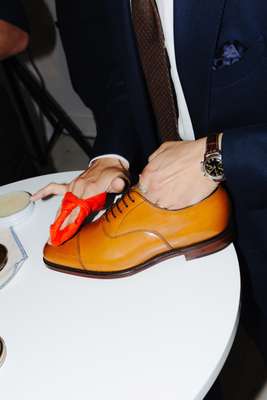 In front of shoe-lovers from the UK, France, Poland and the US, each man picks up a tan brogue and begins polishing furiously. It's 15.00 and the finalists – who were selected after submitting photos of their work – have 20 minutes before their efforts will be judged. The key criteria: shininess and depth of colour. Held at The Music Room in London's Mayfair, the contest has been co-organised by Ingevaldsson, who runs the blog Shoegazer, to accompany a formal-shoe trunk show. "Interest in classic men's shoes is increasing," he says. "My most-visited posts are always about shining techniques."
As they buff, Ingevaldsson offers an insouciant take on horserace-style commentary. Hasegawa, we hear, started nearly 11 years ago when he set up a stand outside Shinjuku, Tokyo's busiest station, and today owns three shops in Japan. The Swede, Anders Ericson, a criminal lawyer by day, is the only amateur; he built up his prowess by buffing his lace-ups at home. Bultitude is a "patina artist" who colours derbies for Gaziano & Girling.
The men's techniques are as varied as their careers. Hasegawa uses long, fluid strokes, first with his finger and then with a scarlet cloth. Ericson prefers circular movements; Bultitude opts for a horsehair brush and some spit, schoolboy style. With the end in sight Hasegawa reaches for the secret weapon of professional shoe-shiners: a nylon stocking.
The four judges don't need long to decide: "The world champion is Yuya Hasegawa," announces Ingevaldsson five minutes later. The victor bows three times and raises a fist. He tells monocle that, although the contest was taxing, it was only when the clock stopped that he felt fatigued. "While I was polishing I had no stress or thoughts about anything else," he says. "I call it the shiner's high."