Retreats / Finland
Steamy getaways
Finnish industry is keeping old traditions alive – and corporate hospitality hot under the collar.
Yes, you can take your favourite client to a bar or fancy restaurant for a nice evening. But there was a moment across Europe when hosting was a far more embracing affair: the age of the company retreat. The Finns certainly knew all about the easy joys of this – you'd invite your favourite customer, Mr Parker, over from London and after a few vodkas he'd be revealing his global plans (and a lot more) in the sauna. By the time everyone slumped down for dinner you could be sure of another year's worth of orders.
As elsewhere, such joys are mostly a thing of the past. But several companies in the Finnish paper industry have held onto their rural retreats, where clients can still be entertained over several nights (and still be asked to drop their trousers too). Paper accounts for a sixth of Finland's total exports – in a remote country it's a truly global and outward-looking industry. Paper-mill proprietors understand that a bolthole in the countryside is an ideal place to not only schmooze guests but also introduce them to great Finnish design, culture and hospitality. Plus, as soon as the clients leave, it's free for your staff to enjoy.
Paper-and-cardboard-manufacturing giant Stora Enso, for instance, owns Kortvik Estate, located half an hour's drive from the centre of the capital. Set on a peninsula jutting into the Helsinki archipelago and surrounded by dense forest, the estate consists of two separate buildings, each with its own purpose. Internal corporate training and business meetings take place in a bright and airy 1912 neoclassical villa. Informal soirées, meanwhile, are conducted in a 1950s Alvar Aalto-designed wood-clad country house, the pièce de résistance of the 4.5-hectare estate.
Most of the time Kortvik is used by Stora Enso staff but important clients are also wined and dined here. The Aalto building is well set up for hospitality and relaxation: it offers views over the Baltic Sea, an Aalto-designed wooden sauna and cosy interiors. The furniture and lighting inside, along with the mid-century modernist structure, were all designed by Aalto, something Stora Enso is understandably proud of.
The country house was built for the 1952 Helsinki Olympics and was intended to champion Finland's design credentials to the visiting athletes and special guests. Today it serves the same soft-power function. "To us the real significance of keeping a place like Kortvik is to cherish its architectural heritage and therefore the heritage of Stora Enso," says Seppo Parvi, the company's country manager. Stepping inside feels like entering something of a shrine to Finnish design, with all its functionalism and elegant minimalism.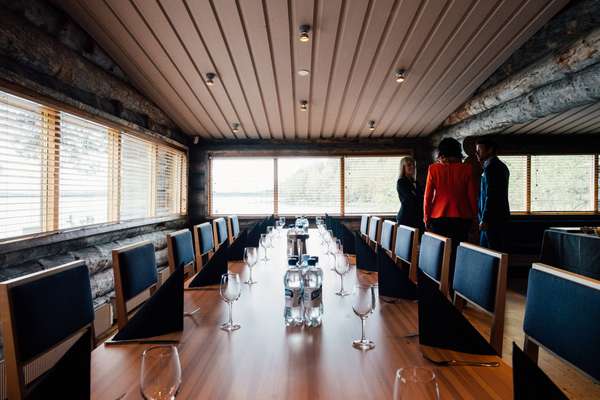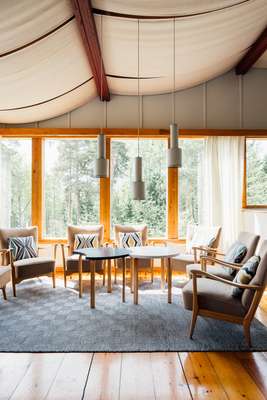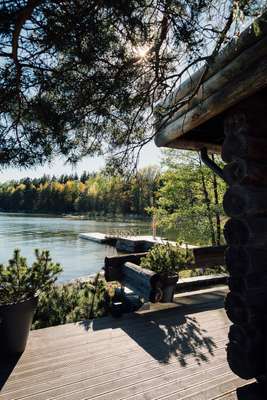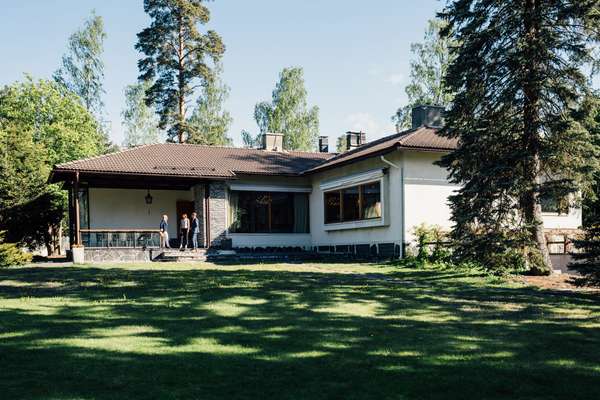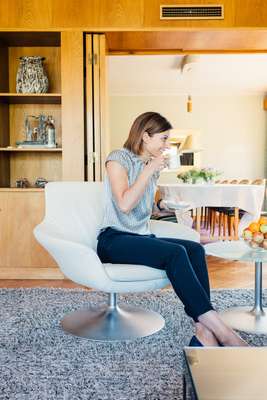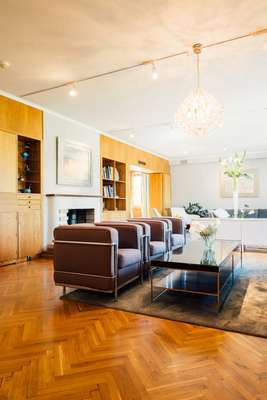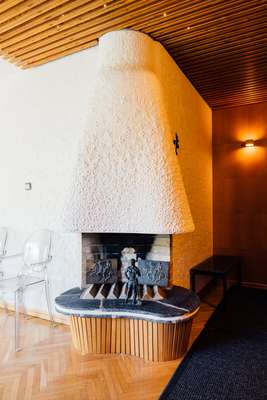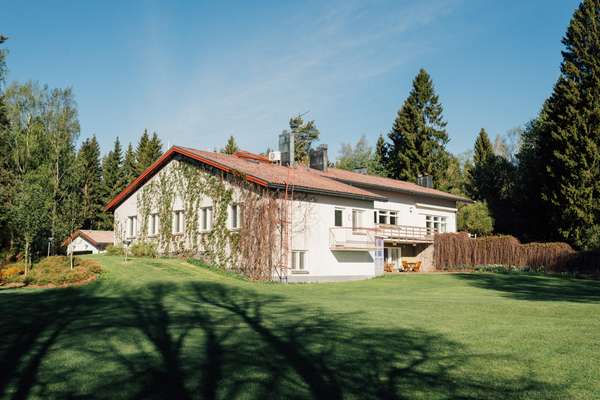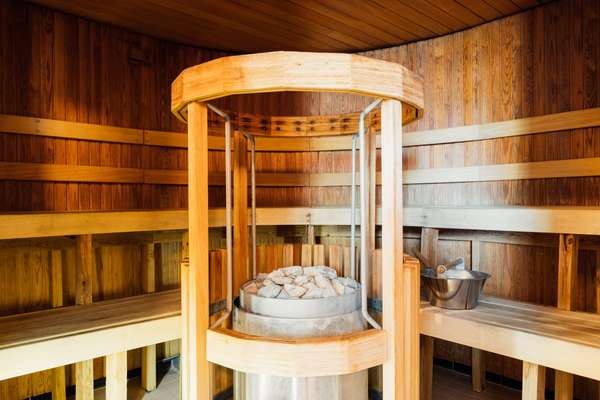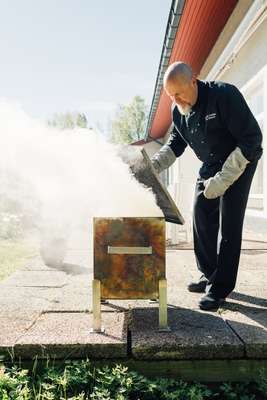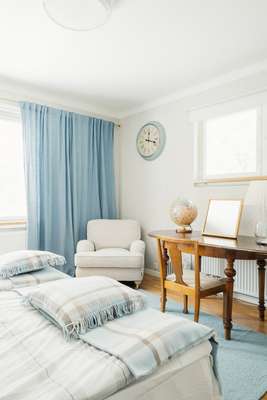 Finnish modernist design also plays an important role at Villa Granebo (owned by Kemira, a global chemicals company that supplies the paper industry) in the leafy Helsinki suburb of Otaniemi. The villa was designed by Paul Richard Bernoul – an architect who both worked with and took inspiration from Aalto – and was completed in 1946. Much of the furniture here, such as the dining table and chairs, are 1940s originals, as are the custom-made wooden wall panels.
"This is Granebo's best feature – it doesn't feel corporate at all," says Tero Huovinen, in charge of communications and corporate responsibility at Kemira. Though Stora Enso eschews conducting business meetings at Kortvik, it is one of Villa Granebo's prime functions. Over the years it has helped the company build many important business relationships. "Some of our biggest deals with clients have been signed right here in the villa," says Huovinen.
The villa is serviced by dedicated external caterers who are attuned to Kemira's needs. After welcome drinks and lunch, guests often retreat to the sitting room to conduct talks next to a fireplace. After work they might head downstairs to the recently renovated sauna before cooling off in the large rear garden.
For Kemira, being close to Helsinki is crucial. "We are present in more than 100 countries around the world, which is why we need a hospitality space that is well connected with both our HQ and Helsinki-Vantaa Airport," says Huovinen. Because it's only a short drive from the company's city-centre HQ it is also used by employees for company business. "Granebo is an integral part of the company," says Huovinen. "We use it for workshops and training but also for more informal meetings such as birthdays and farewell parties. It's like a home to us."
Sappi's clubhouse, close to its Kirkniemi mill, about 50km west of Helsinki, was originally a home. Built in 1965 as the mill director's residence, it has now been converted into a stunning retreat and hospitality space with a large veranda overlooking Lake Lohjanjärvi. A wooden jetty implores guests to don their trunks and dive into the chilly water. Inside, the bright interiors are furnished with Artek furniture and glass sculptures by Iittala.
Sappi is the world's second-biggest magazine-paper manufacturer (it supplies monocle) and only 4 per cent of its sales are in Finland so most of the visitors to the clubhouse come from abroad. Between foreign visitors and staff meetings, it is used about 200 times a year and is therefore staffed with a full-time hospitality manager, chef and sauna manager.
A few subtle details make all the difference. The bouquet of flowers presented on the clubhouse's dining table is changed on the morning of a group's arrival to match their national flag. Chef Timo Nylund rustles up food sourced from the surrounding lakes and forests to highlight two important Sappi corporate values: sustainability and provenance. On the day of our visit he dishes up smoked reindeer in lingonberry sauce as a starter, followed by home-smoked salmon with nettle sauce and chanterelles. "I sometimes feel like an ambassador for Finnish cuisine," says Nylund, who has worked as the clubhouse chef for 20 years.
As with Kortvik and Villa Granebo, the sauna plays an important role here (see panel, below). Sauna manager Ari Kärkkäinen prepares a traditional Finnish smoke sauna, which is a laborious task and is considered too time-consuming by many Finns today. "There is no rush here," says Kärkkäinen. "It takes four hours to heat up the sauna and then you need to wait at least an hour before you can use it." There is a business case for all this time and effort though. "After relaxing in the sauna, taking the boat to the archipelago and eating an amazing meal, clients open up and talk about things they otherwise wouldn't," says Henrik Damèn, a former mill director who has worked at Kirkniemi for 30 years and spends much of his time hosting customers.
As the pressure for cost-effectiveness grows, many of Finland's largest companies have opted to sell properties that they once used as retreats and for corporate hospitality. Important negotiations now take place in bland meeting rooms with visiting clients put up in city-centre hotels; company "away days" actually happen in drab seminar rooms. Yet these three Finnish companies demonstrate the value of keeping a retreat, not only for proper corporate hospitality but also to use as an enjoyable escape from the city.
Stora Enso, Kemira and Sappi all use their properties to subtly align their brands with quintessentially Finnish attributes – attributes that are desirable in a business relationship. None of these retreats are ostentatious or extravagant; they showcase Finnish design, with all its focus on function, modesty and reliable materials. They all offer a strong connection to nature. At the Sappi clubhouse, for instance, guests can be seen wandering through the forests, or rowing across Lohjanjärvi in summer and ice swimming in winter. This hints at the companies' sustainability credentials.
Beyond all that there's the sauna, that great Finnish leveller, which is capable of breaking down barriers and flattening hierarchies. As Damèn puts it, "You could never achieve these things in a corporate meeting room."
Comment:
Steamy meetings
By Petri Burtsov
Being sweaty and naked in a hot room may not sound like an ideal scenario for business negotiations. For those not accustomed to it, the experience can feel both intimidating and awkward. But once you take the plunge (sometimes literally) it can be quite disarming – and that's the key.
For us Finns, the sauna makes us equal. We are stripped of things such as wealth and status. We negotiate as equals. The sauna has played an important role in Finnish business culture. It's where important deals have been struck and disagreements settled and, as these three companies demonstrate, it's also a great way to take care of your customers. As mill director Martti Saavelainen puts it, the Sappi clubhouse is "about cultivating relationships".
There have been calls to modernise the country's corporate culture and to keep important discussions in the boardroom. The rise of women to top positions in once male-dominated sectors has raised the urgency of these calls. Few people would feel comfortable getting semi-naked in front of acquaintances of the opposite sex, let alone business executives. Yet the sauna still has its place in today's hectic business world. Now, perhaps more than ever, we need places for quiet reflection.