In our global news round-up we find a (very) short-haul trip where dogs get VIP treatment, meet Singapore's naturalist superheroes and make a case for taxi drivers donning national dress.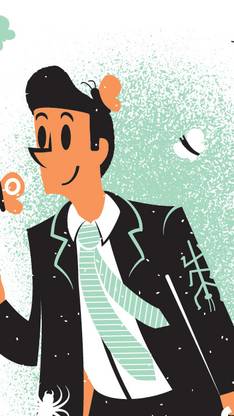 Spider-Man, Butterfly-Man and Stick-Insect-Man: they aren't comic-book characters come to life but nicknames given to a number of amateur naturalists in superhero-loving Singapore. Joseph Koh, Khew Sin Khoon and Francis Seow-Choen – a former diplomat, an architect and a doctor respectively – are regularly consulted by the National Parks Board on their expertise on the critters they each research as a hobby outside of their working lives.

According to urban hero Lena Chan, who is something of a wonder woman herself, the team have become a vital part of conservation efforts that are bringing flora and fauna back onto Singapore's urban landscape.
---
Hong Kong photographers and videographers looking for a relatively low-cost cavernous backdrop to their work can now rent out a newly built network of underground storm drains beneath the city, part of the government's flood-prevention scheme. Its concrete expanses and high ceilings are perfect for the Triad action movies Hong Kong is renowned for and Sony has already shot a commercial featuring dozens of world-champion rope-jumpers.
---
Grandparents involved in the daily lives of grandchildren is nothing new in Greece but on a recent flight from London to Thessaloniki we wondered if the custom was spreading. A grandmother from Seattle along with her grandson, son and daughter-in-law were just one example of the three-generation families on board. The reason? They were heading to the same resort, which had the smart idea of offering grandparents-stay-free holidays.
---
A spin through Kiev can feel like travelling back in time but some of the city's cultural references can be quite charming. On a recent visit we noticed that most taxi drivers were tuned in to Radio Melodia 95.2fm, a commercial station dedicated to pumping out a retro mix of Italo disco and the best of 1980s Europop. Melodia has been going strong since the Soviet era and, according to more than one enthusiastic cabbie, is still very much adored.
---
Neighbourhood watch: the view from a Monocle outpost:
Things tend to move at a leisurely pace in Zürich's residential District 6, where you'll find monocle's Swiss bureau tucked away on Nordstrasse. But this spring the normally sleepy surrounding neighbourhood was abuzz with activity – at least relatively so. Once the sun came out and the mercury hit 25c, locals grabbed their beach towels and headed down to the banks of the Limmat River. They were heading for the glorious public swimming pool, Flussbad Oberer Letten, which becomes a crowded and sociable affair.
Meanwhile, at the western end of Nordstrasse, the finishing touches were put to Kronenwiese, a new mixed-use development designed by Armon Semadeni Architekten. The development – which will be home to shops, a nursery, a crèche and 99 apartments – will surely lead to more people out and about in the neighbourhood, even when the sun's not shining.
Wings and paws

Boarding Skybus flight 103 from the corner of England at Land's End (LEQ) to the largest of the Scilly Isles, St Mary's (ISC), is pretty chilled. Aboard the little eight-seater, the pilots are in their shirtsleeves on a sunny day and with a flight time of just 15 minutes, it feels like travel from a more innocent era.
It's also a surprisingly dog-friendly service and Rover is more welcome onboard than an oversized laptop; just pop him into a crate in the cabin and you're up and away. Perks are at the behest of ground staff so your hound might even be fed and watered, despite the fact that there's no inflight trolley bar for less-furry friends (ie, you). Better still, an announcement for "passengers with dogs to please board first" is the sort of civility that more carriers could learn from.
Unlike the British and the French, who usher their new leaders into office just days after an election, Hong Kong favours a US-style approach: chief executive-elect Carrie Lam takes office on 1 July, three months after winning. While getting on with it can be a good thing, there are positives to a healthy transition period. Newly elected leaders have the chance to form a team and a plan and, in the case of a political upset, the electorate has time to prepare too.
---
On the platform at Innsbruck's main rail station a young Australian couple are admiring a tanned hiker in traditional attire (felt hat, loden vest and lederhosen) and ask:
"Is it a special occasion? Is that why you're wearing traditional dress?"
The man replies grumpily:
"No, an outfit like this means that I don't have to think about what to wear at this age."
---
What we'd like to see more of in July/August 2017
With the Ontario government warming to the idea of laying some high-speed rails, it would be wise to build some mixed-use developments to act as stations.

Underground automated bike garages should become a must at major stations and interchanges.

An international competition devoted to rethinking the US's derelict malls could do wonders for its suburbs.

A liberal approach to sidewalks needs to take hold in cities that forbid benches and greenery on the pavement.

The German economy needs to be more flexible and deserves to go seven days a week. Switzerland and Austria might take note as well.

We think mornings are for digital reading and evenings for paper. Smart media owners should get their presses fired up at midday rather than midnight.

A bit of extra apron capacity at Milan's Linate Airport would be a sensible idea. The country's conveniently located airport is a big advantage for business-folk shuttling across Europe.

As more kiosks are squeezed off high streets and magazines become increasingly difficult to find, is it time for a new hybrid? Bakery meets newsstand?

The Circle development at Zürich airport (hotels, offices, retail and medical facilities bolted alongside the airport) is now fully underway. Other airport operators should keep a close eye on the project as it's shaping up to be a benchmark for how a good hub needs to adapt to evolving marketplaces.

Staying in Switzerland, we're wondering what a Migros apartment development would look like? Or Coop housing?