Observation 1 / Japan
Flying without wings
Part theatre, part theme-park ride and part restaurant: virtual-reality flights are taking off in Japan.
It's a few minutes before the 17.50 First Airlines flight to Honolulu and the crew are busy with final preparations. Two flight attendants direct passengers to their seats, while the pilot darts in and out of the cabin. On television screens overhead a flashing dot marks the Japanese airport from which we'll start our journey: Ikebukuro.
But there is no airport in Ikebukuro and we are not on a plane. First Airlines is the elaborate dinner theatre that Hiroaki Abe started in Tokyo last December. On the eighth floor of a building in a busy commercial district, Abe and his staff simulate flights to Paris, New York, Rome and Honolulu for 12 people at a time. "Being at the airport is exciting," says 33-year-old Abe. "I wanted to recreate that – like the way you feel at Disneyland."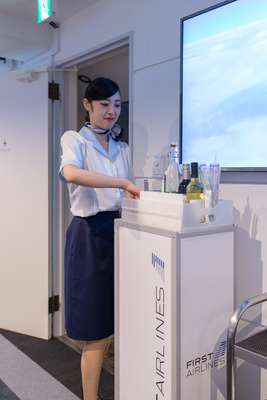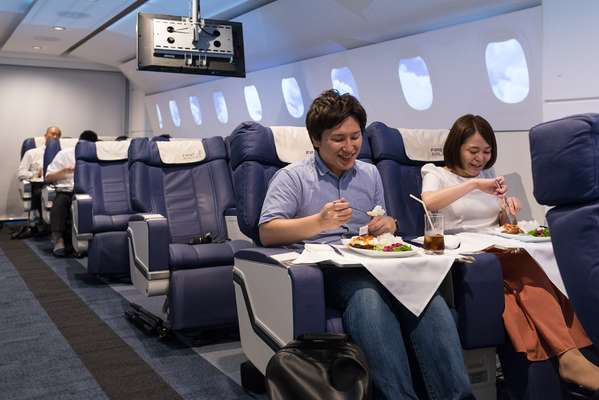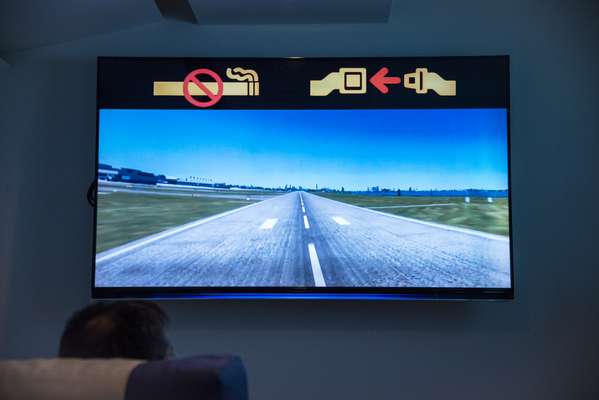 First Airlines is equal parts restaurant, cinema and peculiar theme-park ride. Customers, who are happy to spend time on a flight that goes nowhere, sit on seats from Turkish Airlines planes; the flight attendants have been trained by former Japan Airlines and Etihad Airways crew.
During the two-hour trip to Honolulu virtual-reality headsets are passed around and guests watch scenes from the beach. The crew serve coconut curry soup, loco moco (a Hawaiian dish of rice, egg, hamburger and gravy) and pancakes as island music plays. There's also the mundane stuff of flights: safety demos, engine noise and views of the runway. It's the sort of thing that someone who doesn't fly much might enjoy.
Abe is a former web designer who has never been to Paris, London or New York. "It's been at least six years since I travelled overseas," he admits, which likely explains why he thinks airports are exciting. "I let my passport expire some time ago."
In recent years the Japanese have been less eager to travel abroad owing to unfavourable exchange rates and fear of terror attacks. Abe figured that many of his generation would be intrigued by a virtual trip but, so far, most customers have been middle-aged. He attributes this to the ¥5,000 (€39) cost for a Business Class seat and ¥6,000 (€46) for First Class. "I might offer discounted rates for students." He has other ideas for improvements, including a machine that will make the seats vibrate during take-off and landing. Could faux turbulence be next?
Abe's venture has piqued the travel sector's interest: the Hawaii Tourism Authority helped produce the videos for Honolulu and travel agency his lets First Airlines clients trade their boarding passes for a discount. But the benchmark for success, says Abe, isn't big profits. "Some customers tell us that the experience has made them want to get on a plane and go somewhere. That's the best feeling."