Food & drink / Global
Food
&

drink
Briefing
From a New York chef who is a dab hand with an Argentinian grill to Chinese fine dining in London.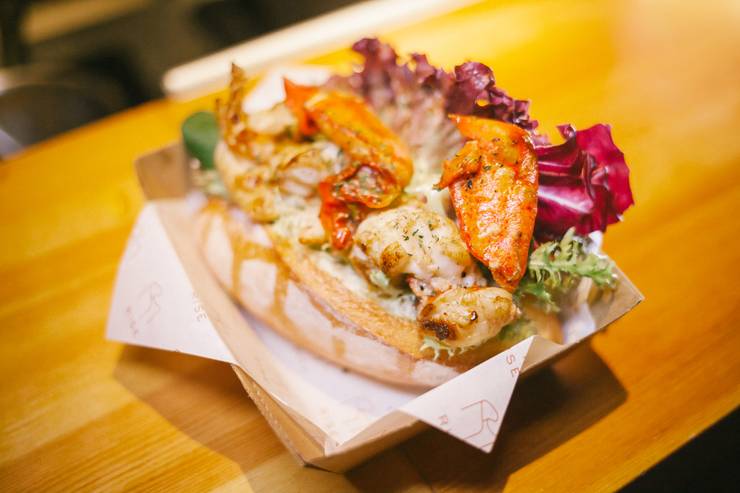 Restaurant round-up
Hong Kong
The city-state's crummy reputation for pastries is improving, with several new openings serving a slice of good fortune to bread lovers.
New York-style deli Morty's brought pastrami-stuffed sandwiches to the city last year and strong demand recently led to a second outpost in Wan Chai. Morty's bakes on site but smaller sandwich shops without a full-size oven can now get their daily bread from Rise Boulangerie.
"We use natural leavening instead of the chemical yeasts commonly used in Hong Kong," says the latter's Icy Wong, a former television news host who met her head baker Stephane Reinat while studying at Le Cordon Bleu in Tokyo. Within a month of opening Rise they were baking 400 baguettes a day, as well as delivering fresh dough to fellow new openers Banh Mi Kitchen. The Vietnamese grab-and-go sandwich shop's char siu (barbeque pork) combines classic Cantonese food with crisp banh mi-style bread.
mortys.hk; gotorise.com; banhmikitchen.com
---
Every inch a neighbourhood joint, Fort Greene's Metta gets so crammed that you might as well be sitting at a communal table. The reason for the fuss is Argentine chef Norberto Piattoni. True to his roots, the majority of the menu is cooked over a wood fire – and Piattoni knows how to work a grill.
Charred beetroot and crème fraîche get their punch from rye berries, while the striped sea bass is crispy on the outside but still soft, flaky and full of flavour. Add melt-in-the mouth beef-heart carpaccio and a funky smoked dessert to the mix and you get a good sense of Metta's menu (which features some lovely illustration too).
mettabk.com
---
Duddell's: [London] Hong Kong restaurant Duddell's has its sights set on the UK capital, with an autumn opening in London Bridge. Chef Daren Liew is creating the Cantonese menu, while design studio Michaelis Boyd will oversee the interior.
---
With soaring volcanic peaks but surprisingly lush pastures, the Azorean archipelago is an unexpected paradise for cows. All over the island of Faial, handsome Holstein Friesians outnumber humans by almost two to one – and their milk is the central ingredient for Queijaria O Morro.
The small dairy was launched by brothers Rui and Nuno Caldeira in 2012 and has quickly become a hit abroad. Its soft cow's-milk cheese is now being stocked in shops that include Lisbon's Mercearia Dos Açores and Forever Cheese in Queens, New York.
queijariaomorro.com
---
Following the success of Kaum's restaurants in Hong Kong and Bali, it was only a matter of time before the Jakarta-based Potato Head group opened in its hometown. The garden of this colonial-style building in the central crush of Menteng is a welcome respite from the relentless traffic outside – and the food is no less comforting. Executive chef Antoine Audran cooks with ingredients from small-scale producers. Try the fried quail with its punchy lemongrass, ginger, chilli and lime relish.
kaum.com
---
There's no shortage of Chinese grub in London's Soho. Few spots, however, are better hidden or a nicer surprise on which to stumble than the newly opened Tea Room, which you'll find down a flight of stairs and beneath the (equally unambiguously-named) Bun House on Greek Street. The moody 1960s-style basement-bar comes courtesy of Alex Peffly and his wife Z He – he on food and drinks, her behind the just-so interiors. The duck-tongue fries won't be to everyone's taste but Peffly and He have the char siu clay-pot rice and cocktails licked.
bun.house
---
Langosteria Paraggi
Portofino
In the past decade, Enrico Buonocore has unveiled a trio of well-received seafood spots under his Langosteria banner in Milan. This summer he decided to set up closer to the producers of his ingredients by opening Langosteria Paraggi on the premises of one of Italy's beach clubs: Bagni Fiore.
Set in a quiet cove next to Portofino, the open-air dining room's interior – complete with nautical-inspired teak floors – pairs well with the bathing club's director's chairs and sunloungers. Treats include an oyster bar and a menu that boasts ceviche and sashimi starters.
langosteria.com
---
On the ground floor of the Renaissance Paris Vendôme hotel lies Balagan, the latest Dorothée Meilichzon-designed offering from the Experimental Cocktail Club and Israeli chefs Assaf Granit and Uri Navon. Balagan – a Hebrew word meaning "joyful bazaar" – is part pocket-sized cocktail den, part Middle Eastern dining room. In-the-know Parisians are already staking their places for seafood shakshuka, washed down with organic rosé from Galilée.
balagan-paris.com
---
In subtle opposition to Spain's traditionally meaty menus, The Green Spot sprouted in a fast-growing Barcelona scene with a veggie-centred spread. There's a small fillet of meat dishes but the menu's best fare includes beetroot gazpacho and kimchi quesadillas, all colourfully cooked by chef Marcelino Jiménez.
encompaniadelobos.com/green-spot