Big interview / Global
Gearing up
Volvo's CEO discusses shifting the brand's focus to the premium market and reveals its plans for electric and self-driving cars – all while maintaining its reputation for safety, of course.
Like Ikea and Clas Ohlson, Volvo is a brand that trades on its Swedishness, playing up its reliability and safety as much as its design credentials. Yet Volvo hasn't been a Swedish firm – at least as far as ownership is concerned – since 1999. Just before the turn of the millennium it sold its car division to Ford; then in 2010, when sales were stagnating, the brand's car arm passed to Chinese multinational automotive giant Zhejiang Geely Holding, known as Geely.
With this purchase came a brand jumpstart: apart from an expanded factory complex in its hometown of Gothenburg, there are now three factories in China and another will be operational in South Carolina by 2018. To continue Volvo's revival, the company called in industry veteran (and Swede) Håkan Samuelsson in 2010, who then became CEO two years later. He brought with him not only a native son's love for the brand but also a thorough understanding of the motor industry. He spent two decades at Scania (see issue 102), the Volkswagen-owned truck-maker, before moving on to become group CEO at German counterpart Man in 2005 (also part-owned by VW).
Volvo has always been known for building cars that are safe and dependable – it pioneered features including the three-point safety belt and crumple zones – but over the years it had also been lumped with an unwanted reputation for being square and unadventurous. Under Ford's ownership its brand identity became diluted. With Samuelsson's guidance and his willingness to push the company in new directions, Volvo has pivoted to bring more premium cars to the market.
Since Samuelsson took over, Volvo has been making strides in this new direction, developing products such as the small luxury suv, the xc40, which it is launching – quite consciously – in Milan. The hope is that this model will compete with the likes of Audi's Q2 and the bmw X1 and take market share away from the Germans. The carmaker is also redoubling its efforts in the race for new technology: it recently announced that from 2019 it will only manufacture all-electric or hybrid cars and will soon roll out tests for self-driving vehicles, which it hopes to offer to consumers by 2021.
Samuelsson's approach seems to be having an impact on the balance sheet. In the first three months of 2017, global sales of Volvo cars hit 129,000, an increase of more than 7 per cent on the year before, resulting in SEK3.5bn (€370m) profit for the quarter. At the same time, Volvo has added 5,000 employees to its workforce, bringing the global total up to 33,000.
We caught up with Samuelsson at the company's Gothenburg headquarters to find out about the progress he's made – and what he's got in store.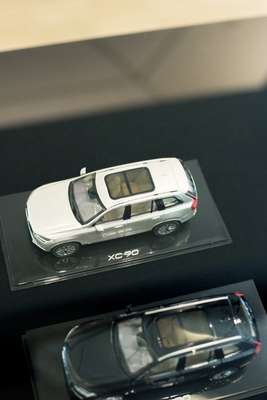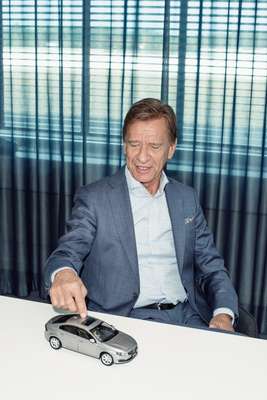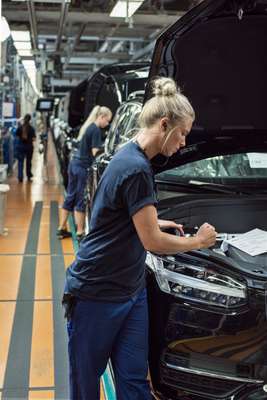 ---
MONOCLE: You became Volvo's CEO in 2012. What were the challenges when you started?
Håkan Samuelsson: First Volvo had to become a real company in its own right, not just a division of Ford. A lot of our technology was based on Ford's so we had to restart everything. The challenge was to keep bringing cars to the market. At the same time we were trying not to make any losses but we were heading towards red numbers. The third challenge was to make Volvo a much clearer brand. We were seeking a new identity, which we wanted to make much more internationally focused.
M: Geely, Volvo's owner since 2010, is a Chinese firm. Can Volvo still claim to be a Swedish company?
HS: It's not just a Swedish company anymore. We are a global company but we have our own identity and personality. As I'm sure everyone knows by now, we're big on safety. That's where our Swedishness really comes in. We make cars that understand the driver; we don't have gimmicks and complicated electronics. We're simple but we're also hi-tech. Scandinavian design and smart functionality: that's the Volvo brand. And these are the values that people connect to this country. Geely appreciate us being Swedish. Why should it want to change that?
M: What role does design play in the rejuvenation of the brand?
HS: Design is more and more important. Twenty years ago people would have been thinking about fuel consumption first; now it's design. It's an area we have invested a lot in. Our cars are simple, not overloaded or overstated. Technology doesn't have to be flashy; smart technology can look very simple. If you count the number of buttons in other cars, there can be something like 50 – we have eight. A car shouldn't look like a trading office in an investment bank.
M: The whole industry is looking to become electric. You announced that by 2019 you will only manufacture electric and hybrid models but what makes you different from the other players?
HS: I don't know anybody else who is so clear in their intention: we have stated that we see the company as an electric company. So far there is only one: Tesla. We have some baggage and we cannot change overnight so we need a pragmatic and smart way to evolve. We are developing five new cars, which will be electric or hybrids, so we can take our 500,000 customers with us. It will be a process. Two years from now there will be no new cars released with only internal combustion engines.
M: Let's talk about Tesla: is it a challenge to the industry?
HS: It is rather small but we respect Tesla a lot. It is a really fresh addition to the car market. It's shaken up the industry, for sure. Tesla is a tough competitor and will be an even tougher one in the future.
M: Is there a race in the car industry to go electric?
HS: I think everybody wants to be on the winning side and they're coming to realise that electrification is the way forward. We're not going to be the biggest company in the world but we want to be the company that's the fastest to make that transition.
M: What is your approach to autonomous driving?
HS: Research started many years ago in our labs and we will be testing the cars in Gothenburg later this year. Safety is paramount, of course. You have a super-smart computer on board but everything – steering, braking – has to be dual to be truly safe. We are developing the "brain" of the car with another company, Autoliv. We are trained to develop hardware but software is made in a different way: much more trial and error. That's why we've brought people together. Traditionally we would buy the technology from a company such as Bosch but now we want to have better control over it; it's part of our value creation.
M: Do you really think autonomous driving is the future? What about the pure pleasure of driving?
HS: It will be a gradual shift. Cars are already quite automatic but they are still cars. Even if you have an auto-pilot you are still in control because you are the one who sets the destination. Plus it doesn't have to be automated all the time. I think computers won't be smart enough to handle every situation. As ever, it's about choice.
M: How will car ownership change in the future?
HS: I think there will be two ways of having access to cars. One is permanent access: every second year you get a new car, like a smartphone. Then there will be cars on demand, whether it's for a week or a day. This is growing, especially in big cities. And if you look at how much people are paying for cars, it shows the value of personalised mobility. So we won't just be selling cars. We already run Sunfleet – the biggest car-sharing fleet in the Nordics – and will expand it in the autumn.
M: Car-sharing and autonomous driving will change how we move around in cities. As a result, do you think carmakers need to play a greater role in designing and transforming cities?
HS: They have to be engaged and they will play a role. You're already seeing more car-free zones as people want to have more green areas and less traffic. So these areas may be for automated cars, to transport people in a controlled way – and private cars can be parked outside these zones. I know that in Gothenburg there are already discussions about new areas for cars-on-demand and charging stations. And as you have new housing developments these might have shared on-demand cars instead of everybody having their own private vehicle. The value of a car depends on how much it's used, so if someone owns a car but it is not used then it's not good value. Having fewer cars that are used more often is absolutely not the worst business model.
M: Volvo is a small company compared to its competitors. Does this mean you can take more risks?
HS: The risk of changing nothing is often underestimated. Continuing to build cars with internal combustion engines doesn't sound risky but it is. Am I a risk-taker? Risk has a negative connotation but I do think we need to continue to change at Volvo. We are moving in the right direction with autonomous driving and car-sharing. All of that is a new concept but it would be just as risky not to act.
M: What else are you developing?
HS: Connectivity is important to us, such as in-car services. So you leave work and your car is already washed, fuelled and you have the groceries in the boot. That's an example of what you can do. These services can be democratised through technology. Autonomous driving will also be available to everybody. Yes it comes at a price but it has value. Instead of holding a steering wheel you can start work straight away: have a conference call or check your emails. That is valuable.
M: What is the company's global strategy for growth?
HS: We should be a true global premium car company, which we are gradually becoming. We need to sell more high-value cars: we used to sell small cars at low prices and now we want to sell more premium cars. But it's easier to do that when you have a tailwind [of European economic recovery]. We should be aiming to sell 800,000 cars per year. We need to double our market share in continental Europe and regain market share in the US. General Motors has pulled out of Europe so we have to move in that direction. But not just where we sell our cars: in our way of thinking too.
Timeline
1927 Volvo, Latin for "I roll", is founded by industrialist Assar Gabrielsson and engineer Gustaf Larson.
1944 The company unveils the PV444. Combining US flair with European size, it is an instant success but war means it is 1947 before the car goes on sale.
1959 Volvo introduces the three-point seatbelt. It's estimated that more than one million lives have been saved as a result of Volvo waiving its patent rights.
1964 Volvo opens a factory in Torslanda, Sweden, that is capable of producing up to 200,000 cars a year.
1999 The company sells its car division to Ford Motor Company for sek50bn (€5.2bn).
2010 The Geely deal is China's biggest purchase of an overseas carmaker.
2016 Volvo Cars sells 534,332 cars: a company record.