Architecture / Naples
On the up
Unloved and underused – but Naples' business district offers a space-filled future.
Back in the 1980s it must have all seemed so simple: build a mighty new business district of dazzling glass, concrete and steel and watch as the towers attract a stellar line-up of tenants while new wealth is generated. It was a trick that lots of cities were trying – and many would come unstuck. Yet what made this example so exciting and risky was that it would follow a masterplan by Japan's Kenzo Tange and would be dropped into low-set, warm-hued Italian beauty of Naples. What could possibly go wrong?
True, as your high-speed train pulls into Naples, those modern and post-modernist glass towers in the distance look impressive – and, yes, there's a whiff of teched-up Osaka in their demeanour. However, when you get closer to Centro Direzionale di Napoli (cdn) you realise that you are staring at an unloved, if handsome, white elephant.
"We are looking back to a time when there was a will to experiment with very large dimensions," says Giovanni Multari, professor of architectural design at the University of Naples, who has come to meet us at the cdn. "These megastructures were models, ideals that came from other cultures, in this case from Japan."
Sitting by a now dried-up fountain with the twin enel (national electricity board) buildings towering above, he's taking us through the metabolist architectural movement that Tange helped pioneer and which informed the cdn masterplan devised in 1982. Tange, with his penchant for the monolithic, planned a district of towers that would sit atop what is effectively a vast concrete slab some three levels deep. Down inside the slab today, the access roads and car parks that service the cdn operate in a darkened underworld. To reach your car or bus stop beneath, sun-bleached escalators with cracked rubber belts beyond repair indicate in no uncertain terms that taking the stairs is mandatory.
Above ground, things are not much brighter. Many offices sit vacant and foot traffic is thin on the ground. While billions of lire were poured into this area, Tange and the city government's plan for a business precinct of a solitary function has been a failure.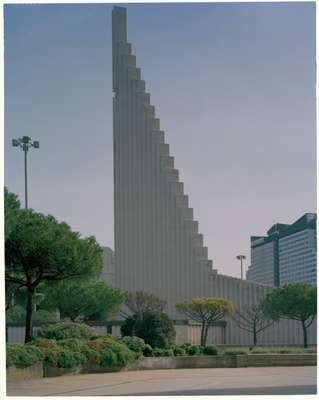 So that's some of what has gone wrong. But what could go right? How do you begin to turn around a project that's too expensive to bulldoze and too big to dress up with some nice plants? Well you might be surprised to discover that's there a shot of optimism these days.
Outside the district's graceful concrete pinnacle of a church – San Carlo Borromeo, which was designed in 1990 by Tuscan architect Pierluigi Spadolini – cranes and construction hoardings proclaim the arrival of the Metro's Line 1 extension. The station will link up with the shimmering Garibaldi/Centrale Station interchange, finally connecting this disjointed monolith with the wider city.
Within the cdn's quiet business community there are glimmers of hope too. Rework, a coworking space, occupies the site of a former furniture showroom. "It was hard at first explaining to Neapolitans exactly what we were," says co-working manager Diana de Martino, alluding to a certain local resistance to this way of sharing workspace. "But two years after opening we are now in constant use."
And there are others who are proud to call cdn home. On its southern flank the area is lined with eight 20-storey residential blocks. On the 11th storey of the eastern-most block, Ilaria Savarese is showing us her apartment, which she is renovating with her husband. "The decision to move here was a strategic one," says the architect. "We are so close to the centre and there's plenty of space, plus it's one of the few places in Naples where you can get a parking spot."
Despite the chaos and debris of the refit, the ample proportions and abundant light of the apartment are immediately apparent. And then there are the views: Mount Vesuvius brooding in its enormity, with the bay of Naples stretching out in the purple light of sunset. "Obviously I love the historic centre and to be honest I didn't imagine myself here," says Savarese as she looks out from her apartment's generous balcony. "But I have this feeling that things are about to change."
Yet despite these fresh arrivals, the cdn remains chronically underused and its central location means city-planners must continue to figure out how to maximise its value. "To demolish it would be madness and our children's children would eventually be footing the bill but a simple retrofit of building interiors and façades is not enough either," says professor Giovanni Multari, a Naples resident since the mid-1980s and also co-founder of architecture firm Corvino + Multari. "We need to reclaim these public spaces, to densify them, to make this a proper city within a city."
In most urban environments this would be tricky enough but in Naples, absent municipal funds and indolent property developers have left what was realised of Tange's proposals poorly maintained. But as Multari stands outside the much-used court complex, the Palazzo di Giustizia, looking east back to Mount Vesuvius, it is easy to see to what extent space is this district's main asset.
As dusk settles and the courts close, a steady stream of boys in full football kit fills the vast concrete expanse occupied by smoking lawyers by day. With space for three calcetto (five-a-side) pitches on this piazza alone, the scale of Tange's work becomes startlingly apparent.
"This is part of Naples and this is our reality, it is our present," says the professor with a smile. And as Naples learns to use and share its giant business district, it seems that Tange's vision can perhaps finally shape the city's future.
Monocle comment
Kenzo Tange's other major crack at urban masterplanning was Skopje, Macedonia. Following a devastating earthquake in 1963, Tange was brought in to oversee the rebuilding of the city. The capital he devised still has some fans but most residents have developed little passion for his austere architecture.
The cdn in Naples has also failed to win over residents. Yet Neapolitans feel more optimistic than their contemporaries in Skopje that they can take Tange's legacy and move it forwards. For while the concrete-and-glass monoliths here are by no means seen as local treasures, they are a recognised – if underused – aspect of the city. The question remains though: how can the cdn bring real value to modern Naples?
The cdn question is one that many other cities are facing: how should you redirect growth into areas that have existing, yet failing, infrastructure? The teardown-and-rebuild mentality of somewhere such as Singapore can be costly and bad for the environment, while allowing for an area to simply underperform is plain wasteful.
A dramatic retrofit is a costly exercise and in a city such as Naples, already infamous for corruption, the cash boost this area needs for regeneration could easily go astray.
Yet looking across the continent, hope can be drawn from the more organic revival of the La Défense business zone in Paris. A beacon of ambition for modernist architects who fetishised theories about siloing a city into districts, it failed over time. But in recent years it has been resuscitated as an area operating well beyond its original solitary business focus.
Through a slow improvement, promoted by both developers and enterprising citizens, today there's an increasingly even smattering of housing, bars, gyms, public spaces and office blocks.
It indicates that a singular urban planner's vision might in fact work best when it's offered up for the citizens themselves to reimagine and reinterpret.