Architecture / Jakarta
Open house
A clutch of young designers and architects are transforming Jakarta, one project at a time.
Three metal fans hang low from the cement ceiling of Anjung Salihara, rotating slowly and silently. This cool and calm space is part of a huge cultural complex in Jakarta's southern suburbs. In a rare exception for Indonesia's sweltering, traffic-stifled capital, the ubiquitous whirr of air-conditioning isn't heard here: this building has been engineered to stay cool in a more natural manner.
"I love windows; when I design they're always the first thing I think about," says Studio Dasar's Danny Wicaksono, the architect behind the project.
While admiring the reddish Indonesian timber frames of Anjung Salihara's windows he outlines the design of this curvy concrete-and-timber training space for dancers and actors. Large windows face north to avoid the glaring sun, while exposed concrete floors and walls also mitigate the heat. The fans above conjure up the precious breeze that rarely comes of its own accord in built-up Jakarta.
In such an oppressive climate you'd think the simple principles that define Anjung Salihara would be at the heart of most developments here. Yet since the days of Dutch colonialism the architectural style of Jakarta has been decidedly western. From the white-washed walls and high pitched roofs of 17th-century Dutch mansions to the boxy mega malls of today, Jakarta's built environment is far removed from the tropical island it inhabits.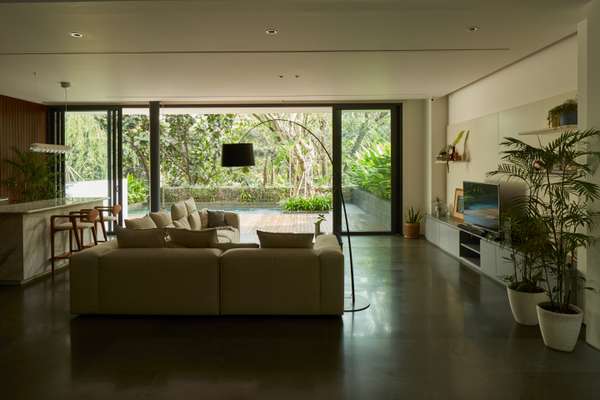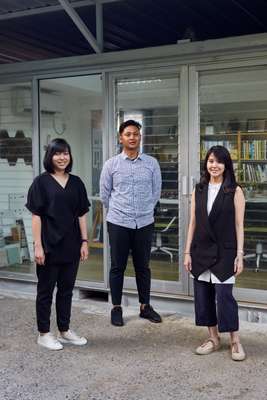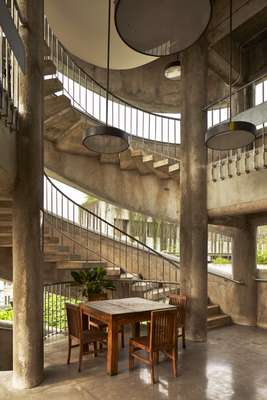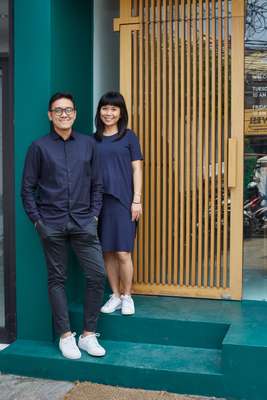 However, an increasing number of firms such as Studio Dasar, founded by Wicaksono in 2014, are forging a new identity for the city. "Clients are no longer just wealthy people who have been exposed to life abroad and want to replicate it here," he says. "The demographics are changing; young people want a better-looking Jakarta."
This desire has been partially driven by more established architects, Andra Matin being the most pivotal in the city. His brutalist cement and towering teak-and-timber designs promote an openness to the outdoors and help Jakartans to see that another identity for their hometown's architecture is possible.
Before Wicaksono was handed his part of the Salihara project at the age of 27, he worked in Matin's studio. "Aesthetically it is difficult to dodge his influence," he says of the man behind Bali's most beautiful resorts and Jakarta's handsome homes. "But I never give priority to how a project looks – rather, to how it operates."
Others have also gone through Matin's studio to find success, including Agatha Carolina and Chrisye Octaviani, founders of Bitte studio. The pair spent two years at the firm before setting out on their own. "We learnt a lot from Andra," says Carolina when monocle meets her at Nitro, a coffee shop that is one of the studio's latest interior-design projects. "One thing he always said is that architecture is about experiencing space." And it's easy to see how that resonated: the café interiors are clad almost entirely in Indonesian sungkai wood and small details such as the gridded pattern of bricks on the walls and chunky iron-wood tables create a relaxed tropical ambience that is far removed from the chaos of the city's streets.
After working on interiors for years, the pair recently ventured into architecture but have carried over much of the same approach. "We're used to considering the different activities that happen in a space," says Carolina. At a beer garden they have completed on one of the busiest junctions in South Jakarta, a roof modelled on the nation's pointy palanas shows Bitte's dedication to seeking inspiration close to home. But the architectural traditions that inform the work also come from further afield. On the mood board inside their office there are projects from Melbourne, Boston and London, the city where Carolina spent two years as a student. A Nordic tour also influenced them. "Scandinavian architecture focuses on the essential and on the materiality of textures," says Carolina. "Only we use the bricks and wood of a tropical country."
Rafael Arsono and Margareta Miranti both studied and worked in Milan before moving to Singapore and returning to Jakarta to start their studio RafaelMiranti in 2014. "We think there's lots to be designed here," says Miranti. "There are plenty of opportunities." The urban fabric may be much more jumbled than in Italy – where constraints come from building in harmony with the historical heritage – but for an architect working in a city such as Jakarta, a lack of legacy can also be freeing.
"Jakarta is chaotic so our approach is always to introduce an element of calm, not to show off," says Arsono. This is the case for their first residential project, a two-storey house in Permata Hijau. As the area's name suggests (it means "green jewel"), this is a rare pocket of vegetation in the city. The thick foliage shading the small pool at the front of the house is proof – but it is also a smart way of creating privacy without giving up a connection with nature.
Interventions like these may be few and far between for now but a determination to connect with and improve the city's layout by could well be transformative. With Jakarta's big-name architecture firms receiving generous commission for stadiums and aquatic centres, perhaps it's time for this new generation to start scaling up their concerns too.
Naturally made
Indonesian designers are spoilt for choice when it comes to wood; the tropical rainforest here yields many varieties that are handsome, sturdy and often water-resistant. These timbers, such as merbau, sengkai, teak and ironwood, are essential in a humid climate that is prone to heavy showers.
While widely used in countryside vernacular, bamboo remains underexplored in an urban setting: Jakarta architecture studio Raw is making great advances in proving its flexibility and eco-friendliness with experiments it carries out in its in-house workshop. Other than being a visual hallmark of tropical modernism, cooling concrete is a great option for walls – especially if covered by lush foliage.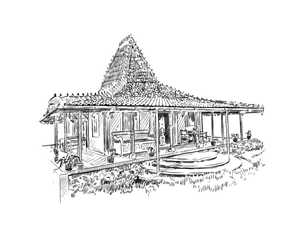 bricks and mortar
Decoding Jakarta's vernacular
Illustration Anje Jager
1.
Traditional Javanese house
With steep sloped roofs and sturdy stilts, traditional Javanese houses are built to withstand tropical downpours.
2.
Dutch Javanese colonial style
Housing in Jakarta took on a European tone when Dutch colonies of the 16th and 17th centuries began to combine local materials with decorative elements from the west.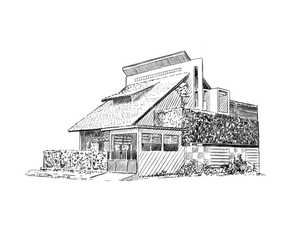 The most flamboyant of Indonesian housing styles, this combines elements of California modern with traditional inspiration to form a colourful and edgy architecture.