Garden restaurants / Sweden
Tasty alternatives
Meet Stockholm's fresh-thinking chefs, busy making hay (or, rather, delicious food) while the sun shines.
The scent of lavender floats on the breeze as the sun hits a burnt-red pergola brimming with creepers at Vinterviken's garden café. Despite taking its name from the Swedish word for winter, the spot, a few kilometres southwest of Stockholm proper, is closed during the coldest months and puts on its best display between July and September.
When monocle visits the sun is high in the sky and at ground level the pale-blue starflowers vie for attention with oversized terracotta pots sprouting curly kale. It's the kind of hot, lazy afternoon that's almost sacred in the Swedish capital, where the sun barely sets during summer yet temperatures rarely top 25c.
Porchetta with green beans, from Rosendal
Serves 4
Ingredients
1.5kg pork belly
1kg potatoes
300g green beans
80g confit garlic
Zest of 1 lemon
50g roasted fennel seeds
2 tbsps fennel tops, chopped
2 tbsps fresh sage, chopped
2 tbsps fresh thyme, chopped
½ tbsp pepper, 1 tbsp salt
4 tbsps hazelnuts
2 tbsps chicken fat
Parsley, roughly chopped
2 tbsps chilli flakes
Method
1
Mix salt, pepper and fennel seeds; mix garlic and lemon zest in separate bowl.
2
Score skin on pork diagonally in both directions, creating a lattice effect, then slice open lengthwise.
3
Fold open pork, skin-side down, and season with salt, pepper and seed mix. Spread with garlic, lemon zest and chopped herbs.
4 Roll pork, skin out. Tie with string, roast at 80c for eight hours.
5
Roast potatoes in chicken fat.
6
Spread hazelnuts in oven tray and roast for 15 minutes at 175c; once cooled, chop roughly.
7
Blanche beans, dress with lemon and olive oil, top with hazelnuts.
8
Sprinkle with parsley and chilli flakes. Serve.
In the tiny kitchen, chef David Eriksson is dishing up cold-smoked salmon with creamy potato salad – a warm-weather classic in the Nordics – alongside a cooling gazpacho. The ingredients are plucked from the garden's vegetable patch or nearby suppliers. Run by a non-profit organisation, the café first opened in 1998 but has seen footfall surge in recent years. Capturing a new generation of customers thanks to a boom in housing in the increasingly popular surrounding area, it has also benefited from a shift away from more traditional Swedish meat-based fare and a growing demand for fresher produce.
"It matches the lifestyle of people moving here: a lot of young, bohemian people," says Eriksson. "And it's sort of a small oasis for inner-city residents."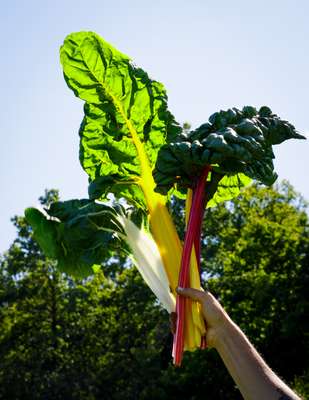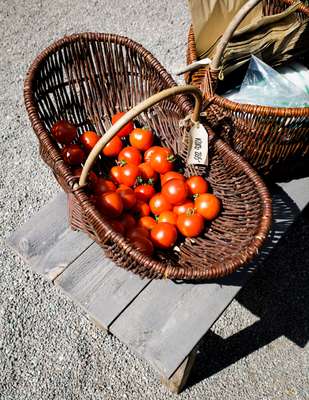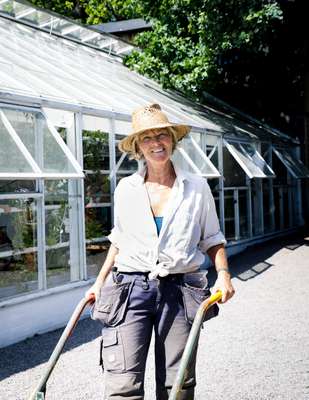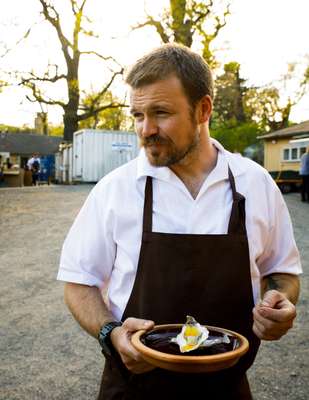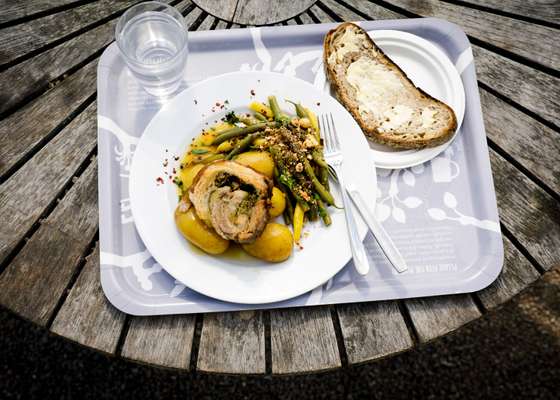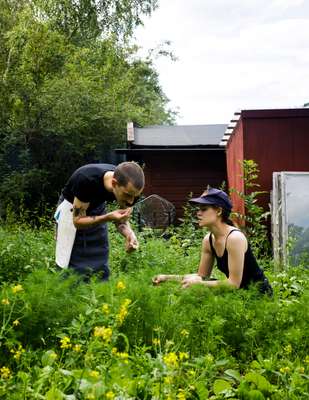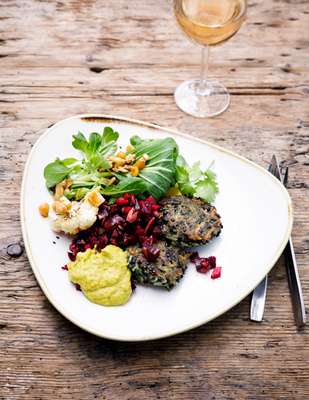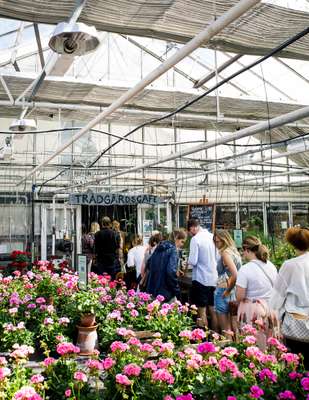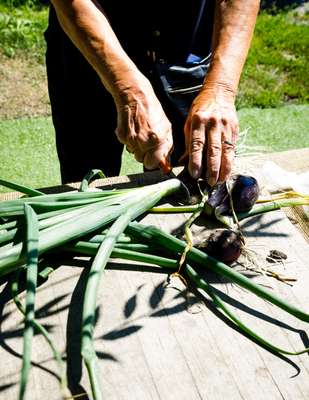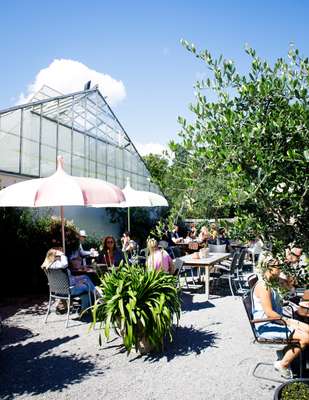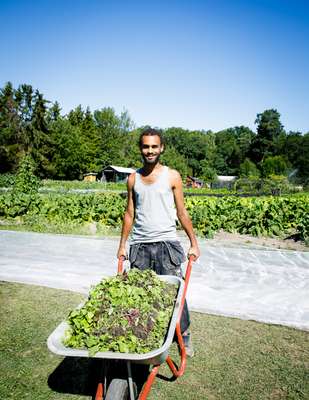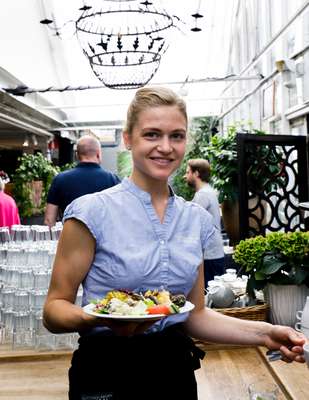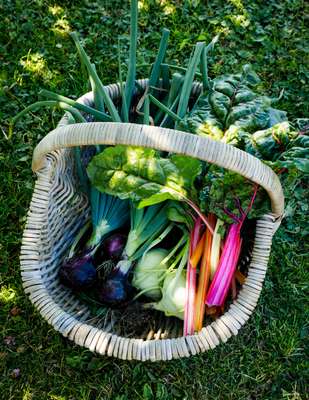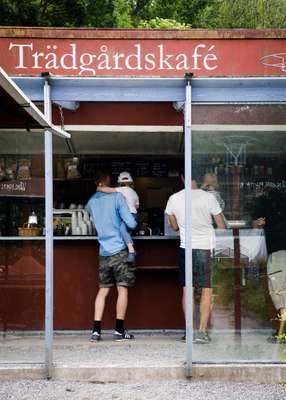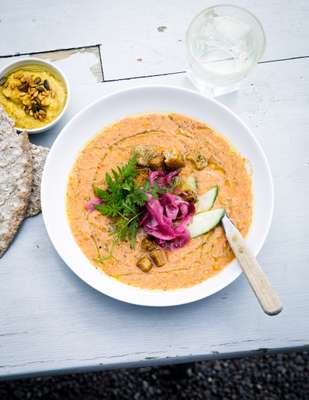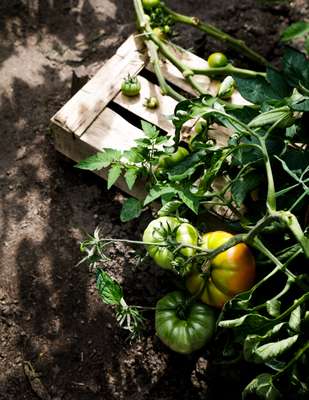 But Vinterviken isn't an isolated success. Fifteen kilometres north in the sleepy suburb of Ulriksdal, there's a queue snaking through the geranium-packed orangerie that links Slottsträdgården – one of Sweden's largest commercial garden centres – with a sprawling restaurant that recently doubled its capacity to accommodate 400 daily diners. It's owned by gardener Bosse Rappne and the menu changes daily, with dishes ranging from lentil patties to colourful spicy curries, and fluffy pancakes topped with lingonberry jam and fresh watermelon. Visitors can work off their lunches by digging up their own carrots, greens and potatoes or picking a basket full of edible flowers to take home.
Lentil patties, from Slottsträdgården
Serves 4
Ingredients
300g boiled jasmine rice
100g cooked beluga lentils
1 tbsp sushi ginger
50ml coconut milk
100g spinach, washed and blanched
2-3 tbsps gluten-free flour
1 green chilli
1 bunch of fresh coriander
Salt and pepper
Method
1
Cook the rice and lentils to taste.
2
Use a mixer to blend coriander, ginger and green chilli with desired amount of salt and pepper, plus a little water.
3
Mix in the rice, lentils, coconut milk, spinach and flour.
4
Form into small patties and sauté until firm. Serve with salad.
"It's quite special to be able to eat outside in Stockholm, where so many people live in smaller apartments and so many [winter] days are dark," says Elin Granqvist, a 27-year-old retail employee, as she tucks into an avocado sandwich topped with sesame seeds. "The city centre is empty over the summer. You don't go to a normal restaurant or the cinema, you have to get outdoors and do things."
It's an attitude championed by Billy White, the British head chef at the best known of Stockholm's city nurseries, Rosendal. It has been growing sustainable, biodynamic crops for three decades on what was once one of the Swedish royal family's back gardens.
White relocated to Stockholm in 2010 after being gripped by the surge in interest in Scandinavian food flooding the London restaurant scene at the time. He clearly adores whipping up stews, salads and cakes with Nordic-grown ingredients such as ground elder, wild nettles or sweet cicely (a white-flowering herbaceous perennial). The Briton was also drawn to the experimental nature of Sweden's fast-expanding food scene which, he argues, is one of the core reasons that its local fanbase is so strong. Despite this, his food is a far cry from the small portions of New Nordic fare.
"A couple of generations ago Swedes were not so cosmopolitan but now there's a boom: so much culture, travel and so many influences," he says. "So Swedes are not so stuck in their ways when it comes to using new methods or different flavours compared to other countries. There are new things happening all the time."
He's keen to stress that Rosendal, which is open all year except January, remains a worthwhile stop-in during the Swedish capital's snowy months too, when the café serves up hearty casseroles and glögg (a cinnamon-spiced mulled wine) alongside favourites such as a hot soup and wheat buns from the wood-fired bakery. However, there's no hiding the fact that after what White describes as seven "cold and fairly bleak" winters, he – like many other people living in Stockholm – is at his happiest during the capital's short-lived alfresco season.
vinterviken.com/kafe; rappne.se/tradgardscafeet; rosendalstradgard.se/kafe
Tomato gazpacho, from Vinterviken
Serves 4
Ingredients
1kg tomatoes
2 red peppers
1 cup of olive oil
1 cucumber, chopped
½ honeydew melon
2 red or yellow onions
1 garlic clove
Splash of apple-cider vinegar
1 lemon
Black and white pepper
Bunch of garden herbs
1 fresh chilli
3 slices of bread, cubed
Salt
Dried basil
Method
1
Whizz vegetables in a blender.
2
Mix in lemon zest, black and white pepper, fresh chilli, fresh herbs and apple-cider vinegar.
3
Make croutons by drizzling oil on cubed bread; add salt and some dried basil. Leave in a low oven until crunchy.
4
Serve soup topped with croutons and more fresh herbs.
---
New Nordic, old news
The culinary movement (stirred up by Noma founders René Redzepi and Claus Meyer in Denmark) has portrayed Scandi food as an odd thing. Plates have been flecked with strange ingredients, from sea cucumbers to monkfish livers. While underpinned by helpful ideas such as seasonal produce, the execution is a world away from how most people actually eat.
But in Stockholm's garden cafés we see another tradition being revived: husmanskost (home-style cooking). It's not quite meatballs and lingonberry jam but there's comfort in the portion sizes and familiar foods that trumps the ceremony with which the New Nordic movement has become associated. Call us old fashioned but we'd rather eat smørrebrød with fresh vegetables than a 20-part supper of slime, foam or twigs.