In our global news round-up we find a remedy for stiff bottoms at the Bayreuth Festival, dance to Egyptian pop in the Mediterranean and make a case for taxi drivers donning national dress.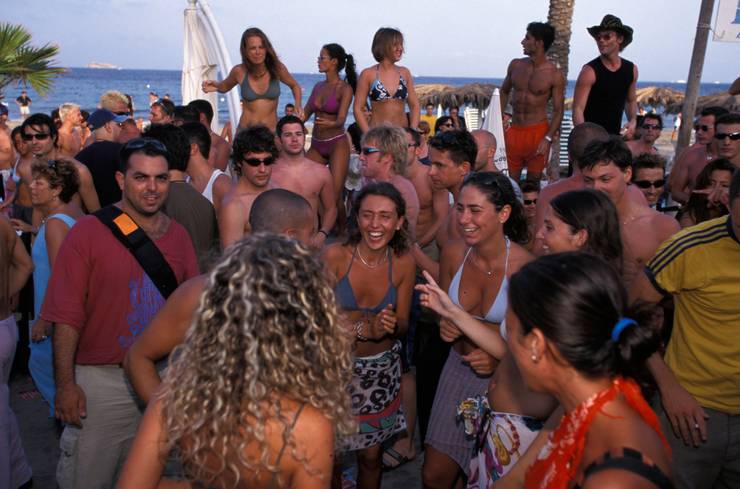 Music sounds better with you
It isn't just Beyoncé and Bieber blasting from the sound systems of Europe's beach clubs this summer. Our holiday playlist featured a lot more Middle Eastern pop as an influx of visitors from the region, all keen to avoid strife in their home 'hoods, packed the dancefloors in Greece and Spain. It made for a truly Mediterranean mix – we still have Egyptian artist Amr Diab's "Amarain" on repeat.
---
For the opening night of the Wagner festival at Bayreuth you'll need to squeeze into black tie before promenading up the Green Hill to the Festspielhaus. But you're not prepared unless you've considered your bum and back – and those infamously uncomfortable Teutonic seats, with straight-backed rigour, unforgivingly Wagnerian in construction. After 10 minutes of "Die Meistersinger von Nürnberg" you shift about; after an hour you'll wonder if you've a herniated disc. Another hour and you've lost your legs; then the two-hour stretch to the end and you're gone – dreamy with Act iii's beauty and the pain, like drowning, that becomes pleasure before the end. Take a cushion.
---
Overheard near Tokyo's Yoyogi Park as an American runner tried to make conversation.
American runner: "Last time I was here everyone was in Nike and now it's all Adidas. What do you guys know that I don't?"
Japanese runner: "Germany's become much cooler these days."
American runner was left standing in the street, looking quizzical.
---
Meals have a way of marking moments in our lives. From catching up with friends, dining out on first dates, plotting proposals and swapping secrets, restaurants are often the theatres in which intimate moments play out. Yet the ubiquity of the open-plan dining room is destroying one cherished incentive for eating out: privacy. Whatever happened to a discrete dinner?
Open-plan interiors are a godsend for restaurateurs, who can rearrange their covers to suit footfall. Today though, lonely souls and secret-sharing associates have been lumbered with an audience. The former sits forlornly opposite an empty chair, while the latter whispers to a confidant to avoid the attention of fellow diners. Let's be honest: you don't always want your neighbours to know what your friends or lovers do. An open restaurant has its advantages but canny designers should remember to set the stage for restaurants to be spots in which to wait for a date, enjoy some naughty natter or arrange a discrete meet-up.
---
Mirror, signal, dirndl. On a recent excursion to Merano in northern Italy we were ferried across town by a proud South Tyrolean taxi driver wearing full traditional dress. She explained that on Sundays she dons her pastel-coloured dirndl, puff sleeves and apron to hit the road. We'd like to see more Taxifahrers in Tracht, while drivers elsewhere could consider a nod to national clobber – a Beefeater-inspired London cabbie would have real usp appeal.
---
Neighbourhood watch: New York
On the edge of Soho, an empty lot has been converted into an exhibit called The Mulberry Street Gang, highlighting the characters who have shaped the area through social activism. That includes Joseph Keppler, whose 19th-century magazine Puck was a paradigm of political satire and housed in the Romanesque Revival Puck Building. It all contrasts with the shift underway: Soho has gone from a countercultural hub to a gritty retail mecca; now it's changing again due to a development boom. Even the lot where the exhibit sits is for sale. New builds are expected but we don't want to see the district's character erased by glass façades.
---
On the lookout for a business opportunity? The explosion of the sperm-bank market was a topic that kept popping up at the monocle Quality of Life Conference in Berlin (one of our delegates was in the industry and gave us the heads up). For example, the sperm-bank industry in Denmark, home to the largest sperm clinic in the world, can turn over dkr1bn (€134m) a year. If you've got a little seed money it's a venture worth exploring.
---
What we'd like to see more of in September 2017
There'll be fewer newspapers and magazines on board some European airlines from 1 September, which is a dreadful idea. How would airline CEOs feel if their media clients said that they were shifting all meetings to video conferences and slashing corporate travel?

Fewer personal phones for security staff might be a good thing. Most of the time they are tapping away looking at their phones rather than monitoring their surroundings.

Poland's flag carrier lot is setting up a new long-haul base in Budapest. It's clever thinking from the Poles as Hungary becomes a hub for the luxury-goods industry looking for a Near East manufacturing base.

Clear some space for the River Café's 30th anniversary cookbook. Ruth Rogers' recipes and beautiful graphics: it's a printed work of art.

We'll happily fly the first airline to impose a fine on passengers who fail to use earphones for conference calls, video calls and other media-related activities.

Those in search of a few autumn staples should seek out Japanese company Phlannel.

Pur Alps is opening a pop-up café in Zürich's main station. It would be good to see it there permanently.