Luma Arles / France
Tracking changes
Occupying former railway warehouses, Luma Arles is a gallery going full steam ahead with big ambitions and big ideas.
We go to the gallery to see the pictures, of course. But sometimes we go to the gallery to see the gallery. A trip to Tate Modern is framed by your first impression of Herzog & de Meuron's wonky new Switch House extension, and a visit to the Guggenheim can also serve as a secret pilgrimage for going loopy in Frank Lloyd Wright's spiral modernist classic. But these architectural masterpieces sit within the oversubscribed collections that are London and New York; they shout to be heard. What might happen when you plant one in a quiet city in the south of France? Will it shout too loud; can it even speak the language?
"This is one of the main reasons why I asked Frank to do the main building: to attract more attention," says Maja Hoffmann. We're walking around the site of Luma Arles, the Parc des Ateliers, which opened in 2014 and is the home base of Hoffmann's Luma Foundation. The site's newest addition will be a tower designed by Canadian-American architect Frank Gehry, 56 metres high and exuding the architect's signature wavy metallic forms. It will elevate nine floors from street level and have a further two substantial levels tucked under the building.
Within it will be an exhibition hall, seminar rooms, an auditorium, project spaces and archives. "We anticipate the space will be used as a platform for people who want to congregate," says Hoffmann, who hopes this will also be a beacon for attracting potential partners to the site. Gehry's tower will open by 2019.
But the rest of Luma Arles has been open, usable and inviting collaborators ranging from artists to activists and entrepreneurs for some years. "In a world that is changing so fast you have to test new models," says Hoffmann of the open-door approach to the site's evolution. The Parc des Ateliers is a series of converted warehouses dating back to the 19th century that once housed the rolling stock of the French railway.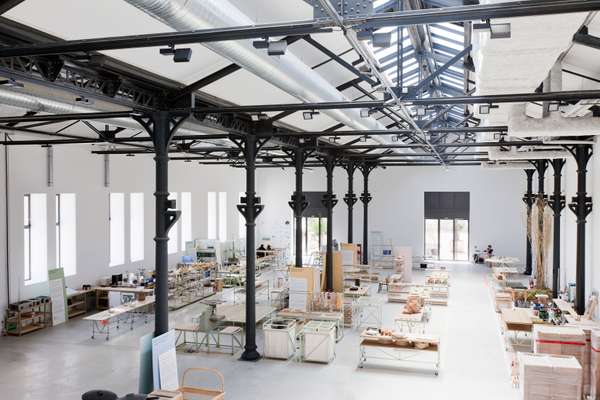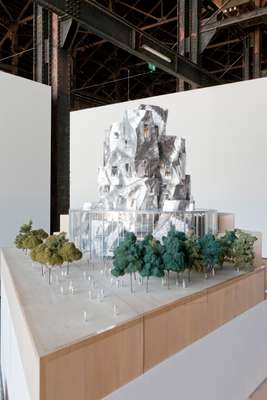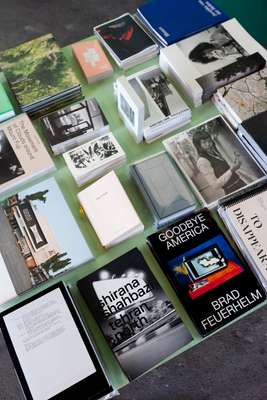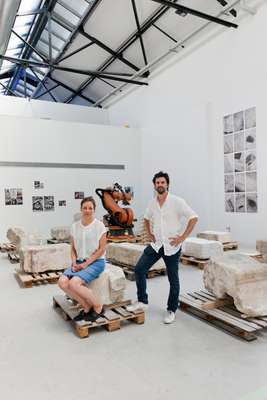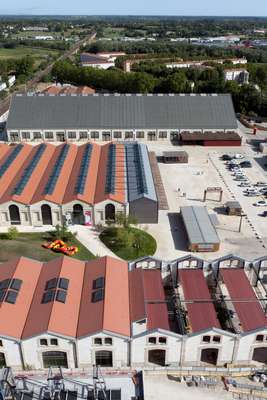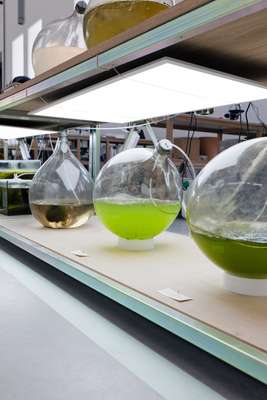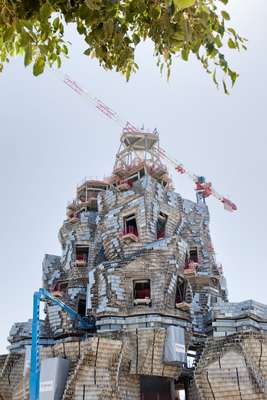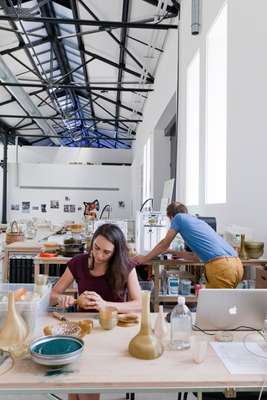 "I grew up here and I was always aware that it was a factory when I was a child," says Hoffmann. "It was a space that was making a living for many families here and one day it abruptly closed; industrialisation came to a stop. And these buildings were decaying: so I did what I thought was most urgent: stopped the decay."
The building we stand in as she talks through the site's history is the Grande Halle, an imposing former engine shed not only long enough to house a poorly train but, at 21 metres high, possibly tall enough to have it stand to attention once fixed. Today the building is showcasing various performances from choreographer Benjamin Millepied's LA Dance Project, on a purpose-built stage situated near the back of the hall. To reach it visitors get to first navigate an expansive retrospective of US photographer Annie Leibovitz's work.
Annie Leibovitz The Early Years: 1970-1983. Archive Project #1 is a project that delves deep into the photographer's methodology; thousands of photographs that demonstrate the ebb and flow, successes and lesser-known experiments, of a now top-tier artist. These are photographic stories that shaped the golden age of rock'n'roll. Or, in simpler terms, a lot of Mick'n'Keef. Leibovitz is in the gallery talking a small crowd through the show. "It was interesting to edit this because I had to fall in love with Mick Jagger all over again," she says. "I really had never looked at this work in depth until now."
Access to creative processes is something Luma Arles is looking to bring to the experience of visiting an arts venue. Of course it's best to come and watch the LA Dance Project's performance at an evening show, set to some striking onscreen visuals. But visitors checking out some of Leibovitz's work for a day are just as welcome to stroll by the stage in the afternoon, when you can observe dancers working on new and experimental routines. "Our studio also serves as our stage; it's definitely not the usual thing that happens," says ladp dancer Janie Taylor. She's interested in the possibilities for collaboration that spaces such as Luma Arles can offer. "I think most artists are very interested in other artists: what they do and how they do it."
"Really the idea behind all this is to create a platform that allows for the convergence of disciplines and the meeting of people," says Mustapha Bouhayati, ceo of Luma Arles. "To have artists working with scientists, scientists working with thinkers, thinkers working with activists and so on."
Such a free-flowing combination of disciplines might sound a touch idealistic but you don't have to walk far to find a very real example of how the site is attempting to push new ideas. In the neighbouring warehouse, the Mécanique Générale, designers Eric Klarenbeek and Maartje Dros are at work. They're combining materials sourced from the natural wetlands surrounding Arles – the Camargue – with 3D-printing to create environmentally friendly objects such as cups for everyday use.
The idea grew from an everyday problem: fumes from plastic, which many cups are made from, are not pleasant. "Plastic is everywhere around us," says Klarenbeek. "And if you read more about it you start to worry more and more about the health effects. So we decided to solve the problem by using natural materials. We asked ourselves how we could grow materials without competing with land that's dedicated to agriculture, or competing with space used for our food supply. That's how we came to explore the uses of algae."
This hyper-local use of previously underused material is both a functional and aesthetic choice. Klarenbeek explains that they're currently looking at how to maximise the algae's natural pigments – said to give the flamingos of the Camargue their pink hue – and apply the colour to the products they make. "Last year we did an inventory of all the possible natural resources we have around here," says Hoffmann. "You can create jobs and you can create products out of what you already have."
Luma Arles is challenging the ribbon-cutting, big-reveal approach often seen in art. Of course, there will be ribbon cutting too soon; even the official name of Gehry's tower is under wraps until it opens. But you get the sense that Hoffmann is hoping to make big ideas as prominent as impressive buildings during the development of the project. It does beg the question though: will Luma Arles ever be properly finished? The question amuses Hoffmann. "We are not waiting for it to be finished," she says. "It will always be a work in progress."
Facts & figures:
– Founded in the 1850s, the original buildings were to build and repair the trains on the Paris à Lyon et à la Méditerranée (plm) line. It connected the capital to Marseilles and colonies beyond, and later SNCF.
– The site has been used sporadically since the 1980s for events such as the renowned annual Les Rencontres d'Arles photography festival.
– The Luma Foundation (named after Hoffmann's children Lucas and Marina) was established in 2004. The Parc des Ateliers site was acquired in 2013.
– Construction of Frank Gehry's tower began back in 2014, at a cost of €150m.
– The tower consists of 11,500 bricks, each of them unique and numbered.
– The tower's height is 56 metres above street level, with two floors beneath the building – the reason being that over a century ago the Luma Arles site was originally excavated from a hillside to allow perfectly flat entry for trains.