Christian Rock / Nashville
Deity dancing
Part-sermon, part-rock gig, a new breed of church service is spreading God's word – and boosting record sales.
The cool kids walking into the venue look like they've stepped off the streets of Brooklyn. Dressed in ripped skinny jeans, oversized T-shirts and trainers, hardly anyone seems to be over the age of 25. Despite the torrential downpour of almost biblical proportions going on outside, they've still managed to mostly fill the 800-seat space. But they don't stay seated for long. Indeed, as soon as the lights come up they're on their feet, hands raised above their heads. But this isn't a rock concert; in fact it's a weekly, Tuesday evening church service led by The Belonging Co in Nashville.
Worlds collide in Tennessee's booming capital. While everyone in LA seems to be a struggling actor, here in country music's long-time fiefdom they're all aspiring songwriters or producers. Yet despite the flowing alcohol at the tourist-trap music bars that line the downtown strip on Broadway, Nashville is also one of the US's most pious metropolises, a buckle in the Bible Belt where residents will joke that there's a church on every corner. The Belonging Co – founded by Australians Henry and Alex Seeley three-and-a-half years ago – fuses these two worlds.
"They moved here because they felt God telling them to go to Nashville," says 24-year-old worship pastor Andrew Holt as the musicians warm up. "They began meeting musicians who weren't going to church on Sunday because they were on tour. The church started in the basement of their house."
With the two-hour service in full swing – held on a Tuesday alongside the traditional Sunday one so that musicians back from their weekend gigs can attend – Holt moves to the front of the congregation next to the raised stage. The Belonging Co – with its "charismatic" worship that borrows from evangelicalism – is clearly influenced by Australian mega-church Hillsong (see panel, below). There will be Bible readings later but for now it's about the music, as one worshipper near Holt drops to his knees in a trance, starting to gently rock backwards and forwards. The two musicians helping provoke such communion are husband-and-wife duo Kari Jobe and Coby Carnes. The pair lead what's known as "worship music": a way to praise God through lyrics flashed up on a big screen behind the musicians. "You're never gonna let me down," belts out Carnes, face creased with concentration, as the crowd sings along. But this isn't some hippy-dippy Jesus lookalike strumming a guitar, nor are these stuffy hymns followed by lemon-drizzle cake. It's pure pop, with the razzmatazz of a stadium show.
Both Jobe and Carnes are signed to ccmg (Capitol Christian Music Group), the largest Christian music conglomerate in the world, accounting for more than 40 per cent of the US's output in the genre. The record company is headquartered in a red-brick building south of The Belonging Co's downtown venue in the suburb of Brentwood. The group may now be owned by Universal but the same family has been at the helm since it was born as Sparrow Records (still the flagship label) in 1976. It was originally established in LA but the combination of churches, Christians and musicians meant that Nashville seemed like a logical move in 1991.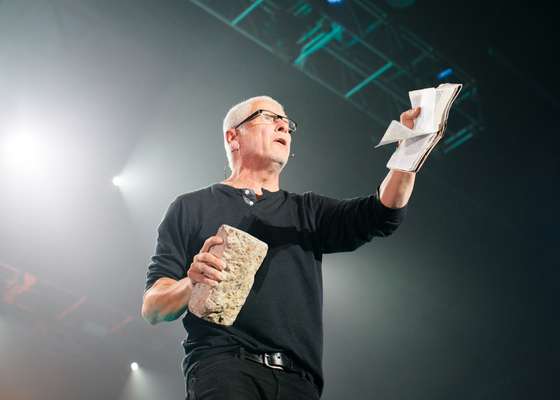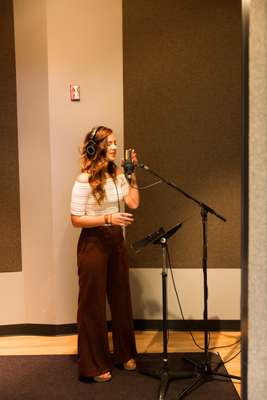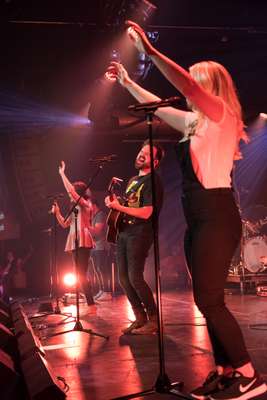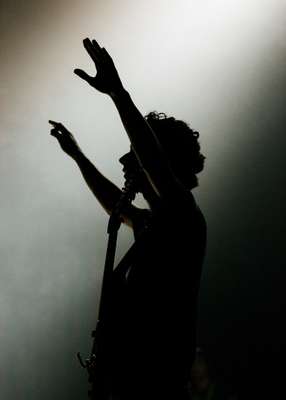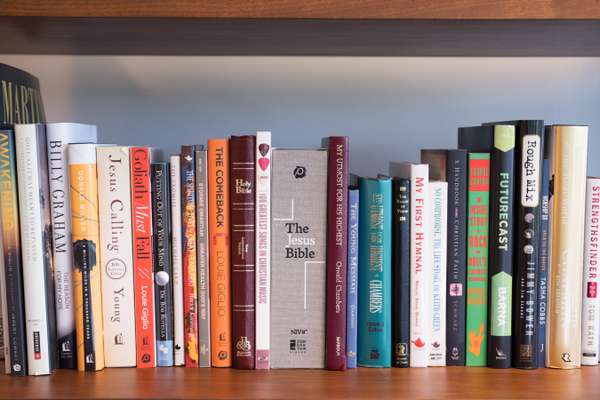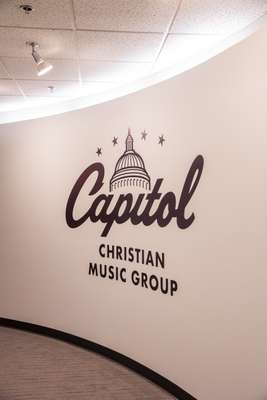 Sat in one of the boardrooms, CEO Bill Hearn is describing his father – and founder – Billy Ray, whose presence still looms large over the company despite his death a few years ago. "He wore his hair a little long; he was progressive and kids loved him," says Hearn with a smile. Billy Ray founded the world's first contemporary Christian record label, Myrrh, before forging his own path. Not that it was always an easy one. "My dad was the first minister of music ever to bring drums and electric guitars into Baptist churches back in the 1960s," he adds. "They resisted it but eventually they saw that it drew young people, so they realised they had to embrace it even though they didn't really like it. They thought it was secular in nature and the devil beat."
Skip forward to the present and contemporary Christian music now has a firm market foothold. But both Hearn and ccmg president Peter York – sat across from Hearn and part of the company almost since inception – remember when contemporary Christian music was practically relegated to the status of contraband. They say it wasn't until the mid-1970s that bookshops stopped selling CDs under the counter and in brown paper bags, scared the older clientele would refuse to shop there if they found out what was going on. A lot has changed since then, none more so than the musicianship. "Our goal is to make the best-quality music we can make, not just the best-quality Christian music," says York.
Yet Christian music – which represents about 3 per cent of US audio consumption share and sells more than jazz and Latin combined – continues to be unique. Because while it can span anything from pop and rock to hip-hop, it still gets lumped together as one genre. "Christian music is the only genre that is categorised on the lyrical content and lifestyle of the artists, as opposed to the music," says Hearn. Which means clean living and singing about God, whether from a lifestyle point of view (rock, pop et al) or in exultant praise (worship music).
Down in one of ccmg's studios, 17-year-old Riley Clemmons – raised just north of Nashville – is testing a few lyrics. Precocious and polished, she is the latest signing and set to release her debut album at the start of next year. A self-confessed mega-fan of Ariana Grande, she says her style mixes pop influences with southern gospel. "I think that Christian music has to keep up," she says. "Now is the time that the moment is starting."
The execs at ccmg, meanwhile, are hoping she'll prove a crossover success. "She's one of those artists where it's going to be important to get the younger base to give their stamp of approval – and so the record has to sound super-progressive – but we also think we can get her played on AC radio," says Hudson Plachy, senior vice-president of marketing and with the company since he left university.
What Plachy says about radio is key. AC – or adult contemporary – is the traditional format of Christian radio and it tends to be dominated by the safest incarnations of rock and pop. Christian music's core demographic is still dominated by the stay-at-home "soccer mom" from Middle America and radio's 700-odd US stations remain the main outlet for reaching them. The gatekeepers of radio – and its donors in what remains a mostly non-profit endeavour – also tend to be the old guard who forged contemporary Christian music and are more resistant to change. The idea is that Clemmons can still be a family favourite, like the successful Matthew West, but also appeal to the youth market. Indeed, she's already guested on a single with Floridian Christian hip-hop duo Social Club Misfits, a group that wouldn't normally get Christian radio airplay because hip-hop is still deemed controversial by the contemporary Christian crowd.
Down the road at The Well coffee shop – founded by Christians – another of ccmg's artists, Mandisa, is sat at an outdoor table and has already agreed to have her photo taken with a fan. A former music reality-TV contestant with a Christian Grammy to boot, she may get a bag-full of Christian music airtime but she argues that she is equally genre-defying because she is African-American.
While ccmg may have a small imprint – Motown Gospel – specifically focused on black gospel music, the majority of the artists covering contemporary Christian music are white. She says that bridging the gap between gospel and contemporary "was a scary thing" but she wouldn't want it any other way now. "The walls in Christian music are being broken down."
Still, the only time that all Christian styles seem to come together is at Nashville's annual trade awards – the Doves – organised by the Gospel Music Association every October. And the days when there will be a station that plays everything from urban to worship via rock and pop seems a long way away, something lamented by Ben Glover, a songwriter as prolific in country (he penned Lee Brice's "Hard to Love") as Christian and signed to ccmg's publishing arm. Like many small music businesses in Nashville, Glover's Berry Hill studio operates out of a timber bungalow. "It would be nice for my daughters to have something that was the Taylor Swift equivalent of hip-hop on the radio," he says.
With rock "dead", according to Glover, the rebellious side of Christian music is clearly hip-hop. Word Entertainment, another Christian label, is eyeing up its future, setting up new imprint 4 Against 5 specifically for Christian hip-hop. Led by producers Joseph Prielozny and Chris Mackey, aka "Dirty Rice" – both formerly of Atlanta's Christian hip-hop label Reach – it signed Michigan rapper Steve Malcolm last year. The pair are clearly at the liberal end of the spectrum, with Mackey joking that they make music for "the soccer mom's kids", adding that hip-hop represents many people not previously included in Christian music. "In hip-hop you have to be bold," says Prielozny. "The nature of it allows the lyrics to be more raw." Without being profane, of course.
Not far away, in a similar house to Glover's, the booming beats and smooth lyrical style emanating from the speakers are proof that the Christian hip-hop scene is alive and well. Derek Minor is listening to his latest marathon of music, a collection of four stylistically different EPs, as he stands next to his producer, Jonny Grande. Like most Christian artists pushing the limits he's aware that the kids don't listen to radio any more – streaming is where it's at, meaning radio's intransigence doesn't really matter. Artists such as Social Club Misfits, NF, the New Respects and Craig Mack – a one-time New York gangster rapper turned South Carolina Christian – are taking off, and not solely among the faithful. "The music stands on its own," says Minor defiantly. "I just happen to be a Christian."
Run for the Hillsong
When it comes to worship music the church of the moment is Hillsong, which was founded in Sydney in 1983 and now has destinations around the world, with a weekly worldwide attendance of about 100,000. It appeals to young urbanites with its pop and indie-style music, and young pastors. It has three house bands with rotating members, one of which is Hillsong United led by Joel Houston, son of Hillsong founders Brian and Bobbie. The group released album Wonder earlier this year and recently played at the Outcry Festival in Dallas, which is a key cog in the massive Outcry Christian touring machine.