Retail / Global
Distant beacons
Wealth, taste and élan are not only found in big cities – and these three top-tier retailers have found sustainable fame in surprising locations.
Opening a boutique away from a major capital can be a canny move for retailers looking to tap into underserved markets. We profile three players who have turned their cities into fashion outposts.
---
Along the shoreline of Lake Maggiore, on one of northern Italy's typical small-town shopping streets of bakeries, jewellers and chain stores, there's an unexpected splash of glamour. Some of today's most desirable fashion brands fill shop windows belonging to the Vietti family. In 1952, Maria and Vittorio Vietti first opened their namesake shop in Arona, an hour's drive from Milan, shortly before Italy's boom took hold. In just a few years it became the territory's most significant fashion destination.
Today the shop is run by Maria and Vittorio's children and grandchildren. The original location has brought its discerning luxury formula to two more Arona offshoots, as well as locations in nearby Gallarate, Domodossola and, most recently, the Swiss town of Crans-Montana. All are small but well-to-do towns and, apart from Gallarate, boast a growing number of year-round tourists in search of nature, ski slopes and a bit of shopping. Nevertheless, it's still a surprise to find shopfronts along their thoroughfares filled with Prada, Loewe, Sacai, Ferragamo and cult niche brands that seem daring to sell beyond a big city.
"It's about being a point of reference for the whole region," says Andrea Vietti, a 22-year-old blue-eyed blonde and the younger of two grandsons in the business. He sources cutting-edge streetwear lines for the shops – Misbhv, Off-White and Undercover among them – which sit alongside luxury brands including Brunello Cucinelli and Dior. In Italy's saturated market of multibrand shops, heavyweight labels generally limit their sales to the most significant metropolitan areas. "Our stores are not in key cities but our objective is to enhance the value of our locations," says Andrea. And convincing the labels to sell with them is a Vietti family strength. "Brands know we'll stick around and so will their accounts," he adds. It's a collaborative trust that was born with his grandparents.
In her home above the original shop on Arona's Via Cavour, a smiling 95-year-old Maria, bearing the same blue eyes as Andrea, recalls the struggle of convincing companies to supply the fledgling boutique. With her husband, who passed away years ago, she stocked the barren shop shelves with empty shoeboxes to give the impression of a successful business and would ride her bicycle to artisan workshops to plead for merchandise. In time, it worked. "We never had a moment's rest with so many customers," she says.
Vietti launched its own online platform in 2015. The site has brought Vietti's selection to a global clientele, fortifying the business against Italy's sluggish economy. Stefania Russo, a saleswoman who's worked at Vietti for 24 years, believes that the exclusivity of luxury is over. "The online market did away with that," she says. "But Vietti still manages to source hard-to-find pieces." Behind her, in the Roberto Baciocchi-designed women's shop in Arona, are specially produced hand-painted Zanellato bags. Vietti negotiates a number of limited edition and even exclusive items.
At the men's shop, Andrea is showing off a limited-edition Y-3 trainer, as well as a custom-designed handmade loafer, the inside branded with Jerald Wilton X Vietti. "We can offer fashion that you would never dream of finding in a little town like this."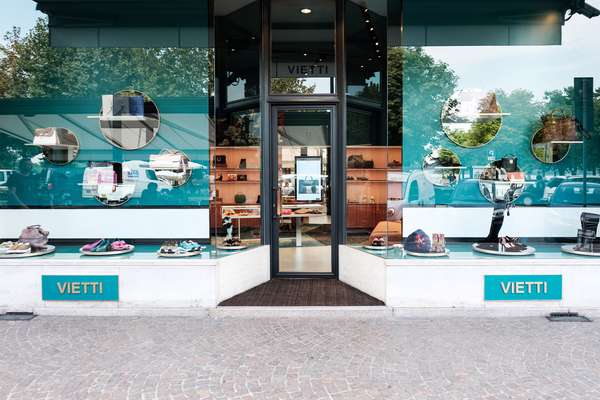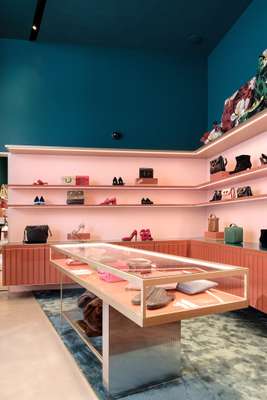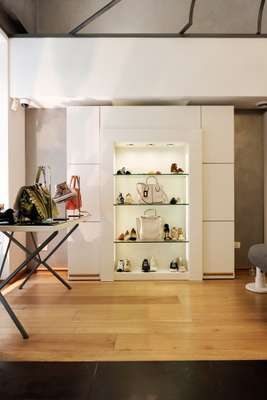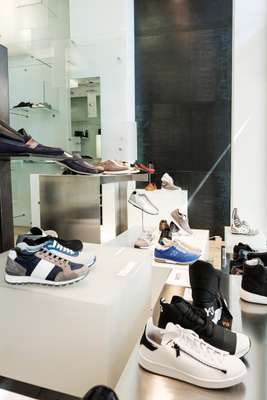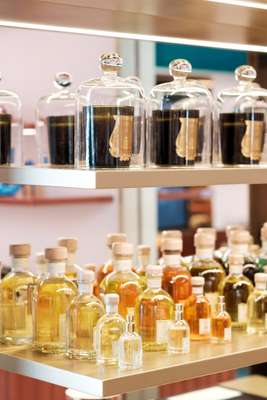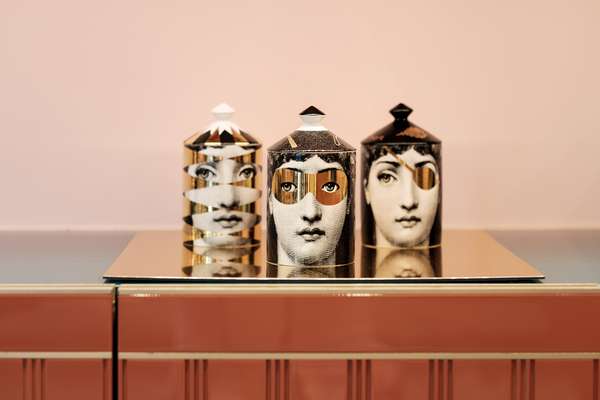 Top customer
Chiara Iacomelli
Law-office receptionist
How did Vietti become your favourite shop?
I started coming with my mum, who was already a client, seven or eight years ago. It's difficult to find a shop that treats customers as personally as they do. Plus, anything I find on their website I can ask to have delivered to whichever store I prefer; I can try it on or buy it there.
What do you like to shop for?
I probably buy about 15 pairs of shoes and four or five bags from them a year, alongside clothing – and different brands because I like to mix things up. Their store is perfect because they have a huge selection that you can't find in other shops.
Do you find this shop keeps you from having to go to Milan to do your shopping?
Absolutely. Milan stores target a single taste but here they have everything – not just for local taste where people maybe are a bit more provincial and appreciate logos. Vietti has options for the logo lovers but there are people around here like me looking for something more fashion-forward; they do a great job stocking those kind of clothes too.
"Making a multibrand shop work is much like putting together the right flower arrangement," says Rosa Orrantia. "With so many different styles, colours and shapes at your disposal, you can create the perfect look for anyone." For 32 years, the Bilbao native has been battling against her city's straight-laced sartorial current from inside her fashion-forward shop. Offering Comme des Garçons and Issey Miyake, even before Gehry's Guggenheim museum put the city on the map, has seen Persuade become a design beacon in its own right.
"When I opened my first shop in 1984 people would walk in, look me in the face and tell me I wouldn't survive," she says. "My style was anti-establishment." Yet more than three decades later the naysayers have been forced to eat their proverbial hats. Orrantia hasn't just outlasted many of her retail rivals, she's also expanded. Her current shop now covers 350 sq m, stocks more than a dozen labels, including Bless and Paul Harnden, and even has a rear repository filled with Chinese antiques.
As a bastion of industrial wealth, Bilbao's style has long bordered on the uniform. Men seem to love striped shirts, the women display an affinity for conservative colours and cuts. While this subscription to sameness is typical of many smaller cities, the presence of Persuade has given more individual minds an outlet to express themselves.
"Being a lone wolf may seem like a challenge but it's a strength too – we stand out," says Orrantia. Today her loyal customers include the upper echelons of Bilbao society. Mothers introduce their daughters, who then bring their grandmothers. While we are speaking, a German man stops in, makes a purchase and says the shop is always part of his itinerary when visiting Spain's north.
Bilbao's art-inspired regeneration has also cultivated a home-grown class of creatives. Thanks to Orrantia's inspired selection they no longer have to make the 400km slog to Madrid when looking for a more expressive ensemble. "We've survived by pursuing our own truth: stocking labels that share our commitment to utmost quality. And we eschew mass-production for the handmade." In some instances this philosophy has prompted her to drop labels that opted for cheaper offshore production.
Nonetheless, this resolve continues to be challenged on many fronts. She laments the ubiquitous influence of fast-fashion as a scourge on every city and has resisted pressure to sell online, preferring to impart her wisdom in a more personal way. "As we say in Spain: la avaricia rompe el saco [greed breaks the bag]."
This bullish approach may have cemented her shop's status as northern Spain's most fashionable outpost but it has also provided Bilbaínos with the threads needed to stitch their own sense of style. Her secret is clearly spelt out on the shopfront; a patient ability to persuade successive generations to care about quality. "Retailers are on the frontline," she says. "It's our responsibility to ensure these brands don't disappear."
Top customer
Miren Lore Garmendia
Artist
What – and how many pieces – do you buy?
I started out purchasing the occasional unique pieces but shop more frequently – usually monthly – with a focus on more prêt-à-porter. I recently bought some Maurizio Amadei sandals, a summer dress by Issey Miyake and a Comme des Garçons skirt. I believe in wearing everything in my wardrobe – clothes are made to be worn!
What do you specifically like about the shop?
The space itself but also the designers. Rosa has such a considered selection of garments – each piece makes such a clear statement.
How does Persuade fit in Bilbao's retail landscape?
This shop isn't just unique for Bilbao or the Basque country but also for Spain. If it wasn't here I'd probably be forced to travel around Europe to shop.
Where else do you shop in the city?
There just isn't anywhere else for me. However, if I had to choose somewhere it would be small independent shops such as Otegi in my home village of Ordizia.
How has Persuade shaped your individual style?
It's never been about attracting attention. I'm passionate about well-made things; wearing quality clothing gives me a sense of wellbeing. For me this has always been the shop.
For Laura Vinroot Poole, the owner of Capitol in Charlotte, North Carolina's largest city never seemed like an odd location for an upmarket women's boutique. "Bank of America and Nascar are based here – these are companies where people travel all the time and do really interesting things," she says. "Yet they were all wearing the same stuff." Growing up Poole watched as her mother's friends went shopping in New York and came back decked out for the charity events that inundate the well-to-do's social calendar in the city. "I thought it was strange that you couldn't do that at home," says Poole, her hands tucked into the pockets of wide, cascading Céline silk trousers. "I knew that people here were more sophisticated than we got credit for."
By 1997, when Poole moved back to Charlotte after finishing her arts studies in nearby Chapel Hill, there was still no fashion shop servicing the soirée-goers. That's when the idea to open her own place was born. Now about to celebrate its 20th birthday, Capitol has become a destination renowned across the country – yet it remains tucked away in an unadorned suburban strip mall, hidden behind a red-brick façade. What awaits shoppers inside, however, is an explosion of colour and patterns from the likes of Gucci, La DoubleJ, Peter Pilotto and some 60 other designers. "A lot of women come in here and they feel like they are going through their closet: there is something less intimidating about feeling like you're not going to mess things up," says visual director Scott Newkirk as he looks at the racks bulging with stock – a marked departure from the sparse look that many concept stores opt for today. "It's funny: sometimes I feel like we are bursting at the seams but it all gets sold."
Over the past two decades online retailers have dramatically transformed the US's retail landscape. But where many big-box department stores have been defeated, Capitol has managed to resist – even thrive. "What we do is special because we have a beautiful space, an incredible edit and amazing service," says Poole. Her individual approach to buying (which includes a penchant for the colourful) has won Capitol its zealous following and her personal touch can be felt in the service too. About 40 per cent of the shop's stock doesn't even make it onto the rails but instead goes straight to a client's wardrobe – hand delivered of course.
Poole ensures that her seven-strong team of stylists know their clients' calendars a year in advance so that they're prepared for anything, from debutants' balls to summer parties. That also means making sure nobody inadvertently turns up in the same outfit. Charlotte is, after all, a small city – only 300 or so people will attend the city's biggest gala in November and a staggering 70 per cent will be Poole's clients, so planning is essential. Yet despite the city's size, when it came to choosing where to expand with her menswear venture, Tabor, Poole stuck to home ground, opening in an inner-city suburb. "What we do best is our service," she says with a wide smile. "I don't know if we could do that in another town."
Top customer
Charlotte Harris Lucas
Interior and textile designer
With Capitol here in Charlotte, do you still go to bigger cities for shopping?
The good thing about Capitol is that this is the best of the best of what you could find in New York. You truly don't need to go anywhere else.
Do you think that shoppers in Charlotte have a distinctive sense of style?
It's definitely vibrant and colourful: people aren't walking around the streets wearing black like they are in New York. Due to the weather and the climate, people's wardrobes change with each season here. When spring arrives out come the florals, pastels and bright colours; when fall hits it's time for plums and other dark shades.
How often do you tend to shop at Capitol?
I work full-time and have two young children so my shopping time is limited. A stylist pulls things out especially for me for any events that I have coming up. That is what I love about it: people are thinking about you when you're not able to think about yourself – and thinking ahead of time too. If I was picking out my outfits all the time I think they would plateau at a certain point. You need somebody to keep pushing the envelope for you.