Designers / Buenos Aires
Don't cry for me, buy my jumper
Running a fashion business in the Argentinian capital is a fight for survival – but designers are making this tight-knit scene work.
"To be a fashion designer in Buenos Aires you also need to be an engineer, an economist, a taxi driver – and you need to be street smart. Doing business takes you to extremes; everything is against you." As one of the city's most celebrated designers, Jessica Trosman of the brand JT dons all these hats – collecting samples if a delivery man fails to turn up or fixing a broken AC unit in her flagship store – as she rides the rollercoaster of conducting business in Argentina.
In a country known for its stability-to-bust economic cycles, entrepreneurs with a global business plan must overcome hurdles such as exorbitant new-exporter fees and 21 per cent export tax. Let's not forget inflation, which was at 36 per cent in 2016 and is set to close at 24 per cent in 2017, the highest in the region after Venezuela.
As a result, running a fashion label or shop here is a battle for survival, and designers must possess ingenuity and guts in equal measure. It also means that Buenos Aires' fashion scene is something of a bubble: the city is renowned for being a chic destination but European and Japanese consumers are unlikely to see the names of many Argentinian designers in their shops; buying Hecho en Argentina ("Made in Argentina") outside the motherland is a rarity.
Trosman is one of the few Argentinian designers to have made a name for herself abroad, selling conceptual – often brightly coloured, sometimes deconstructed – womenswear to Hong Kong and Italy. (Her former business partner Martín Churba of Tramando represents another rare export success story.) She has also built a mini-empire in her hometown.
In full sight of Club Atlético Atlanta football stadium, her Villa Crespo warehouse-turned-concept store houses a workshop, studio, offices and Yeite café. The Recoleta branch, meanwhile, is the third JT shop to open in as many years. But Trosman can't let her entrepreneurial guard fall for one minute. "The government used to subsidise electricity in Villa Crespo but when they removed it earlier this year, my monthly bill skyrocketed from ar$4,000 [€198] to ar$18,000 [€890]. That's the challenge: being creative while doing business," she says.
Trosman and Churba are two of the bigger names to have cracked it abroad but other smaller labels are also making inroads. A designer known simply as Maydi has overcome the complex export environment to reach buyers at boutiques such as Milan's Biffi and Tokyo's excellent Biotop. A sustainable designer who loom-weaves organic merino and camelid yarns from Patagonia and the province of Jujuy, Maydi cut her teeth in fashion PR in Paris before working in the design teams at Hermès and Sonia Rykiel. In 2012 she returned to Buenos Aires with a bulging contacts book and the desire to show off Argentina's contemporary craftsmanship. But selling one-off handknit dresses and scarves isn't without its headaches.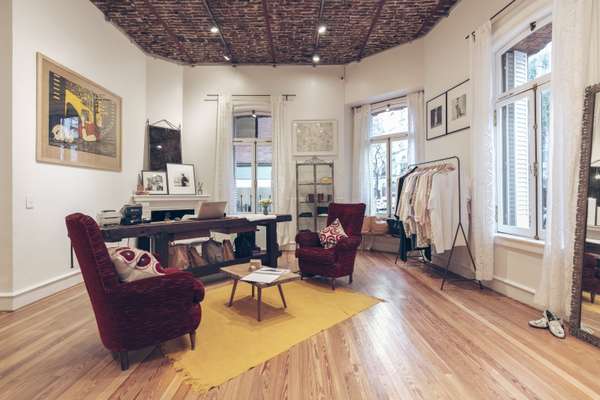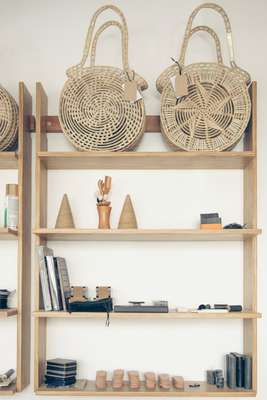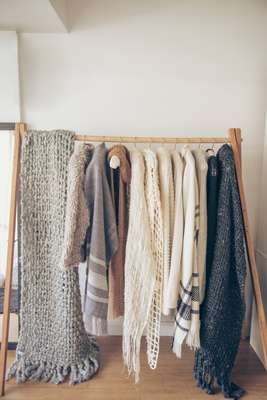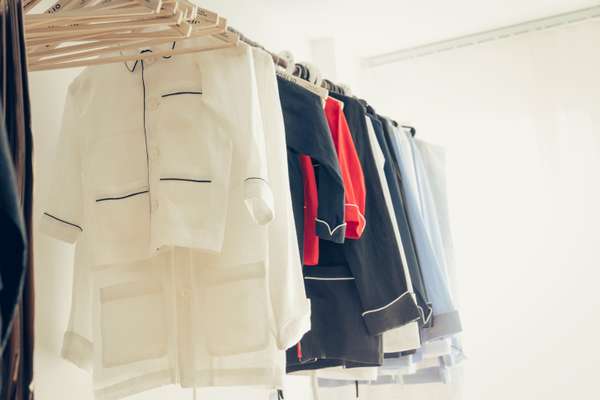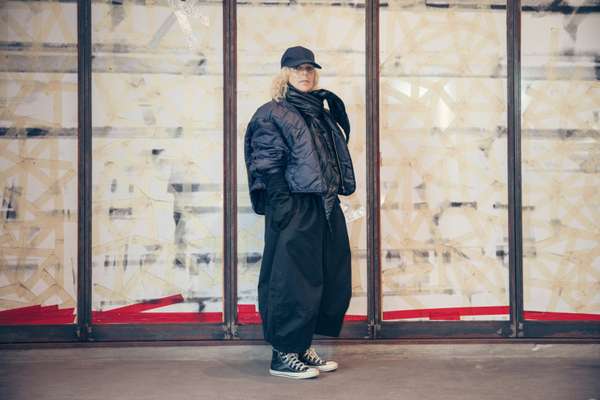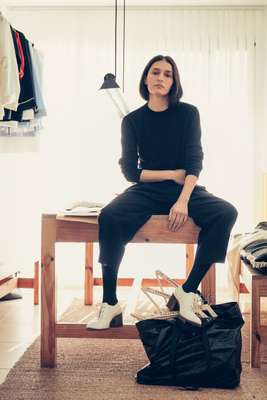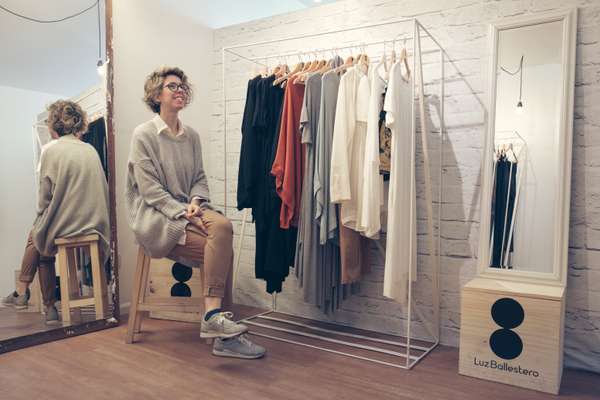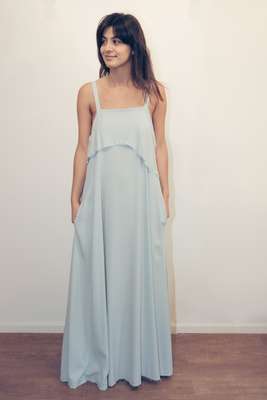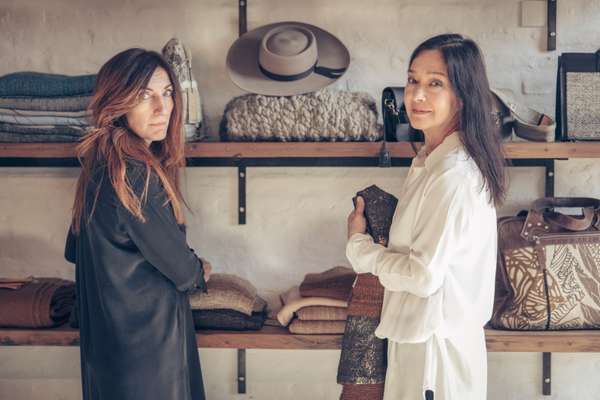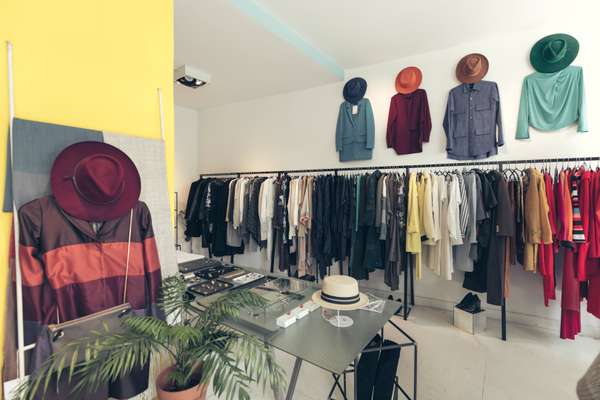 "I started registering as an exporter but the initial fee is ar$30,000 [€1,500] – that's before shipping anything. My business is too small for that to be financially viable." Instead she hired an export trader to handle the laborious paperwork to get her brand into Asia and Europe. Finding such solutions and keeping her brand's profile alive by regularly travelling to the Paris shows – coupled with a resolute attitude – recently led to her largest order to date: 201 sweaters for Tokyo.
Like many of the best independent designers in Buenos Aires, Maydi works with local manufacturers: she has contracts with seven knitters in the capital who have a lifetime of knowledge (the eldest is 70). "I see these ladies as artists. The younger generation doesn't know how to knit. I'd love to set up an ngo to teach these skills that will allow their work to continue." Japanese buyers in particular would approve of such a move. "In Japan they value handmade products and the high-quality raw materials that Argentina is known for – plus my minimalist designs fit in with Japanese aesthetics," she adds.
Low-scale local manufacturing is also the norm for designers Luz Ballestero and Celina Carzoglio; the latter hires an artisan who works from home at night as his second job. These relationships are prized. Carzoglio launched her sleepwear brand this August with a line of classic red, white and navy piped linen pyjamas. "My manufacturer used the 50 per cent advance I paid him for 150 pairs of pyjamas to purchase two new sewing machines," she says. "He worked evenings and weekends to meet my order but made three times as much as he does at his day job."
Most designers have built their business around selling solely in Buenos Aires. Cata Chavanne, founder of Blue Sheep, started her knitwear brand by producing 1,000 sweaters in 2013; four years on it has grown substantially. Angora and merino wool pieces form the backbone of her collections, and at her multibrand shop in the historic La Colorada building in Palermo Botánico the shelves are lined with cosy cardigans and polo-necks. Yet despite enviably fast growth Chavanne, who previously worked at Roberta Freymann in Manhattan, thinks locally rather than globally. "We [Argentinian designers] just aren't competitive. Nepalese cashmere is cheaper than Patagonian merino; by the time I ship, no one will buy my sweaters. I turned down a deal with a potential New York client, telling them it wasn't worth their while. That won't change unless the dollar rises against the peso." Chavanne sees another benefit to selling her clothes in Buenos Aires: "I personally attend to my clients, which is important to me."
One of the capital's most established independent labels, coatmaker Manto Abrigos, has also homed in on local shoppers. Co-founders Clara de la Torre and Diana Dai Chee Chaug work closely with three indigenous communities from the province of Salta. Known for knitting ponchos, these communities work with Manto Abrigos to create vibrant fabrics adapted to the brand's patterns. Their handknitted overcoats have clocked up plenty of airmiles over the past 17 years, at one point selling to London and New York. But the 2008 economic crisis coupled with Argentina's rising inflation meant international demand dried up.
Today, De la Torre and Chaug concentrate on the local market from their Manto Abrigos showroom, in a former textiles factory in Villa Crespo. They wow a faithful Argentine client base as well as tourists from Russia, the Netherlands and India on personal-shopping tours. "A showroom gives clients the chance to see materials and even design their own overcoat," says De la Torre.
For Maydi too, shopping tours are a vital source of income. "There is a high season between December and March. Of every 10 clients a personal shopper brings to my showroom, eight buy from me: that's 40 per cent of my showroom sales." Indeed, for many designers, showrooms are the main avenue for sales. Expensive rents make it tough to establish a storefront so converting a bijou apartment into a showroom is one way to keep costs down. "Many of my clients discovered my products in multibrand stores then wanted to discover the Maydi universe, preferring to buy directly from my little showroom in Las Cañitas," says Maydi.
One standout showroom belongs to former journalist Josefina Romero, a silversmith and founder of the Romero accessories label. Her star product is the palm leaf canasto (basket) bag handwoven by Chaco's Qom indigenous community. She filled her mother's spare room with them to save on storage costs but exporting is out of the question. From her airy space above Farinelli café in Palermo Botánico, she says: "Shipping is expensive and paperwork is too complex, so I sell from my atelier-cum-showroom, plus at multibrand shop Panorama."
Showrooms have become even more prominent given that multibrand retailers are going through hard times: Buenos Aires' most ambitious one closed down in July. The brainchild of womenswear designer María Cherñajovsky and her husband Gabriel Brener, Editor Market opened to huge acclaim in 2015 on Avenida Corrientes; shops in Palermo Hollywood and Nordelta outside the city quickly followed. All three have shut, a blow felt by Carzoglio who was in talks to sell there.
One concept shop that's still standing is Tupã, opened in 2013 by designers Martín Boerr and Agustín Yarde Buller. "We wanted a family of designers under one roof, people on the same page as us who deal in local fabrics or have sustainability ethics," says Yarde Buller. Community connections give designers an important boost: Maydi has been a fixture at Tupã from day one, while Boerr and Yarde Buller co-founded the collective United Creators with seven other young brands. "Collaborations are the future. We host sample sales, team up for promotions and we're planning a show – all of that benefits our retail clients," adds Yarde Buller.
Argentina's brutal economic climate means its designers are resilient and eager to show their wares to the world. If export prices allow Argentinian brands to compete on a level playing field, Chavanne would love to tackle the US market. "My designs can hold their own," she says.
They're certainly up against it. Maydi sent those 201 sweaters to Japan but completing the shipment to such a demanding market was a struggle. "Two days before the items were to be dispatched one knitter said, 'I'm tired, I can't knit anymore.' An incomplete order and shipping delay would have lost me the client; that was stressful." But jumping all the hurdles is worth it, according to Trosman. "Everything is against you but when you take risks to create something that isn't often seen, that saves you."
Blue Sheep
Women's knitwear.
Cabello 3791 PB-B, Palermo Botánico;
bluesheepweb.com.ar
Tupã
Multibrand concept store.
Lafinur 3132 Palermo Botánico;
tupastore.com
JT
Conceptual womenswear.
Humboldt 291, Villa Crespo;
jtbyjt.com
Luz Ballestero
Versatile womenswear.
José Ortega y Gasset 1585 6C, Las Cañitas;
luzballestero.com
Manto Abrigos
Handknit overcoats and shawls.
Darwin 1154, Block D-1A, Villa Crespo;
mantoabrigos.com.ar
Maydi
Handknitted womenswear.
José Ortega y Gasset 1575, Las Cañitas;
maydiaz.com
Romero
Leather, horn and silver accessories.
Bulnes 2705, Palermo Botánico;
romerolagache.com