Sport / South Korea
Get your skates on
Pyeongchang is hosting the 2018 Winter Olympics – and it's spending big on getting the games going.
There's a rumour going around South Korea that Pyeongchang, the north-eastern county hosting the 2018 Winter Olympics, has changed its English spelling, adding an "e" to avoid confusion with the North Korean capital Pyongyang. It's a funny urban legend that seems to have spread after Daniel Olomae Ole Sapit, a Kenyan member of the Maasai tribe, flew to North Korea in 2014 when his travel agent accidentally booked him a ticket to Kim Jong-un's capital instead of the Olympic county.
"I don't know how that happened," says Sim Jae-kook, the county's mayor since 2014. "We don't even have an airport!"
There were a lot of things Pyeongchang didn't have when it was selected as the 2018 Winter Olympics host back in 2011. The roads were old and public transport in between the villages nearly nonexistent – a particular inconvenience for a mountainous region twice the size of Seoul. Even within South Korea, Pyeongchang – today known for winter sports and ski chalets – wasn't always a household name. "I used to be embarrassed when I went up to Seoul and said I was from Pyeongchang because nobody knew where it was," says Sim, who has lived in the region for more than 50 years.
Now this quiet county is getting ready for its moment in the world's spotlight. Pyeongchang has been preparing for the Winter Games for a long time. Before winning the bid for 2018, it had tried and failed to host two previous Winter Olympics (2010 and 2014). Even before the official selection six years ago, Pyeongchang was already investing in a massive makeover.
By Sim's estimates, 80 per cent of the pre-existing roads here are being renovated. The South Korean government has poured at least €8.4bn into preparations for the Games – with more to come. More than two thirds of the funds have gone into building infrastructure, including a 120km railway for a bullet train that connects Seoul to Pyeongchang in less than two hours.
At Manjong, the first of the six train stops on the new Olympics Line, officials from the Korea Rail Network Authority are conducting test runs at a station still covered in scaffolding and filled with piles of construction materials. The line for this ktx bullet train must be completed by October and open in December. Kim Tae-hui took over as director of the project late last year. "I wanted to run away on the first day," he says, laughing. "When we finally did our first test-run [in August], tears came to my eyes."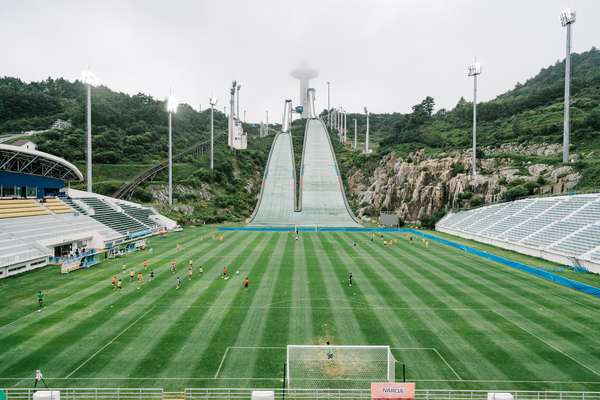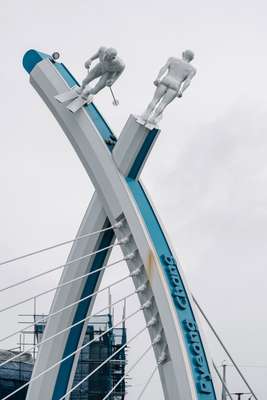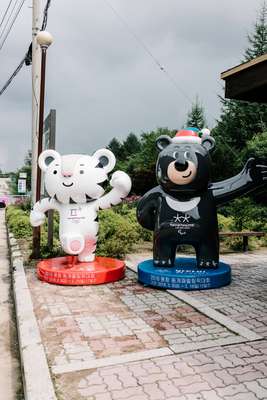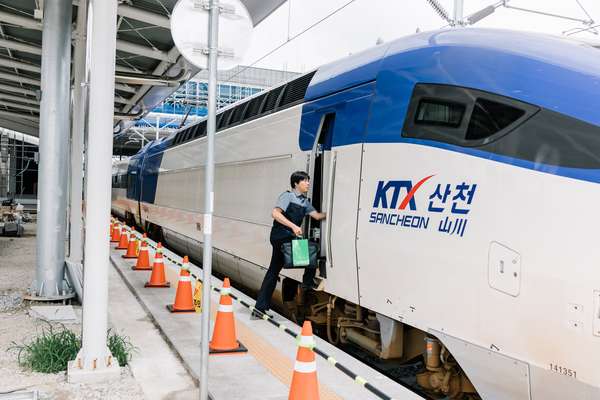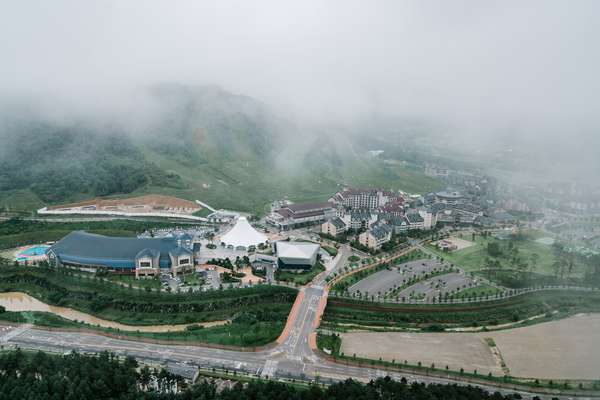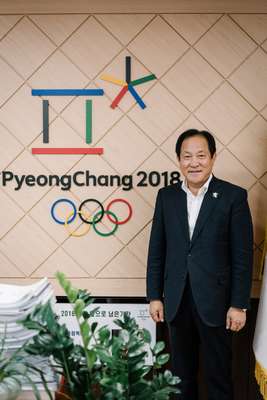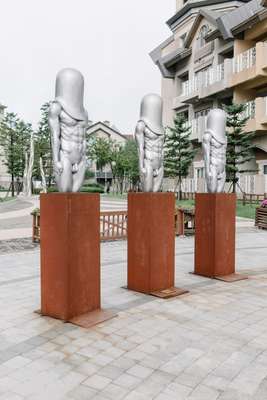 "If it weren't for the Olympics, this bullet train wouldn't have come into Pyeongchang until perhaps even 30 years later," says Sim. And why would it? Much of Pyeongchang is farmland, where people grow crops and breed livestock. Tourism is a crucial part of the economy but the county has never encountered the rush of visitors that the Olympics is expected to bring and it has existed comfortably for decades without a ktx train.
Now, all of a sudden, its residents are being asked to prepare for global prominence. Restaurants are being encouraged to include English menus and bring in tables for foreigners who might complain of sore legs if they have to dine on the floor. The county government is offering free "etiquette lessons" that will teach people how to be courteous and friendly hosts. Taxi drivers are taking English classes but still some are worried about the area's middle-of-nowhereness when hosting the foreigners. "International tourists asked me to introduce local restaurants but I couldn't really think of any," Kim Ik-rae, a taxi driver, told newspaper Joongang Ilbo.
The county, like many others in Gangwon Province, was traditionally a popular winter destination for Koreans. South Korea's first-ever ski resort opened here in 1975. But until recently Pyeongchang was virtually unknown to international tourists. Thanks to the Olympics, more foreigners are arriving as large tour packages now include Pyeongchang alongside stops in Seoul, Busan and Jeju Island.
"This is the place we like the best in Korea," says Mai Al-ahmadi, a 25-year-old tourist from Dammam, Saudi Arabia. A huge fan of Big Bang, a K-pop boy band, she's touring South Korea with her family. She had no idea where Pyeongchang was prior to the visit. "The tour guide said that when people retire, a lot of them come here. We want to do the same," she says, sitting inside the Alpensia ski resort in Hoenggye village where the main Olympic stadium sits.
During the three weeks of Games in February, Pyeongchang, along with other hosting regions Jeongseon and Gangneung, expect about 60,000 visitors a day, more than doubling the population.
A dearth of accommodation has been one of the largest challenges facing the county as Olympic hosts. There aren't enough large ski resorts to accommodate all the spectators, meaning that many visitors will need to stay in the more modest motels and hostels scattered far and wide around the county.
Oh Yeon-soon is a manager at one of those smaller hostels in Yakcho, a village half an hour away by car from Hoenggye. Yakcho is a picture-postcard of a countryside South Korean village: home to 150 residents as well as streams, rice fields and the sort of romanticised peace that visitors from Seoul find so appealing. It's hard to imagine the village during Olympic season, jammed with hundreds of visitors every day.
"They've been tearing apart the roads for two years," says Oh, who has lived here for the past 30 years. "All the construction is inconvenient for our guests." Her hostel, Duil Elementary School, formerly a two-storey school that closed in 2009 with just 10 students, now accommodates up to 50 visitors every night. It's long been booked up for the Olympics season. "Someone I know is charging tourists five times the regular price," she says, a common trend for Olympics accommodators. "But we're sticking to our usual prices."
Oh isn't the only one unimpressed by the hype. The arrival of the tournament is aggravating the county's north-south divide, presenting opportunities for some but not others. In a southern town called Pyeongchang-eup, where mayor Sim works, life seems to go on unaffected by the Games – other than the scaffolding covering the mayor's government building for external beautification. The old marketplace in town may have been renamed the Pyeongchang Olympics Market but that's without approval from the Olympics Committee. In fact, the committee is demanding that the market take down the name.
"There is a huge disparity between the south and the north of Pyeongchang," says Choi Seung-soo, the 28-year-old co-founder of Bread Memil, a buckwheat bakery in the southern marketplace. The ski resorts, key tourist attractions and Olympics venues are located in northern Pyeongchang. "I can't really feel that Olympic fever down here," he adds. Choi is also sceptical about how the Olympics will translate into a long-term improvement for residents, especially the young. Change and development are not just about the infrastructure.
"There has been no additional support for young entrepreneurs," says Choi, who has lived in Pyeongchang since he was seven. He started his bakery last year with his older sister, partly to prove a point that young people don't have to go to Seoul to succeed. He criticises the various Olympics upgrades for not addressing youth flight from the county or providing long-term opportunities.
Pyeongchang is an ageing county and is traditionally conservative, like the rest of Gangwon Province. The elderly voters here are used to politicians using the typically right-wing, hardline rhetoric against North Korea, whose border is little more than 100km north of Pyeongchang. Mayor Sim is from the leading conservative party, which suffered heavy damages during the recent corruption scandal that saw conservative former president Park Geun-hye impeached and replaced by the left-leaning Moon Jae-in.
When Moon took his first holiday as president in July, his first stop was Pyeongchang. His visit was a symbolic gesture, highlighting the importance of the Olympics, not just for Pyeongchang but for the nation. Moon has tried to position the Games as an opportunity to improve relations with its neighbours to the north, though there's little indication that the Winter Games will soften Kim Jong-un: two days before Moon left for Pyeongchang, North Korea test-launched a ballistic missile.
Whether or not North Korea participates, in a few short months this county will be covered in snow and visitors, acting as the banner of South Korean national pride. Nobody can quite predict what the legacy of the Olympics will be, nor how it will change the county beyond the bullet trains, new highways and street signs. But hopefully nobody will mistakenly fly to Pyongyang again.