Cosy corner / Dublin
Hero's return
The Canadian diplomat who foiled a terror attack is back in the country of his forebears: Ireland.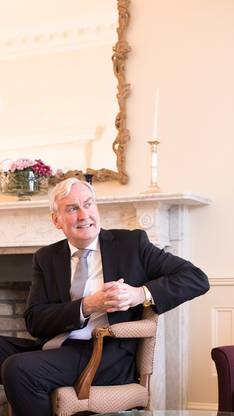 Inside the sitting room of Kevin Vickers' ambassador's residence there are a number of plump sofas and leather armchairs. But the Canadian ambassador to Ireland chooses to pull up a slimmer, upholstered seat next to the marble fireplace. Domestic and snug, this room is where he first receives officials who come to visit his Dublin home – and it's also the space he chooses when he needs to sit back and relax. With its pastel walls and soft carpet, it has a definite touch of the old school. But Vickers loves it mainly because being here brings back memories of family. "My first summer here in Ireland, my mother Monica came; she loved this room," he says warmly. "I can remember her sitting on the Chesterfield reading a book, with her grey hair and a cup of tea – she turned 90 recently."
Family ties mean a lot to Vickers, who took up the diplomatic posting to the country of his heritage in 2015; both of his parents' families lived in Ireland before crossing over to New Brunswick. "It's like Atlantic salmon: they go out to the ocean, stay out in the waters for a while and then they come back to the very spot where they were spawned," he says. "That's very much how I feel: like I'm back in the home pool."
Born in Chatham, New Brunswick, in the 1950s, Vickers grew up with the ambition of one day becoming a priest – or even, he admits with a smile, the pope. He ended up joining the police force instead. He was part of the Royal Canadian Mounted Police for 29 years, rising to the rank of chief superintendent before he took a job in Ottawa as the House of Commons' sergeant at arms.
It was in this role that he became a key figure in one of the only terror attacks in Canada's recent history. On 22 October 2014, he foiled an attack inside parliament by stopping a gunman who had shot and killed a soldier and was trying to enter the building. Vickers – who carried a gun for his role – killed the attacker in a close-range shootout before he could hurt anyone else. Vickers was celebrated as a national hero and the incident prompted a change of career: he was rewarded with the diplomatic posting to Ireland the following year.
It was thanks to his training as a police officer, Vickers says, that the events of 2014 unfolded as they did. "You just go into a mode that is calm," he says. "I think your training and your experience allows you to become masterful. There was never a second during that incident where I could say that I was scared."
And though a career in law enforcement may not be the typical background for a diplomat, Vickers says his past informs his work today. "We used to have what was called community-based policing, connecting with the people around you at a very grassroots level. I like calling mine 'community-based diplomacy'," he says. "I've hosted a number of events here – I presented 300 children at the school nearby with Canadian pins, and afterwards we brought them over, they had a little fire in the garden at the back and we planted a tree out front together. It's about bringing in people that wouldn't normally be invited to an ambassador's residence. I try to open it up as much as I can."
The CV
1956 Born in Chatham, New Brunswick
1976 Joins the Royal Canadian Mounted Police with a first posting to Peterborough, Ontario, where he was attached to the drug section
2006 Becomes sergeant-at-arms
2014 Foils terrorist attack inside the Canadian Parliament, killing the gunman
2015 Appointed Canadian ambassador to Ireland