Sportswear / Portland
Home run
Sliding US sales meant a rethink for Adidas; its global creative director reveals how the brand stepped up.
Adidas has engineered one of the most dramatic comebacks that the sportswear world has ever seen. In 2014 the brand with the three stripes was on its third strike: in the US market, the key arena for sportswear, it had dropped to number three in the sales charts after it was overtaken by upstart label Under Armour (Nike retained its top spot). The then 65-year-old company was losing relevance in an industry that prizes coolness and ingenuity above all else.
But it rallied, homing in on design by enlisting Paul Gaudio to be its first global creative director in 15 years. Gaudio, an effervescent force with piercing blue eyes, his wife's initials tattooed across his knuckles and a gentle Pittsburgh twang, had already spent 13 years at the company. (He'd worked in the digital, sports performance and design departments.) Now, for the first time in a long time, there was someone to oversee all aspects of Adidas's image, from advertising to shop design to its latest trainer and jacket models. And, in another bold move, the creative top dog would not sit with the ceo in Herzogenaurach, in Bavaria's hinterland, but in Portland, Oregon. It was a coup: the German juggernaut was coming to take America.
The effects have been breathtaking. In 2016, with a turnover of €19.3bn, Adidas's net global income leapt by 41 per cent year on year (hitting €1bn for the first time). Then, in the first quarter of 2017, it outperformed Nike in sales growth in both North America and China. These financial triumphs have gone hand in hand with a newfound credibility in sportswear and style circles.
Back in 2014, Adidas was a brand that you might look to for basic gym gear; now its mega-hit Ultra Boost trainer and collaborations with the likes of Raf Simons and cult Japanese brand Hender Scheme are displayed in the most agenda-setting boutiques. In some ways its success speaks to, and has perhaps even hastened, the confluence of the high-performance and high-fashion worlds. Athletics brands are becoming increasingly fashionable, while luxury maisons are sending trainers down the runway. The world's second-biggest sportswear company is colonising this shared ground. As well as being the sports brand of the moment it is one of the most in-demand fashion brands – and with Gaudio at the helm it is sprinting towards greatness.
MONOCLE: What conversations did you have in 2014 when Adidas's sales in the US were overtaken by Under Armour?
Paul Gaudio: Those events were not the impetus, they were more the outcome of internal challenges. As early as 2013 we realised that we were not going to meet our targets. We issued a couple of profit warnings. That was the impetus for change more than any external factor or competition. We realised we needed to make structural changes and focus on a different strategy. In the past our targets were financial in the purest sense – top-line, bottom-line – and there wasn't a lot driving people. That's the first thing we looked at: we said we have to mean more than a number. We asked ourselves: who are we, why are we here, what are we all about?
M: What was the main issue that you addressed?
PG: We tackled the culture of the company by literally putting design at the centre. Before, it was a separate department. We changed that by building design teams and creative leadership into each of the functions [such as basketball or Adidas Originals]. It was important to get design into the centre of the discussion around business and strategy. Now it is at the table with an equal seat. Each function has a creative director and a design team that is co-located with it, so there is creative leadership from top to bottom. In years past we thought, "Let's keep business and design apart; you don't want to limit what the designers are doing, you don't want them to be worried about margins." But I want to worry about margins. I want to make those compromises and be directly involved in that process.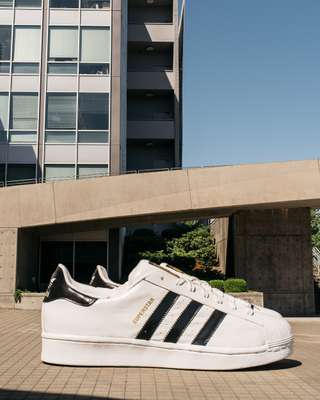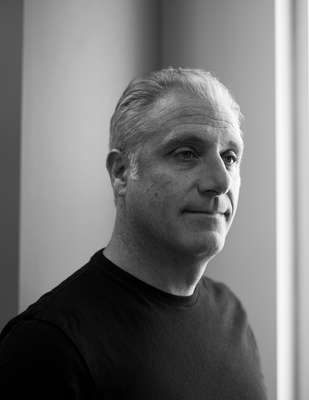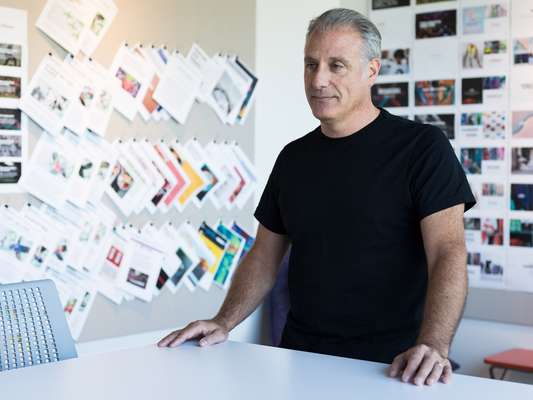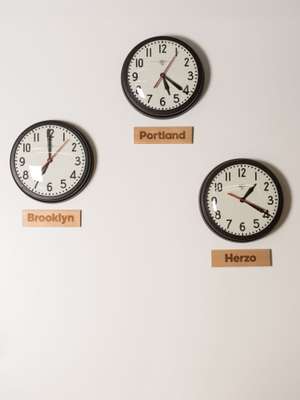 M: How did you begin to change consumer perceptions of a brand that is so well known?
PG: We had no visibility or awareness issues but we didn't have a sharp profile: we were amorphic. So the first thing we did was to sharpen some points that people could feel. We sharpened the brand messaging, imagery and the product-design approach. It's not like we turned around and hired a whole bunch of new designers. We just made the mission clearer and turned our designers loose.
M: What are some examples of 'sharp' bits that people felt?
PG: The Ultra Boost is a great example. Here was a $180 (€150) shoe with some bumpy foam technology on it. I remember thinking, "That is a cool running shoe." It looked different because of the innovations that went into it [such as the 'boost' foam sole] and when you put it on it felt different. The sales guys said, "We will never sell that thing," but it quickly started to change people's perception of what a running shoe could look like. That was the first shot we took. Once we saw that start to move we realised we can make compelling products that can change the industry. That was a "sticky-outy bit" that people felt.
M: How important is brand? Do people buy Adidas trainers because they want to buy into the brand or do they just happen to like those shoes?
PG: The brand plays a paramount role. If someone walks into a shop and likes a shoe but doesn't know the brand, they're probably not going to buy it. I'm not going to say it's the brand alone: they're not going to buy an ugly shoe. They have to go hand in hand. I believe in the power of the brand and those feelings that the brand elicits. It's an identity: do you see yourself in it? I don't think kids today are so brand-loyal that they won't mix and match but there's only a certain set of brands that they will consider. If you have a brand that a consumer can see themselves in, you're halfway home.
M: You live in Portland, Oregon: what was the thinking behind the global creative director being in the US rather than Germany?
PG: The fundamental issue was that we were in a head-to-head battle for market share – except here in the US. And we realised that not only was this the biggest opportunity for growth – we were under-indexed here, and still are – but it is also the most influential market for sportswear. So we wanted to be here with a bigger presence: to be closer to the kids and the sports here and to have more influence come from this market out into the rest of the world. Also, having the creative leaders sitting next to the US business gets back to the idea of bringing creativity closer to the business. This is the coalface for the brand: we're here to win in this market.
M: People have spoken about the 'Americanisation' of Adidas. Do you see it as a US brand now?
PG: We are a global brand and we have to be relevant all over the world. We are expressing more of our US personality. We are investing more in US sports, which projects a different profile. Basketball, American football, lacrosse: the culture of sport in the US is so ingrained in popular culture. And what happens here is exported everywhere on a massive scale. As an American I like the attitude around US sports. You go to high-school football games on a Friday night and you get a different vibe and set of influences. You see kids wearing your products, not just on the fields but in the hallways. All segments of life are represented on a Friday night at a football stadium. I bask in that. That is giving the brand energy.
M: What is distinctive about the US's sportswear market?
PG: Youth culture in the US is so deeply intertwined with sport culture, entertainment, music and fashion. It muddies together in such an exciting way here – more than anywhere else. You go to a basketball game and you see rappers on the sidelines. Rappers want to be athletes and athletes want to be rappers. Kids here are so evenly influenced by athlete-entertainers. Fashion has changed in the past five or six years: now more athletes know Balenciaga or Raf Simons. Athletes used to dress like jocks but now rappers rap about Raf Simons. So if I'm a footballer and I listen to asap Rocky, then I hear about Raf. Kids are much more knowledgeable about fashion, not just traditional sportswear.
M: Do you see Adidas first and foremost as a sportswear brand rather than a fashion brand?
PG: We are a sports brand. We know that sport doesn't stop at the sidelines but even our most fashion-forward statements still emanate from sport, whether it's our archives or silhouette, materials or technology. Without sport we don't have a fashion side.
M: Who are your main rivals?
PG: Anybody that competes for the attention of a young person. Netflix, Instagram: they're all out there competing for share of wallet. A kid only has so much money to spend. We have to give them a reason to spend beyond pure function. If I've got $200 and I'm 18, what am I going to spend it on? An average high-school age consumer in the US spends $1,000 [€840] a year on athletic apparel. That's more than any other market in the world but it's still only $1,000 for the whole year. So they might be able to buy a handful of things from us in the year.
Of course older consumers have more spending power and, when you look at the real value in the fashion world, those consumers tend to be older and have disposable income. They like to feel that they're buying a brand with cachet. I guess that some of the encroachment from the fashion world into sportswear brings competition but I'm fine with that because it's elevating the whole industry.
M: Do you have a target consumer?
PG: If we make 25,000 products every season they can't all be for one generic target group. But the person we talk about as our muse is in their late-teens or early twenties. We call them "the creator". They are the kid who is most influential – we like to say "the kid that gets the kid". In every school there's always that one kid who goes first, who is confident. That's the one we look for. We have them in each business: the football creator is maybe an 18-year-old from a Parisian suburb and he plays five-a-side in the street. He listens to certain music, dresses in a specific way and shops in certain shops. For the running creator we look to New York's running crews. They're not doing marathons in split shorts; they're doing it for fun but they're fast. They'll go for a run at 10 o'clock at night and then get a beer. That runner inspired Ultra Boost. They care about how they look when they run; they don't want to look like a traditional runner with a bib on. So you find those people in every sport, in every culture, that are the most influential and set those trends. Those are the people you create for.

Below that we have people who we call "amplifiers". These are most consumers. The amplifier is on the basketball team but they're not the kid wearing the most fashion-forward colours. But they're influenced by that guy and want to buy a piece of that. They might buy a step down because they're not that confident in their game. And then you get people – I don't like the word "value" but the people who are looking for basic gear. They just need shorts that fit them well. That is how we tier it: creator, amplifier, value.
M: What is the scope of your role? Are you more of an editor?
PG: I don't see every product or piece of communication that gets made. It's impossible: it would slow the whole thing down and I think it would limit us because I'm one point of view. We have 650 designers at Adidas. How could I possibly do that job? I'm here to unleash creativity and to paint a framework for people. The danger of me playing too much of an editorial role is that we don't move fast enough. Our consumer values newness more than anything. Speed is a big topic for us. In the past we might have waited and polished [a product] until it was perfect but then sometimes it's too late. It isn't new if it's second; it's way more important to be new. Now we prefer to say, "This is where we're headed, we're going to put this idea out there and let you know where we're going." It's about claiming that territory. We are obsessed with progress but not perfection.
M: Adidas is progressive with its manufacturing. How does using automated production technology benefit you?
PG: I don't need moulds, I don't need dye cutting [machines] and I don't need to order materials and ship them across the planet. I can enter data and have everything made right there, wherever we set up the 3D machines. Since it's not so labour-intensive where it's made, now I can make it in the market as opposed to a low-cost manufacturing country. With these processes there's much less waste and transportation costs. And, because you're closer to market, you can react to the dynamics in each one. Being able to make in the US or in Germany is a great benefit. People value the idea of something that's made in a home country or a home town. The whole future of what we make is wrapped up in these largely automated technologies.
M: Will all your manufacturing come back to Europe and the US?
PG: We make so many things that to say, "Everything we make will now be local" is ambitious. We want to make products for China in China and products for Germany in Germany – where it makes sense. We have a Speedfactory in Germany at the moment, and one is opening in Atlanta. The plan is to have a one in each market for each market. Just as the internet has flattened the world, this can do the same.
M: Where do you see the sportswear and fashion industries going?
PG: The retail world is clearly the biggest area of change. Everything is going e-commerce. Wholesale, you know what's happening: people are shutting down or struggling. Because we're selling direct we're doing fine on our own retail. But our e-comm is going through the roof. Kids want to go direct – if it's Adidas I'm going to go to Adidas to buy it – so the brands are becoming the sources now, whereas before it was maybe a Footlocker. People will still like to browse in the future but I think it will be a different experience: it might be showrooming, it might be picking things up or trying things on. Especially with luxury retail it will be more about an experience, learning something or trying something on rather than just grinding in the mall. They say that 80 per cent of all purchases start online; people see something online, they research it online. I think it's just a matter of time before more end online.
M: In light of that shift, how do you go about designing Adidas's bricks-and-mortar shops?
PG: First and foremost the shopping experience needs to be easy. When I walk into a shop I want to find what I want; it should make itself apparent and I shouldn't have to ask for help. Any design elements that can lubricate the shopping process matter. Get rid of the clutter, make it clear what you want me to pay attention to. What's the hot story? I want to see beautiful products against a clean backdrop, with inspirational imagery. I want to be able to check-out without waiting in line. I'm the king of this experience, don't make me work too hard.

Our shop designs take inspiration from US high-school football stadiums. These are stripped-back because they can't afford shiny fancy things; they're all concrete, cinder blocks, steel beams and hand-painted signs. The colour and vibrancy in our stores comes from the products and the imagery; the [spaces] are approachable and look good dirty. As much as I like walking into an austere fashion boutique, that doesn't work for the commercial volumes we do. There's huge traffic and people demand service now. It has to be accessible and a stadium works in the same way: I want to go to the snack bar or the locker room. We put those analogies to use in our retail thinking.