Q&A / Global
Hume with a view
Turner Prize-nominated artist Gary Hume – lauded by the art world and a wider audience alike – is known for his vibrant high-gloss creations.
As a core member of the Young British Artists (yba) movement in the 1990s, Gary Hume made a name for himself with his high-gloss enamel paintings of hospital doors, a clever riff on geometric abstraction through a darkly humorous lens. He later abandoned this motif to develop a language of poetic and mysterious forms, derived from childhood memories and dreams, which he mines for imagery.
His new show at the refurbished and enlarged Sprüth Magers gallery in London breaks with his past again. Stepping away from his signature use of working on aluminum panels, he now applies his industrial paints to paper, which warps into an undulating surface, evoking the sensation of staring at the ocean.
Ahead of the opening of this new show, Mum, we met Hume at his studios in upstate New York and in east London. We also made the acquaintance of his dealers Monika Sprüth and Philomene Magers ahead of the opening of their enlarged and refurbished gallery in Mayfair. Just in time for Frieze too.
Monocle: You have a striking black-and-white picture of your mother included in the essay for your new exhibit. And the title of the show is 'Mum', an intensely personal subject. What prompted it?
Gary Hume: I never know what I am going to do; it is a question of finding out. My mum is coming up on 86, she's quite frail and has had dementia for the past five years. We're saying goodbye to her already. I thought I was going to do that honouring thing, like get the soul of a person through a portrait – you know – the traditional notion of portraiture. It turned out my mum's only my mum, as far as I'm concerned. So I ended up with different memory points: me as a child, remembering my mum and then me now, looking at her and remembering her. One painting – really weirdly – was painted from the viewpoint of her grandchildren looking at her.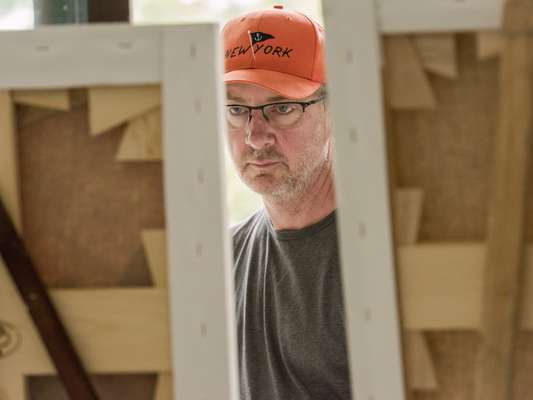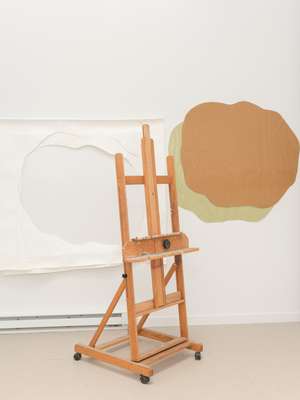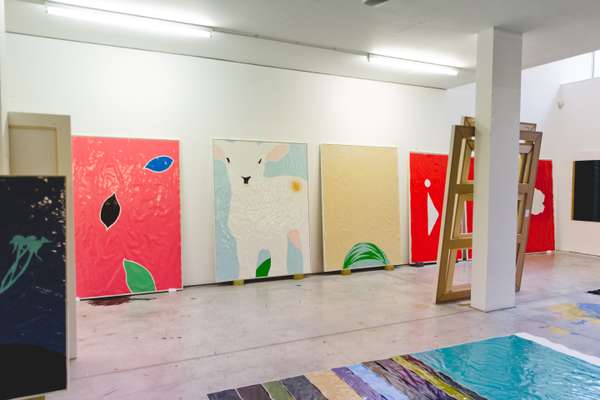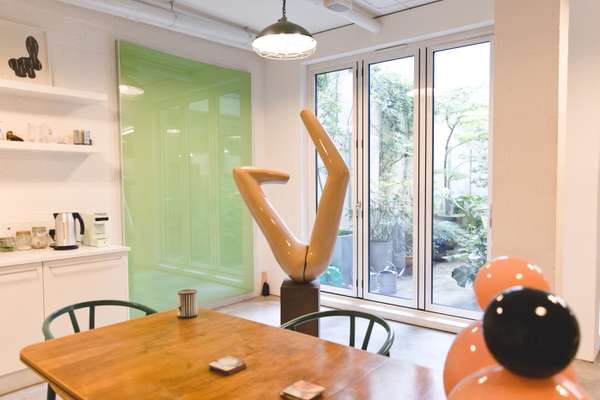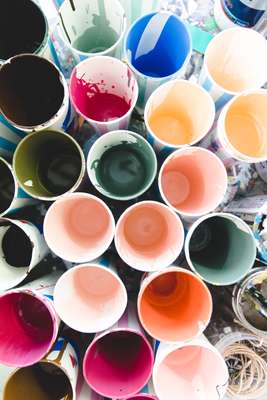 M: Can the life of an artist ever be one of true happiness? Or is it an unending emotional roller coaster?
GH: Everything is a problem. The thing that's interesting is the problem and trying to solve it. What is unbearable – and what makes you into a completely useless, not-worth-being-alive person – is the inability to solve problems. Once the problem's solved, and you've finally got a painting that you can bear to look at, the relief is unbelievable. You don't even have to worry about whether it's any good because it's become itself. That pleasure lasts for a little while – four, five minutes – and then you turn your head and go, "What am I going to do with you?"
M: The art world has changed considerably since the formation of the YBAs - there's the pressure of finding affordable studio space, huge student debt and also making work that sells in a globalised art market. Can pressure like this ever be a good thing?
GH: A lot of artists from my generation speak cryingly about the younger generation, saying they're all career artists. I don't feel that way at all. They're having their own experience. We had an experience – and that can't continue. Everything changes. We'll be talking to people who are 23 now but in 25 years they will be saying how it was incredible, actually, that there was so much pressure.
M: What is the allure of living part-time in the US?
GH: One of the reasons was to be an immigrant. The great thing is, I haven't got a clue who Americans are. I have no real idea who they are, or what state they come from. I don't know their accent. I don't know their class. I don't know their religion. I'm very free because of that. I wander about not knowing anything. That's very useful for making things.
M: Immigrants have been under attack since day one of Donald Trump's administration. Has this political climate changed how you think about your work?
GH: It's more like a problem of art-making. I try to make beautiful, singular objects to give people some pause in their life. And they're about being a human. How do I work in a world gone mad? And at what point do I decide that what I am making is an irrelevance to the political situation? My instinct is that trying to make true and beautiful things is the antidote to disgusting politics. We won't obviously change anything but we have to show what we're capable of.
M: In the early 1990s you took a break from making your famous door paintings. One essay described the moment as a crisis. Your response was to say you were searching and 'found I had no ideas'. How do you work with no ideas?
GH: By looking. I would like to have ideas. Also, I feel like I want to be saved all the time. So if I had a really good idea, I could be saved. Wouldn't that just be lovely? I find how I intellectually investigate something a bit poor. If it doesn't carry on intriguing me I think, "Well, it's ok but it's not brilliant." Why do I want to put something out that's based on an idea that isn't brilliant? I like being lost. And then the only way that I can find something to work on is while looking. I've got no idea – and it's a nice thing to have no idea.
M: You are about to debut a new body of work and there will be a deluge of interest from the press. How do you deal with being asked the same questions about your art?
GH: I'm conflicted between presenting singular objects to look at that are just themselves and arrive mute, and allowing the story of what made it possible for these things to arrive in the first place – and whether that should be made public. My fear about telling the stories of what made a painting possible is that because they're words, they become true. Therefore the painting becomes fixed. I don't really want the painting to be fixed by words – I want it to be fixed by the image. I'm torn over the solidity of language versus the fluidity of the visual image.
M: You were part of an artistic movement that was on the receiving end of a lot of hype and cultural attention. Do those days seem antithetical to the celebrity-for-its-own-sake, social media hype of today?
GH: If I think back now, I can see that there was possibly hype and there were people having discussions like "How can we build this? This is exciting, let's make this even more exciting." Because I was young, and everybody was young, we just thought it was the shape of the world and that we deserved it. There was no hype. That is to say, this was just enthusiasm and accurate, truthful thrill. Hype is for something that has no value and because we were young, we actually thought that the world and culture were ours to shape. Our systems would be the only systems. Now I just think, "Oh my God, what an amazing time."
M: What advice would you give to young artists?
GH: I guess it is to recognise their particularity, their gift. The thing they have that the person next to them doesn't. That is actually part of their material. But it's a double-edged sword because you're lumbered with yourself, you're stuck with the only thing you happen to do. The fact is, the very things that only you can do, are the very things that only you can do. And when an artist dies, you know that's it. Whatever you think of them, you think, "Well, there'll never be another one of those. That's gone." And artists should remember that. And then work.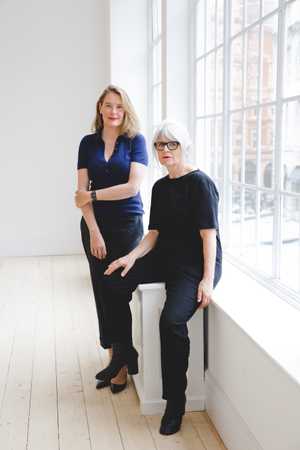 Gary Hume's new London dealers are Monika Sprüth and Philomene Magers, big-time German gallerists with sites in Berlin and Los Angeles and an impressive roster of heavy-hitting contemporary artists, including Andreas Gursky and John Baldessari. The duo inaugurated their London space on Mayfair's Grafton Street in 2007 and are set to reopen it – after more than doubling its size – this October with a show of Hume's work. "The old gallery was small but the artists really loved it," says Magers. "We have that quirky front window; it was a dressmaker's."
Although the square footage has increased, the scale of the gallery is still that of a townhouse, albeit a grand one. "Galleries are going bigger and bigger," says Magers. "But artists are doing smaller and more delicate projects; Gary was into showing his work in a more domestic space. We wanted to have a more intimate situation for him." And what of that "quirky" bay window above which the gallerists' names are picked out in gold lettering? "I wouldn't say we're proud of our names above the door but we like that they are our full names," says Sprüth. "The writing used to be very gold and now it's more subtle. I like that more."