La Paz / Portugal
Life's a breeze
Not a Hawaiian shirt in sight – the founders of this Porto seaside brand look to the native fishermen for inspiration.
Even at the height of the Portuguese summer, the morning air is crisp as André Bastos Teixeira takes a steep road in a suburb of Porto in a 1990s Mercedes G-Wagen. His outfit suggests the sun will fight its way through: denim shorts and a seersucker shirt. Both come from La Paz's latest summer collection and, like him, are breezy, playful and undeniably slick.
He picks up Jose Miguel de Abreu, his long-time friend and co-founder of his menswear brand. De Abreu appears behind dark, gold-rimmed glasses. Today, like most days since they were teenagers, they are going surfing. It's a routine undeterred by winter wind or summer rain and certainly not by the need to sit down at their desks.
"Sometimes we get to the beach at 07.30 and surf for two hours," says Teixeira. "We normally get to the office at 10.30; 11.00 if the waves are too good."
For a brand that has managed to score 120 retailer accounts across 17 countries over six years, it may seem like a relaxed schedule. Despite La Paz's success, the pair rarely seem hurried at work – that's not to say they are slow, rather that they embrace a laidback attitude that comes naturally when living in this city.
Porto's influence on Teixeira and De Abreu goes far beyond their pace of life. Aside from its name (a homage to Teixeira's late father), everything about La Paz – from inspiration to fabrics – is eminently Portuguese. This morning's drive to Espinho, a coastal village half an hour south of Porto, is to show us their brand's main muses in the flesh. Shrouded in the ocean's mist, their outlines hazy against the white sand, we finally spot them in their multicoloured outfits: fishermen pulling nets into huge wooden boats in preparation for a trip to sea. "Sometimes we come here just to take pictures of these guys," says Teixeira. "I love how the sea and the sun influence the colours of their clothes." Leaf through any La Paz lookbook and those mossy greens, washed-out blues and faded oranges will no doubt show up.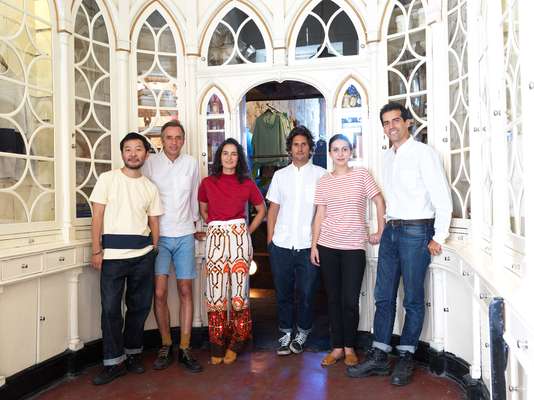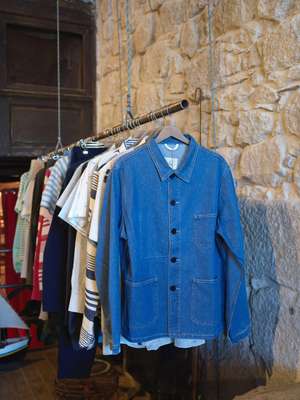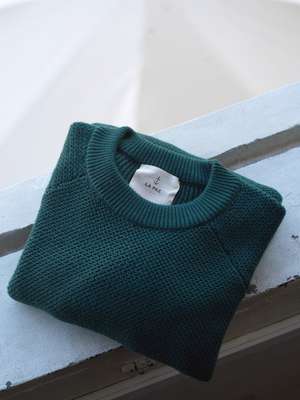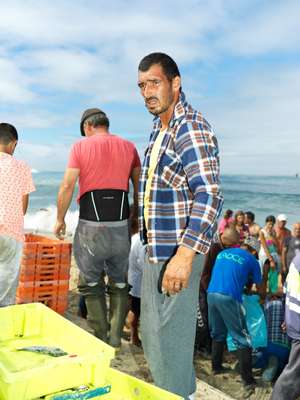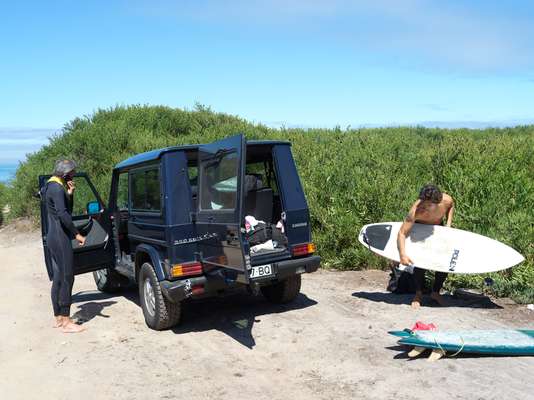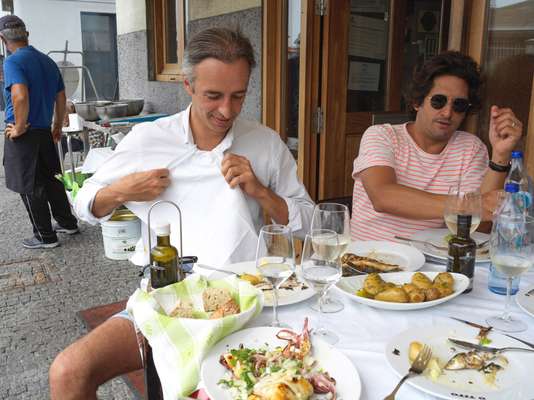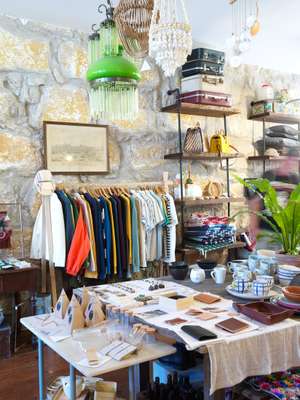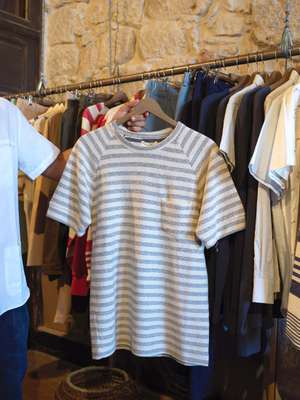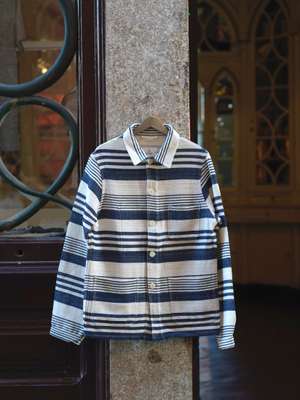 It's a moving, melancholy scene and it explains why, despite proudly declaring that the sea inspires them, you won't find any boardshorts or aloha shirts on a La Paz rack. Instead there are thick, spongy jumpers and slouchy trousers pulled up by white naval rope. "We wanted to be a brand about the Atlantic, not just reach for the easy surf, beach-brand look," says Teixeira. "After all, here in Porto we get harsh winters." As he heads back to the car with a bounty of fresh sea bass and bream he's bought from the sellers at the coastal market, he becomes pensive again. "When you come here in January there's nobody but you and the fishermen. It can be silent for hours – it cleanses you."
Despite his appreciation for tranquility, a considerable part of Teixeira's professional life was spent in London. He studied fashion management in the UK and later worked – remotely – for his mother's distribution company. He was still in England when he came up with the idea to start La Paz – just as De Abreu left his job at a Porto advertising company. "I asked André if I could work for his mother's company," says De Abreu, whose career had already taken him from teaching art direction at Porto University to owning a fashion shop. "He said 'That's not like you – we should do something together instead.'"
That something was La Paz, the project that pulled Teixeira back to his native Porto in 2011. "It was fundamental for us to be here," he says. "It wasn't possible to create a brand with Portuguese DNA from London."
Porto may have been the perfect seat for the brand but the years after the financial crisis weren't easy. It was only thanks to monetary help from their families (and a last-resort decision by Teixeira to sell his apartment) that the brand could make it through the first few years, before funding from the EU was granted in recognition of their export potential. "If the country cannot import then we need to export," says Teixeira. "During difficult times you get interesting ideas."
Another decisive factor was the presence of Portugal's remarkable network of manufacturers. "Being so close to the factories helps us" says Teixeira. "Neither of us had a design background so we developed our first prototypes with them: we showed them sketches of what we wanted and developed the products together."
The six factories they use for their hats, shirts, jerseys and knitwear are all so close to each other – and to the city – that the pair can travel from the office to four or five in one day. Other fabrics come from further afield, such as the wool gathered from the mountainous range of Serra da Estrela.
At the end of our drive through a park filled with tall maritime pines we stop at an opening in low shrubland; the deep blue of the ocean is just visible. "For me this is the beach, this is Portugal," says De Abreu as he zips up his wetsuit. Longboards in hand, the pair descend onto the enormous deserted beach. With the roar of the waves overwhelming all other sounds, they hop into the water and paddle into the distance.
If this glorious, wild scenery wasn't enough to justify their decision for a Porto HQ, additional evidence comes at the end of an alfresco lunch at O Tito, their favourite restaurant. Fresh sardines and squid, dulce de leche and a bottle of vinho verde sets them back less than €10 each. And, though Teixeira admits that he misses London's pubs, he says that "the culture of drinks after work is spreading here too."
A walk around the city centre to their flagship store proves how many acquaintances the duo has: at each turn there is a familiar face to greet. It's impossible to underestimate the role friends have played in the brand's success: its two multibrand stockists in town, Coração Alecrim and Out to Lunch, are manned by close companions (one of whom is also the photographer who shoots La Paz's campaigns).
"After our first collection we went straight to New York," says De Abreu. "But mainstream trade shows wouldn't accept us until a friend – who's half Portuguese – invited us to Jacket Required in London. Now he's our agent in the UK." Almost immediately the bulk of their business became international, with influential shops such as N6 in London and Mohawk General Store in LA buying their early collections.
Today the UK and US – countries that also possess an Atlantic bond – remain La Paz's biggest markets. But it's inside the brand's flagship in the Ribeira district that their racks of bright jumpers and striped T-shirts truly slot into place. Back in the 18th century this space – with its ornate white fittings and storage cabinets – was a pharmacy. "Sailors would come here to cure their ailments after two months at sea," says Teixeira. As we exit the shop, we glance at a glass-panelled sign above the shop's entrance that reads "The sea is our soul". In stormy or steady times, it's a principle you can wholeheartedly get on board with.