Retail Survey 01 / Global
Market forces
Reports of the death of the shop have been greatly exaggerated. From a revitalised market town to rebooted city buildings, innovation and forward-thinking are breathing new life into bricks-and-mortar retail.
If all you read are daily newspapers, you could be forgiven for thinking that bricks-and-mortar retail is already buried. The column inches given over to the likes of Amazon and the online-shopping boom are matched only by the countless reports on the decline of well-known retailers.
We need a reality check. Traditional retail is certainly being challenged but e-commerce only accounts for around 10 per cent of spend in the US. At the same time, Amazon and other technology firms are now investing in physical spaces (including entire businesses such as Whole Foods). There are also a lot of positive ideas and opportunities out there – if you know where to look. This Retail Survey offers a global selection and we start here with three surprising retail success stories. Happy shopping.
1
Independent means
Frome, UK
"The people at Iceland, Subway, Costa and Boots don't care about regenerating Frome," says Liz Andrew, referring to some of the bigger chains dotted around this pretty market town in Somerset. "Do people want a bland high street? This is much more pleasurable," she adds, with a nod towards the thronged Market Place, heaving with slow-moving shoppers meandering between striped awnings.
This lively retail scene is exceptional for a British market town. For the most part, traditional places have been experiencing a slump, one that's paved the way for the ubiquitous chains that Andrew is wary of. But this old textiles hub on the edge of the Mendip Hills is different – and something of a social experiment.
Along with three colleagues, Andrew, a former charity worker who moved here from London a decade ago, now helps run The Frome Independent. The not-for-profit organisation is behind a monthly market that brings about 10,000 punters to the town on the first Sunday of each month. They have more than 700 independent traders on their books but vet the 200 Sunday vendors for the quality, provenance and regional roots of their wares. The Frome Independent's aim? To create a retail environment that encourages the honest and the interesting, using it as a vehicle to jump-start the town's economy.
A walk towards cobbled Catherine Hill reveals stalls teeming with avant-garde cakes, Somerset-cured meat, British cheese and gin distilled in the nearby spa town of Bath. "Many of our traders have successful businesses online and want to meet their customers," says Andrew of the stallholders, who pay £15 to £120 (€16 to €130) for a pitch or just £10 (€11) if they're under the age of 26. "Frome is very young now but when I came here they had all disappeared. These days young people are opening cafés and shops – previously they would have just buggered off to London."
The market may have been a catalyst for reviving Frome but the renewed attention and footfall have also lured full-time tenants. "We came partly for the price. We looked at places in London but the rents were astronomical," says James Borley, who founded design shop Resident in 2016. The airy, whitewashed shop is brimming with pretty pieces, from Tom Pigeon notebooks to Ella Hookway ceramics and Antonia Bates cushions.
It's easy to imagine that this retail idyll has always been this way but, as Borley explains, just a few years ago the shops on Paul Street were derelict.
Former stylist Anthony Hick opened his lifestyle shop, Assembly, in 2010. He agrees with Borley's optimism but, as one of the first wave of new retailers, knows that Frome's success is down to hard work. He also offers another theory: "I just hate online shopping and being here is being part of a little community."
Across the road is Moo And Two, a timber-clad coffee shop started by 28-year-old Euan Barker. Despite growing up in the nearby village of Stoke St Michael, he had only visited Frome three times before he decided to move. "There was no reason to come before," he says. His business is budding but he's magnanimous about his achievements. "My success is down to the market," he adds, saying that he sometimes makes enough money to cover his monthly costs on a single day of trading.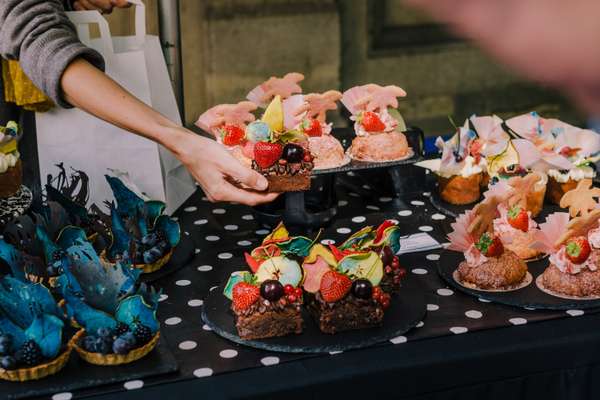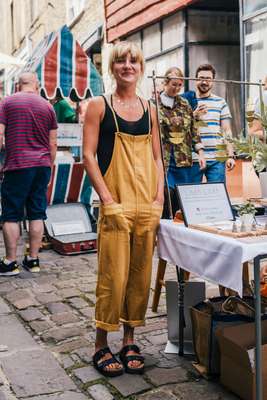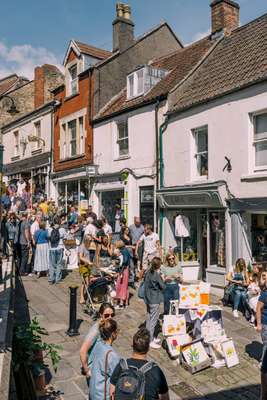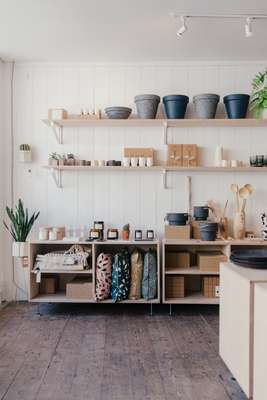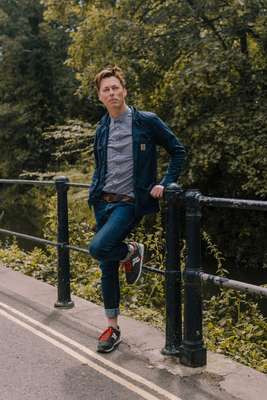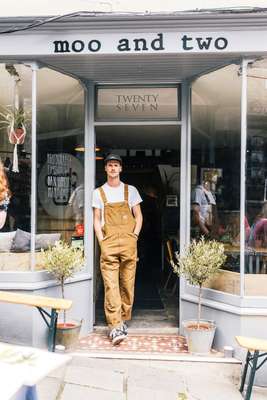 Back on Market Place, a man in dark Wayfarers is bobbing through the afternoon crowds. Unbeknownst to passers-by Gavin Eddy – the market's founder and director of The Frome Independent – is the reason that most of them are here. The former banker moved to Frome a decade ago when he fell for the town after stopping on a whim for a bite to eat.
After moving in he petitioned the council to allow him to start a market of 15 pitches, from which the current circus of gazebos and awnings has sprung. "The shops and producers didn't have a future in 2007," he says. "I wanted to create an economically viable model for the market town, for it to be more than a place people sleep in and drive from." Does anyone criticise Eddy for changing the place? "Some people do," he says. "Luckily I've got selective hearing." So what might other towns take from Frome's success? "That it's replicable elsewhere."
Lessons from The Frome Independent:
1.
Stay young
By giving youthful businesses a low barrier of entry, The Frome Independent has stemmed the exodus of start-ups to bigger towns and cities.
2.
Be local
Businesses should have wares relevant to the area. Why would anyone travel if they can buy the same products closer to home?
3.
Be proactive
After the high street didn't fix itself, a few brave souls kickstarted the revival themselves. Build it and they'll come, stay and spend.
2.
Standout retail
Porto Cervo, Italy
When entrepreneur Andrea Brugnoni came to Porto Cervo about a decade ago, the ultra-luxurious purpose-built town on the coast of Sardinia – conjured out of thin air by the Aga Khan in the 1960s after he spotted the bay from his superyacht – had become a grab bag of global luxury retail.
Brugnoni was in town because he had been tasked with turning a development, recently bought by his family's company and called Promenade du Port, into an f&b and retail destination. But the 37-year-old is not your average property developer: he has a beard, tattoos and a soft spot for limited-edition Nikes. His approach to Promenade du Port was, therefore, unorthodox. Before doing anything he spent a winter and a summer season in the resort. "It's strange," he says. "In summer the population rises to about 800,000 but in winter it's closer to 800."
Living in Porto Cervo gave him an insight into how the coastal haven works. What shocked him most was the fact that hotels and restaurants were serving bread baked from frozen. "All of this luxury and they didn't have that simplest luxury: freshly baked bread," says Brugnoni.
With 60 commercial spaces at his disposal he set about creating what is today a surprising pocket of great retail. "We opened Promenade in 2010," says Brugnoni. "But it was still a work in progress until recently. This year I feel happy to talk about it."
Part of the reason Promenade feels so unique is because Brugnoni has brought in shops he personally likes, including the barbershop in Milan that he has been going to since childhood, trainer shop Dope Factory and the famous women's multibrand shop from Cagliari, Donne Concept Store. "I could make double the money if I said I was going to have Prada and Gucci but I wanted to bring things to Porto Cervo that don't exist here." So, naturally, he also brought in a bakery: Pastichéri, run by Lucia Stragapede.
There are a well-known brands among the tenant mix, including Aspesi, Balenciaga and Bulgari. But if they stay in the development for five years, they must produce a capsule collection only for Promenade. It's one way to keep jet-set shoppers intrigued.
It's not simply a vanity project, though. Although Brugnoni offers reduced rates to shops he really wants, he can charge up to €200,000 per summer. "It looks like this year I'll turn over €3m; last year it was €2.2m, so it's growing," he says. "My aim is to get to €10m a year."
His dedication is the driving force here and the reason he might just pull off that feat. Even out of season, Brugnoni tries to come to Porto Cervo once a week. Plus, his tenants seem to be genuinely fond of him. As Donatella Soro, who founded and runs Donne Concept Store, puts it: "I like what he's doing here – trying to build something in the desert."
Lessons from Promenade du Port:
1.
Know the market
Don't invest in a new city, town or property without getting a feel for the place.
2.
Spot the difference
See what's missing and work out smart ways to meet those demands.
3.
Take the long view
You might have to make less money initially but, in the long run, you'll have something unique.
3.
Offering a helping hand
Taichung, Taiwan
As shopping malls across Asia lose their once-unshakable appeal, developers are struggling to recapture the attention of shoppers yearning for novel retail experiences. In China, where the problem is particularly pronounced, a building spree has resulted in a glut of 4,000 lacklustre malls, a third of which are forecast to close by 2020. Yet there are plenty of innovative models across the continent that retail developers would do well to visit.
In the Taiwanese city of Taichung a small developer called Fantasy Story is demonstrating how retail can thrive – if done with creativity and enthusiasm. With a focus on nurturing small businesses and building a creative ecosystem in which they're able to flourish, the company has transformed a formerly downtrodden neighbourhood in the heart of the city into an eclectic district buzzing with life.
Founded in 2010 by university classmates Ho Chung-yih and Chung Chun-yen, Fantasy Story started small out of necessity. The only commercial spaces they could afford to buy were two buildings that once housed the workers of a water company but had been abandoned for more than 20 years and fallen into a state of disrepair. After the partners renovated the spaces and invited designers to set up businesses there, the neighbourhood started to take off.
Seven years later, Fantasy Story has renovated two-dozen multipurpose properties and rents space to more than 60 entrepreneurs and artistic ventures – from clothing labels and jewellery designers to art galleries and a bespoke perfumer – all handpicked to create what Ho calls a "lifestyle tribe". At weekends the shops in these lanes draw crowds of shoppers, diners, casual browsers and the occasional tourist.
Fantasy Story helps its start-ups get off the ground by keeping rents low (despite the fact that property prices in the area have doubled since they began their regeneration) and bearing the brunt of upfront renovation costs, which tenants pay back over time. Entrepreneurs must pitch business plans that fit with the developers' vision for the community, one committed to good design, sustainable growth and preserving the fabric of the neighbourhood. Ho and Chung reserve the right to kick out any entrepreneur who veers from their initial plan too much.
It also invests time and money into supporting the entrepreneurs to improve their chances of success. "If they have capital or other problems we provide solutions," says Ho. The company can also be interventionist: "If we think a business might work well with another one, we may put them together." For example, Fantasy matched an umbrella manufacturer with a designer to create a new line of umbrellas in eye-catching colours and patterns.
Making a quick buck is far less important than the value a new business can add to the precinct. Fantasy Story offered free rent to lure a bookshop to one well-located space because the founders felt the area needed more culture, even though a restaurant would likely have made more money there. Four years later the shop, Bookstore for Beginners, is still not turning a profit but it helps to bring more people to the other shops and cafés. Its owner, Cheng Yu-ting, would rather be here than in a shopping mall. "The renovation of the old houses and our bookstore's unique appearance: these are the main reasons people come here," he says. "I think this is why Fantasy succeeds. It's doing special things in the city."
Fantasy Story's efforts at urban renewal have spread beyond Taichung with the company being asked to redevelop old properties for more creative retail ventures all over Taiwan. "I'm surprised – it's been a huge success so we just keep finding more old buildings to renovate," says Ho. "It's a win-win situation. I help these entrepreneurs and they bring me business."
Lessons from Fantasy Story:
1.
Mix well
You can make a loss with some tenants, provided they bring something unique.
2.
Don't always build new
Heritage buildings can offer character and create a more pleasant environment for shopping.
3.
Be creative
Place different entrepreneurs next to each other to generate business and create a retail ecosystem.