Sacai / Tokyo
One of a kind
Sacai is a new breed of luxury player and its designer, Chitose Abe, has created a super brand by keeping total control.
Sacai's Aoyama headquarters is humming with activity. Upstairs, journalists are thronging the press room for a preview of the spring/summer 2018 menswear collection, a canny mix of easy-to-wear jackets and statement pieces, such as trousers emblazoned with the words of conceptual artist Lawrence Weiner. Down in the studio, pattern-makers are working on a classic bit of Sacai splicing, crafting a top out of panels of sweatshirt and polo shirt fabrics. The new autumn/winter collection is lined up on racks ready to be shipped out and Masafumi Suzuki, the feted fashion editor, is being escorted to the lift doors with suitably enthusiastic bowing. At the centre of it all, perfectly poised, is Chitose Abe, Sacai's founder and creative force.
Abe cuts a slender figure in a diaphanous skirt and vertiginous platform ankle boots. In her hand she carries a phone encased in a bright red cover from the recent collaboration between Supreme and Louis Vuitton. The queue for the pop-up in Tokyo stretched for more than a kilometre but Abe had easier access: "Kim [Jones, Louis Vuitton's menswear style director] sent it to me; he's a friend." Abe's youthful face and calm demeanour belie the weight of responsibility she carries.
The label she started with five pieces of knitwear back in 1999 has grown beyond all recognition, with four collections (plus two pre-collections), Paris fashion shows and a presence in more than 230 shops in 40 countries. Menswear was launched in 2009, sunglasses with Linda Farrow followed this year and there is now a Sacai bag collection that Abe worked on with UK designer Katie Hillier. According to the Japanese press, annual sales now stand at ¥10bn (€76m). As Sacai's ceo and sole designer, the whole business rests on Abe's shoulders.
"It's a lot of work. It would be a lie to say it's not stressful," she says. "Presenting the collection, leading the team and keeping the staff motivated." Of course, she knows all the financials but keeps them from her staff of nearly 40 in Tokyo. "I don't want the figures to be a consideration in their work." She is used to glowing critical reviews but says that regardless, "I try not to be influenced by what people say. The brand is growing and it's important to be aware of what's being said about us – but we don't necessarily need to follow."
Critical praise has been heaped on Abe who, in an industry that tends to feed off the same motifs, is a genuine one-off. She is admired for her now much-copied tendency to use different fabrics on the same item, such as a sweater at the front and a cotton shirt behind. Her complex cutting and hybrid textiles can look baffling on a hanger but work beautifully on real people. The new-season clothes peeking out of their wrappers in the studio make the point. "This one was inspired by a vintage Chinese cape," she says, pulling out a nylon military bomber jacket, embroidered with the precision of an evening dress.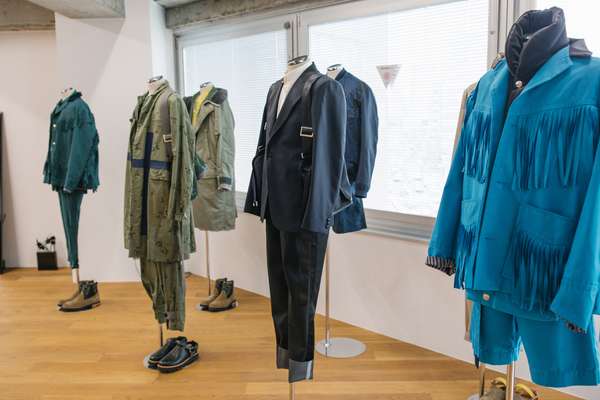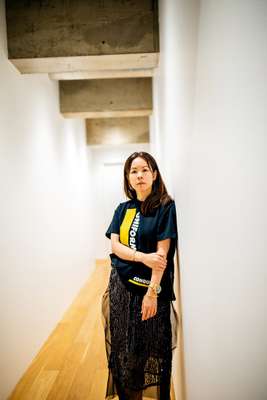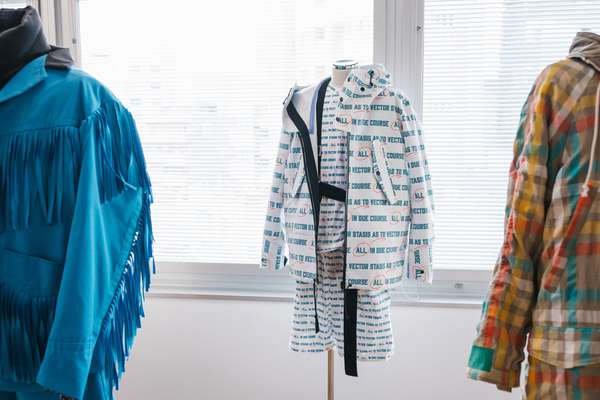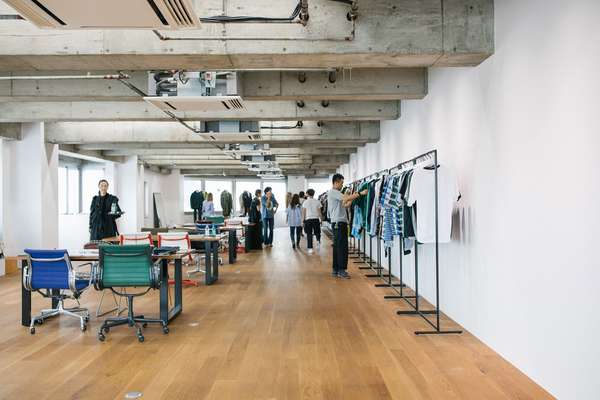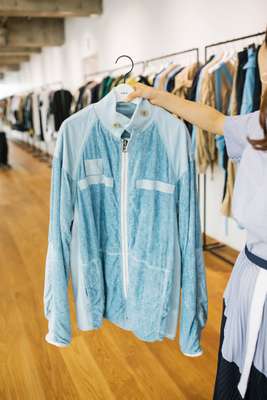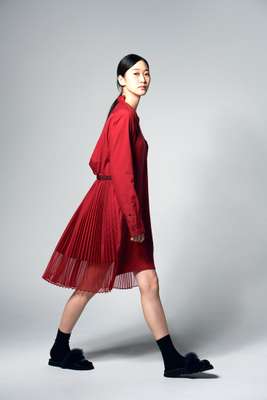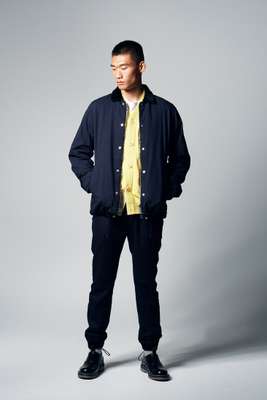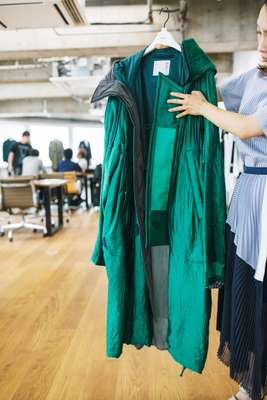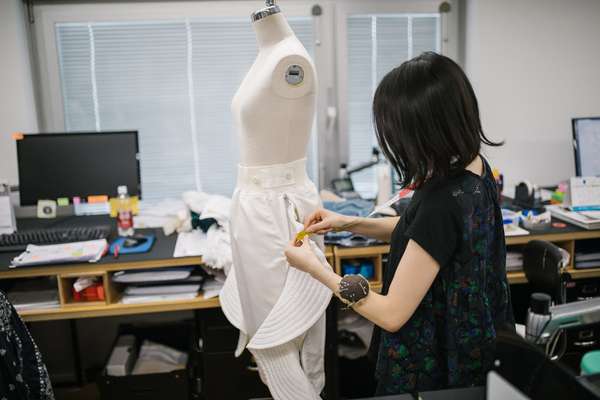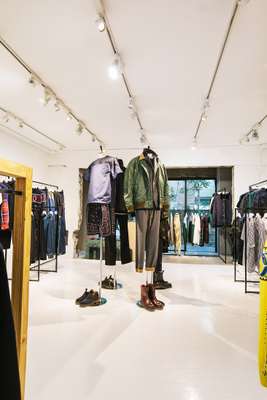 "We have amazing textile-makers in Japan," says Abe, who works with factories at home and abroad. "We work together with them. Most brands aren't up for that challenge but we think it's worth pushing for something new."
In the fashion industry, Abe is often painted as an intriguingly mysterious designer who puts in only brief appearances at her shows. She is revered by the fashion press but gives few interviews and both she and her clothes are usually described as "cerebral". In person, however, she is funny and talkative. "I don't know why people think I'm so quiet," she says, laughing. "I'm not at all in real life. I think it's just because my English is bad."
A career in fashion wasn't an obvious move for Abe. She grew up in Gifu in the middle of Japan, a world away from fashionable Aoyama. "I loved fashion even when I was a school girl," she says. "I used to customise my clothes – make a puff sleeve out of a school shirt or turn my flares into slim jeans." She studied fashion in Nagoya but still lived at home, making the three-hour journey to and from college. She moved to Tokyo as soon as she could, taking a job with a big Japanese fashion company. "At lunch I'd be walking along the street looking at the people who worked at Comme des Garçons and I'd think, 'I want to go there.'" And with characteristic determination she did, becoming a pattern cutter. After eight years of working with the Junya Watanabe collection and by then with a young baby, she decided it was high time to branch out on her own.
Much is made of the mentorship of Comme des Garçons founder Rei Kawakubo, the woman who showed that it was possible to run a super-successful fashion business while keeping a discreet public profile. "She taught me about the importance of originality but also about keeping the balance between business and creativity – you have to look after both aspects." Sacai is, for now anyway, 100 per cent independent and not beholden to the demands of a distant owner. "Right now, being independent is important. I'm the one making the decisions. Nobody is telling me what to do or what to wear; five years from now, I don't know."
She must have a good business brain to have nurtured her brand to its current position: sizeable and influential but still far enough off the mainstream radar to be perceived as a "cult" label but she laughs at the idea that she is pursuing a clever business plan. "I never thought of becoming a luxury brand. Our strategy, if anything, has been not to have a strategy."
As the brand grows, the big question is how she can share the burden by delegating to other designers. "Of course it would be easier but I don't know how it would work," she says. Once she starts talking about her design "process" – something she finds hard to articulate – you can see why it would be hard to bring another designer on board. "It comes from inside, I suppose," she says. "It's not like I can say I get direct inspiration from travel, it's more abstract than that. It might be the news or personal things, such as raising my daughter. I was the one who had to go to the school, the park or the supermarket. That experience is reflected in my designs. The brand might have been different if I hadn't had a child – maybe more 'fashion'."
Women have certainly responded to her take on femininity but it's not like she sets out to create a wardrobe for the busy woman. "I don't have an audience in mind – I'm basically designing for myself," she says. "Women have a lot of different sides and my customers range in age from women like my daughter, who's 19, to women in their eighties." Could the brand have happened anywhere but Tokyo? "I don't think so. People have a different way of dressing in Japan. They will happily wear something very casual with something luxurious."
The collision of commerce and creativity that Kawakubo counselled came to fruition in Sacai's flagship store, which Abe worked on with architect Sou Fujimoto and opened in 2011. It's a tactile space that has different textures (brick, glass and concrete) and is half finished in places. "Real shops are so important: they convey the feel and atmosphere of a brand in a way that online retail can't." Although Sacai sells well through online outlets such as Net-a-Porter, Abe is big on experiencing things firsthand and wanted to give something extra to those coming to her shop: "I wanted to surprise them." Sacai is thriving in east Asia. The Tokyo shop has become a popular destination for visitors from the region and the brand's three other standalone shops are in Beijing, Seoul and Hong Kong.
"It's important to experience things in person," she says. "In Tokyo I go shopping with my daughter in Harajuku and Shibuya; it's interesting for me even if it doesn't connect to my work. We travel a lot for business too." It can't have been easy building a business with a small child. "Looking back I would like to have had more family time. My daughter said she was sometimes lonely because I was working. She came to the last show in Paris and she gets it now." Her husband, Junichi Abe [Sacai is Chitose's maiden name] is well known as the founder of fashion brand Kolor but there's no shop talk at home.
Sacai has been showing in Paris since 2011, and since 2012 under the direction of superstylist Karl Templer. "We don't know if it's right or not," says Abe. "Paris used to be the best place to show but it's different now. I'm thinking about whether it's still the right thing for us." And here is one of the interesting things about Abe: the constant questioning, the possibility of changing direction if she senses that something else works better. "The market is so different compared to even a few years ago. The old categories – street or luxury – don't matter so much anymore. We still want to find out what works for the brand. That's why it's interesting: there isn't really an answer in fashion. We could be asking those questions forever. I'm always telling the staff not to let Sacai become routine. It makes life and the brand more interesting."
Looking ahead, Abe sees a future for Sacai beyond her own work. "We want to continue the brand even if I'm not the one designing." It's hard to imagine her relinquishing control entirely though. She smiles. "I'd still want to be involved whatever happens."
Japan's new design class:
You know you've hit the big time once the fakes start appearing. Look at this message on the website of Japanese label Visvim: "Recently it has been brought to our attention that counterfeit products bearing our brand, which imitate our designs, have been sold illegally without consent." Like Sacai, Visvim has built up a devoted following while steering clear of the mainstream. Founded by Hiroki Nakamura in 2000, Visvim is a brand dedicated to craft and a singular point of view, a commitment that brings shoppers from Asia and beyond to queue for hand-dyed indigo gilets and fringed sneakers.
Tokyo label Undercover has also achieved success while retaining designer Jun Takahashi's punk vibe. He continues to defy convention while holding Paris fashion shows, collaborating with Uniqlo and designing for Nike (Gyakusou). Another global hit from Japan: Ryo Kashiwazaki's sneaker brand Hender Scheme, which started out as an art project with a line that recreated classic trainers in nude leather, handmade by artisans in Tokyo. Cue huge acclaim, a deluge of orders and a collaboration with Adidas.