Squire / London
Open for business
Architecture firm Squire and Partners' new HQ – The Department Store – is a beacon of sensitive redevelopment.
"It's bit of a monster, isn't it?" These were the words uttered as father and son Michael and Henry Squire and colleagues approached a worn-down former department store in the south London area of Brixton in 2014. The four partners from one of London's largest practices, Squire and Partners, were on a mission to find a new headquarters beyond the corporate confines of their base in King's Cross. Brixton, removed from the city's business core and known more for reggae than progressive architecture, had never seemed like a serious option. Yet as they scanned this lofty four-storey space's creaky, sprawling timber parquet floors, they realised that beyond ugly false ceilings and badly built annexes, they were exploring an architectural masterpiece.
"The conversation quickly changed to 'Isn't this amazing?' But the problem was, we knew it would cost an absolute fortune to fully restore it," says Michael. "Then we thought about the bars and restaurants that were moving into similarly incredible but incredibly worn-down buildings in east Berlin. They would, very cleverly and efficiently, leave layers of that wear and tear exposed and renovate around it."
While the notion of a "factory style" office was off the table, this idea of combining past with present and promoting the building's history through a smart renovation became an affordable option. Plans were drafted and three years later the architects are leading monocle through The Department Store – fully complete, yet semi-revamped.
"'Decayed decadence', was the term we coined for the project, which is the complete opposite to 'industrial chic' because this building truly comes from a place of decadence," says Tim Gledstone, a partner at Squire, of the structure. It was completed in 1906 and inspired by Paris's Le Bon Marché in style and format, yet adorned with Edwardian trimmings on its façade. "From the influence of the decadent Brixton era of the 19th century through to its pop culture, its riots, its music to its current layer that people call gentrification – it's all here in this building."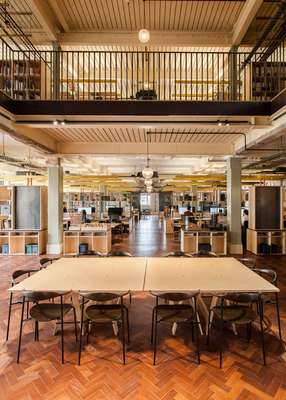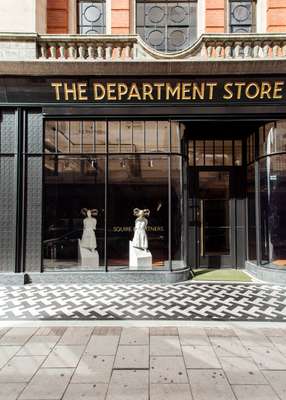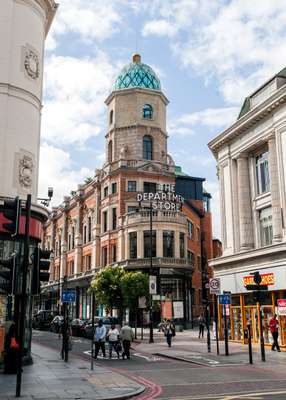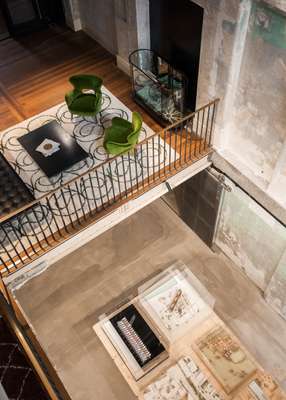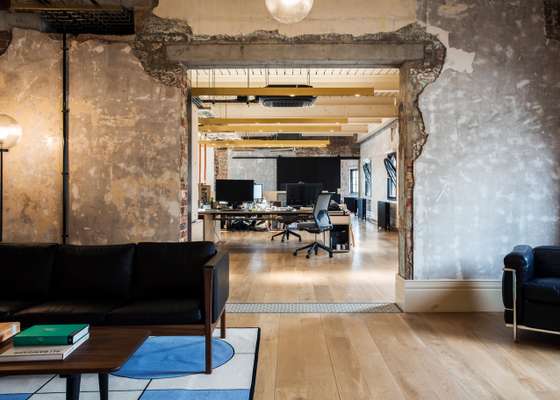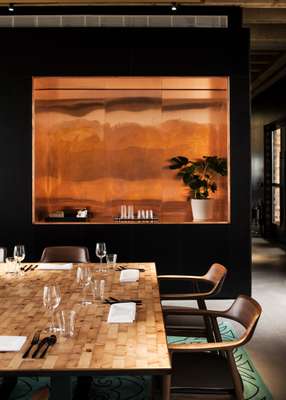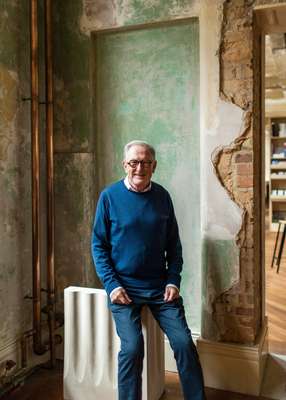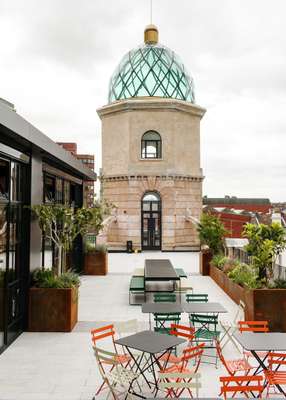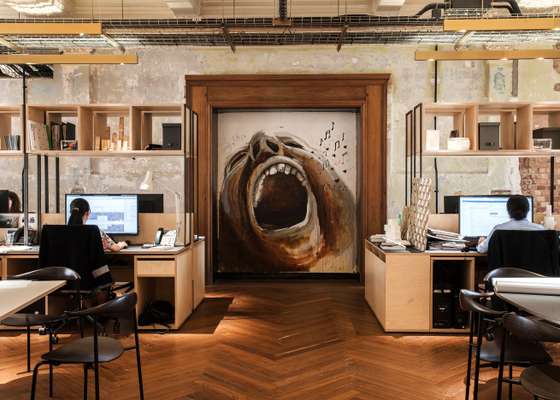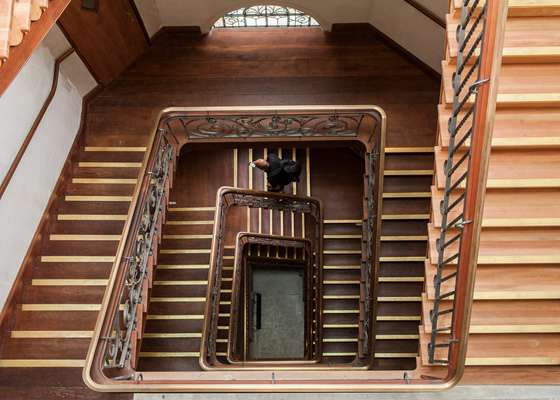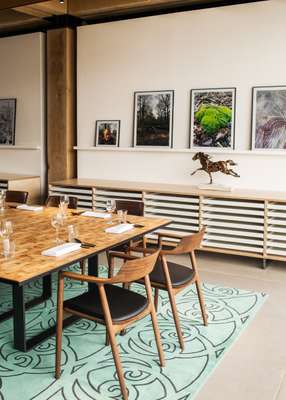 The project draws on Squire's history as a practice too. The firm came to prominence as a master restorer of London's "old dog" buildings that were being done up as development accelerated in the 1990s. In more recent years the practice refined its touch to become one of Europe's most respected firms for high-end residential architecture.
The Department Store's wide-windowed frontage reveals different facets of the studio, including a busy modelling workshop beyond the glass that encourages passers-by to experience the theatre of design inside. Entering the lobby, one's sight is drawn to vistas stretching up and down through well-placed voids that reveal the building's inner workings. Some elements here have hardly needed a touch-up. A key feature is a mahogany staircase, swooping up majestically from the back of the foyer. While a brass balustrade has been added to meet building-code regulations, the staircase's original decorative metalwork and tasteful emerald-green tiling remain intact. The enduring colours and patterns marking the structure (from its many lives as a shop and later a squat) have informed newer features.
The greens and ivories of The Department Store's first colour palette have found their way into custom patterns on hand-woven rugs, styled by designers Eley Kishimoto. The south London outfit also drew upon masonry and motifs throughout the building to inform patterns that were added to new flooring elements and tiling, as well as the customised drip tray of the rooftop bar. The classic typography found in the building was also used to inform the raised signage adorning it.
"Our first thought had been to refurbish everything but then we started stripping away and we revealed incredible textures – layers, finishes and colours that were genuinely attractive – and we didn't want to lose the loveliness," says Henry. He later refers to The Department Store as a butterfly: an ugly chrysalis that blossomed into something unexpectedly vibrant. "It takes courage and confidence to say, 'We will move into a ruin.'"
Part of the vibrancy of the project has come from the firm being able to draw upon a wealth of design brands that it has collaborated with over the years. Limited-edition copper lighting fixtures from Louis Poulsen sit nicely alongside furniture from Denmark's Carl Hansen. Squire's collaboration with the latter involved gaining the Hansen family's permission to order a revival of the Klint Addition sofa and coffee table with a bespoke combination of timber. "Every collaborator that we worked with fell in love with the idea that this was in essence a showroom for all of them," says Gledstone.
Squire has also aimed to bolster great manufacturing brands by, for example, working with Birmingham's Samuel Heath on a new set of door handles. Smaller companies – such as d&a Binder, a father-and-son team who restore furniture – were involved in adding vintage pieces to the mix.
Touring the work spaces, which are open-plan and allow room for the hanging of architectural plans and inspiration boards, Gledstone notes that much attention has been paid to the building's original purpose. "The early concept of a department store was that it was like a gallery: displays would change but the building remains the building," he says. "So here everything is designed to change, from the furniture to the work spaces."
Change is in the air outside the building as well. While expensive furniture – and a matured oak tree from Hamburg – was making its way to the site, Brixton was rapidly evolving. The firm knew from day one that in plainest terms, their move represented Brixton's divisive gentrification. Their solution was to inject the culture of the area into the development, without being patronising. And Squire has been smart in opening this building to the community. From the moment bemused shoppers started popping into what is clearly labelled a "department store", the architects encouraged residents to join public events at the building. Adding active frontage along a street that had lost its charm has also helped to revitalise the neighbourhood. Pure Vinyl, a popular Brixton record shop, has a new home here, and The Department Store's rooftop bar and restaurant will be open to the public.
"I am chuffed to bits that it will be in action in the evening and at the weekend," says Michael Squire. "Obviously there's a certain amount of nervousness opening our doors in Brixton, and we have had a few broken windows. But we know that life is not all romance – and so far so good."
Choice collaborations:
Carl Hansen
Classic furniture pieces are personalised with Department Store brass plaques, a rare move for the respected Danish brand.
Tuschmid
The specialist Swiss manufacturer created the pointed glass dome that stands proudly on the building's roof.
Lasvit
Czech glass artisans created the five pendants hanging above the reception desk.
Kusan
Bespoke rugs, made in Nepal, featuring patterns based on motifs found in the original building.